Garmin Alpha 200 Bundle, Alpha 200 and TT 15 Dog Tracking Device
Model Number: 010-02616-00
Availability:
Out of stock
Condition: New
A brand-new, unused, unopened item in its original retail packaging, with all original packaging materials included. Original manufacturer's warranty is included.
Specs
In the Box
Alpha 200 handheld with a rechargeable Li-ion battery pack
TT 15 dog device with a rechargeable Li-ion battery pack
1" black collar strap
Belt clip
AC adapter
Charge cable (for TT 15)
USB cables (micro and mini)
Contacts kit (short and long)
Documentation
✓
Your request has been successfully sent!
Do you have an old GPS unit lying around? The GPS Nation Trade In and Up program is a great way to trade in your old and used GPS for credit towards a new GPS. The choice is entirely yours! We've made the process simple and streamlined. Follow these simple steps, and you will be on your way to receiving credit towards your brand new GPS!
1. Get a quote
To get your free quote, provide your GPS type, manufacturer, model, and condition. Within 24 hours, you will receive a quote for the trade-in value of your current product. The GPS trade-in/trade-up form is at the bottom of this page.
2. Ship your product(s) for trade
After accepting our offer, pack your product(s) safely and ship them to us using the pre-paid shipping label provided to you. We will provide a confirmation email when your trade-in arrives at our warehouse. You have 30 days from the date you complete your on-line trade to ship the product to GPS Nation.
3. Make your purchase
Once we receive your product at our warehouse and we validate the stated condition, we will send you a confirmation email. If you elect to receive credit towards a new GPS at gpsnation.com, your store credit will be issued, and you are free to make your purchase.
Overview
STRONG CONNECTION. STRONG BOND.
Track and train your dogs with the Alpha 200 handheld, featuring a sunlight-readable 3.5" capacitive touchscreen and user-friendly six-button design.
This handheld is designed to help make tracking and training simple, accessible and fast.
Track and train your pack while they're out in the field.
Keep inactive dogs in the system for easier setup and management.
Navigate every hunt with the best in Garmin mapping and sensors.
User-replaceable battery lasts up to 20 hours.
Take dog tracking and training to the next level.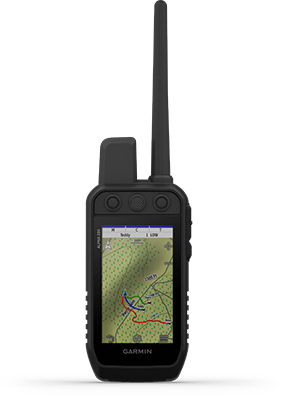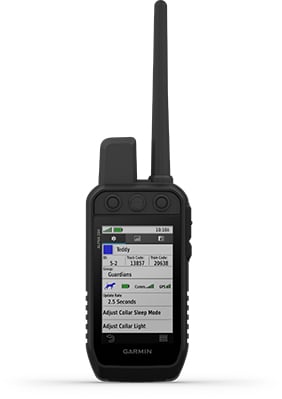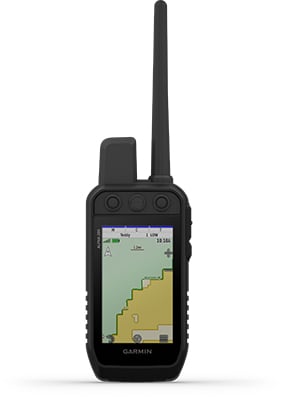 TRACK YOUR PACK
Monitor up to 20 dogs from up to 9 miles (depending on your dog device) with a 2.5-second update rate.
DOG LIST/GROUP MANAGEMENT
Keep inactive dogs in your dog list, and manage active groups so you don't have to add and remove dogs for every hunt.
PUBLIC LAND BOUNDARIES
Optional display of public land boundaries on topographical maps helps you know that you're venturing where you're supposed to be.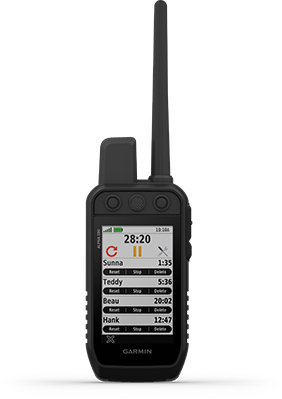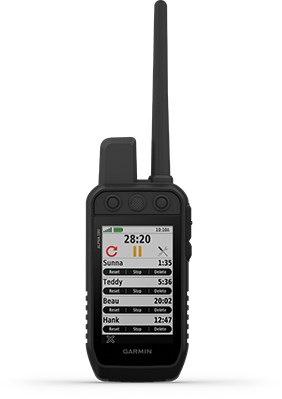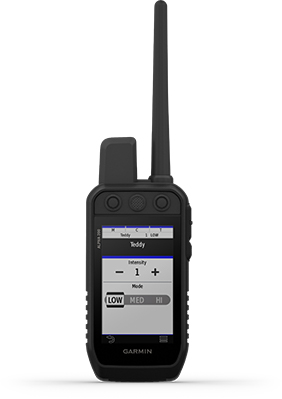 HUNT METRICS
See each dog's daily hunting patterns, distance and speed so you can monitor performance and help prevent overheating. Pair with your TT 15 tracking and training collars.
SIX-BUTTON DESIGN
Use dedicated buttons for fast training cues and minor adjustments in the field.
18 LEVELS OF STIMULATION
Momentary and continuous stimulation options let you customize training for each dog.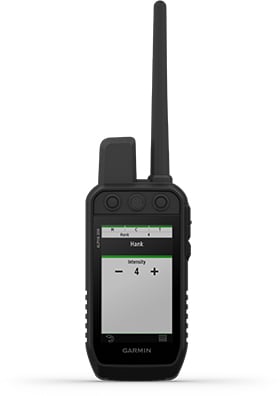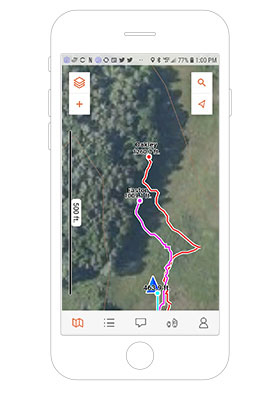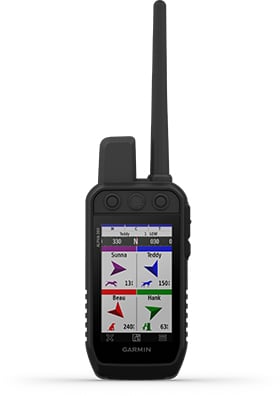 TONE/VIBRATION
Issue different levels of audible tone or vibration commands for quick adjustments to individual dogs.
GARMIN EXPLORE APP
Pair with the Garmin Explore smart-device app to see real-time dog tracking information, save collections of dog tracks and replay tracks to see exactly what happened during your hunt.
PRO VIEW COMPASS
The pro view compass mode gives you simple, at-a-glance tracking that shows which direction and how far away your dogs are, plus you will see when a dog is "Treed" or "OnPoint."
Navigate your surroundings.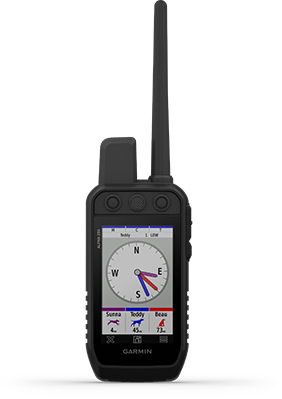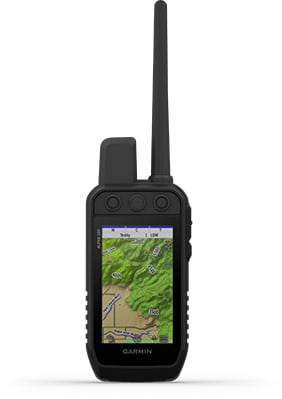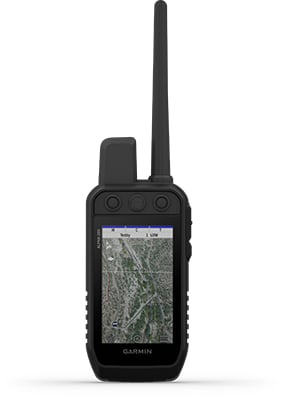 MULTI-GNSS SUPPORT
Access multiple global navigation satellite systems (GPS and Galileo) to track your pack with greater accuracy than GPS alone.
TOPOACTIVE MAPS
Our preloaded TopoActive mapping provides detailed views of terrain contours, topographic elevations, summits, parks, coastlines, rivers, lakes and geographical points.
BIRDSEYE DIRECT
Download BirdsEye Satellite Imagery directly to the handheld via Wi-Fi connectivity for better-than-real-life views of your route, trailheads, clearings and more.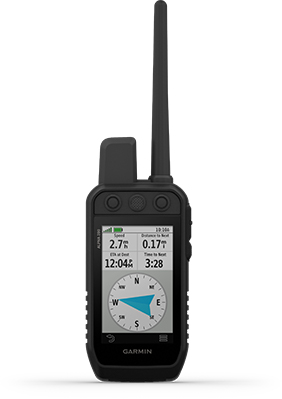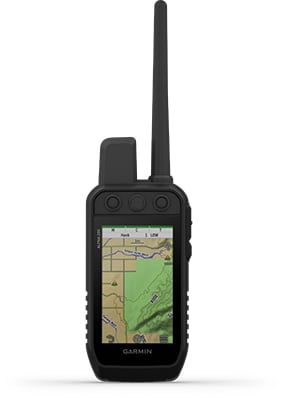 NAVIGATION SENSORS
A barometric altimeter helps you accurately monitor ascent and descent and see short-term trends in air pressure, and the built-in tilt-compensated 3-axis electronic compass keeps your bearing — whether you're moving or not.
SEE IT ALL
The sunlight-readable 3.5" capacitive touchscreen display makes it easy to see and interact with your maps, dog data and more — even while wearing gloves.
STAY ON THE MOVE
The replaceable battery lasts up to 20 hours, giving you plenty of hunt time with your dogs in the field.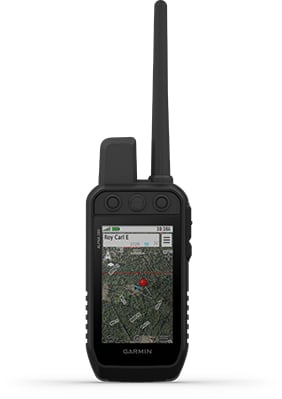 ADDITIONAL MAPPING
The microSD card slot allows you to load more mapping options, such as TOPO U.S. 24K and HuntView maps (each sold separately).