Garmin Approach G80 - Factory Refurbished
Model Number: 010-N1914-00
Order now and your Garmin Approach G80 - Factory Refurbished will ship tomorrow, 06/02 with Free Shipping
Place your order by 4:00 PM PST and your order will ship the same day, weekends and holidays excluded. Orders placed after 4:00 PM PST will ship the following business day. All orders are subject to verification. International orders subject to shipping charges. For further details see delivery estimates in cart.
Availability:
Hurry Only 1 Left!
Condition: Garmin Certified Refurbished
A Garmin Certified Refurbished device is a device that was returned to Garmin USA. The device is certified by Garmin only after undergoing a complete rebuild, and extensive testing to bring the unit up to the same strict cosmetic and functional standards as a new Garmin device. Only after meeting the highest quality standards is the device then released back to the market. All units include brand new original Garmin accessories, and a full one-year Garmin warranty, as well as our free extended warranty when purchased from GPS Nation. Your purchase extends the lifetime of this product and reduces electronic waste. That's good news for the environment and your wallet
Specs
In the Box
Approach G80
Trolley/cart mount
Lanyard carabiner
USB cable
Documentation
✓
Your request has been successfully sent!
Do you have an old GPS unit lying around? The GPS Nation Trade In and Up program is a great way to trade in your old and used GPS for credit towards a new GPS. The choice is entirely yours! We've made the process simple and streamlined. Follow these simple steps, and you will be on your way to receiving credit towards your brand new GPS!
1. Get a quote
To get your free quote, provide your GPS type, manufacturer, model, and condition. Within 24 hours, you will receive a quote for the trade-in value of your current product. The GPS trade-in/trade-up form is at the bottom of this page.
2. Ship your product(s) for trade
After accepting our offer, pack your product(s) safely and ship them to us using the pre-paid shipping label provided to you. We will provide a confirmation email when your trade-in arrives at our warehouse. You have 30 days from the date you complete your on-line trade to ship the product to GPS Nation.
3. Make your purchase
Once we receive your product at our warehouse and we validate the stated condition, we will send you a confirmation email. If you elect to receive credit towards a new GPS at gpsnation.com, your store credit will be issued, and you are free to make your purchase.
Overview
TAKE YOUR GAME FROM THE RANGE TO THE COURSE
Approach G80 is the first all-in-one premium GPS golf handheld with integrated launch monitor, meaning you can easily track club head speed, ball speed, smash factor, swing tempo and estimated distance.
You've got the magic touch. Now use it on this large 3.5" touchscreen display.
With more than 41,000 preloaded courses worldwide, you can take your talents anywhere.
Hone your technique with the integrated launch monitor.
Practice (mode) makes perfect. Test your skills, and improve your game.
Compete, compare and connect with the Garmin Golf app.
Up to 15 hours on one charge? Swing away.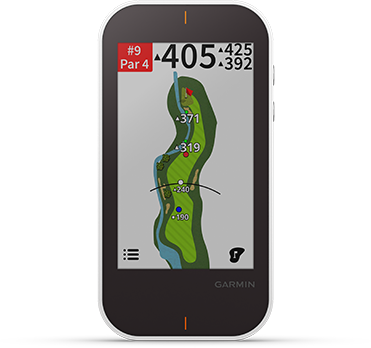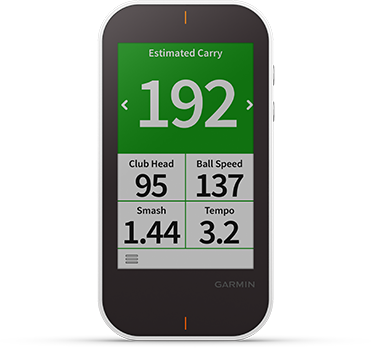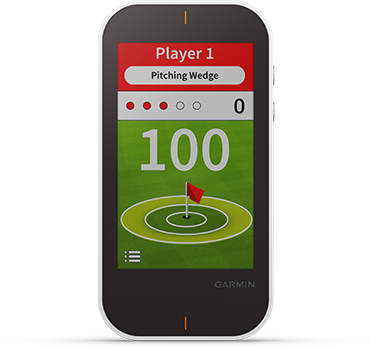 EASY-TO-READ SCREEN
Large 3.5" sunlight-readable touchscreen combines with a slim design and easy button access to get to radar.
LAUNCH MONITOR
The quick-access radar button makes it easy to learn more about your shot, including estimated carry, club head and ball speed, smash factor and tempo.
PRACTICE MODE
Warm up before hitting the links. This mode provides simple feedback, evaluates swing and helps you develop accuracy and consistency.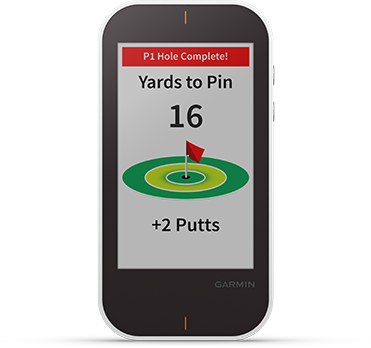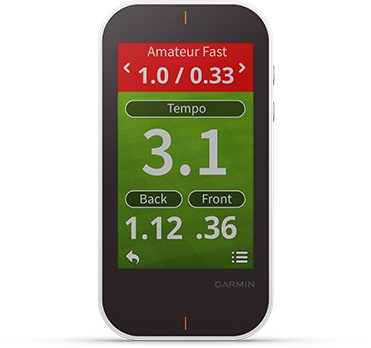 VIRTUAL ROUNDS
Compete against a friend on the driving range, play in a tournament against others, or try to beat your personal best.
TEMPO TRAINING
This feature helps evaluate which backswing and downswing timings are best for you and provides instant feedback.
Make your rounds on the course.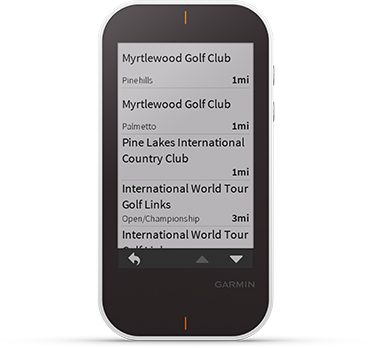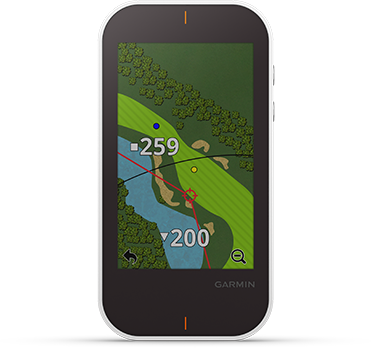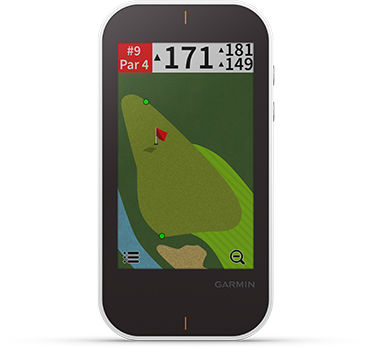 41,000 PRELOADED COURSES
Your handheld comes preloaded with more than 41,000 full-color CourseView maps of golf courses from around the world. Download updates for the course you play most often.
TOUCH TARGETING
Touch any point on the display, and it shows precise distance to that spot — fairway, hazard, landing area or front, middle and back of the green.
GREEN VIEW
The Green View feature gives you each green's true shape from wherever you are on the course, and it allows you to drag-and-drop the pin for greater accuracy.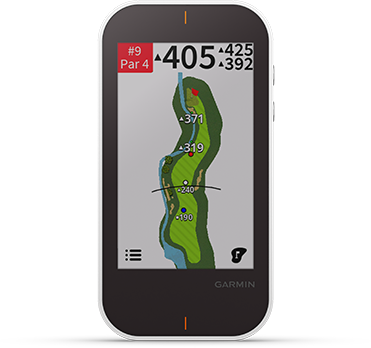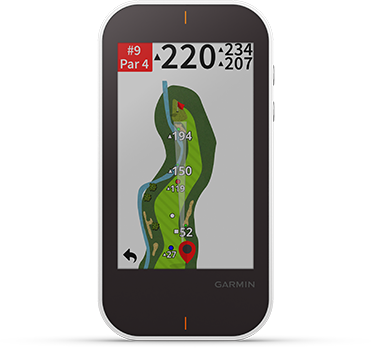 PLAYSLIKE DISTANCE
The PlaysLike Distance feature adjusts yardages to account for uphill and downhill shots.
PINPOINTER
On blind shots, the PinPointer feature will tell you the direction of the pin so you can make the most of each swing.
The ultimate golf partner.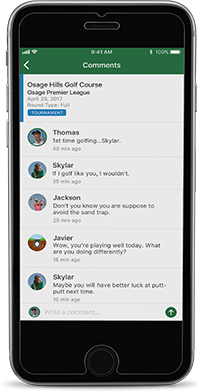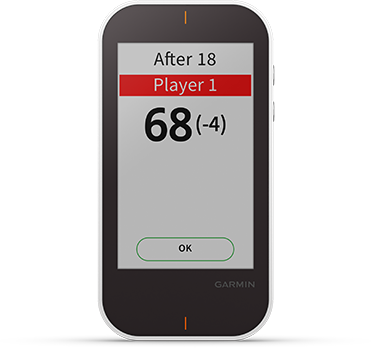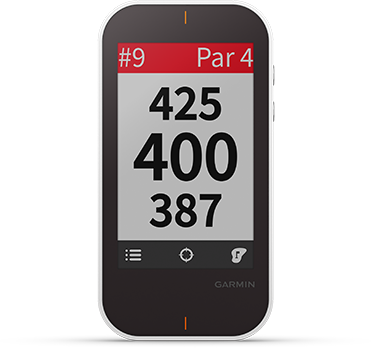 GARMIN GOLF APP
Pair with the Garmin Golf app to compete, compare and connect with fellow golfers worldwide.
DIGITAL SCORECARD
Use your Approach G80 handheld as a digital scorecard to track Stroke Play, Stableford, Skins and Match Play with adjustable handicaps.
BIG NUMBERS MODE
This feature increases the type size, making it easier to read yardage numbers to the front, back and middle of the green.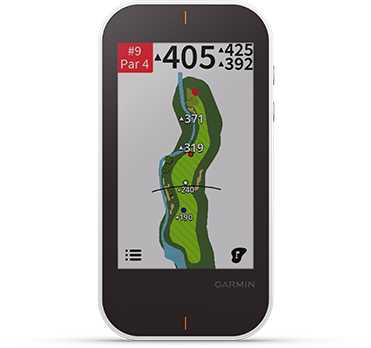 BATTERY LIFE
The Approach G80 handheld's rechargeable battery lasts up to 15 hours in GPS mode.