Garmin Africa, Southern Coastal and Inland Charts
Model Number: 010-C0748
See your vessel's precise, on-chart position in relation to navaids, coastal features, anchorages, obstructions, waterways, restricted areas and more with this detailed marine mapping data.
Specs
In the Box
Africa, Southern Coastal and Inland Charts
✓
Your request has been successfully sent!
Do you have an old GPS unit lying around? The GPS Nation Trade In and Up program is a great way to trade in your old and used GPS for credit towards a new GPS. The choice is entirely yours! We've made the process simple and streamlined. Follow these simple steps, and you will be on your way to receiving credit towards your brand new GPS!
1. Get a quote
To get your free quote, provide your GPS type, manufacturer, model, and condition. Within 24 hours, you will receive a quote for the trade-in value of your current product. The GPS trade-in/trade-up form is at the bottom of this page.
2. Ship your product(s) for trade
After accepting our offer, pack your product(s) safely and ship them to us using the pre-paid shipping label provided to you. We will provide a confirmation email when your trade-in arrives at our warehouse. You have 30 days from the date you complete your on-line trade to ship the product to GPS Nation.
3. Make your purchase
Once we receive your product at our warehouse and we validate the stated condition, we will send you a confirmation email. If you elect to receive credit towards a new GPS at gpsnation.com, your store credit will be issued, and you are free to make your purchase.
Overview
Our Advanced Chart Offering
Derived from official charts and private sources to provide navigational aids, spot soundings, depth contours, tides and currents, and detailed harbors and marinas
Depth Range Shading for up to 10 depth ranges enables you to view your target depth at a glance
Up to 1-foot contours provide a more accurate depiction of the bottom structure for improved fishing charts and navigation in swamps, canals and marinas
Shallow Water Shading feature allows for depth shading at a user-defined level to aid in navigation
Worldwide coverage available
Keep your charts up to date with our industry-leading New Chart Guarantee and discount card update program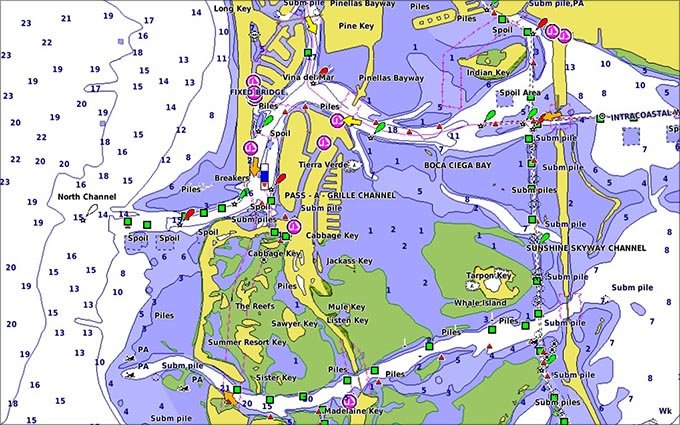 Advanced Chart Detail
Detailed charts help the mariner guide their boat in and out of port with confidence.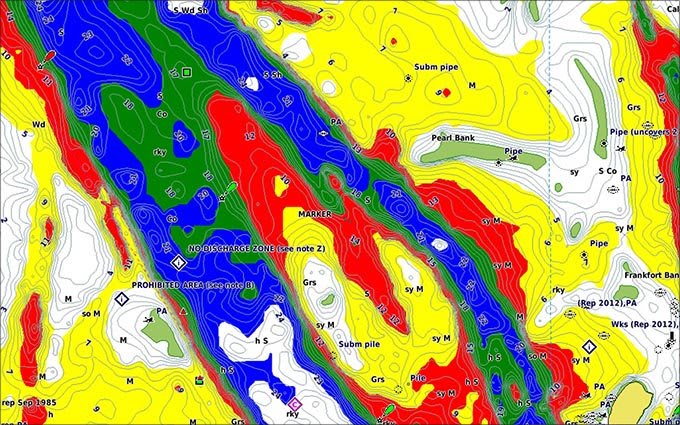 Depth Range Shading
Displays high-resolution Depth Range Shading for up to 10 depth ranges so you can view your designated target depth.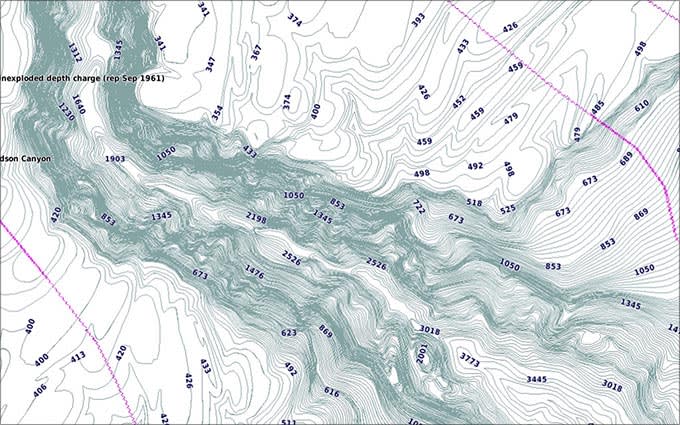 Detailed Contours
BlueChart g3 HD features 1-foot contours that provide a more accurate depiction of bottom structure for improved fishing charts and enhanced detail in swamps, canals and port plans.
COVERAGE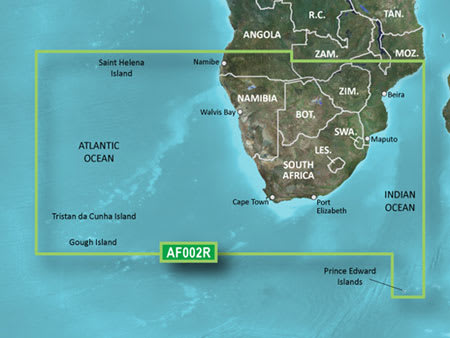 ", HelveticaNeue, Helvetica, Arial, sans-serif; font-size: 14px; font-style: normal; font-variant-ligatures: normal; font-variant-caps: normal; font-weight: 300;">Detailed coverage of the coast of southern Africa and it's major lakes.  Coverage is from Namibe, Ang. to Angoche Island, Moz. including the ports of Cape Town, Durban and Port Elizabeth, SA and Maputo, Moz.  Coverage also includes Lakes Kariba, Cahora Bassa, the Vanderkloof and Gariep Dams, the Bloemhof Dam/Vaal River/Vaal Dam system, the Tristan da Cunha Islands, the island of St. Helena and the Prince Edward Islands.