Garmin Catalyst Driving Performance Optimizer
Model Number: 010-02345-00
Order within 52 Minutes and your Garmin Catalyst Driving Performance Optimizer will ship today1 with Free Shipping
Place your order by 4:00 PM PST and your order will ship the same day, weekends and holidays excluded. Orders placed after 4:00 PM PST will ship the following business day. All orders are subject to verification. International orders subject to shipping charges. For further details see delivery estimates in cart.
Condition: New
A brand-new, unused, unopened item in its original retail packaging, with all original packaging materials included. Original manufacturer's warranty is included.
Garmin Catalyst Driving Performance Optimizer Catalyst Include Remote Cam
Specs
In the Box
Garmin Catalyst
32 GB microSD pre-installed under covered compartment (auxiliary card slot on the side of the Catalyst device is externally accessible for memory expansion)
Remote Cam with polarized lens cover
Remote Cam 3.5 meter cable
Heavy-duty vehicle suction cup
Powered magnetic mount
Two 1" connecting arms
1" arm connector
Cable clips
Socket power cable
Documentation
Included Optional Accessories
1" ball adapter screw down mount
USB data cable
12V bare wire vehicle power cable
Additional Remote Cam adhesive
✓
Your request has been successfully sent!
Do you have an old GPS unit lying around? The GPS Nation Trade In and Up program is a great way to trade in your old and used GPS for credit towards a new GPS. The choice is entirely yours! We've made the process simple and streamlined. Follow these simple steps, and you will be on your way to receiving credit towards your brand new GPS!
1. Get a quote
To get your free quote, provide your GPS type, manufacturer, model, and condition. Within 24 hours, you will receive a quote for the trade-in value of your current product. The GPS trade-in/trade-up form is at the bottom of this page.
2. Ship your product(s) for trade
After accepting our offer, pack your product(s) safely and ship them to us using the pre-paid shipping label provided to you. We will provide a confirmation email when your trade-in arrives at our warehouse. You have 30 days from the date you complete your on-line trade to ship the product to GPS Nation.
3. Make your purchase
Once we receive your product at our warehouse and we validate the stated condition, we will send you a confirmation email. If you elect to receive credit towards a new GPS at gpsnation.com, your store credit will be issued, and you are free to make your purchase.
Overview
DISCOVER YOUR FULL TRACK DRIVING POTENTIAL
For drivers of all levels, this industry-first "coach" mounts in your cockpit — gathering performance data, giving real-time audible cues and offering immediate session analysis to show you key areas for improvement1.
What's my line? The True Track Positioning™ feature shows your racing line on the track.
Talk to me, coach. Get real-time audio cues from your headset2 or car stereo.
Garmin Catalyst tracks and compares to show if you're ahead or behind previous lap time.
True Optimal Lap™ technology factors all performance data to show your best drivable time.
Make headway. Immediate data and adaptive suggestions show key areas for improvement.
After your session, instantly review your session stats on the 7" touchscreen. No computer needed.
Make the best of your time on the track.
TRUE TRACK POSITIONING
This groundbreaking technology uses 10 Hz multi-GNSS positioning, image processing and built-in accelerometers to generate your racing line on the track.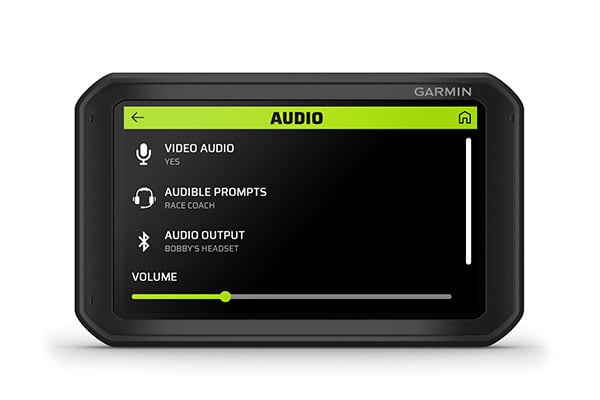 ON-TRACK DRIVING COACH
On the track, Garmin Catalyst quickly becomes your real-time "coach," giving audio cues via BLUETOOTH® technology from your headset2 or car stereo.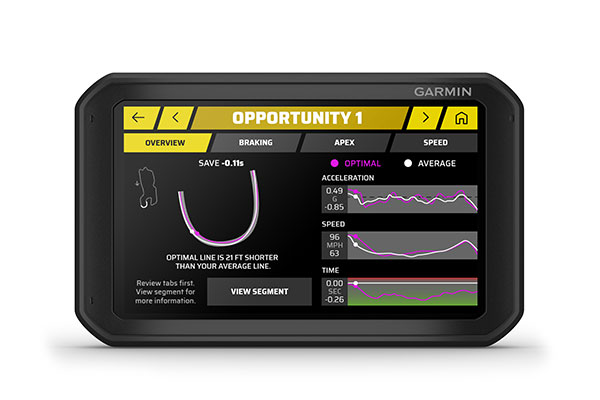 TRUE OPTIMAL LAP
This revolutionary technology combines your best times for each track segment to show your optimum drivable time based on lines you actually drove and can repeat.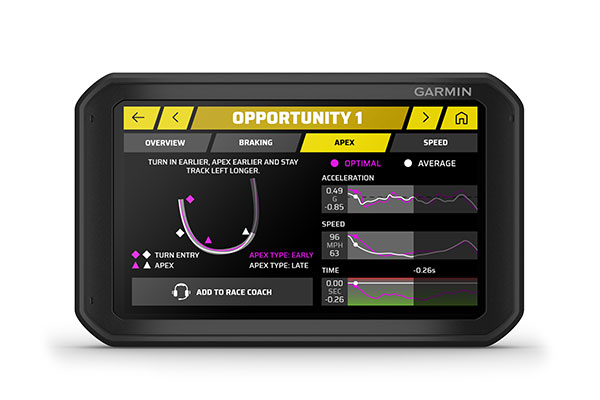 APEX PERFORMANCE
Which line should you track when ripping around corners? See on the map how early or late apex decisions affect your overall speed through the course.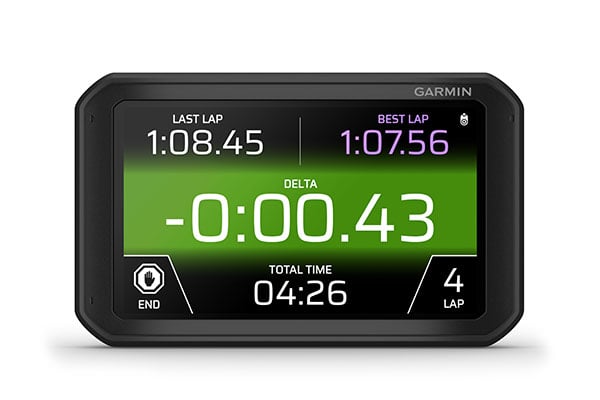 REAL-TIME LAP DATA
On the course, Garmin Catalyst keeps track of your best lap time, adaptive delta time, number of laps and total session time.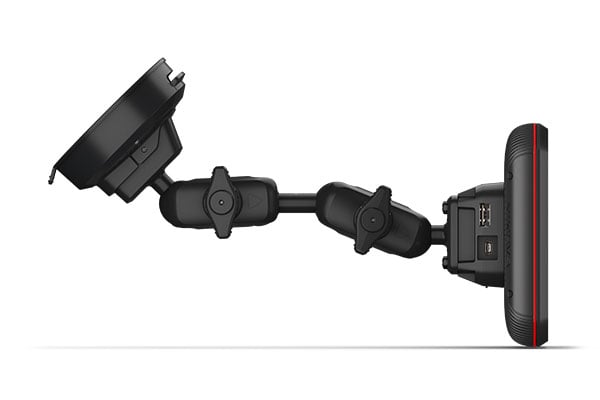 MOUNTS IN THE COCKPIT
Secure Garmin Catalyst inside the cockpit using the included heavy-duty suction cup or the included screw down mount.
See how you did — and where you could do better.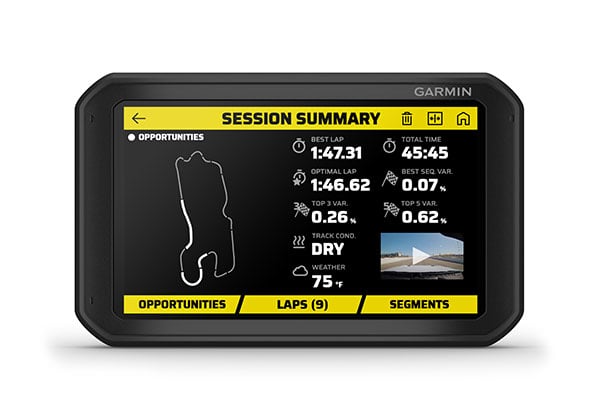 SEE AREAS OF GAIN
After your session, immediately review the performance data on your device to see where on the track your biggest areas for improvement are.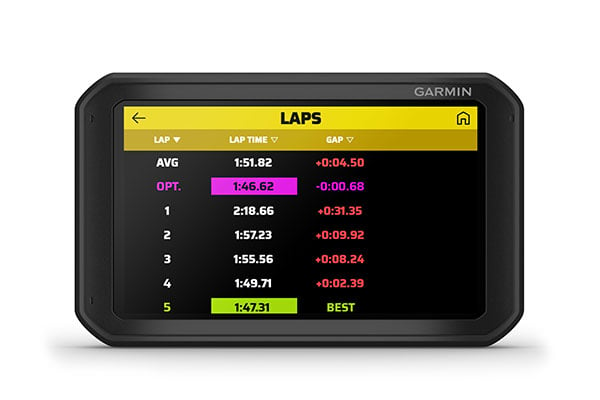 AUTOMATIC INTERPRETATION
Garmin Catalyst crunches the numbers. So there's no need to download data to your computer — and no cumbersome graphs with squiggly lines that leave you trying to analyze data for hours.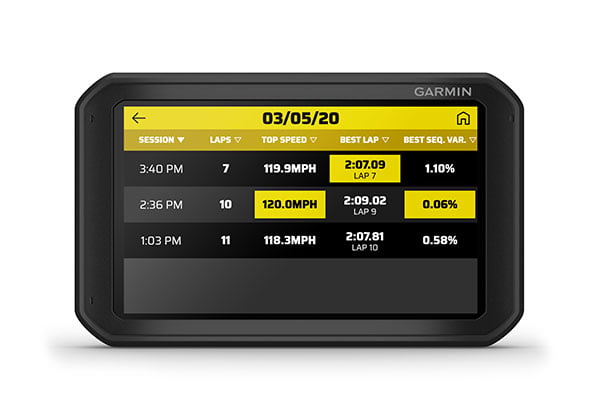 ADAPTIVE COACHING
Easily compare performance data from your other sessions, and get immediate, adaptive suggestions to see areas where you can do better.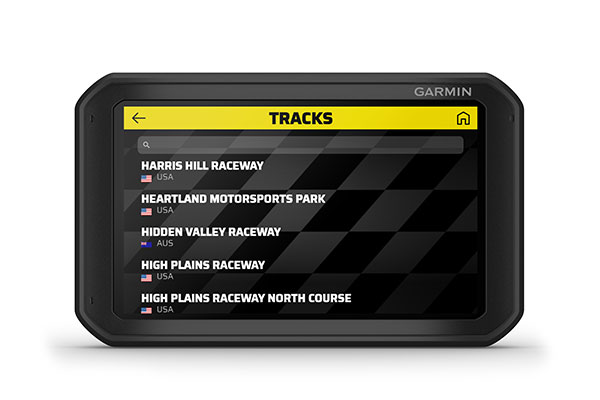 TRACK DATABASE
Garmin Catalyst comes preloaded with a track database featuring road courses from around the world. Garmin Catalyst allows users to easily add courses to the database as well.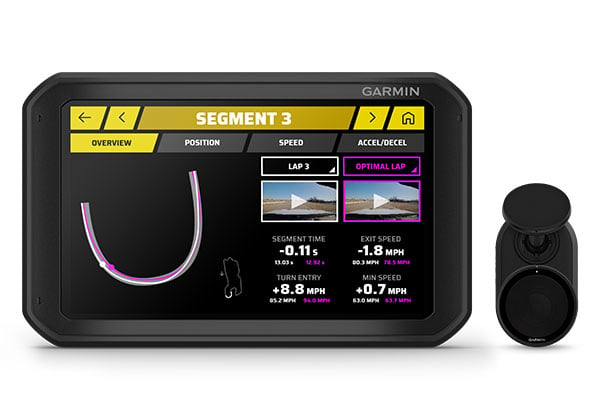 REMOTE CAM
The included remote cam captures clear, crisp HD video, which can be played back on the device with time-synced overlays showing speed, lap data and more.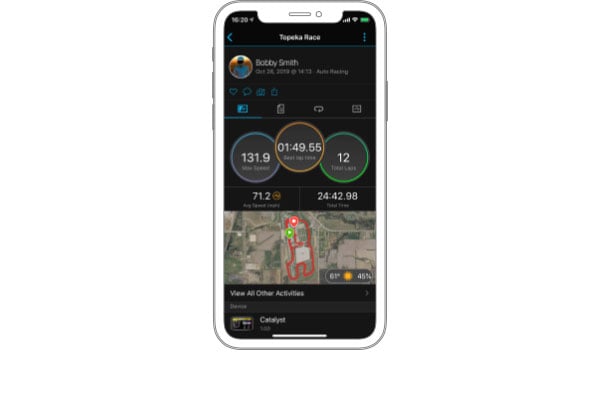 DATA ON DEMAND
Review in-depth performance data on your 7" Garmin Catalyst device, or access a summary of your data on your mobile device or computer using the Garmin Connect™ app.