Garmin D2 Mach 1 With Oxford Brown Leather Band
Model Number: 010-02582-54
Order now and your Garmin D2 Mach 1 With Oxford Brown Leather Band will ship on Monday, Dec 11 with Free Shipping
Place your order by 4:00 PM PST and your order will ship the same day, weekends and holidays excluded. Orders placed after 4:00 PM PST will ship the following business day. All orders are subject to verification. International orders subject to shipping charges. For further details see delivery estimates in cart.
Availability:
Hurry Only 3 Left!
Condition: New
A brand-new, unused, unopened item in its original retail packaging, with all original packaging materials included. Original manufacturer's warranty is included.
Specs
In the Box
D2 Mach 1 aviator smartwatch
Trial subscription of Garmin Pilot app
Black silicone watch band
Charging/data cable
Documentation
✓
Your request has been successfully sent!
Do you have an old GPS unit lying around? The GPS Nation Trade In and Up program is a great way to trade in your old and used GPS for credit towards a new GPS. The choice is entirely yours! We've made the process simple and streamlined. Follow these simple steps, and you will be on your way to receiving credit towards your brand new GPS!
1. Get a quote
To get your free quote, provide your GPS type, manufacturer, model, and condition. Within 24 hours, you will receive a quote for the trade-in value of your current product. The GPS trade-in/trade-up form is at the bottom of this page.
2. Ship your product(s) for trade
After accepting our offer, pack your product(s) safely and ship them to us using the pre-paid shipping label provided to you. We will provide a confirmation email when your trade-in arrives at our warehouse. You have 30 days from the date you complete your on-line trade to ship the product to GPS Nation.
3. Make your purchase
Once we receive your product at our warehouse and we validate the stated condition, we will send you a confirmation email. If you elect to receive credit towards a new GPS at gpsnation.com, your store credit will be issued, and you are free to make your purchase.
Overview
ACCELERATE THE ADVENTURE
With classic style and a vivid AMOLED touchscreen display, this premium smartwatch offers advanced tools for flying — plus health and fitness features that enhance your pilot life.
Where to? Navigate with a worldwide aviation database, moving map and HSI.
Extend your range with up to 11 days of battery life in smartwatch mode.
How's the weather? Know with NEXRAD, METARs, TAFs1 and MOS2. And get customizable alerts for changes.
See destination airport information, including frequencies and runway alignment.
Cross-check your wellness with health data, stress tracking, sleep monitoring and more.
Get moving with sports apps, animated workouts and performance metrics.
CREATED FOR YOUR LIFESTYLE
The stunning 1.3" AMOLED display brings your watch to life, even in bright sunlight. The face includes a UTC pointer and 24-hour clock around the bezel plus seven customizable data fields.
TOUCHSCREEN AND BUTTONS
Traditional button controls that work in any environment are matched with a responsive new touchscreen interface for quick access to selections and map features.
PREMIUM MATERIALS
Designed to show your passion for aviation, the watch features a sapphire lens and titanium bezel — plus oxford leather or vented titanium strap options.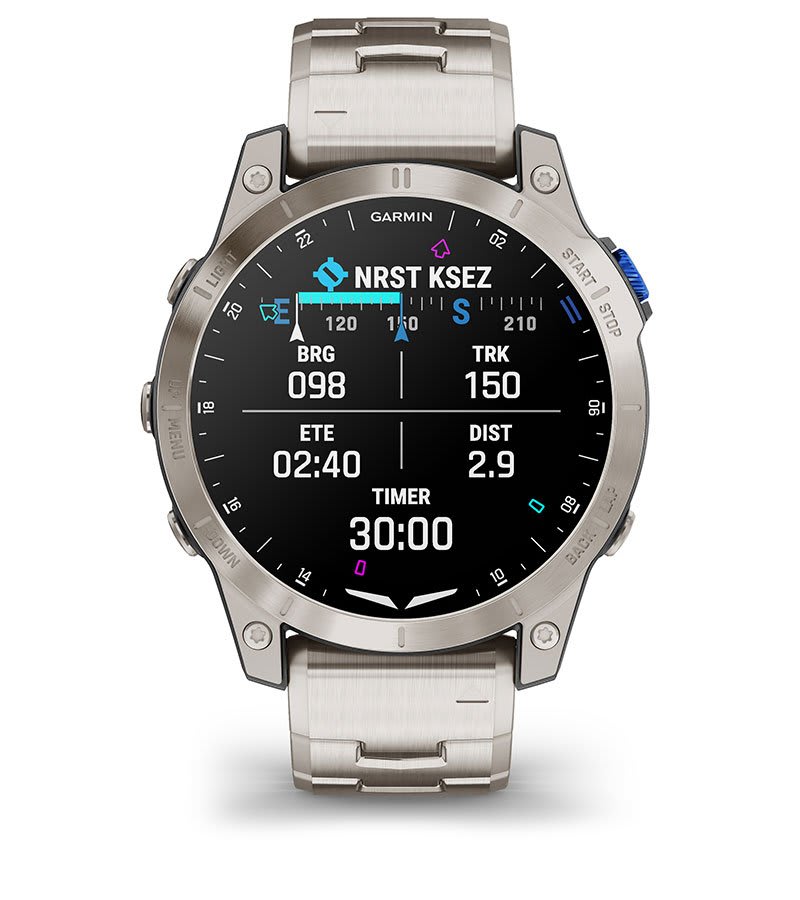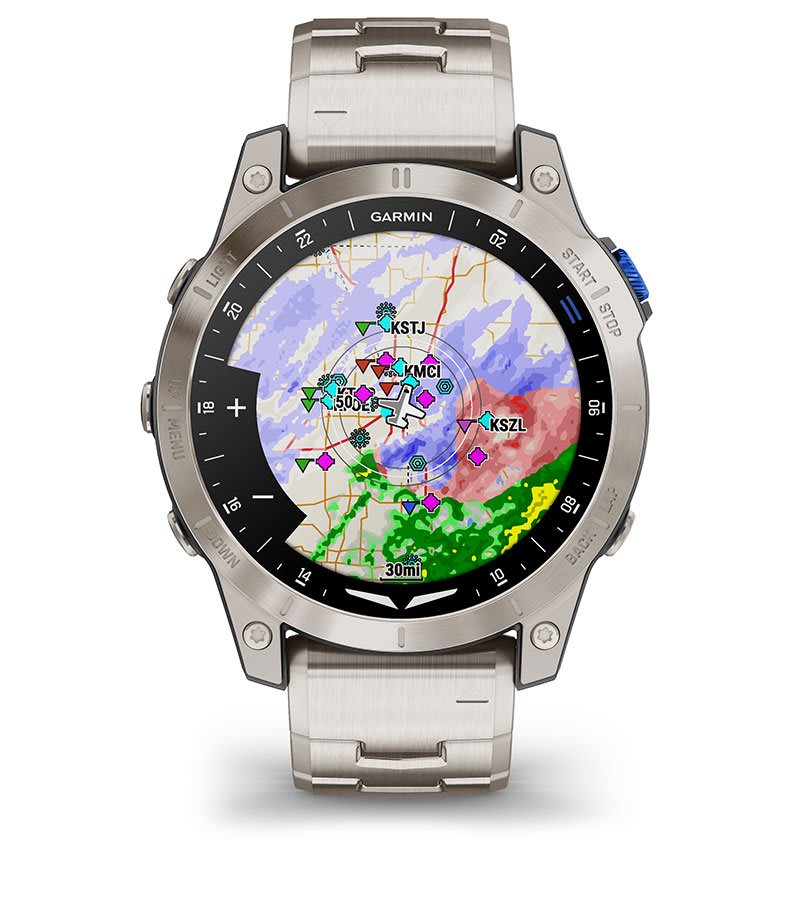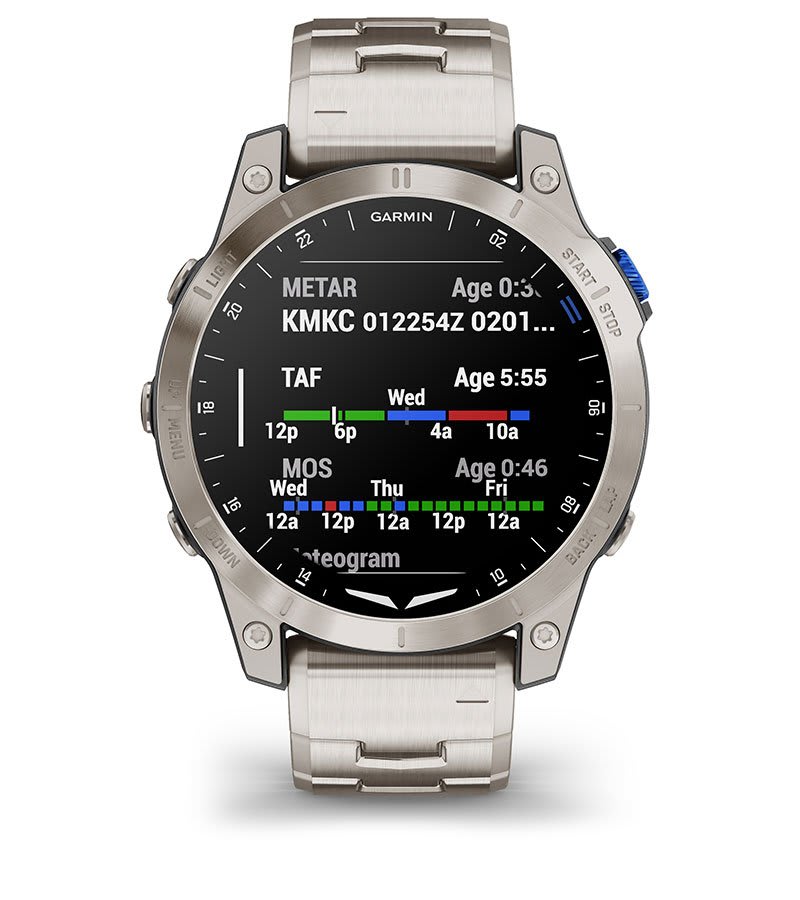 DIRECT-TO NAVIGATION
Navigate straight to a location or waypoint in the worldwide aeronautical database. Or choose the Nearest function to activate a path to a nearby airport.
MOVING MAP
Pan across the moving map with a touch, and tap on waypoints for more information. Plus, see NEXRAD radar overlaid on your route.
WEATHER REPORTS
Access aviation weather, including METARs, TAFs and MOS, to see winds, visibility, barometric pressure and more.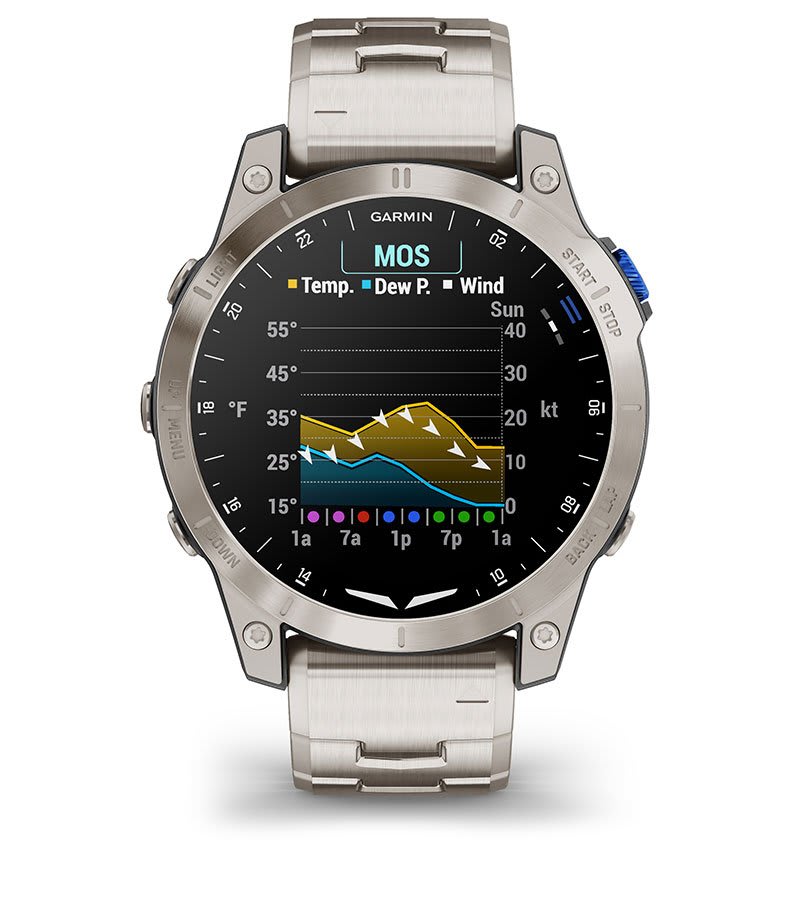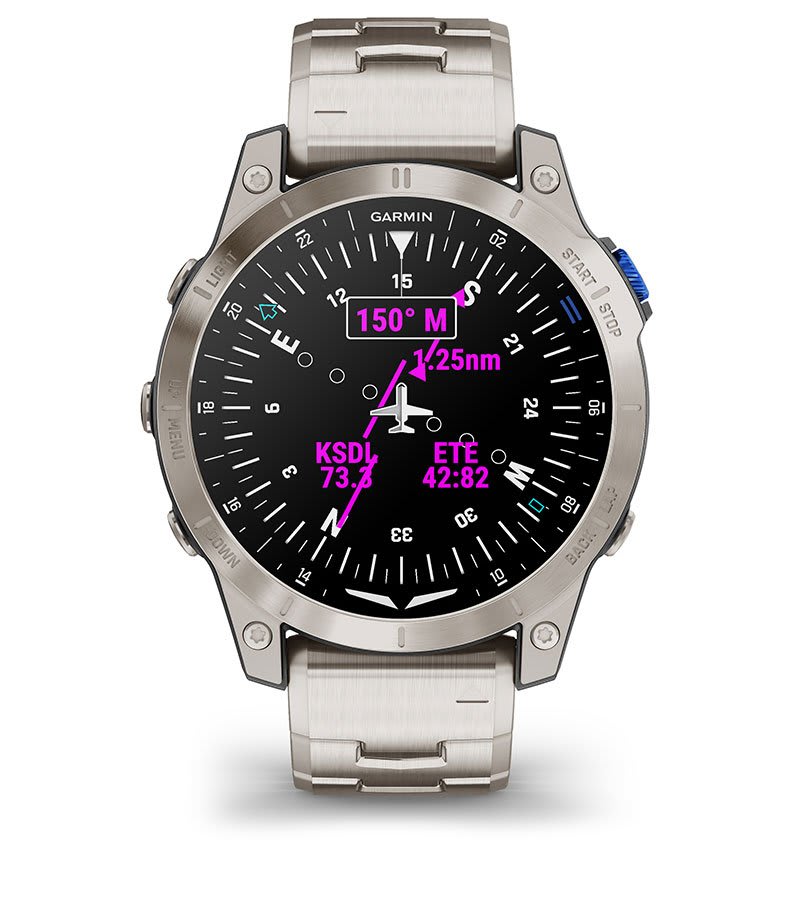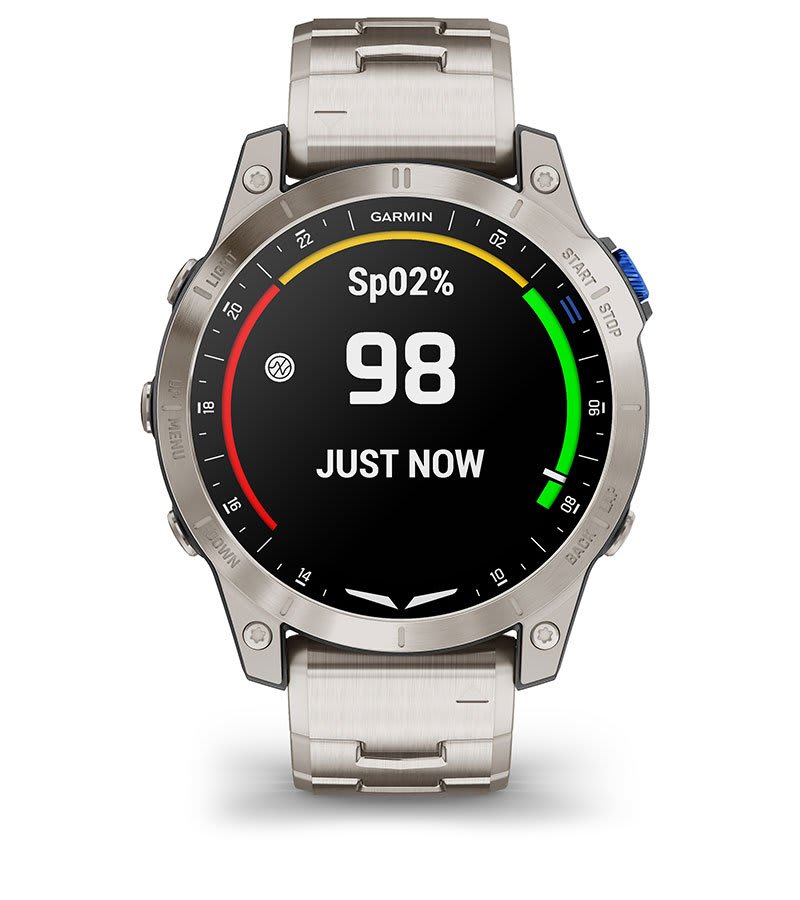 METEOGRAM FEATURE
See graphical indications of MOS forecasts for specific airports, including projections for temperature trends, wind, dewpoint, sky cover, precipitation probability and more.
HSI COURSE NEEDLE
Follow the instrument-like HSI course needle to your destination, so you can easily see if you're left or right of your desired flight path.
PULSE OX SENSOR
Check Pulse Ox to gain awareness of how well your body's oxygen levels are adjusting to the thinner air at higher altitudes.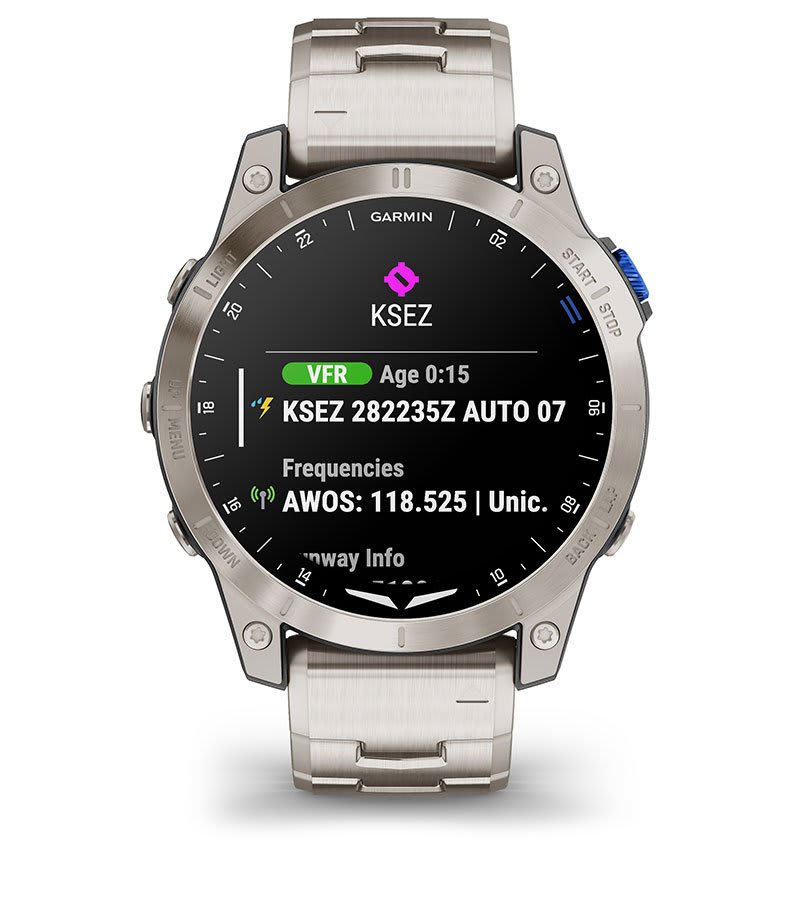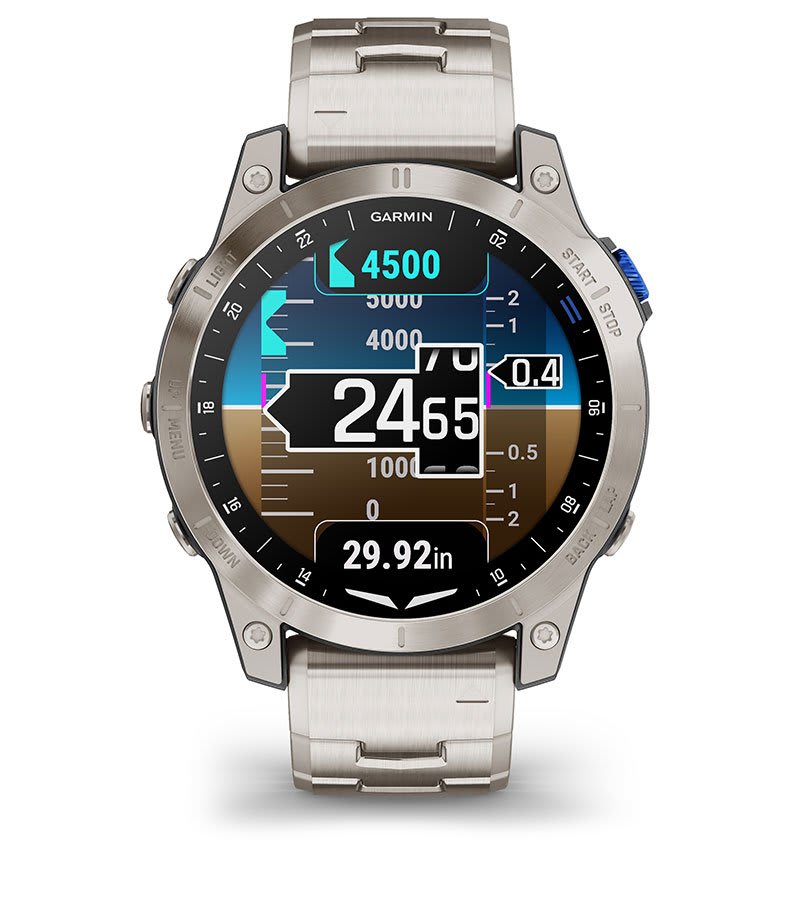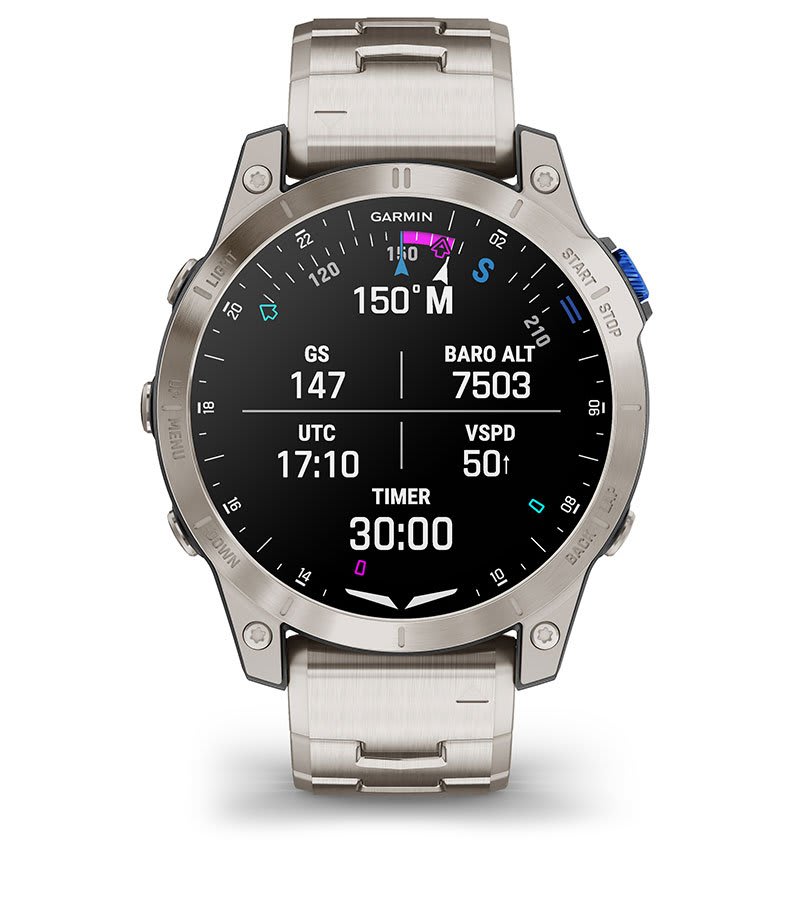 AIRPORT INFORMATION
View runway orientation (including wind components), lengths and airport frequencies as you approach your destination.
BAROMETRIC ALTIMETER
See when you've reached your desired altitude — or get a vibration alert when you reach an altitude where supplemental oxygen may be required.
FLIGHT LOGGING
Automatically start tracking flights on takeoff. Then automatically transfer date, duration, total flight time and route to your flyGarmin.com account.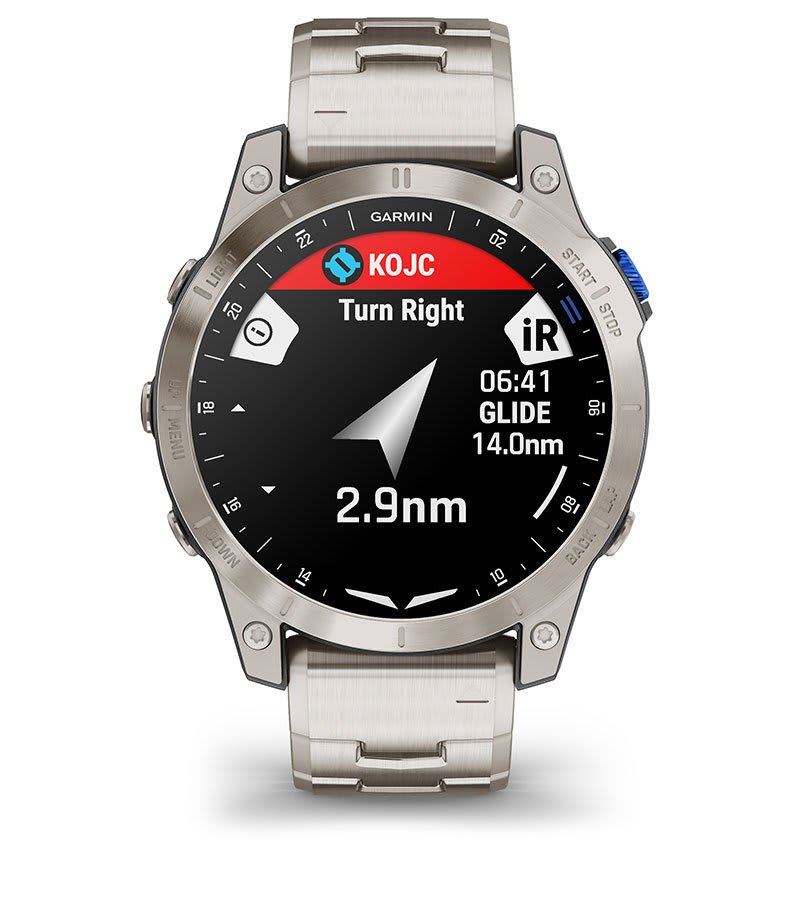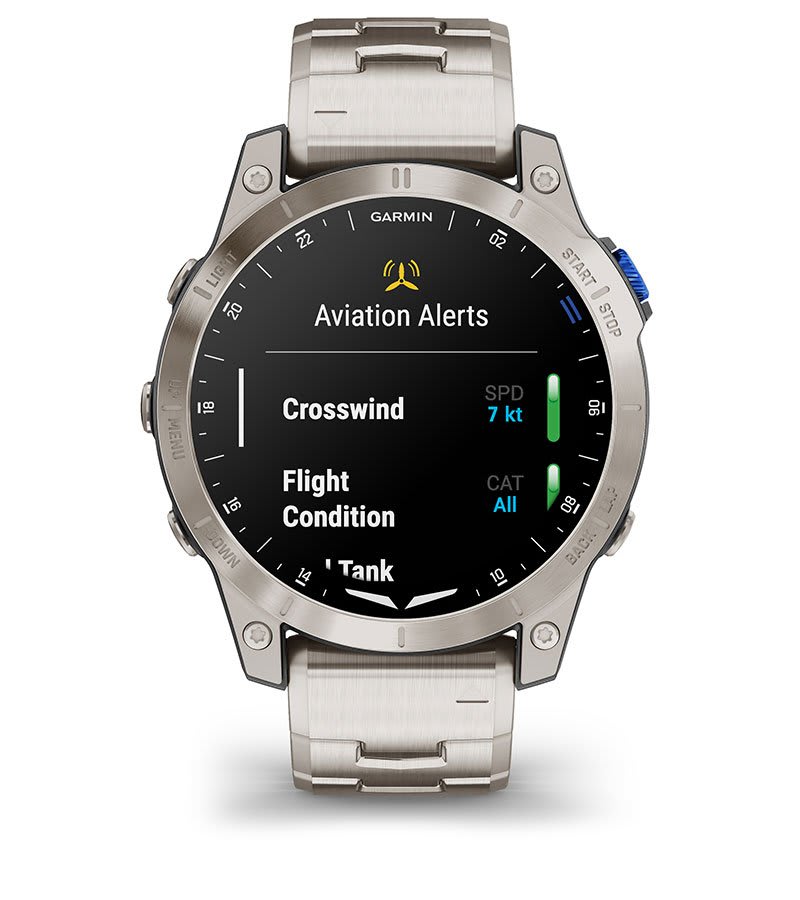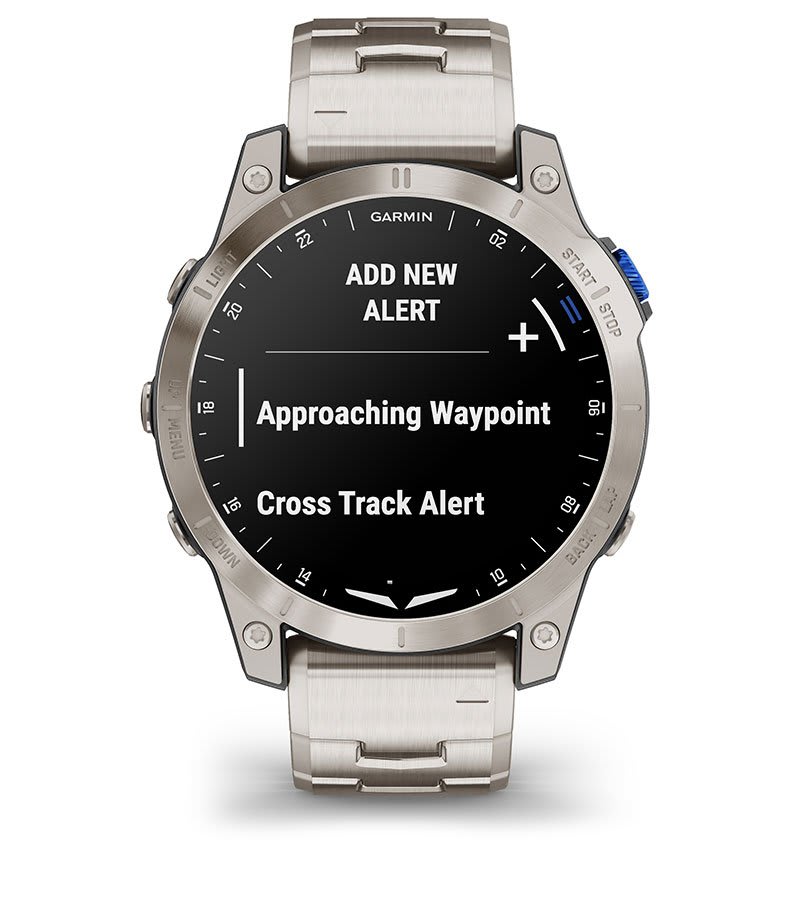 EMERGENCY MODE
Activate to see your best glide speed, estimated glide distance and glide time during an engine-related issue. View a bearing pointer to the nearest airport, and see a list of alternate airports.
CONFIGURABLE ALERTS
Set customizable notifications for new METAR and TAF reports, when destination airport conditions change, when crosswind components exceed a threshold and more.
ALERTS AND TIMERS
Manually set vibrating alerts to remind you when it's time to switch fuel tanks or perform other time-critical tasks.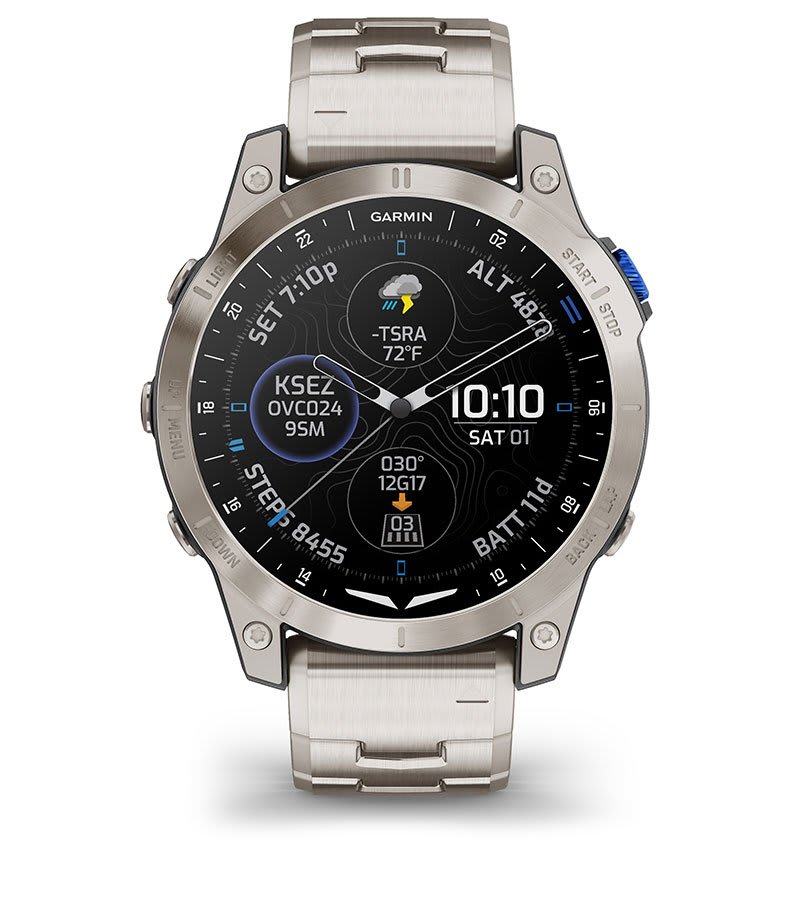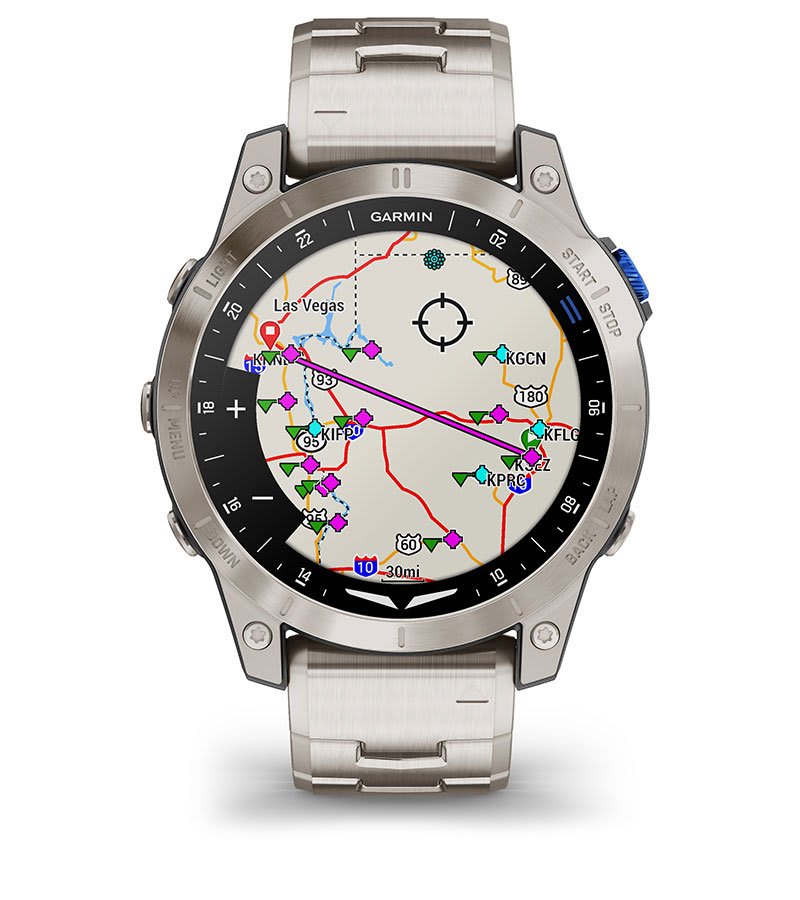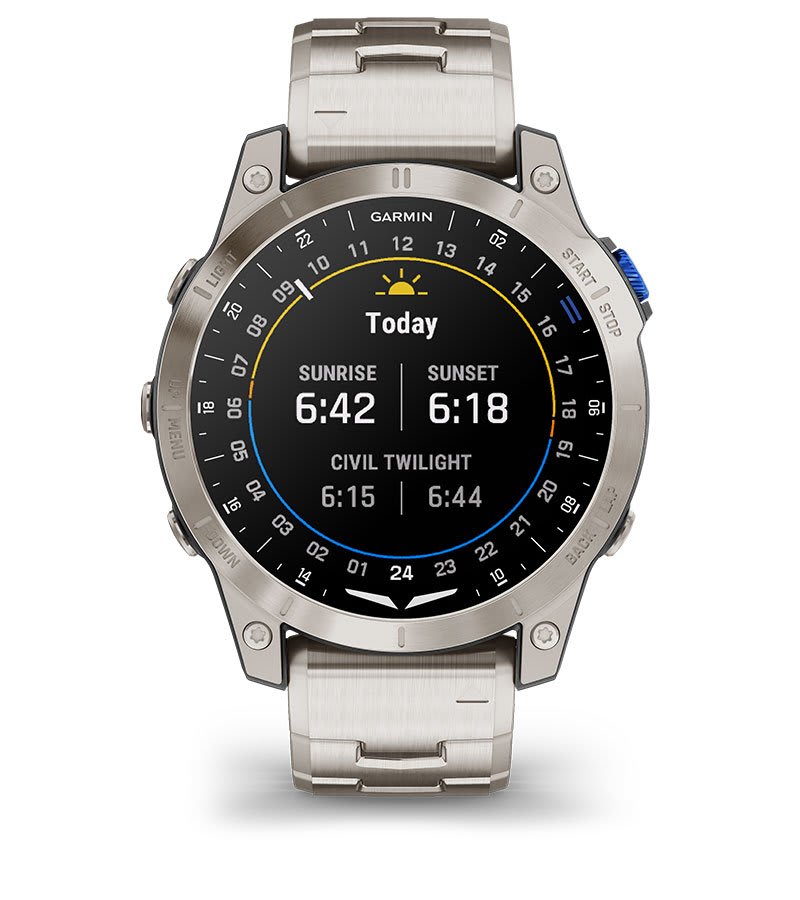 UTC AND TIME ZONES
Stay on schedule when you travel with a UTC pointer on the watch face plus multiple time zone displays.
FLIGHT PLAN TRANSFER
Transfer your flight plan from the Garmin Pilot app to D2 Mach 1, and view the list of waypoints included in your route.
SUNRISE/SUNSET WIDGET
Get daily indications for times of sunrise and sunset — plus hours for civil twilight — by scrolling through available widgets on the touchscreen display.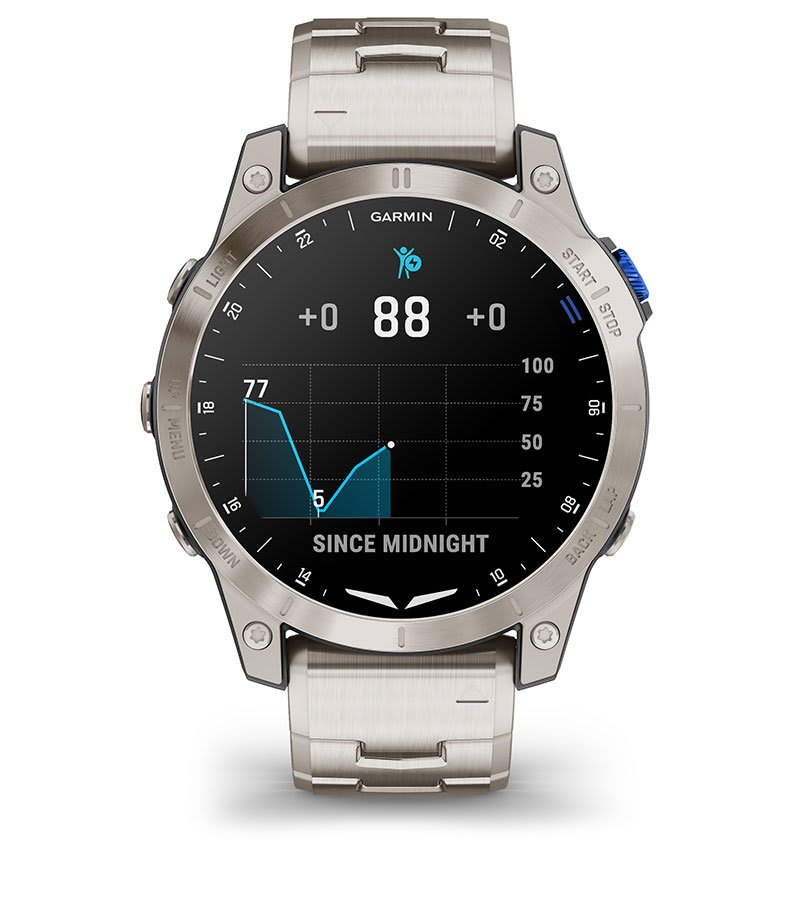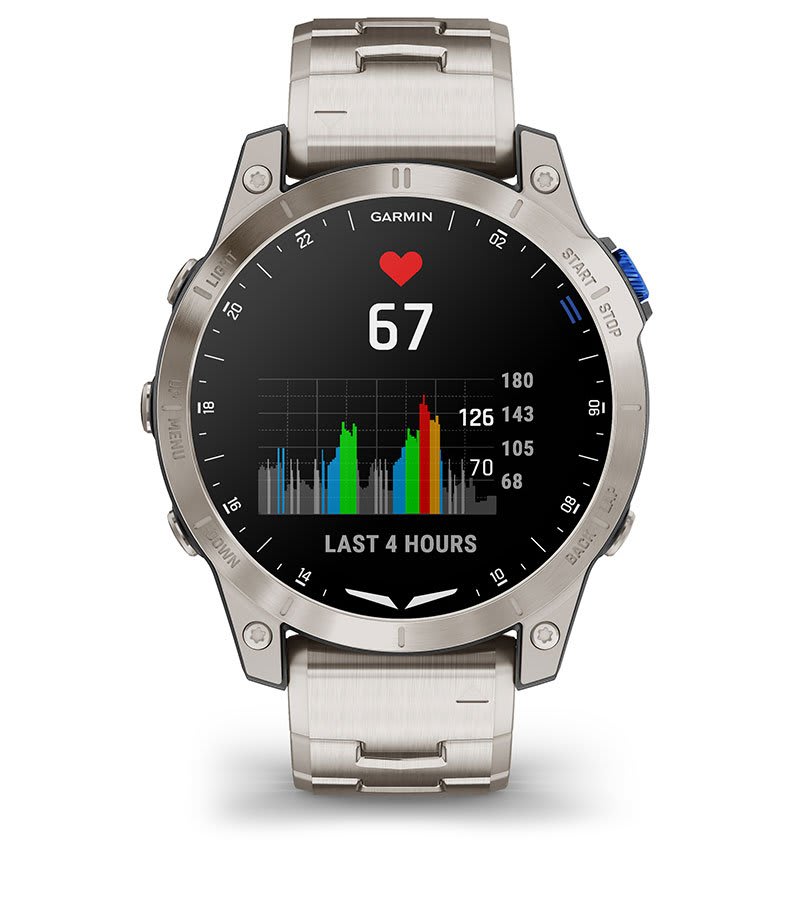 HEALTH SNAPSHOT FEATURE
Log a 2-minute session to record key stats, including heart rate, heart rate variability, Pulse Ox, respiration and stress. Then generate a report with those stats to share via the Garmin Connect app on your compatible smartphone.
BODY BATTERY ENERGY MONITORING
Optimize your body's energy reserves, using heart rate variability, stress, sleep and other data to gauge when you're ready to be active or when you may need to rest.
WRIST-BASED HEART RATE
The watch constantly samples your heart rate and will alert you if it stays too high or too low while you're at rest. It also helps gauge how hard you work during activities — even while swimming.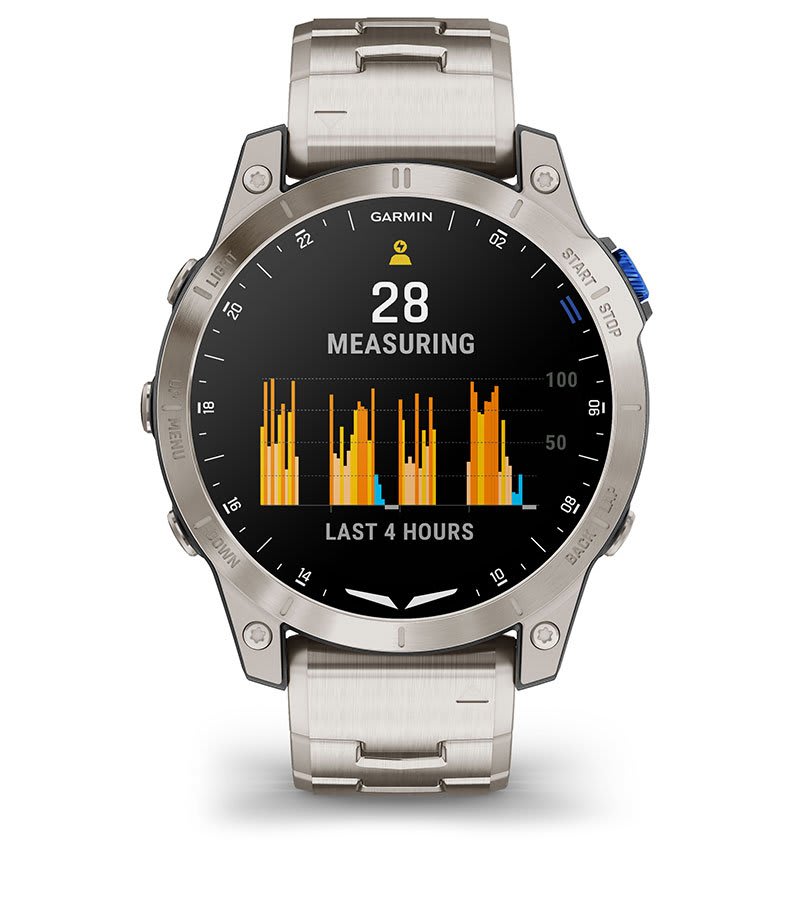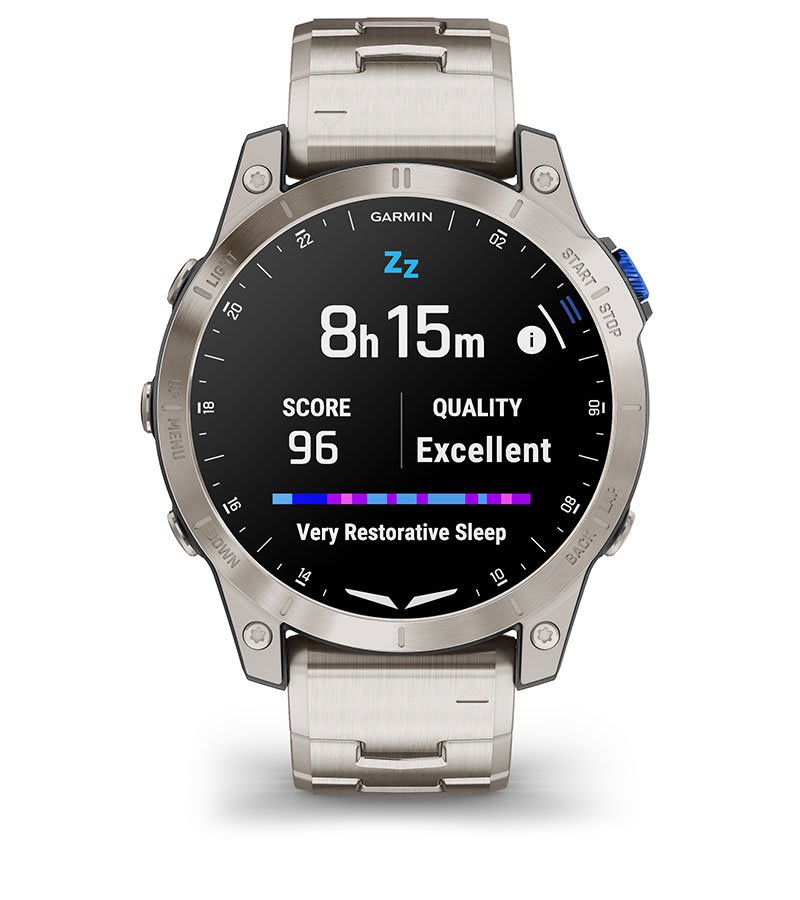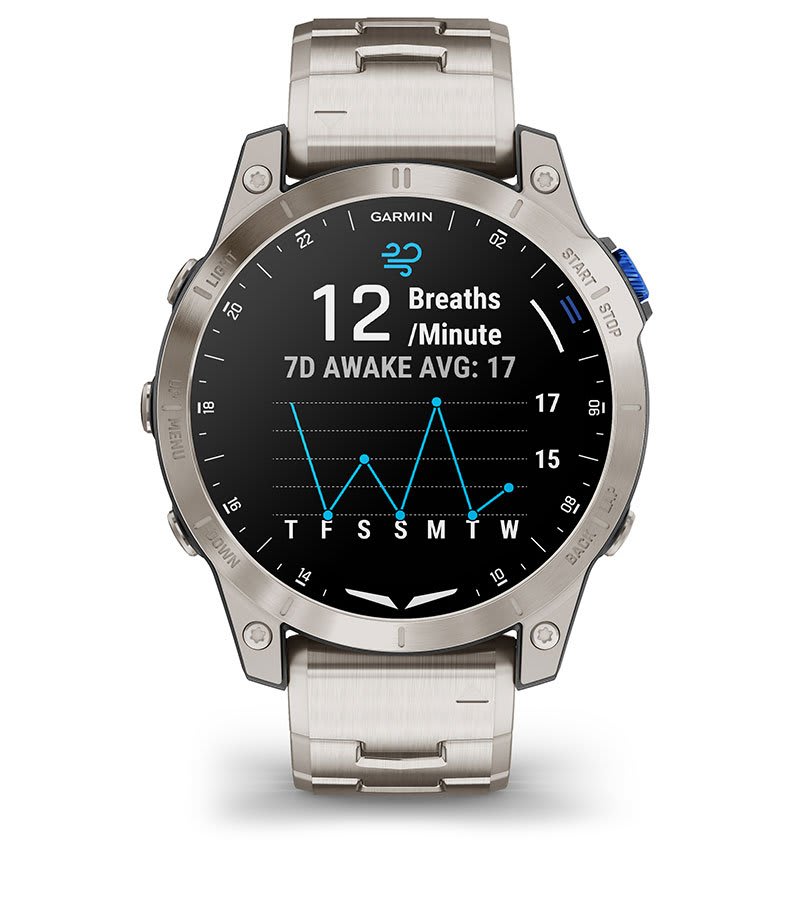 STRESS TRACKING
Heart rate variability is used to calculate your stress level score, so you can see if you're having a calm, balanced or stressful day.
SLEEP SCORE AND ADVANCED SLEEP MONITORING
Get a score for your sleep's quality and insights on how you can do better. Even keep track of the different sleep stages as well as heart rate, stress, Pulse Ox and respiration.
RESPIRATION TRACKING
See how you're breathing throughout the day, during sleep and during breathwork and yoga activities.
HYDRATION TRACKING
Log your daily fluid intake as a reminder to stay hydrated. You can even have an auto goal for hydration that adjusts based on how much you sweat during activities.
Push the envelope in fitness.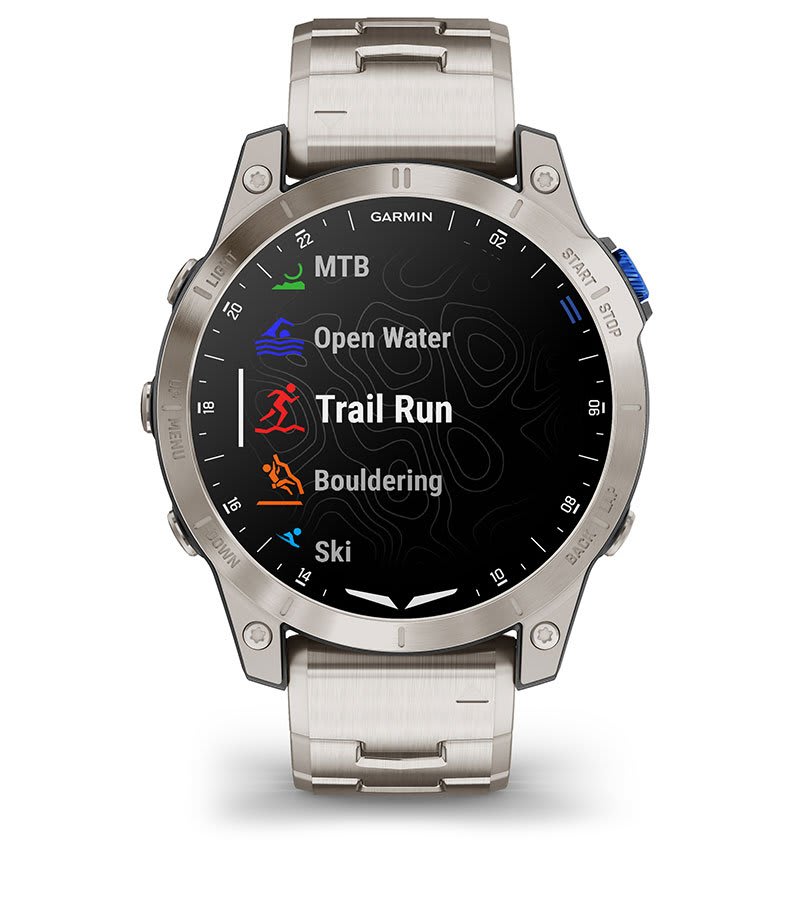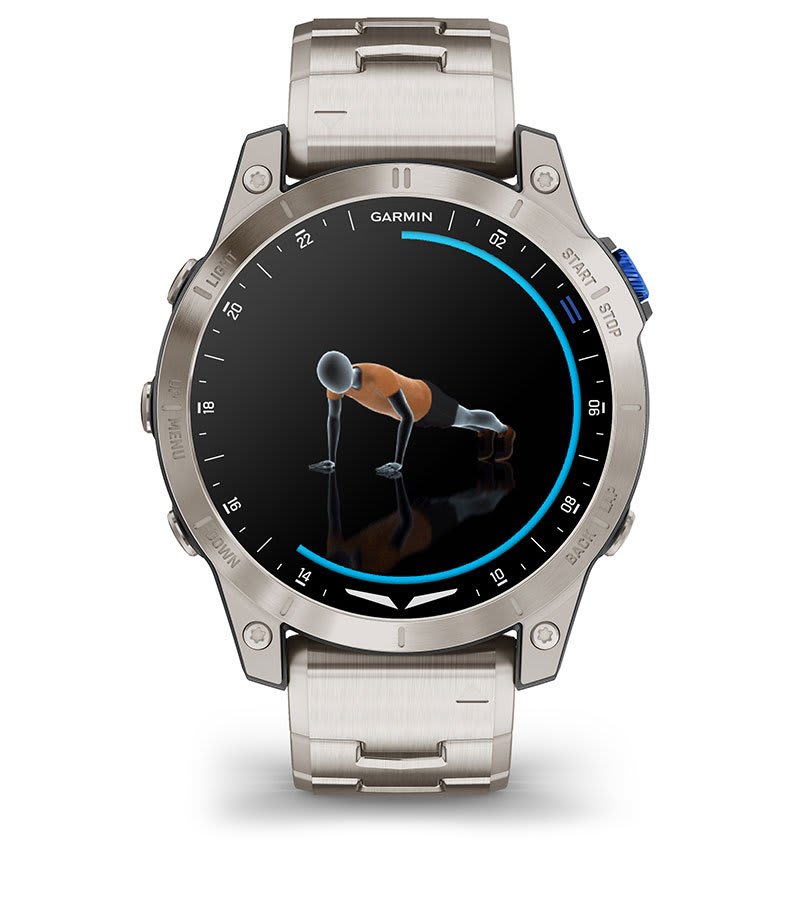 SPORTS APPS
Use preloaded activity profiles for trail running, swimming, running, biking, hiking, rowing, skiing, golfing, surfing, indoor climbing and more.
ANIMATED WORKOUTS
This watch features easy-to-follow, animated cardio, strength, yoga and Pilates workouts you can view on the watch screen. Choose from preloaded animated workouts, or download more from the Garmin Connect online community when paired with your compatible device.
PERFORMANCE METRICS
View advanced training metrics that include estimates for running dynamics, VO2 max, recovery advisor and more.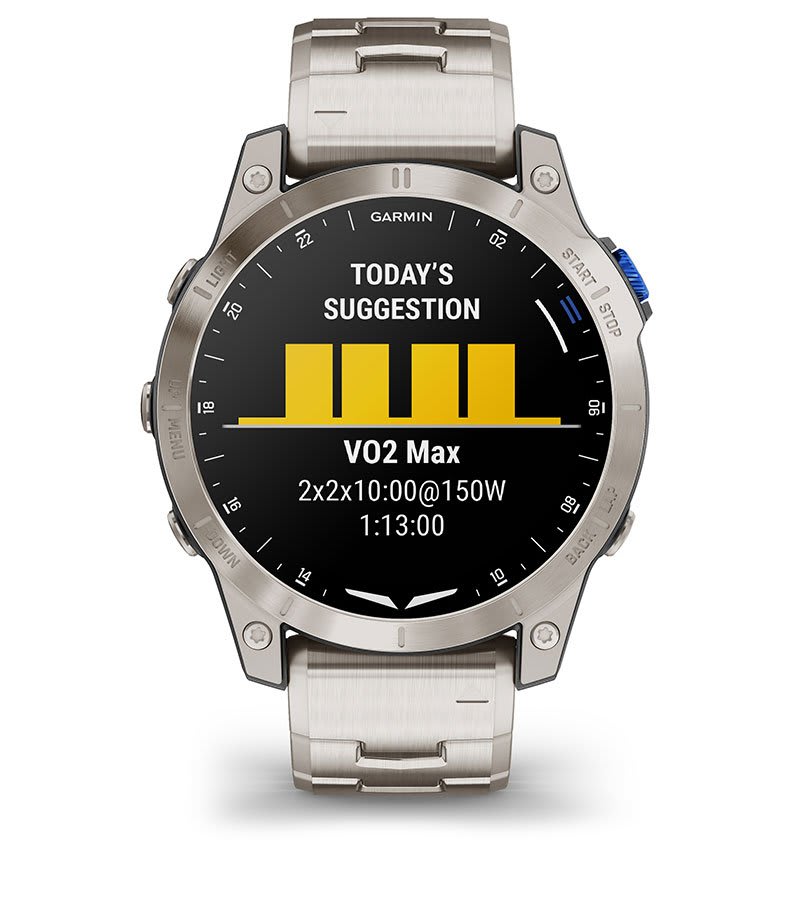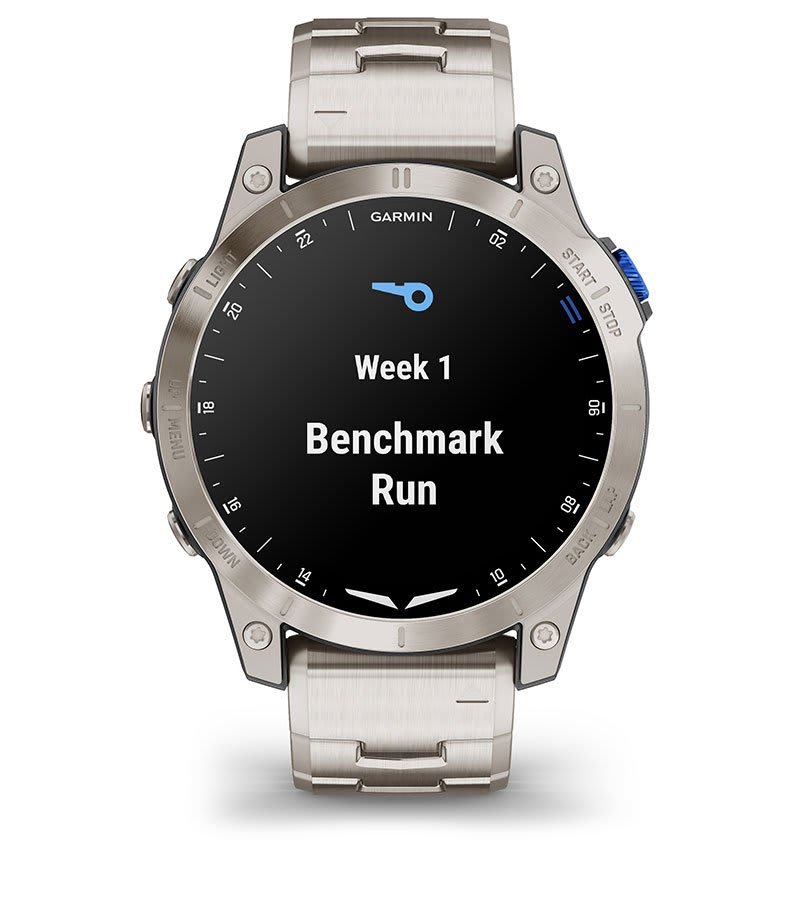 DAILY WORKOUT SUGGESTIONS
For training guidance that takes you and your fitness level into account, get daily run and ride recommendations based on your current training load and training status.
GARMIN COACH
These free adaptive training plans feature guidance from expert coaches and adapt to you and your goals. Workouts sync right to your watch from Garmin Connect.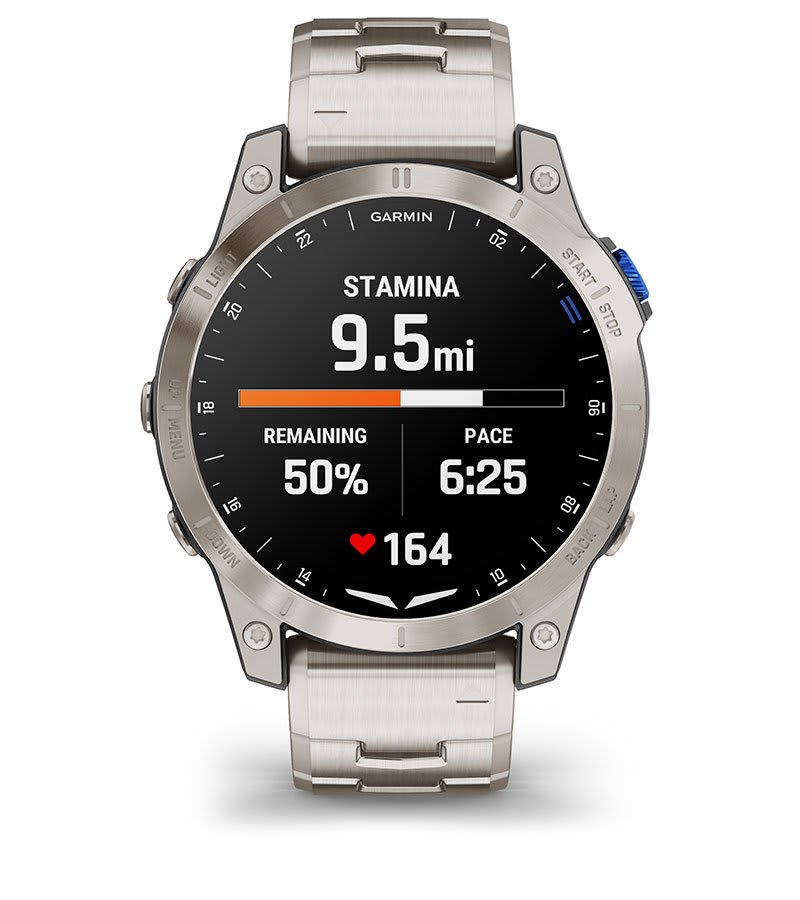 REAL-TIME STAMINA
Track and manage your exertion — and help avoid overexerting at the start of your run or activity.
Explore new destinations.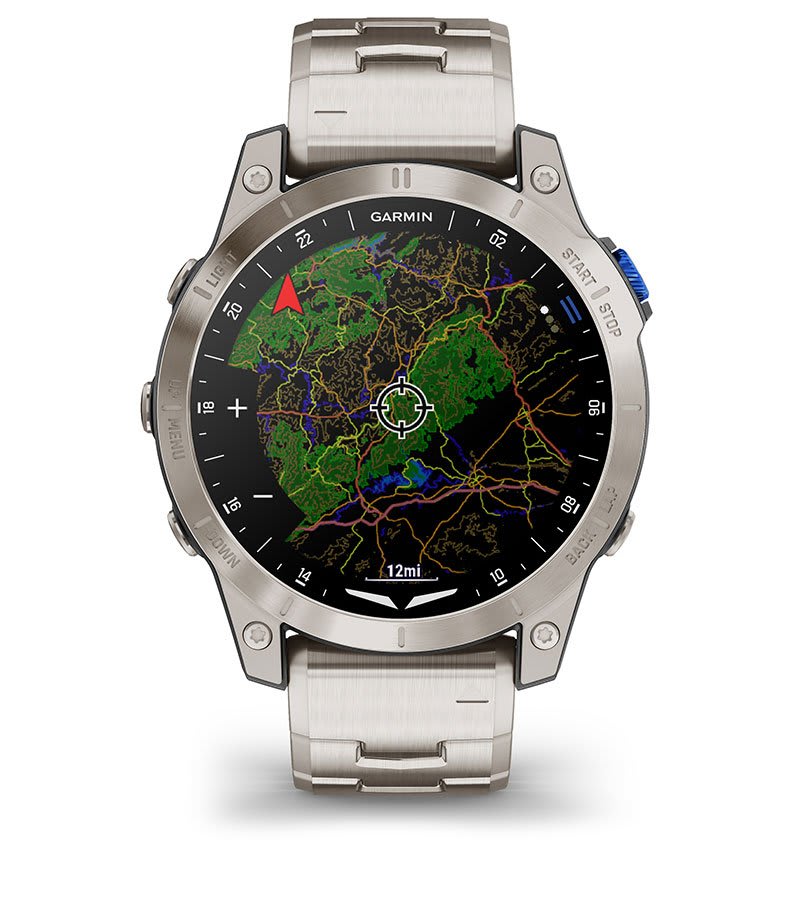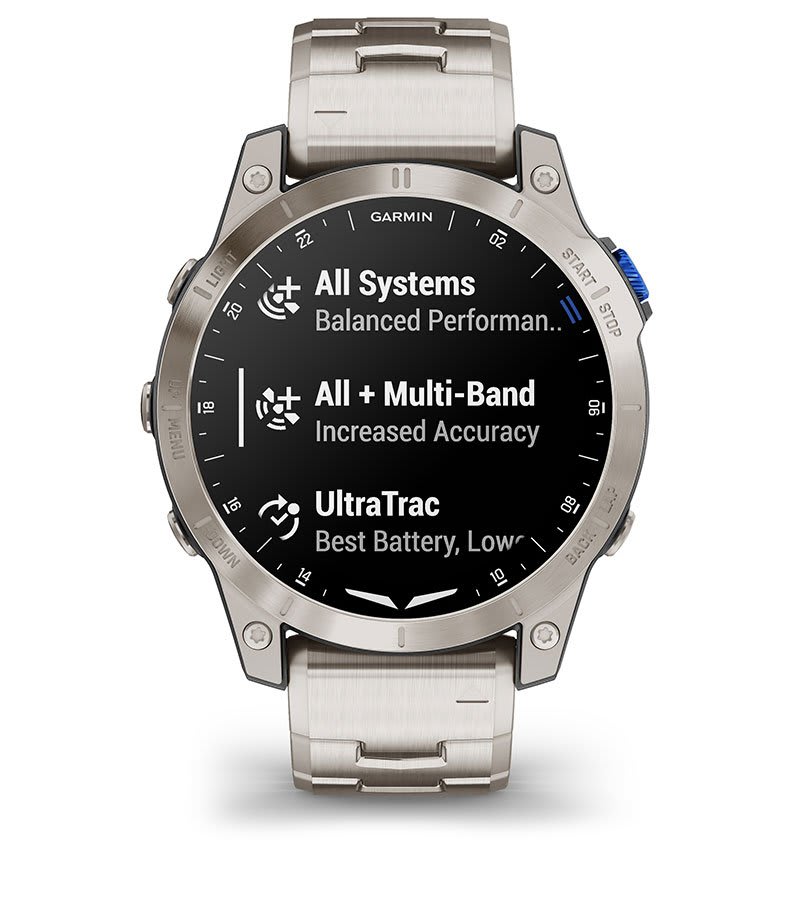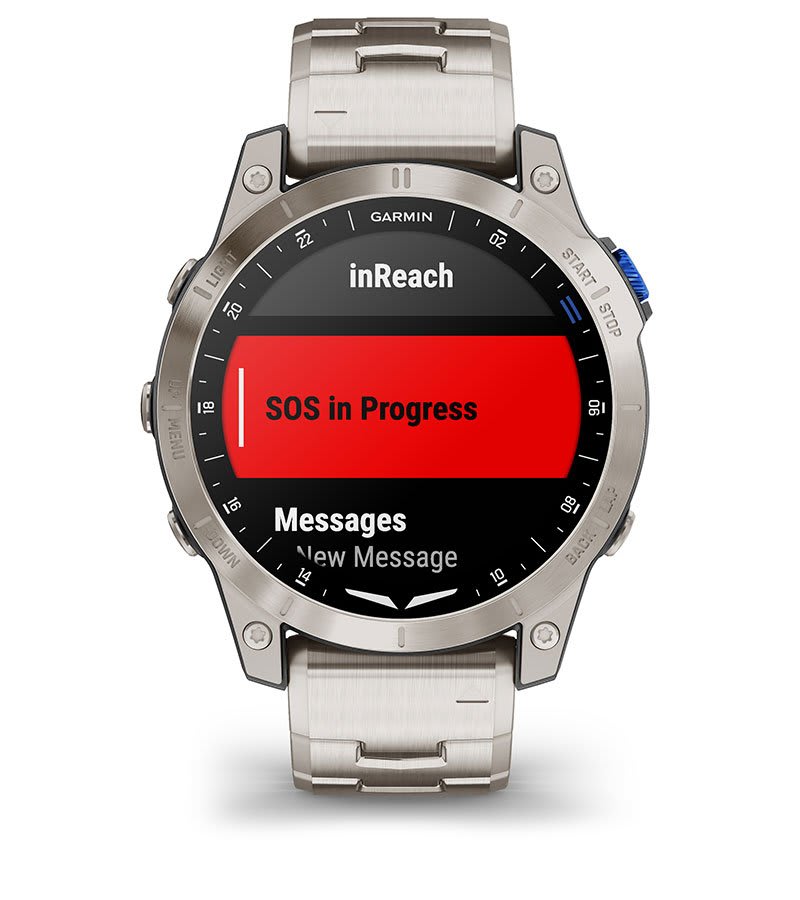 MULTI-GNSS SUPPORT
Access multiple global navigation satellite systems (GPS, GLONASS and Galileo) to track in more challenging environments than GPS alone.
MULTI-BAND FREQUENCY SUPPORT
Access multiple frequencies sent by navigation satellites for improved position accuracy in areas where GNSS signals are reflected, weak or typically don't penetrate.
INREACH DEVICE CONNECTIVITY
Pair with your inReach device to initiate an SOS from your wrist, toggle tracking or send preset messages to loved ones.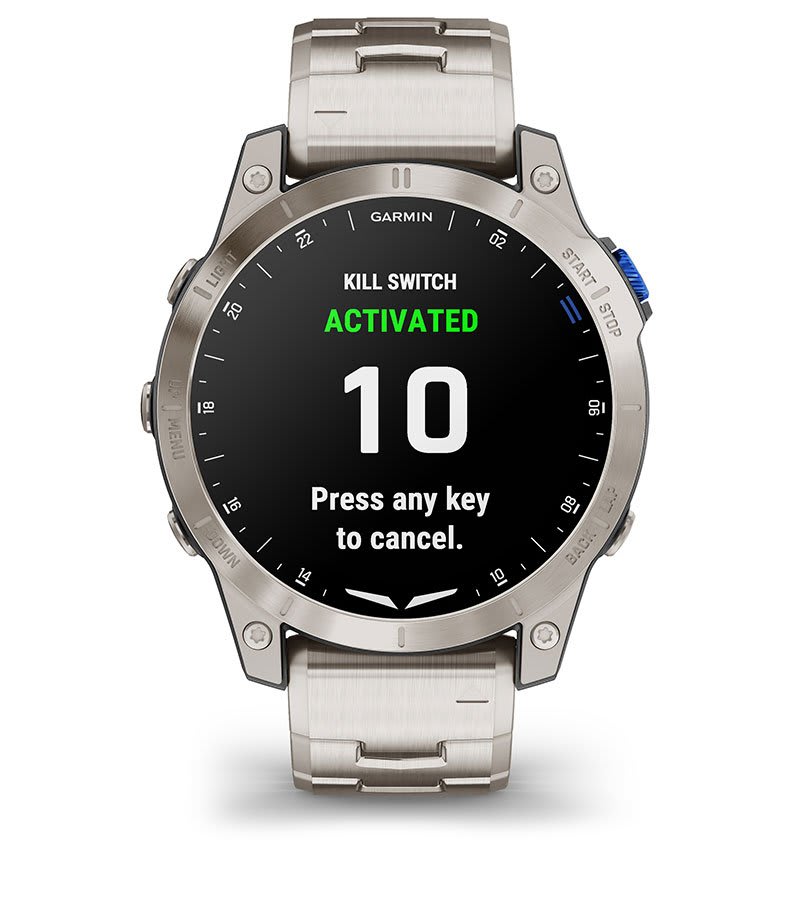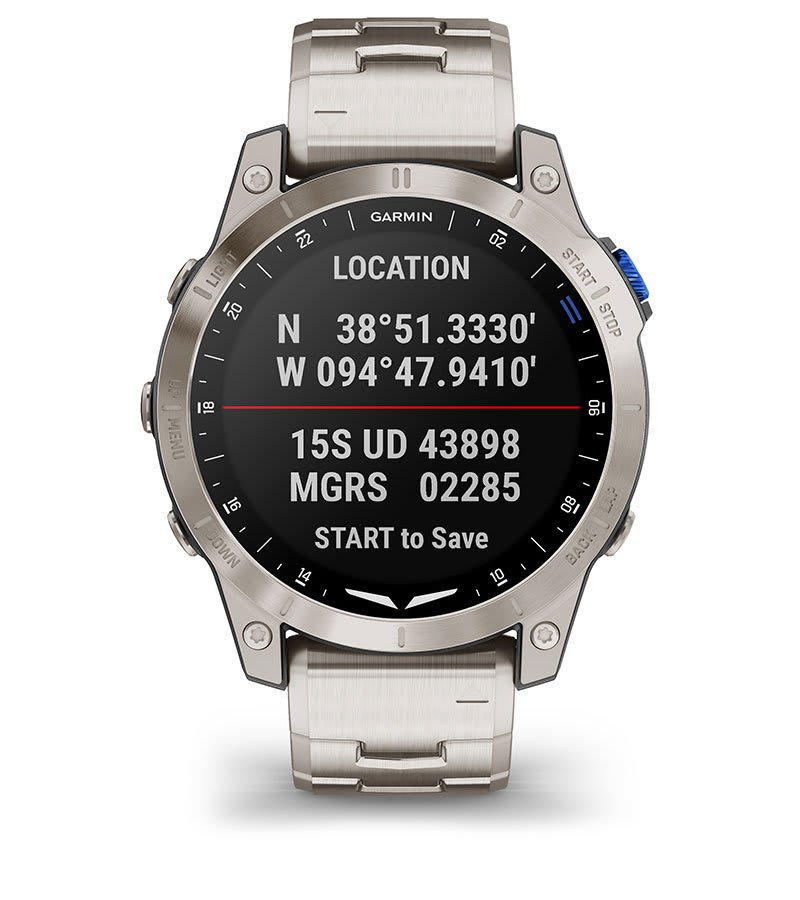 TACTICAL FEATURES
Stealth mode stops storing and sharing your GPS position and disables wireless connectivity. A kill switch wipes the device of all user memory.
DUAL-GRID COORDINATES
View your location coordinates in dual formats to aid in situational awareness.
RUGGED CONSTRUCTION
Travel confidently with hardware that's been built to MIL-STD-810G standards.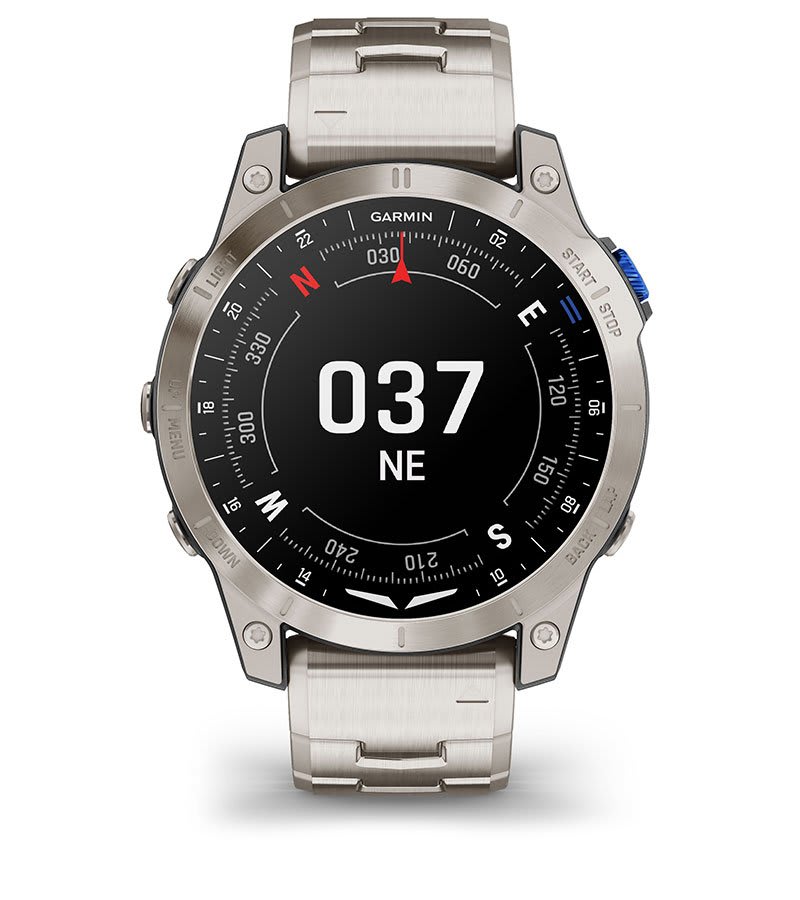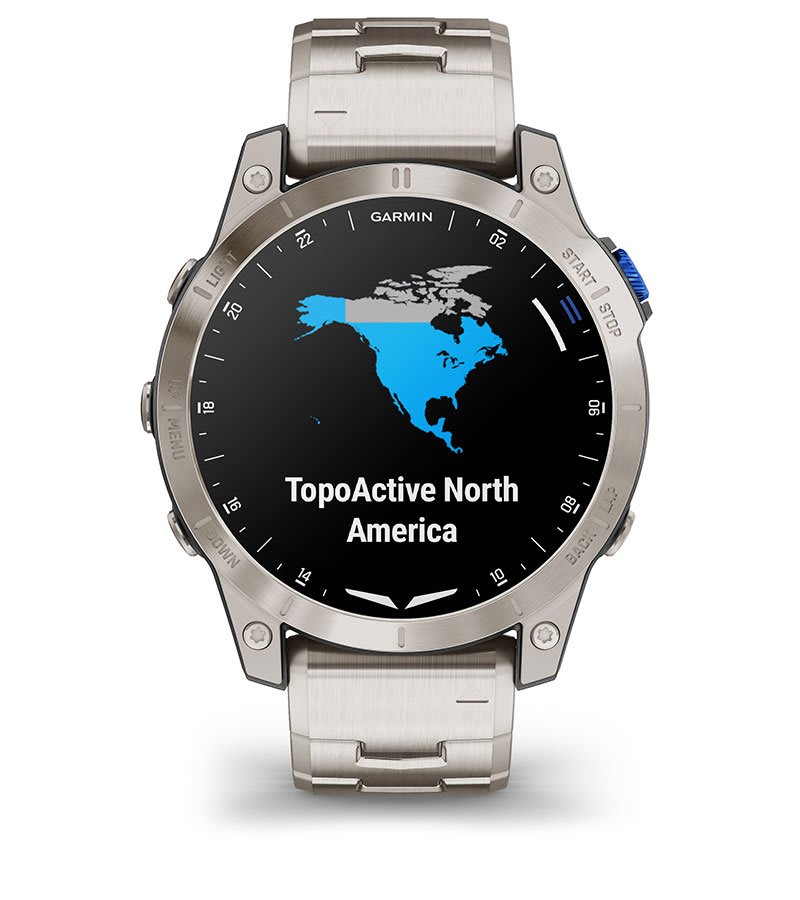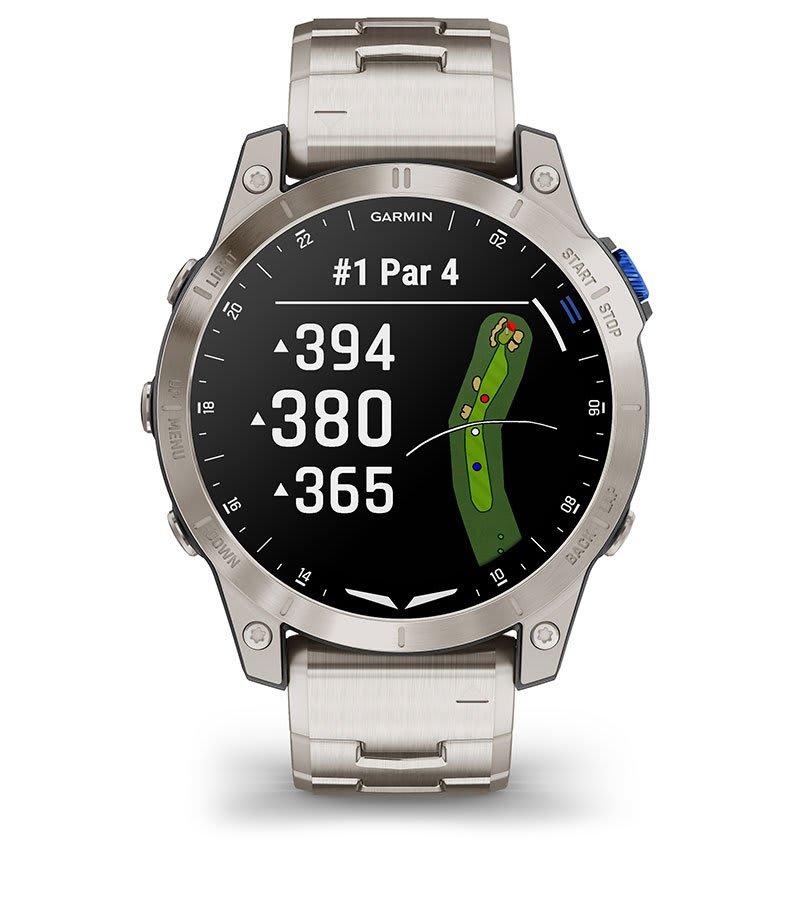 ABC SENSORS
Navigate your next trail with ABC sensors, including an altimeter for elevation data, barometer to monitor weather and 3-axis electronic compass.
MULTICONTINENT TOPO MAPS
Download TopoActive maps via Wi-Fi connectivity from around the world to keep your explorations on track. View terrain contours, elevations, summits, parks, coastlines, rivers, lakes and other geographical features.
GOLF COURSES
Access full-color CourseView maps for more than 42,000 golf courses around the world, and get touch targeting and the PlaysLike Distance feature.
Dial in your connections.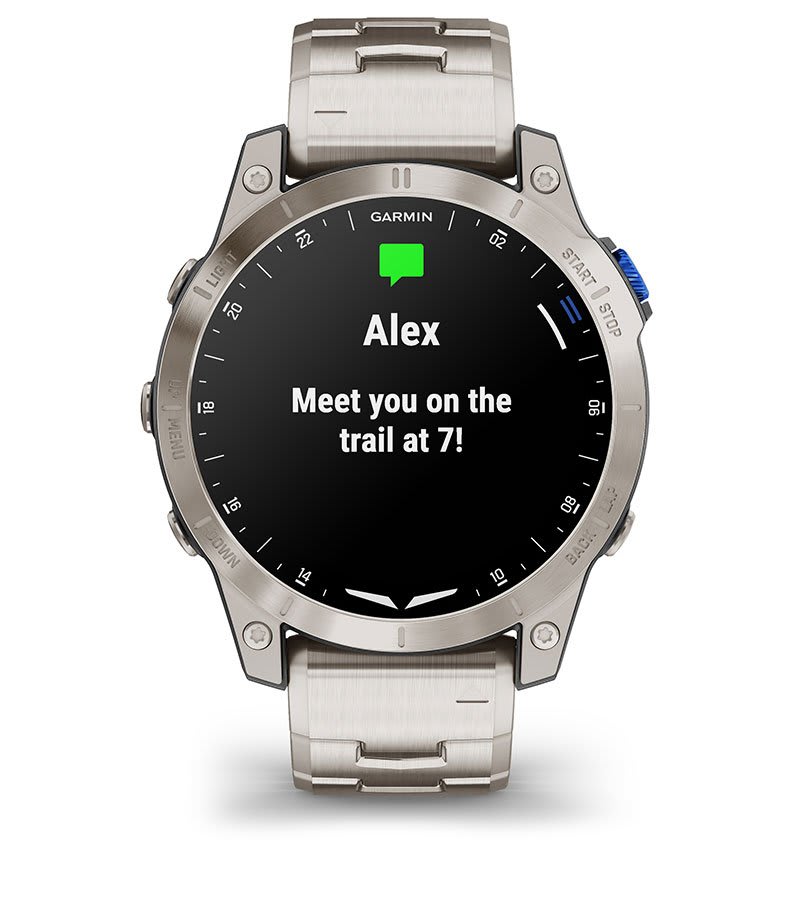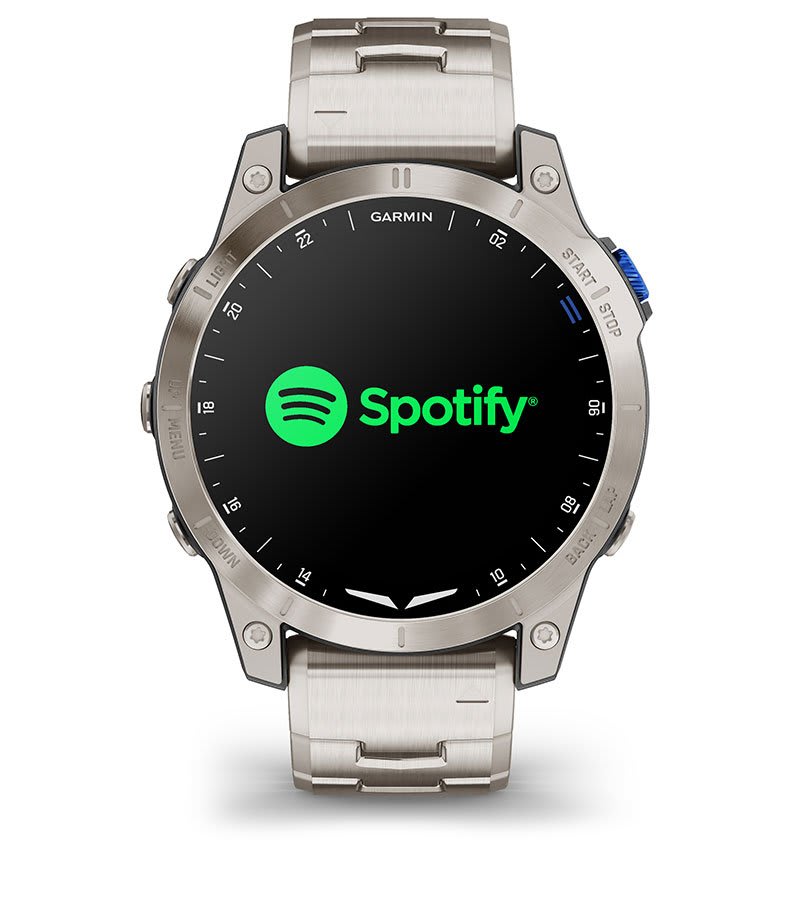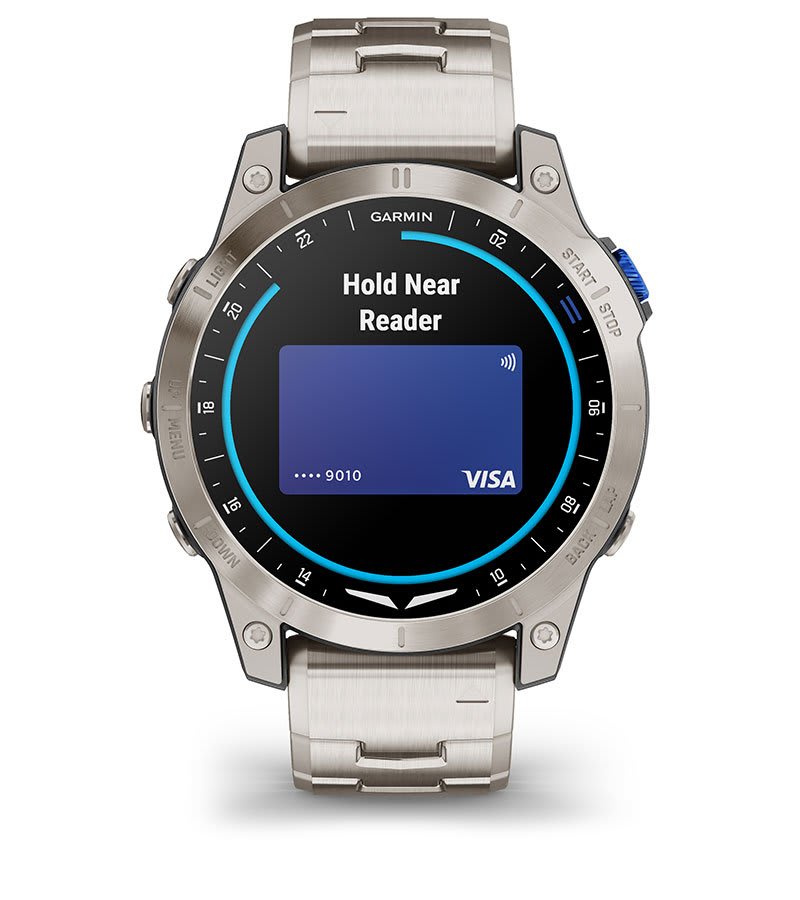 SMART NOTIFICATIONS
Receive emails, texts and alerts right on your watch when paired with your compatible smartphone.
MUSIC APPS
Download songs plus playlists from your Spotify, Deezer or Amazon Music accounts (subscription may be required). Connect to your audio panel, or use wireless headphones for phone-free listening.
GARMIN PAY CONTACTLESS PAYMENTS
Breeze through checkout lines with Garmin Pay contactless payments through participating providers.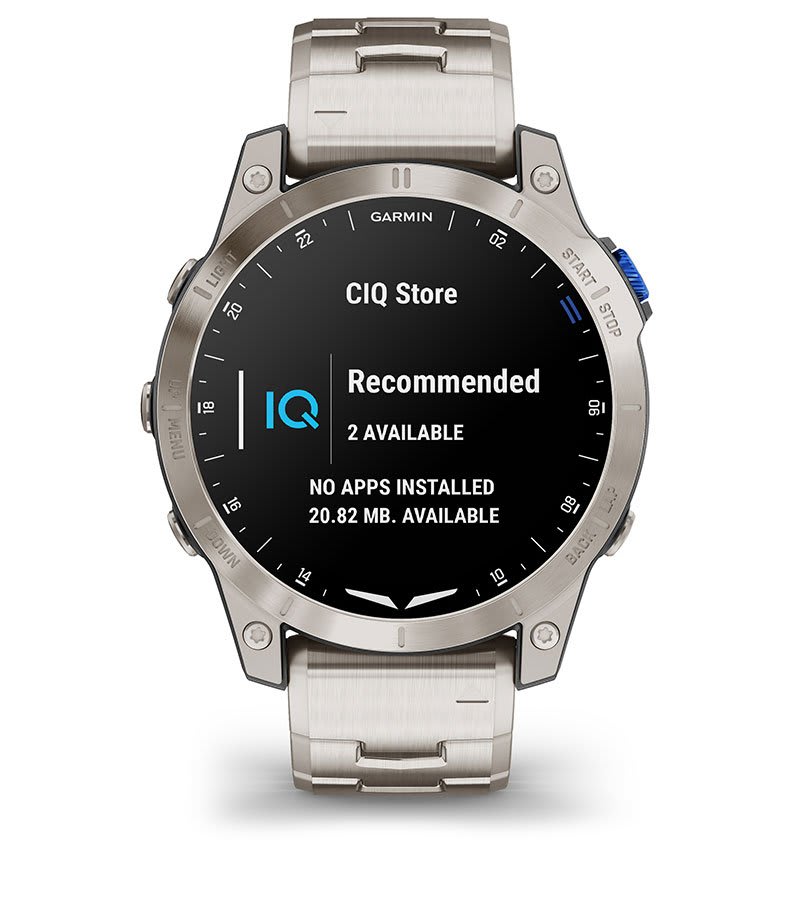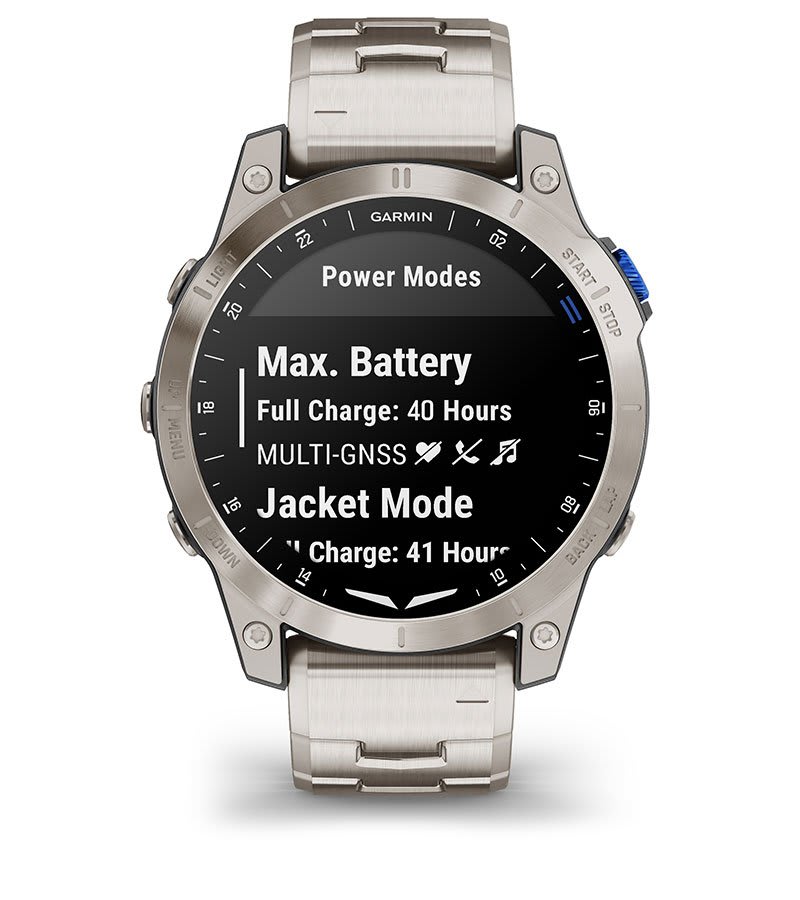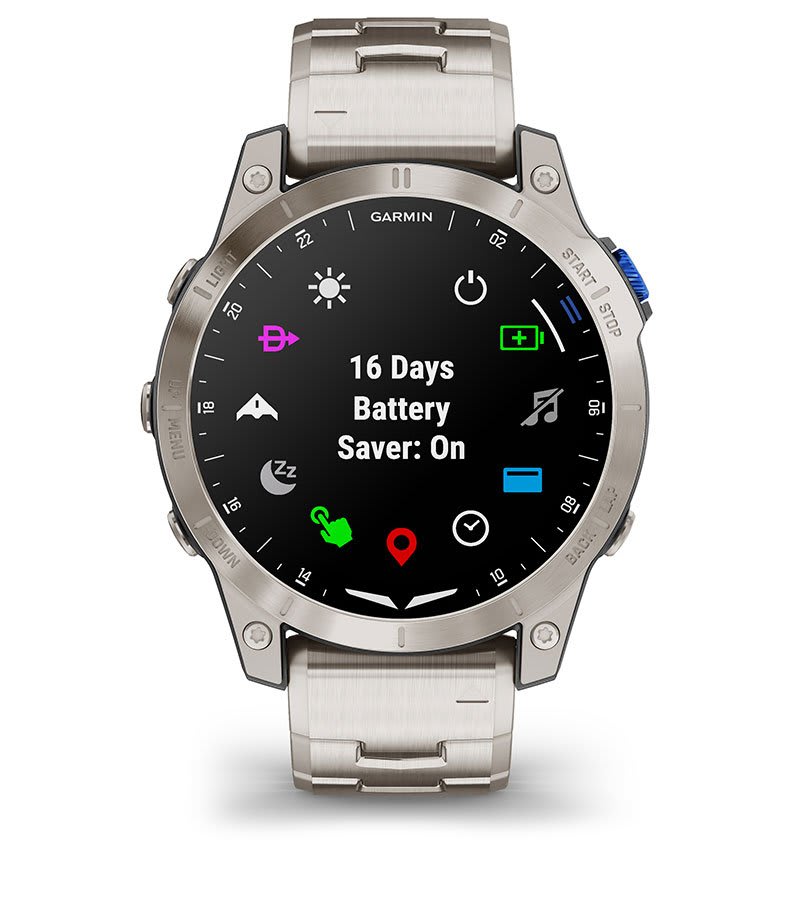 CONNECT IQ STORE
Download custom watch faces, add data fields, and get apps and widgets from the Connect IQ Store when paired with your compatible device.
POWER MANAGER
View how various settings and sensors impact your watch's battery life, so you can make battery-extending changes on the fly.
BATTERY LIFE
Get up to 11 days of battery life in smartwatch mode and up to 24 hours in GPS with SpO2 mode.