Garmin Dash Cam 55 - Factory Refurbished
Model Number: 010-N1750-10
Availability:
Out of stock
Condition: Garmin Certified Refurbished
A Garmin Certified Refurbished device is a device that was returned to Garmin USA. The device is certified by Garmin only after undergoing a complete rebuild, and extensive testing to bring the unit up to the same strict cosmetic and functional standards as a new Garmin device. Only after meeting the highest quality standards is the device then released back to the market. All units include brand new original Garmin accessories, and a full one-year Garmin warranty, as well as our free extended warranty when purchased from GPS Nation. Your purchase extends the lifetime of this product and reduces electronic waste. That's good news for the environment and your wallet
Garmin Dash Cam 55 1440p plus Voice Control GPS Enabled Dash Cam
In the Box
Dash Cam 55
Low profile magnetic mount
Vehicle power cable
USB cable
microSD™ card
Quick start manual
✓
Your request has been successfully sent!
Do you have an old GPS unit lying around? The GPS Nation Trade In and Up program is a great way to trade in your old and used GPS for credit towards a new GPS. The choice is entirely yours! We've made the process simple and streamlined. Follow these simple steps, and you will be on your way to receiving credit towards your brand new GPS!
1. Get a quote
To get your free quote, provide your GPS type, manufacturer, model, and condition. Within 24 hours, you will receive a quote for the trade-in value of your current product. The GPS trade-in/trade-up form is at the bottom of this page.
2. Ship your product(s) for trade
After accepting our offer, pack your product(s) safely and ship them to us using the pre-paid shipping label provided to you. We will provide a confirmation email when your trade-in arrives at our warehouse. You have 30 days from the date you complete your on-line trade to ship the product to GPS Nation.
3. Make your purchase
Once we receive your product at our warehouse and we validate the stated condition, we will send you a confirmation email. If you elect to receive credit towards a new GPS at gpsnation.com, your store credit will be issued, and you are free to make your purchase.
Overview
Compact and Discreet GPS-enabled Dash Cam Plus Voice Control
Small and inconspicuous when mounted on windshield
High-quality 3.7 megapixel camera with 1440p video capture; works even in low-light conditions
Forward collision and lane departure warnings¹ plus alerts for nearby red light cameras and speed cameras²
GPS-enabled with automatic incident detection (G-sensor) saves video footage on impact to show when and where events happened
Voice control allows you to start/stop audio recording, take a still picture or start/stop the Travelapse™ video capture feature

Control It with Your Voice
Command dash cam with your voice, and keep your hands on the wheel. Say "OK, Garmin" to save video, take a picture, start/stop audio recording and start/stop the Travelapse feature.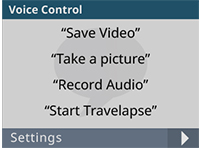 Records High-quality 1440p HD Video
Dash Cam 55 is an easy-to-use high-definition driving recorder with 2.0" LCD display. With an outstanding field of view, it captures the entire road and includes GPS for detailed time and location data, pinpointing exactly where and when events happened. Rely on your Dash Cam 55 to capture excellent video detail in both bright and low-light conditions. Mount the camera to your windshield, and record your drive in 1440p. Dash Cam records in a continuous loop, using the included replaceable microSD™ card. To add more memory, add a larger microSD card (accepts up to 64 GB, sold separately; Class 10 required). Play back the footage right on the display or review later on your computer.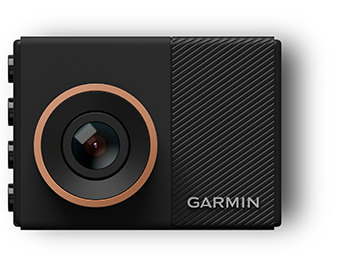 Your Eyewitness That Never Blinks
No need to worry about starting and stopping. If Dash Cam 55 is plugged into a powered source, it starts recording automatically and saves footage in case of incidents.
All footage is stamped with time and location so you know exactly when and where events happened. When reviewing footage on your computer, you'll have a record of latitude, longitude, date, time, speed and direction of travel.
Dash Cam 55 features automatic incident detection (G-sensor) so when an incident is detected, your camera knows to save the current, last and next recordings, thereby preserving a complete record of the event. And all this information is saved to the included Class 10 replaceable microSD memory card.
For a close-up view of vehicle or property damage, you can remove Dash Cam 55 from your vehicle and take snapshots.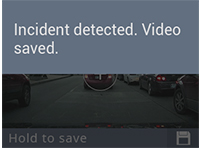 Share the Drive with Travelapse
The Travelapse feature provides an easy and fun way to record and share your adventures by condensing hours of driving into minutes of highlights.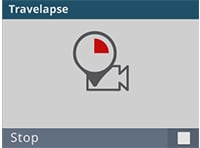 Wirelessly Sync Videos to Your Smartphone
Dash Cam 55 has built-in Wi-Fi® so you can wirelessly sync videos to your compatible smartphone after downloading the free VIRB® Mobile app. This makes it easy to share videos with friends, insurance agencies or legal authorities.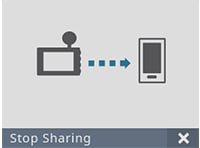 Drive with Increased Awareness
Dash Cam 55 features helpful driver awareness warnings to help encourage safer driving. The forward collision warning¹ alerts if you drive too closely to the car ahead. Lane departure warnings¹ alert you if you stray from your lane. Built-in red light and speed camera data alert you when red light cameras or speed cameras are near². Get regularly updated red light and speed camera location data with a subscription to the Cyclops™ database, which is maintained daily and contains information about fixed red light and speed cameras. And when your vehicle is stopped at an intersection or in traffic, the "Go" alert notifies you when traffic ahead of your vehicle is moving again.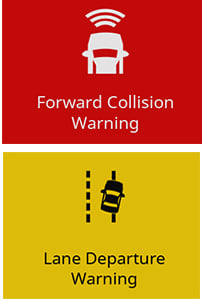 Monitor Your Parked Vehicle
Parking mode monitors your car's surroundings while your car is parked and the engine is not running. It automatically begins recording if and when motion is detected. (Requires Garmin parking mode cable, sold separately; professional installation recommended.)