Model Number: 010-02259-00
Order now and your Garmin Dash Cam Tandem will ship on Monday, Feb 06 with Free Shipping
Place your order by 4:00 PM PST and your order will ship the same day, weekends and holidays excluded. Orders placed after 4:00 PM PST will ship the following business day. All orders are subject to verification. International orders subject to shipping charges. For further details see delivery estimates in cart.
Availability:
Hurry Only 3 Left!
Condition: New
A brand-new, unused, unopened item in its original retail packaging, with all original packaging materials included. Original manufacturer's warranty is included.
TWO LENSES WORK IN TANDEM
This compact dual-lens dash camera features two 180-degree lenses to provide complete coverage around the driver — day or night.
In the Box
Garmin Dash Cam Tandem
16 GB microSD™ card
Low-profile magnetic mount
4 m power cable
1.5 m USB cable
Dual USB power adapter
Documentation
✓
Your request has been successfully sent!
Do you have an old GPS unit lying around? The GPS Nation Trade In and Up program is a great way to trade in your old and used GPS for credit towards a new GPS. The choice is entirely yours! We've made the process simple and streamlined. Follow these simple steps, and you will be on your way to receiving credit towards your brand new GPS!
1. Get a quote
To get your free quote, provide your GPS type, manufacturer, model, and condition. Within 24 hours, you will receive a quote for the trade-in value of your current product. The GPS trade-in/trade-up form is at the bottom of this page.
2. Ship your product(s) for trade
After accepting our offer, pack your product(s) safely and ship them to us using the pre-paid shipping label provided to you. We will provide a confirmation email when your trade-in arrives at our warehouse. You have 30 days from the date you complete your on-line trade to ship the product to GPS Nation.
3. Make your purchase
Once we receive your product at our warehouse and we validate the stated condition, we will send you a confirmation email. If you elect to receive credit towards a new GPS at gpsnation.com, your store credit will be issued, and you are free to make your purchase.
Overview
TWO LENSES WORK IN TANDEM
This compact dual-lens dash camera features two 180-degree lenses to provide complete coverage around the driver — day or night.
Keep a watchful eye out front and in the interior with — count them — two lenses.
The front-facing lens captures all the important details in crisp 1440p video.
See passenger activity, even in the dark, with our exclusive night vision technology.
No need to choose between powering the dash cam or charging your phone. Do both.
Keep those hands on the wheel. This dash cam responds to voice commands.
Power up, and you're ready to go, thanks to the included microSD card.
DUAL LENSES
This dash camera houses two lenses, each with a 180-degree field of view that records in front of and inside your car, providing complete coverage around the driver.
POCKET-SIZED
This compact camera is discreet and unobtrusive, so you'll hardly notice it at all.
Record video inside and out.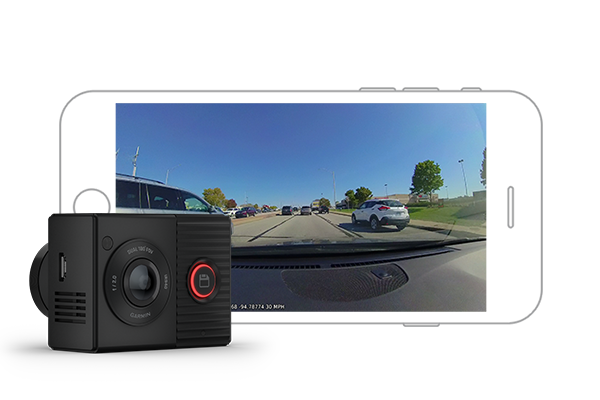 GARMIN CLARITY HDR
The front-facing lens records crisp 1440p video. That means you'll get video that's clear and detailed enough to capture important details.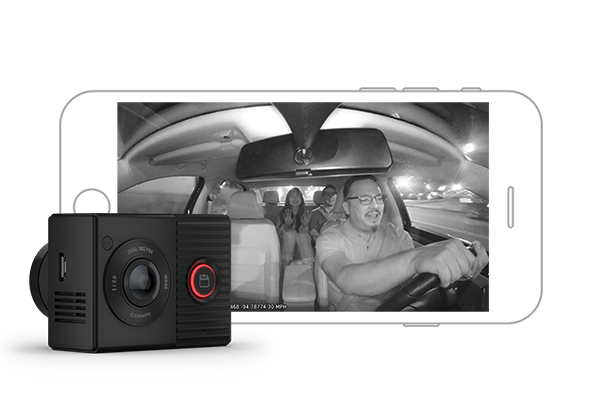 NIGHT VISION
The interior lens captures 720p video and includes our exclusive NightGlo technology, so you can record driver and passenger activity even at night.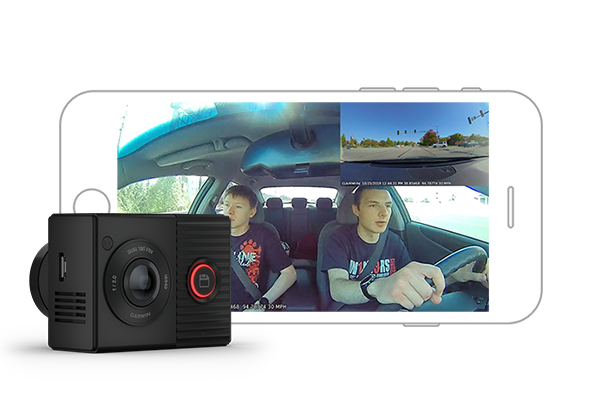 EASILY VIEW VIDEO
Built-in Wi-Fi connectivity syncs video to the Garmin Drive app for easy viewing and sharing on your smartphone.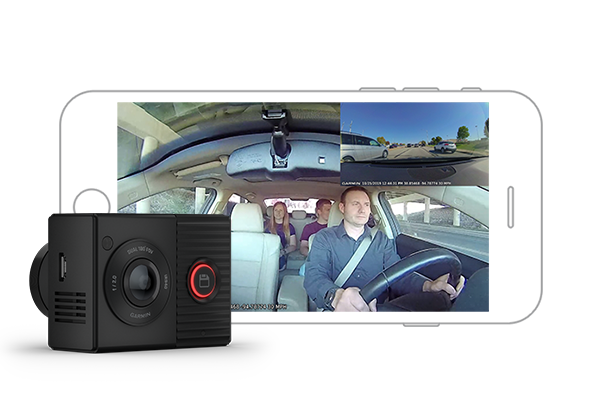 DASH CAM AUTO SYNC
Use the Garmin Drive app to control and play back video from up to 4 dash cameras. So you can play back recorded video of an incident and see it from multiple viewpoints.
Smarter than the average camera.
DUAL USB CHARGER
You won't have to choose between powering the dash camera and keeping your phone charged. The included charger has an extra USB port, so you can do both.
INCIDENT DETECTION AND GPS
The camera automatically saves video when it detects an incident. With built-in GPS and Galileo, you'll have proof of exactly when and where events occurred.
PARKING SURVEILLANCE MODE
Record motion in front of and inside your vehicle when it's parked and turned off. Cable may be required and sold separately.
VOICE COMMANDS
Keep your hands on the wheel, and use voice commands1 to tell the camera to save video, start and stop the audio recording and more.
WITHSTANDS DIRECT SUN AND HOT TEMPERATURES
This camera is designed for the automotive environment, so it can still be used in warm climates with full sun exposure.