Garmin DezlCam 785 LMT-S- Factory Refurbished
Model Number: 010-N1856-00
Availability:
Out of stock
Condition: Garmin Certified Refurbished
A Garmin Certified Refurbished device is a device that was returned to Garmin USA. The device is certified by Garmin only after undergoing a complete rebuild, and extensive testing to bring the unit up to the same strict cosmetic and functional standards as a new Garmin device. Only after meeting the highest quality standards is the device then released back to the market. All units include brand new original Garmin accessories, and a full one-year Garmin warranty, as well as our free extended warranty when purchased from GPS Nation. Your purchase extends the lifetime of this product and reduces electronic waste. That's good news for the environment and your wallet
Premium GPS Truck Navigator with Built-in Dash Cam
All-in-one 7" truck navigator with powered magnetic mount plus built-in dash cam to record your drive and enable driver awareness features such as forward collision and lane departure warnings
Custom truck routing for the size, load and weight of your truck plus alerts for upcoming bridge heights, steep grades and more
Free live services, such as traffic and weather, via the Smartphone Link app
Easy Break Planning with timely notifications plus a Truck & Trailer Services directory, searchable by brand or amenity (e.g., "Flying J" or "showers")
Control dēzlCam with your voice, and enjoy Bluetooth hands-free calling, smart notifications and built-in Wi-Fi for easy map and software updates without a computer
Works with Garmin eLog compliant ELD (sold separately) for subscription-free Hours of Service (HOS) recording with no smartphone or tablet required
In the Box
dēzlCam 785 LMT-S
Vehicle suction cup mount with powered magnetic mount
Vehicle power cable
microSD card for video recording
USB cable
Quick start manual
✓
Your request has been successfully sent!
Do you have an old GPS unit lying around? The GPS Nation Trade In and Up program is a great way to trade in your old and used GPS for credit towards a new GPS. The choice is entirely yours! We've made the process simple and streamlined. Follow these simple steps, and you will be on your way to receiving credit towards your brand new GPS!
1. Get a quote
To get your free quote, provide your GPS type, manufacturer, model, and condition. Within 24 hours, you will receive a quote for the trade-in value of your current product. The GPS trade-in/trade-up form is at the bottom of this page.
2. Ship your product(s) for trade
After accepting our offer, pack your product(s) safely and ship them to us using the pre-paid shipping label provided to you. We will provide a confirmation email when your trade-in arrives at our warehouse. You have 30 days from the date you complete your on-line trade to ship the product to GPS Nation.
3. Make your purchase
Once we receive your product at our warehouse and we validate the stated condition, we will send you a confirmation email. If you elect to receive credit towards a new GPS at gpsnation.com, your store credit will be issued, and you are free to make your purchase.
Overview
For big rig drivers who want a big-screen navigator to match, our dēzlCam 785 LMT-S GPS truck navigator with its 7" touchscreen is the ideal road companion. In addition to its premium mapping, voice-controlled navigation and advanced connectivity features, it comes with a built-in dash cam to automatically record your drive and save video of incidents.
The integrated camera provides driver assistance features to encourage safer driving. Plus, a powered magnetic mount allows secure attachment and easy removal when you exit the cab. Stay connected, alert and on track for the long haul with dēzlCam 785 LMT-S.
Eyewitness Dash Cam
With its built-in dash cam, dēzlCam 785 LMT-S continuously video-records your drive, capturing and saving the footage whenever an incident is detected. Optional GPS overlay provides location, speed, date and time of the incident to verify when and where the events occurred. You can play back the video on the dēzlCam navigator's large, high-resolution display — or download our free VIRB Mobile app to your smartphone or tablet to view and share your footage. The dēzlCam can also be easily removed from its magnetic mount, allowing you to take close-up pictures of any collision damage with the Snapshot feature.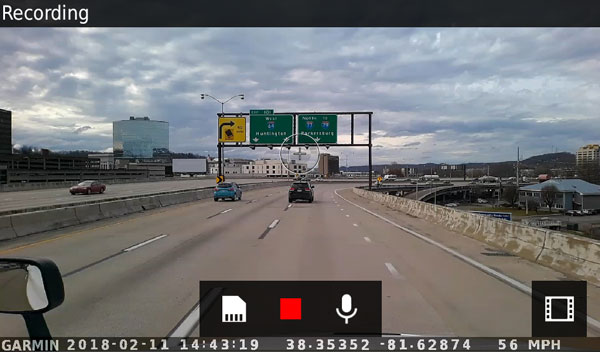 Camera-enabled Alerting
In addition to recording, the dash cam also enables advanced driver assistance features such as forward collision and lane departure warnings. Forward collision warnings alert when you are driving too closely to the vehicle ahead, and lane departure warnings are provided if you drift off-road or cross lanes into oncoming traffic.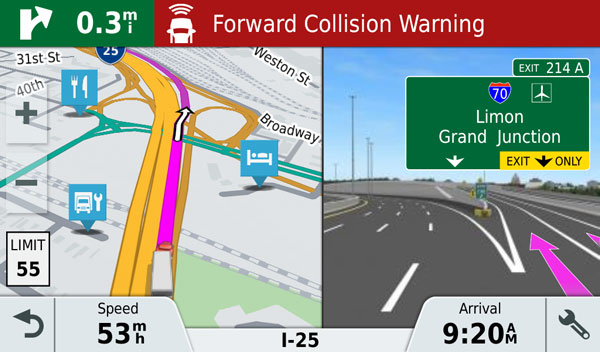 Customized Truck Routing
Along with its camera-enabled features, the dēzlCam 785 LMT-S truck navigator also includes preloaded maps that detail truck-related route warnings — such as bridge heights, sharp curves, steep grades and more — for most major roads and highways. Simply enter your vehicle profile information (customizable by height, weight, length, width and hazardous materials) to find truck-preferred routes suitable for the size and weight of your truck.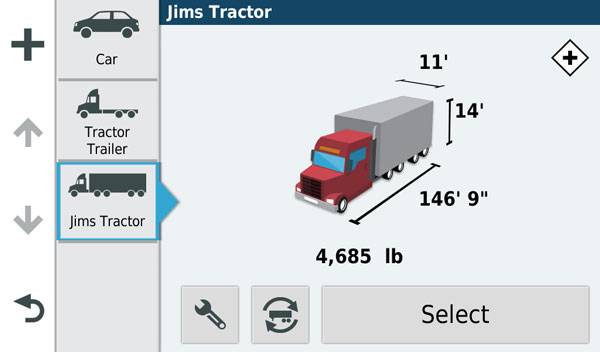 For added convenience, the Simple Truck Profile lets you easily swap trailer sizes with the touch of a button.
Free Live Services
To see what's happening on the road ahead, our free Smartphone Link mobile app lets you connect your dēzlCam 785 LMT-S with your iPhone or Android smartphone. When paired, your dēzlCam can access real-time information such as traffic and weather information.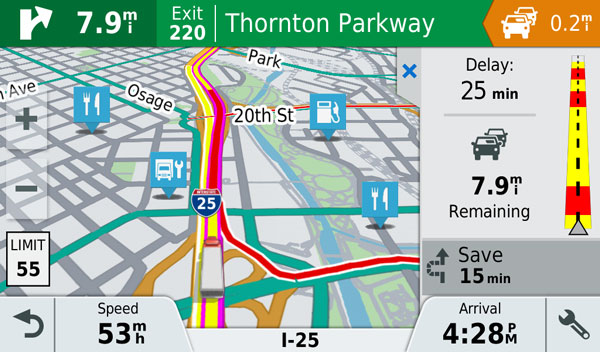 Command with Your Voice
The convenience of voice-activated navigation lets you control your dēzlCam 785 LMT-S truck navigator with simple voice commands, so your hands can stay on the wheel — while your eyes remain safely focused on the road.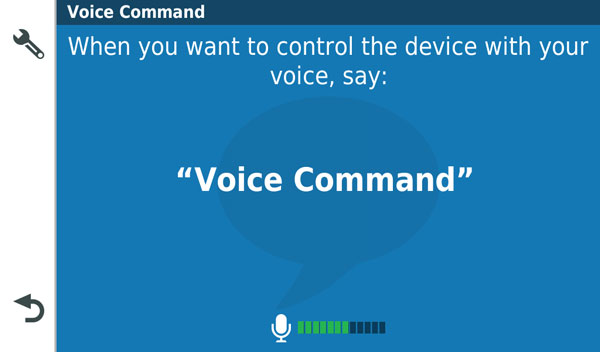 Built-in Wi-Fi Keeps You up to Date
It's easy to keep your maps and software up to date because dēzlCam 785 LMT-S features built-in Wi-Fi. When a new update is available and you're connected to a Wi-Fi network, you'll automatically receive an on-screen notification. Then, you simply use the Wi-Fi on-screen button to update your data without needing to plug your dēzlCam into a computer. You'll be ready to hit the road again in no time.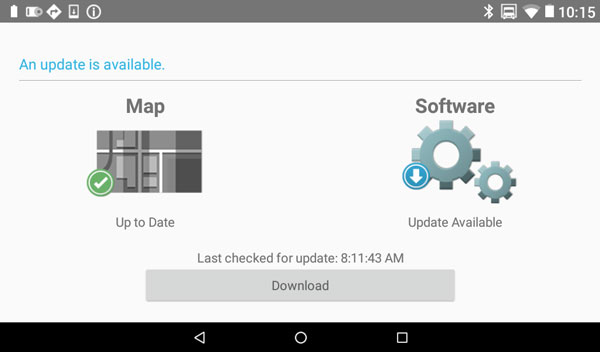 The Benefits of Bluetooth
Sync a Bluetooth-enabled smartphone or tablet to dēzlCam 785 LMT-S for wireless calling through its integrated microphone and speaker. Stow your phone in your pocket or console, and enjoy the benefit of hands-free calling without diverting your attention from the road. You can also receive customizable smart notifications³ for calls, texts, app alerts and more, which appear right on your navigation display.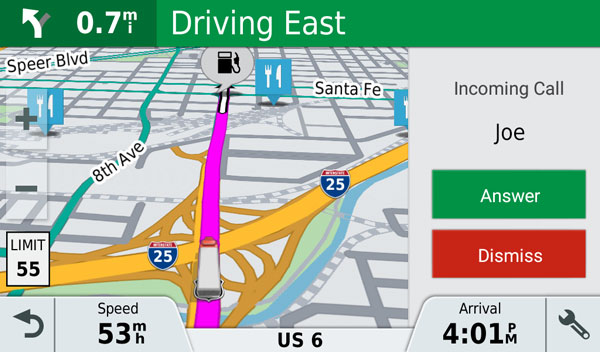 Works with Garmin eLog Compliant ELD
dēzlCam 785 LMT-S is also compatible with the subscription-free Garmin eLog™ compliant ELD (sold separately), which automatically tracks and records Hours of Service4 (HOS). You can easily view remaining hours, duty status and more right on your navigator's display — with no smartphone or tablet needed.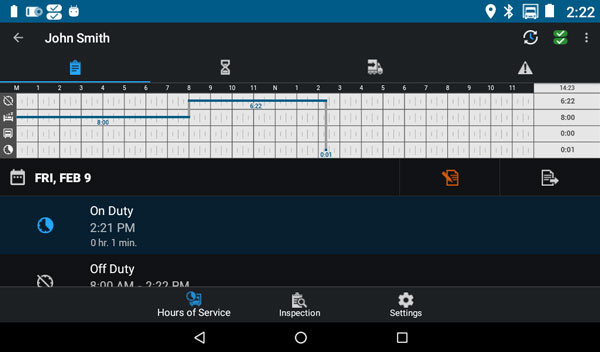 Easy Break Planning
To simplify life on the road, dēzlCam 785 LMT-S provides easy break planning with timely notifications that help make the most of each stop. Locate points of interest that professional truckers care about — such as food, fuel, rest areas, showers, lodging, ATMs, Wi-Fi and more. Need to park it somewhere? dēzlCam 785 LMT-S is also equipped with truck parking data that helps you find available 18-wheeler parking spaces at truck stops and rest stops.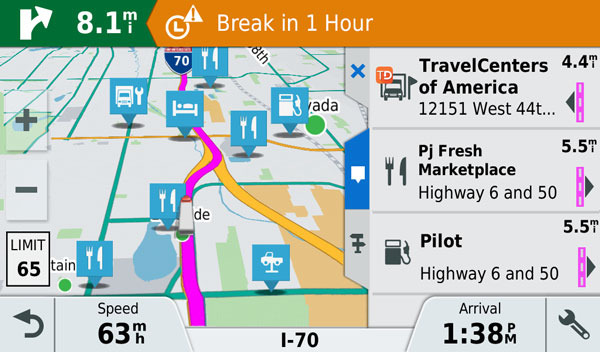 Find a Service Facility
If the unexpected happens, the dēzlCam navigator's Truck & Trailer Services directory lists more than 30,000 truck repair and service locations in the U.S. and Canada, including those offering after-hours road service. dēzlCam 785 LMT-S also has an included Service History Log so you can record the dates and type of service performed. Conveniently keep track of tire mileage, tire pressure, oil changes, tire changes and more.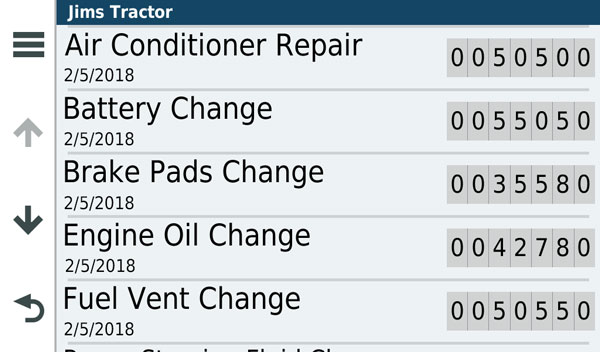 Dispatch and Track
dēzlCam 785 LMT-S comes preloaded with a simple truck monitoring solution that lets fleet operators easily track drivers and send communications, such as a text message containing a delivery address. Your driver can select the address from within the text message and seamlessly route to the destination.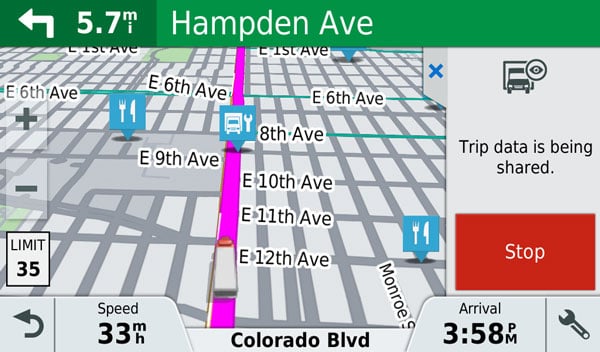 Add a Backup Camera
See what's behind your truck as you move in reverse by adding a Garmin backup camera (sold separately). The dēzlCam 785 LMT-S truck navigator is compatible with the Garmin BC™ 35 wireless backup camera. When paired, dēzlCam shows transmitted footage, right on its navigation display.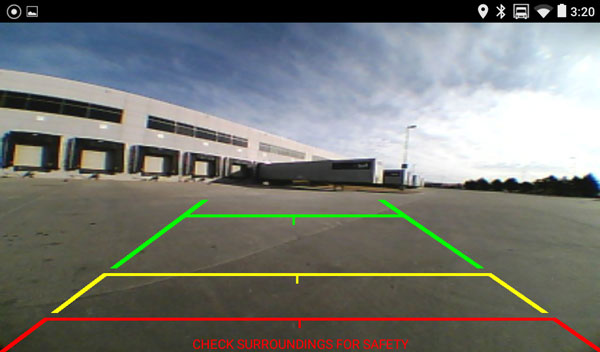 Navigate with Ease
The navigator includes detailed maps of North America5, millions of Foursquare POIs and new TripAdvisor ratings for restaurants, hotels, and attractions along a route or near a destination. In addition to its detailed mapping and big screen that can be easily seen across your cab, dēzlCam 785 LMT-S comes equipped with extra-powerful speakers that deliver spoken turn-by-turn directions you can hear loud and clear, even over road noise.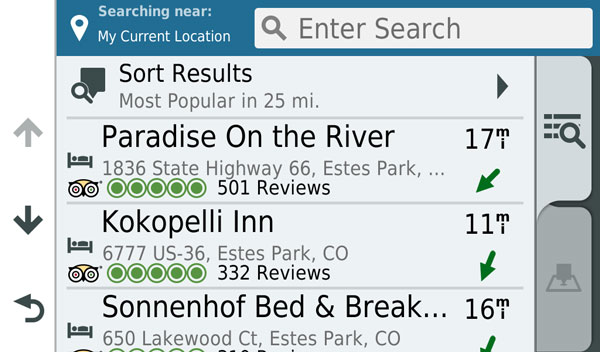 An onboard Trip Planner lets you create multiple-stop routes and plan and save future trips. Plus, the dēzlCam Up Ahead feature lets you preview places of interest and milestones along your route, without leaving the map view on your navigation display. There's also Easy Route Shaping, which lets you add a point on the map just by touching the screen, so you can adjust your route to include preferred roads, cities or locations
As you drive, Active Lane Guidance provides voice prompts and brightly colored arrows on the display to indicate the proper lane needed for your next turn or exit. Full color photoReal junction view displays realistic graphics of upcoming exits to ease navigation through complex interchanges. Plus, Bird's Eye junction view offers a detailed view of interchanges, looking down as if from overhead. The dēzlCam navigation screen also displays your current speed, the posted speed limit, the highway or street you're driving on and your expected arrival time at your destination.