Garmin Edge Touring GPS US - Factory Refurbished
Model Number: 010-N1162-00
Availability:
Out of stock
Condition: Garmin Certified Refurbished
A Garmin Certified Refurbished device is a device that was returned to Garmin USA. The device is certified by Garmin only after undergoing a complete rebuild, and extensive testing to bring the unit up to the same strict cosmetic and functional standards as a new Garmin device. Only after meeting the highest quality standards is the device then released back to the market. All units include brand new original Garmin accessories, and a full one-year Garmin warranty, as well as our free extended warranty when purchased from GPS Nation. Your purchase extends the lifetime of this product and reduces electronic waste. That's good news for the environment and your wallet
On-road or off-road navigation with preloaded Garmin Cycle Map
Input a distance and choose from up to 3 round-trip ride options
Plan and download new routes to follow
Relive and share your rides with Garmin Connect™ or Garmin Adventures
Points of Interest (POIs) specifically for cyclists
In the Box
Edge Touring
Quarter-turn bike mount
USB cable
Garmin cycling map on microSD™ card (pre-inserted in Edge)
Quick Start Manual
✓
Your request has been successfully sent!
Do you have an old GPS unit lying around? The GPS Nation Trade In and Up program is a great way to trade in your old and used GPS for credit towards a new GPS. The choice is entirely yours! We've made the process simple and streamlined. Follow these simple steps, and you will be on your way to receiving credit towards your brand new GPS!
1. Get a quote
To get your free quote, provide your GPS type, manufacturer, model, and condition. Within 24 hours, you will receive a quote for the trade-in value of your current product. The GPS trade-in/trade-up form is at the bottom of this page.
2. Ship your product(s) for trade
After accepting our offer, pack your product(s) safely and ship them to us using the pre-paid shipping label provided to you. We will provide a confirmation email when your trade-in arrives at our warehouse. You have 30 days from the date you complete your on-line trade to ship the product to GPS Nation.
3. Make your purchase
Once we receive your product at our warehouse and we validate the stated condition, we will send you a confirmation email. If you elect to receive credit towards a new GPS at gpsnation.com, your store credit will be issued, and you are free to make your purchase.
Overview
Leave Your Maps Behind
Edge Touring works like the GPS navigator you use in your car, only with maps and features specifically designed to help you find your way by bike. Whether you have a specific destination in mind, or just a distance you want to ride, Edge Touring gives you the freedom to know you can find your way. You can even find and download rides others have completed on Garmin Connect and Garmin Adventures, or share your own with the community.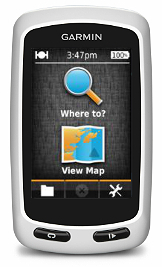 Find Places and Get Directions
Bike-specific maps preloaded in Edge Touring make it easy to get from point A to point B (and beyond) and back again. Simply search for points of interest and Edge Touring will give you turn-by-turn directions to your destination(s). You can choose between cycling, tour cycling and mountain biking modes to calculate the most appropriate route for the type of cycling you do, taking you on paved roads, unpaved roads, or on paths and trails.
With round trip routing, you can tell Edge Touring how far you'd like to ride and then choose from up to 3 ride options that will bring you back to where you started. The device makes it easy to plan rest stops, find attractions along the way and more.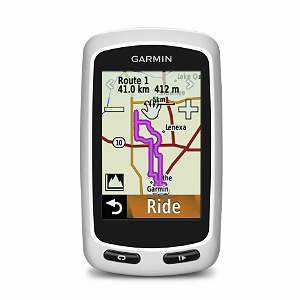 Search for Rides and Adventures
Don't have a specific destination in mind? Search for rides others have completed on Garmin Connect or Garmin Adventures. Then download them to Edge Touring to follow on your next ride. Customize the rides or create completely new ones and then download them to your device as well.
Share Your Experiences
Edge Touring records where you ride so you can upload your activities to Garmin Connect or Garmin Adventures and relive them whenever you want. Garmin Connect and Garmin Adventures are free to use and allow you to share your cycling adventures with friends, family or fellow riders.