Garmin Fenix 3 Sapphire, Titanium
Model Number: 010-01338-40
Availability:
Out of stock
Condition: New
A brand-new, unused, unopened item in its original retail packaging, with all original packaging materials included. Original manufacturer's warranty is included.
Omni-directional EXO™ antenna, with GPS/GLONASS satellite reception, has the ability to track in more challenging environments than GPS alone
1.2-inch sunlight-readable Garmin Chroma Display™ with high-strength domed sapphire lens
Fitness training features like advanced running dynamics with vertical oscillation and vertical ratio, VO2 max, recovery advisor and more
Outdoor navigation features like 3-axis compass, altimeter and barometer and TracBack™ feature
Connect IQ™ platform compatibility for customized apps, widgets, watch faces and data fields
Specs
In the Box
Fenix 3 Sapphire with titanium band
Black silicone watch band (removal tools included)
USB/charger cable
AC adapter with plug
Documentation
✓
Your request has been successfully sent!
Do you have an old GPS unit lying around? The GPS Nation Trade In and Up program is a great way to trade in your old and used GPS for credit towards a new GPS. The choice is entirely yours! We've made the process simple and streamlined. Follow these simple steps, and you will be on your way to receiving credit towards your brand new GPS!
1. Get a quote
To get your free quote, provide your GPS type, manufacturer, model, and condition. Within 24 hours, you will receive a quote for the trade-in value of your current product. The GPS trade-in/trade-up form is at the bottom of this page.
2. Ship your product(s) for trade
After accepting our offer, pack your product(s) safely and ship them to us using the pre-paid shipping label provided to you. We will provide a confirmation email when your trade-in arrives at our warehouse. You have 30 days from the date you complete your on-line trade to ship the product to GPS Nation.
3. Make your purchase
Once we receive your product at our warehouse and we validate the stated condition, we will send you a confirmation email. If you elect to receive credit towards a new GPS at gpsnation.com, your store credit will be issued, and you are free to make your purchase.
Overview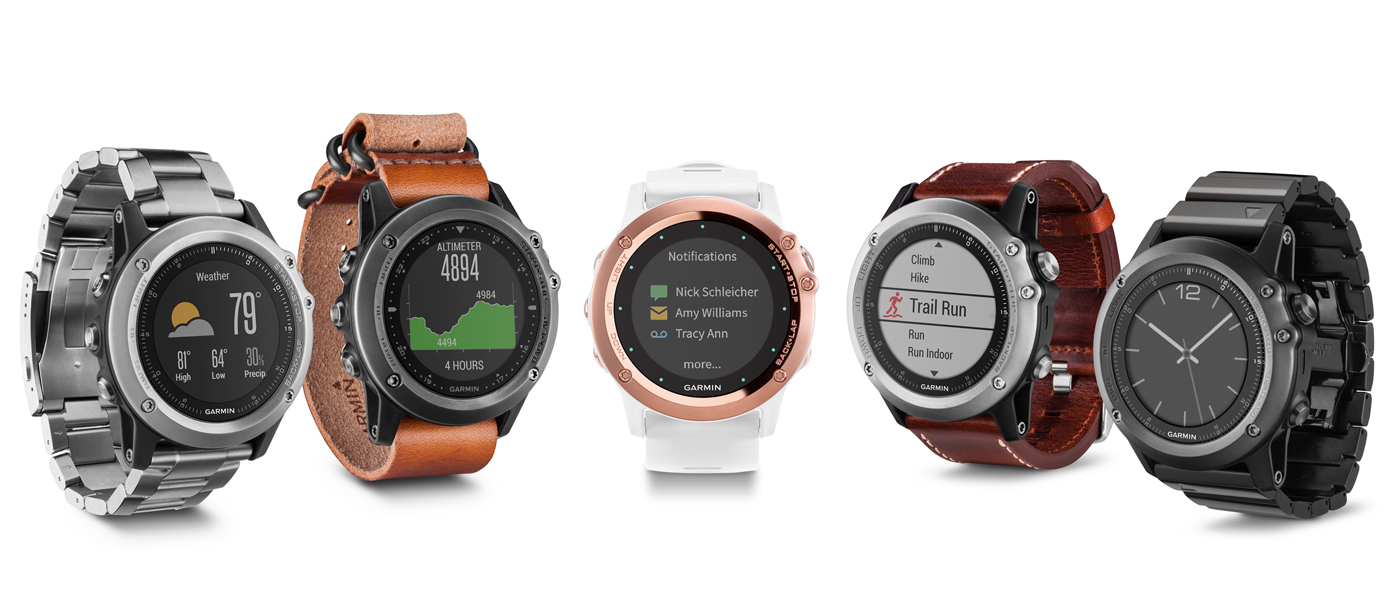 fēnix 3 multisport training GPS watch is rugged, capable and smart. With feature sets for fitness training plus feature sets for outdoor navigation, fēnix 3 is ready for any training activity and competition. Access to the Connect IQ platform allows customization of watch faces and data fields and provides downloadable widgets and apps.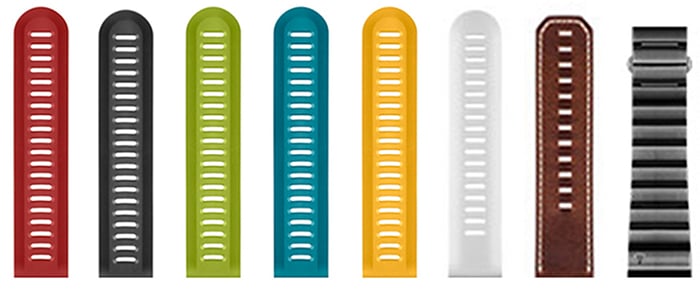 Serious Style That Stands Up to the Roughest Conditions
fēnix 3 Sapphire watches are available in 5 different styles: rose gold-tone with white band, silver with leather band, gray with leather strap, titanium and the classic metal. Each watch features a protective bezel and reinforced housing for extra durability. A sunlight-visible, high-resolution color Chroma Display with LED backlight lets you access your data in any light. fēnix 3 is water-rated to 100 meters and has a battery life of up to 50 hours in UltraTrac™ battery saver mode, up to 20 hours in GPS mode and up to 3 weeks in smartwatch mode (all depending on settings)
Advanced Fitness Metrics
fēnix 3 watch is packed with training features to tell you about your form and fitness. The first is the VO2 max estimator. When used with a heart rate monitor, fēnix 3 crunches data, including your running speed, beats per minute and heart rate variability to estimate the maximum volume of oxygen you can consume per minute. Track changes to your VO2 max to see your fitness gains and to compare with your peers. Other fitness metrics include recovery advisor with a recovery timer and recovery check, plus a race predictor, which estimates your ideal finish time based on your current VO2 max number.
Advanced Running Dynamics and Physiological Metrics
Go further with your running data and tap into extended physiological1 metrics and advanced running dynamics. When used with a heart rate monitor, fēnix 3 reports the following data:
Vertical oscillation and ratio — the degree of 'bounce' in your running motion and the benefit ratio to stride length

Ground contact and balance — shows how much time, in the running motion, your foot is on the ground rather than in flight and lets you check your running symmetry

Cadence — number of steps per minute

Stride length — determines a responsive current pace

Physiological metrics measure your heart to provide:

Stress score: fēnix 3 measures your heart rate variability while standing still, for 3 minutes, to provide you with an estimated stress level. The scale of this is 1 to 100, low scores indicate lower stress levels.
Performance condition: After running for 6-20 minutes, fēnix 3 compares your real-time condition to your average fitness levels.
Lactate threshold: Through analysis of your pace and heart rate, fēnix 3 estimates the point where your muscles start to rapidly fatigue.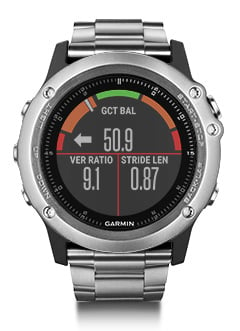 Swim Profile, Ski/Board Mode, Rowing and Golf
fēnix 3 watch isn't just for running; special feature sets help swim training, skiing, rowing sports, including stand up paddle boarding, and even golfing. Borrowing from the Garmin Swim™ device, fēnix 3 tracks your distance, pace, stroke count and more. You just tell fēnix 3 the size of the pool you're swimming in and begin your workout. Ski/Board mode puts speed, distance, vertical drop and an automatic run counter (with Auto Pause for the lift line) and more at your fingertips. The feature set for rowing counts your number of strokes and calculates your stroke rate. Golf mode gives you yardage to the front back and middle of the green for any single course you've downloaded from Garmin Connect™. You can even use your fēnix 3 as a glove-friendly remote, via ANT+® wireless connectivity, for VIRB® action cameras.
Navigate Your Way
fēnix 3 watch provides comprehensive navigation and tracking functionalities to guide you on and off the beaten path using GPS plus ABC (altimeter, barometer and compass). TracBack feature navigates you back to your starting point the same way you came. Its built-in sensors provide information on heading, elevation and weather changes.
It records a GPS track log, creating a "bread crumb trail" as you move. It also allows you to mark locations, such as a start/finish line, course checkpoint or a campsite, vehicle or other point of interest. With fēnix 3, you can create and follow courses as well.
fēnix 3 is equipped with both ANT+ connectivity and Bluetooth® smart capabilities to wirelessly share locations, routes and geocaches.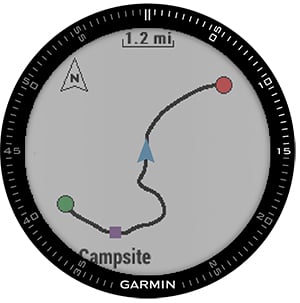 Altimeter, Barometer and Compass
fēnix 3 watch is equipped with ABC sensors to provide relevant, real-time information. The built-in altimeter provides elevation data to accurately monitor ascent and descent, while the barometer can be used to predict weather changes by showing short-term trends in air pressure. The 3-axis electronic compass keeps your bearing whether you're moving or not.
fēnix 3 auto-calibrates its ABC sensors using its GPS receiver and also auto sets the time based on location. For an accurate temperature reading, pair it with our tempe™ external temperature sensor.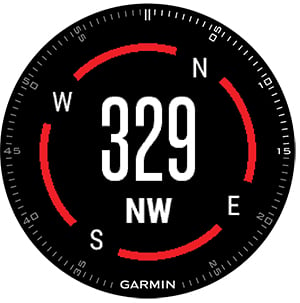 Custom Apps and Watch Faces
Personalize fēnix 3 watch with free downloads from our Connect IQ store. You can customize your watch face, add data fields and get apps and widgets that provide information at a glance.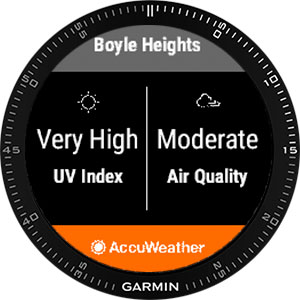 Stay Connected
Smart notifications let you receive emails, texts and alerts right on your watch, even if you're on the trail. fēnix 3 receives the wireless signal from a compatible smartphone and lets you know you have a message by displaying the text on its own screen whenever you're ready to read it.
Other connected features include automatic upload to Garmin Connect online fitness community, live tracking and social media sharing through our free Garmin Connect and Garmin Connect Mobile™ applications.