Model Number: T2900S.60
Availability:
Order today, more on the way!
Estimated Ship Date : January, 01 1970
Condition: New
A brand-new, unused, unopened item in its original retail packaging, with all original packaging materials included. Original manufacturer's warranty is included.
Measure your power within 3% accuracy
Next-to-silent direct drive trainer lets you ride without disturbing others
Works with popular third-party training apps such as Zwift and Tacx

®

Train with realistically simulated inclines up to a 10% gradient and a max sprint resistance of 1,500 watts
Sturdy design easily allows for riding full-out and standing on the pedals
✓
Your request has been successfully sent!
Do you have an old GPS unit lying around? The GPS Nation Trade In and Up program is a great way to trade in your old and used GPS for credit towards a new GPS. The choice is entirely yours! We've made the process simple and streamlined. Follow these simple steps, and you will be on your way to receiving credit towards your brand new GPS!
1. Get a quote
To get your free quote, provide your GPS type, manufacturer, model, and condition. Within 24 hours, you will receive a quote for the trade-in value of your current product. The GPS trade-in/trade-up form is at the bottom of this page.
2. Ship your product(s) for trade
After accepting our offer, pack your product(s) safely and ship them to us using the pre-paid shipping label provided to you. We will provide a confirmation email when your trade-in arrives at our warehouse. You have 30 days from the date you complete your on-line trade to ship the product to GPS Nation.
3. Make your purchase
Once we receive your product at our warehouse and we validate the stated condition, we will send you a confirmation email. If you elect to receive credit towards a new GPS at gpsnation.com, your store credit will be issued, and you are free to make your purchase.
Overview
Smart Direct Drive Trainer with Full Cycling App Compatibility
Looking for a smart, direct drive trainer? The Tacx FLUX S Smart checks all the boxes: it's reliable, accurate, silent, strong and features a heavy flywheel for a very realistic ride feel. Made to help you sweat while cycling with your favorite apps, this bike trainer is the ideal indoor training companion.
Train with Confidence
The internal mechanics of the FLUX Smart trainer are redesigned to improve the ride feel and power measurement. The result is FLUX S Smart — designed to provide a reliable, accurate and consistent measurement of your power, speed and cadence, so you can keep track of your performance and progress. It measures your data accurately within 3%.
Powerfully Built
The well-balanced design of FLUX S Smart ensures maximum stability when cycling in even the most explosive sprints. It powers up to 1,500 watts, and you can train on realistically simulated inclines up to a 10% gradient. No matter how intense your workout, this bike trainer is built to last. A large footprint and durable materials ensure maximum stability.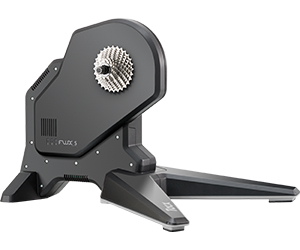 Smooth and Silent
At 15.4 lbs (7.0 kg), a heavy flywheel ensures a realistic ride feel and good responsiveness of FLUX S Smart. This direct drive trainer is designed to bring vibrations and noise levels to the absolute minimum, resulting in one of the most silent flywheel-equipped bike trainers available.
Fully Connected
The trainer communicates via BLUETOOTH® Smart technology and ANT+® FE-C protocol, making it compatible with a number of popular training apps. So whether you want to ride a famous cycling ride in the Tacx software, take on the virtual worlds of Zwift or utilize other platforms such as TrainerRoad, this bike trainer lets you ride smarter than ever before. You can also opt to use the trainer in stand-alone mode. When not connected, it will simulate a flat road; the faster you ride, the higher the resistance. And it can be connected to multiple devices simultaneously, so you can enjoy the software and track your performance on your Garmin bike computer at the same time.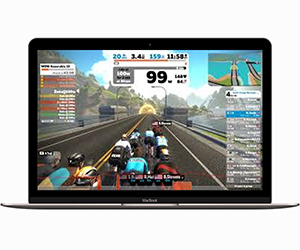 Improved Compatibility
The FLUX S Smart trainer comes with additional axle adapters to significantly improve the axle compatibility. This direct drive is compatible with 142x12 mm and 148x12 mm axles — right out of the box.
Train Your Way
FLUX S Smart harnesses the innovative power of the Tacx indoor training software. Enjoy your time in the saddle with a library filled with more than 100 high-quality, real-life videos that let you experience the rush of riding the steep hills of the Alps or the cobblestone roads of Milan. Take advantage of efficiently structured training plans, designed for your fitness level to help you meet your unique goals. Race against live opponents, upload GPS data and ride on 3-D maps, create your own workouts based on slope, power, heart rate or FTP, and show off on Strava.