Garmin Forerunner 55 -Black
Model Number: 010-02562-00
Order now and your Garmin Forerunner 55 -Black will ship tomorrow, 06/02 with Free Shipping
Place your order by 4:00 PM PST and your order will ship the same day, weekends and holidays excluded. Orders placed after 4:00 PM PST will ship the following business day. All orders are subject to verification. International orders subject to shipping charges. For further details see delivery estimates in cart.
Condition: New
A brand-new, unused, unopened item in its original retail packaging, with all original packaging materials included. Original manufacturer's warranty is included.
Specs
In the Box
Forerunner 55
Charging/data cable
Documentation
✓
Your request has been successfully sent!
Do you have an old GPS unit lying around? The GPS Nation Trade In and Up program is a great way to trade in your old and used GPS for credit towards a new GPS. The choice is entirely yours! We've made the process simple and streamlined. Follow these simple steps, and you will be on your way to receiving credit towards your brand new GPS!
1. Get a quote
To get your free quote, provide your GPS type, manufacturer, model, and condition. Within 24 hours, you will receive a quote for the trade-in value of your current product. The GPS trade-in/trade-up form is at the bottom of this page.
2. Ship your product(s) for trade
After accepting our offer, pack your product(s) safely and ship them to us using the pre-paid shipping label provided to you. We will provide a confirmation email when your trade-in arrives at our warehouse. You have 30 days from the date you complete your on-line trade to ship the product to GPS Nation.
3. Make your purchase
Once we receive your product at our warehouse and we validate the stated condition, we will send you a confirmation email. If you elect to receive credit towards a new GPS at gpsnation.com, your store credit will be issued, and you are free to make your purchase.
Overview
SEE YOURSELF AS A RUNNER
This easy-to-use GPS smartwatch is designed for people of all skill levels to track their stats and chase their fitness goals.
Track your time, distance, pace and speed during your run or walk with built-in GPS.
Monitor your overall health and wellness with wrist-based heart rate1 and more.
Take guesswork out of training. This smartwatch suggests runs tailored to you.
High-end running features help you meet your potential. Minus the high-end price tag.
Track more than just running with an array of built-in activity profiles.
Get up to 2 weeks of battery life. Because less charging is always a good thing.
DESIGNED FOR FORM AND FUNCTION
Lightweight and comfortable, this smartwatch is the perfect fit for running and for everyday life.
SPORT-READY MATERIALS
Whether you're running a 5K or working out another way, experience the ultimate in comfort with this sporty silicone band.
We've got all the running essentials.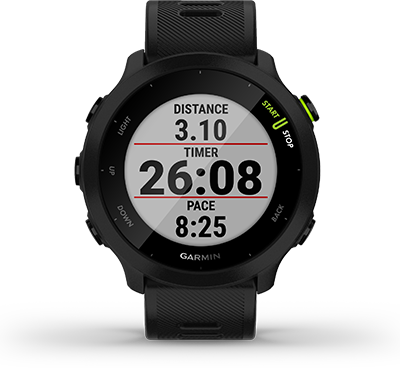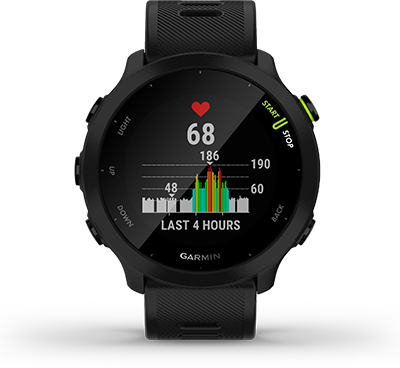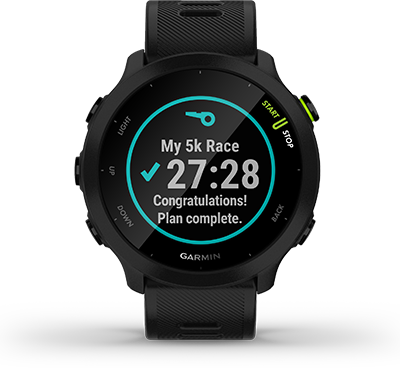 BUILT-IN GPS
Track where you run, and get accurate stats, including distance, pace and intervals.
WRIST-BASED HEART RATE
Get heart rate data along with alerts if your heart rate stays high while you're at rest. Even gauge how hard your heart is working during activities.
GARMIN COACH
These adaptive training plans feature guidance from expert coaches and free training plans that adapt to you and your goals. Workouts sync right to your watch from the Garmin Connect app.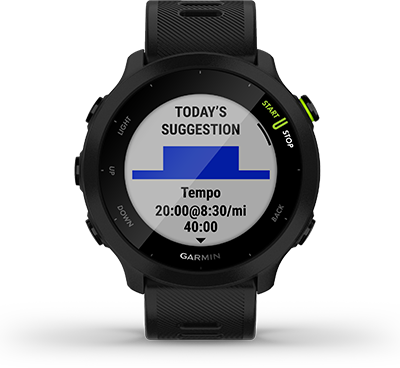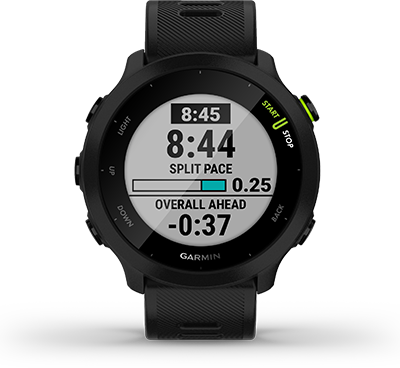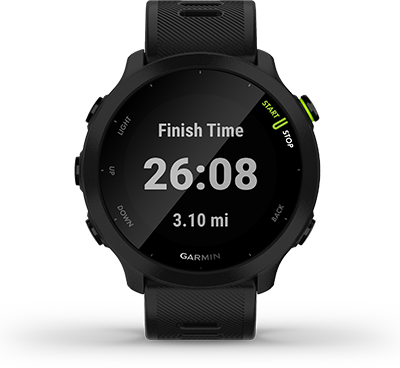 DAILY SUGGESTED WORKOUTS
For personalized training guidance, get daily run recommendations of varying intensities based on your training history, fitness level and recovery time.
PACEPRO TECHNOLOGY
To help you plan your race day strategy, this feature offers GPS-based pace guidance for a selected course or distance in the Garmin Connect app. So you can tailor your efforts to what's ahead.
FINISH TIME
Want some guidance to help you meet your goal? Select a distance for your run, and you'll be able to see a data screen that shows your estimated finish time.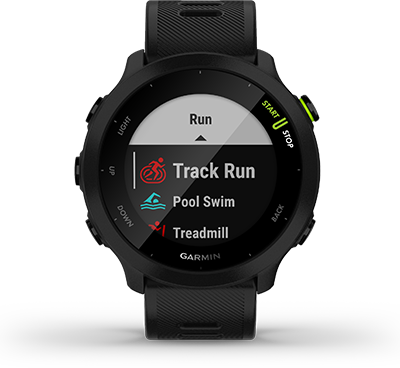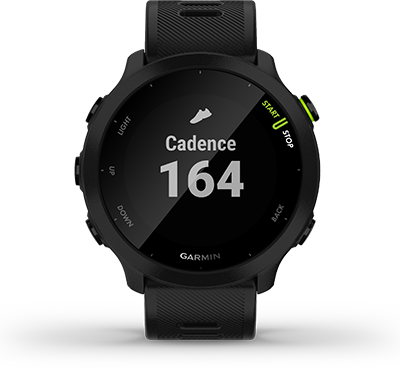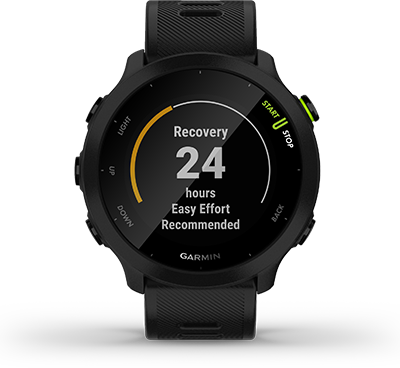 TRACK RUN
When you're ready to hit the track for some speedwork, use the built-in track run activity to record accurate lap distances and see your distances in meters.
CADENCE ALERTS
Want to improve your running form? Use the cadence alerts to know when you've gone outside your target cadence range.
RECOVERY ADVISOR
Giving your body time to recover between training sessions is crucial. After each workout, the built-in recovery time feature will let you know how long to rest before another big effort.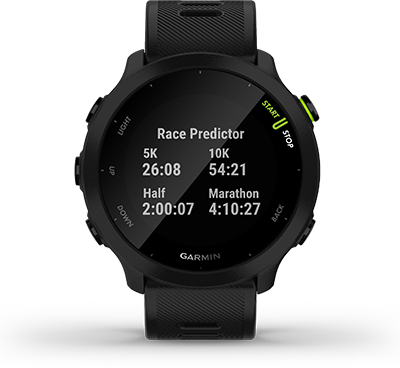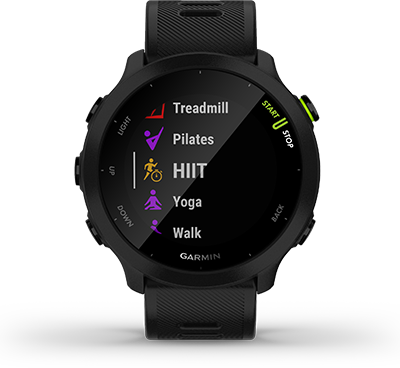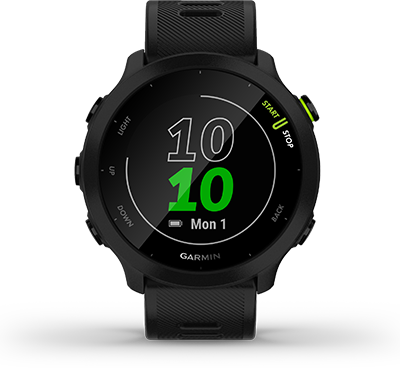 RACE PREDICTOR
This specialized tool takes into account your fitness level and training history to help you work toward your race goal and see the impact of training on your predicted finish time.
BUILT-IN SPORTS APPS
Switch up your workout routine with activity profiles for track or virtual running, pool swimming, Pilates, HIIT and even breathwork.
BATTERY LIFE
Run to your heart's content with up to 2 weeks of battery life in smartwatch mode and up to 20 hours in GPS mode.
More ways to track health and wellness.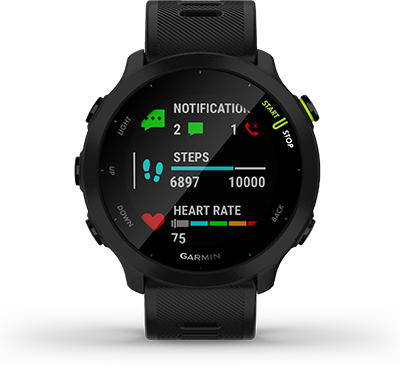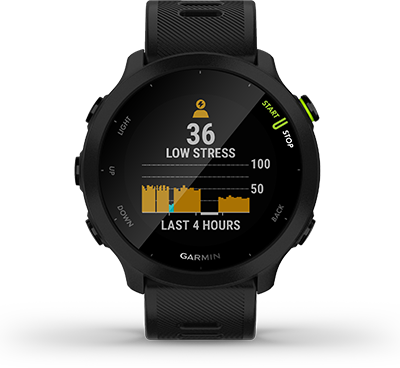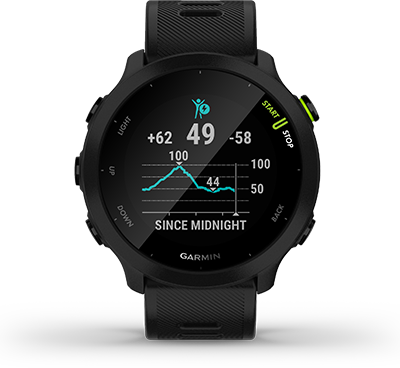 FITNESS TRACKING
While you're out and about, Forerunner 55 tracks steps, intensity minutes and more.
STRESS TRACKING
Find out if you're having a calm, balanced or stressful day. Relax reminders will even prompt you to do a short breathing activity.
BODY BATTERY ENERGY MONITORING
Track your body's energy levels so you can find the best times for activity and rest.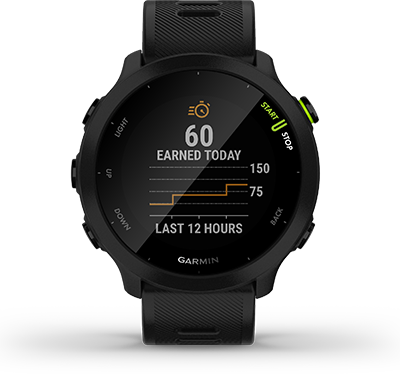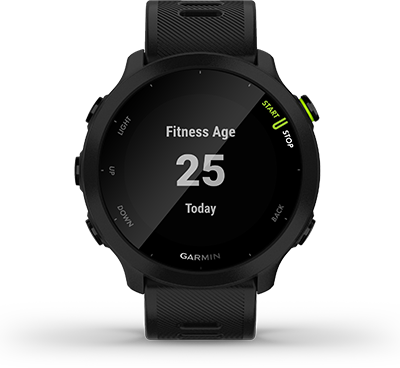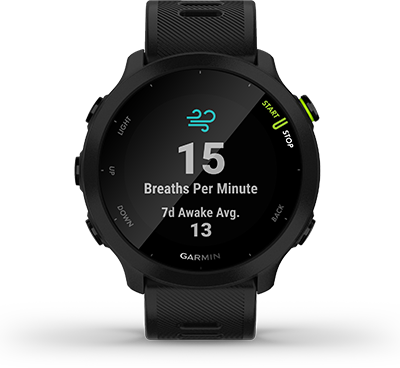 INTENSITY MINUTES
See when during the day you earned intensity minutes from moderate and vigorous physical activity.
FITNESS AGE
This feature uses chronological age, resting heart rate and other factors to estimate if your body is younger or older than you are. Age is just a number, after all.
RESPIRATION TRACKING
See how you're breathing throughout the day, during sleep and during breathwork activities.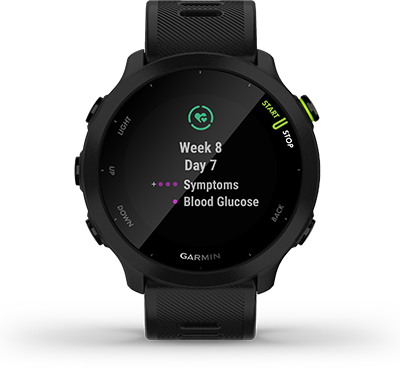 WOMEN'S HEALTH TRACKING
Use the Garmin Connect app to track your menstrual cycle or pregnancy. Log symptoms, get exercise and nutrition education, and more.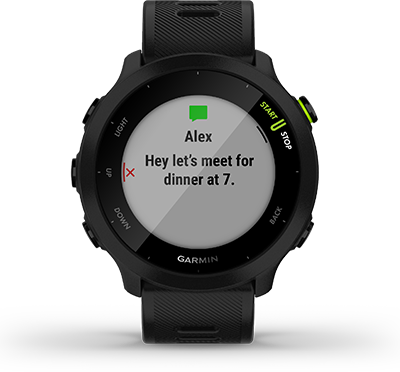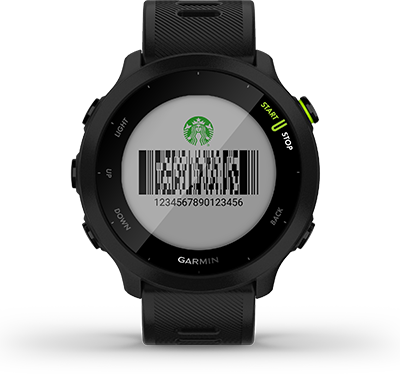 SMART NOTIFICATIONS
Receive emails, texts and alerts right on your smartwatch when paired with your compatible smartphone.
SAFETY AND TRACKING FEATURES
If you feel unsafe or if your watch senses that an incident occurred, assistance and incident detection features can send a message with your location to emergency contacts.
CONNECT IQ STORE
Download custom watch faces, add data fields, and get apps from the Connect IQ Store app.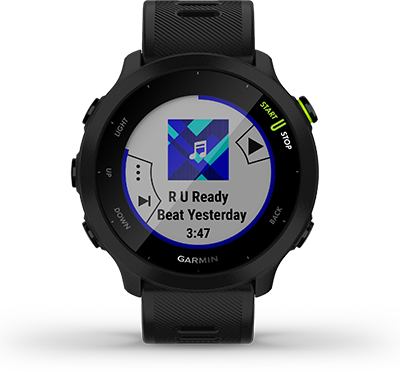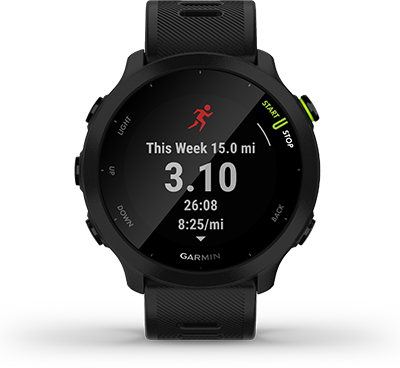 MUSIC CONTROLS
Easily control the music playing on your paired smartphone, so you can skip songs without missing a beat.
SYNCS WITH GARMIN CONNECT
Upload your activities to the Garmin Connect app to interact with a thriving online community where people on the go can connect and compete — and even share their triumphs via social media.