Model Number: 010-02347-00
Availability:
Order today, more on the way!
Estimated Ship Date : January, 01 1970
Condition: New
A brand-new, unused, unopened item in its original retail packaging, with all original packaging materials included. Original manufacturer's warranty is included.
Specs
In the Box
Montana 750i
Lithium-ion battery pack
USB cable
Documentation
✓
Your request has been successfully sent!
Do you have an old GPS unit lying around? The GPS Nation Trade In and Up program is a great way to trade in your old and used GPS for credit towards a new GPS. The choice is entirely yours! We've made the process simple and streamlined. Follow these simple steps, and you will be on your way to receiving credit towards your brand new GPS!
1. Get a quote
To get your free quote, provide your GPS type, manufacturer, model, and condition. Within 24 hours, you will receive a quote for the trade-in value of your current product. The GPS trade-in/trade-up form is at the bottom of this page.
2. Ship your product(s) for trade
After accepting our offer, pack your product(s) safely and ship them to us using the pre-paid shipping label provided to you. We will provide a confirmation email when your trade-in arrives at our warehouse. You have 30 days from the date you complete your on-line trade to ship the product to GPS Nation.
3. Make your purchase
Once we receive your product at our warehouse and we validate the stated condition, we will send you a confirmation email. If you elect to receive credit towards a new GPS at gpsnation.com, your store credit will be issued, and you are free to make your purchase.
Overview
SEE THE WORLD. STAY IN TOUCH. BE THE PICTURE OF ADVENTURE.
The rugged Montana 750i handheld combines the flexibility of on- or off-road navigation with global messaging and interactive SOS via inReach satellite technology — plus a built-in 8-megapixel camera.
Big news. A full QWERTY keyboard lets you easily type messages.
Wander wider and still stay in touch — with inReach for messaging and 24/7 SOS.
Nav, meet cam. Put your trip pics on the map with geotags.
Routable topographic maps? Check. Now you're free to take it off-road or on.
Built like a tank. Meets MIL-STD 810 for thermal, shock, water and vibration.
Power your adventures with 18+ hours of lithium-ion battery life in GPS mode.
Stay in touch off-grid with inReach technology.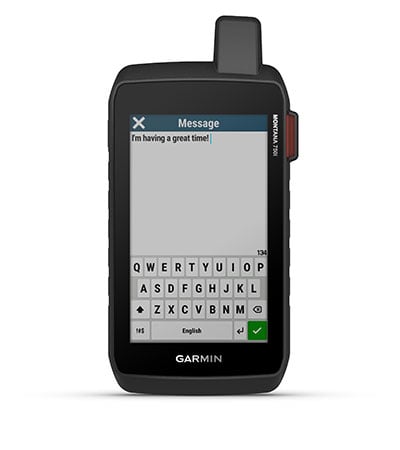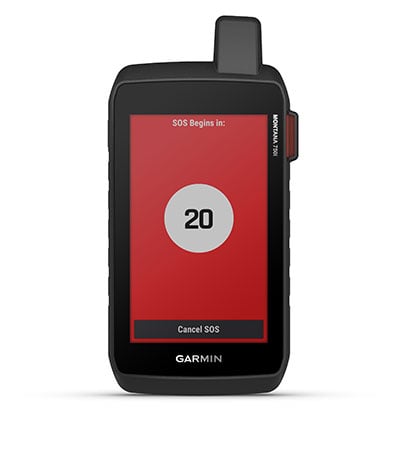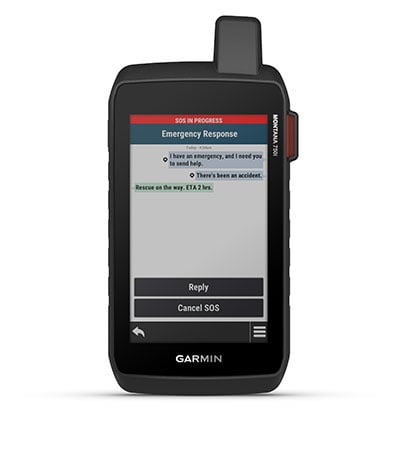 TWO-WAY MESSAGING
Exchange text messages with loved ones, post to social media, or communicate via inReach device to inReach device in the field (active satellite subscription required).
INTERACTIVE SOS
In case of emergency, trigger an interactive SOS message to GEOS, the Garmin-powered International Emergency Response Coordination Center (IERCC) with professional 24/7 global monitoring and response center (active satellite subscription required).
GLOBAL CONNECTIVITY
Instead of relying on cellphone coverage, now your messages, SOS and tracking are transferred via the 100% global Iridium satellite network (active satellite subscription required).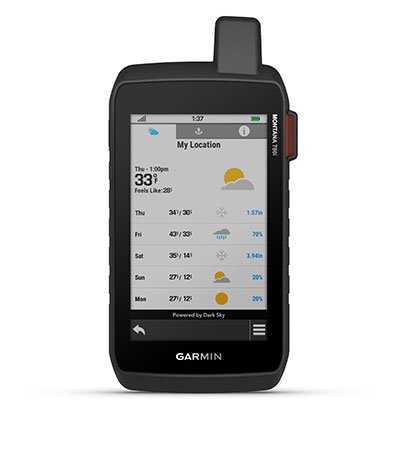 INREACH WEATHER
Available inReach weather forecast service provides detailed updates directly to your Montana handheld or paired devices, so you'll know what to expect en route.
Born to explore. Built to endure.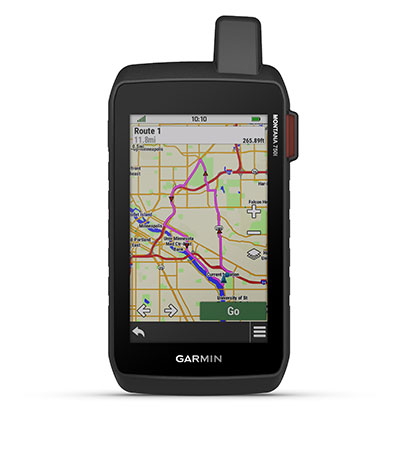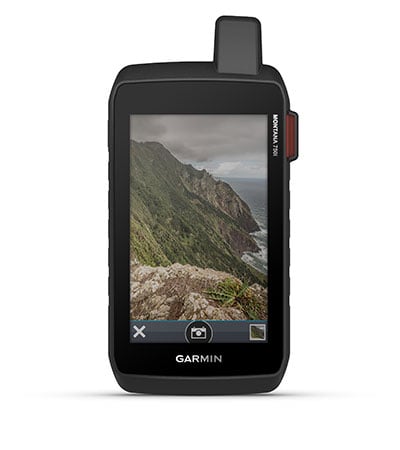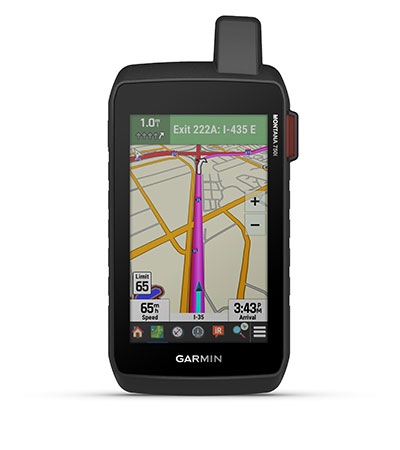 RUGGED BY DESIGN
This durable, water-resistant handheld is tested to U.S. military standards and features a glove-friendly 5" touchscreen that's 50% larger than previous Montana models.
BUILT-IN CAMERA
Capture images of your exploits with Montana's digital 8-megapixel camera. It geotags photos with coordinates, so you can navigate back to favorite sites in the future.
CITY NAVIGATOR MAPS
Seamlessly transition from trails to road navigation with preloaded City Navigator street mapping, which guides your drive with easy-to-follow turn-by-turn directions.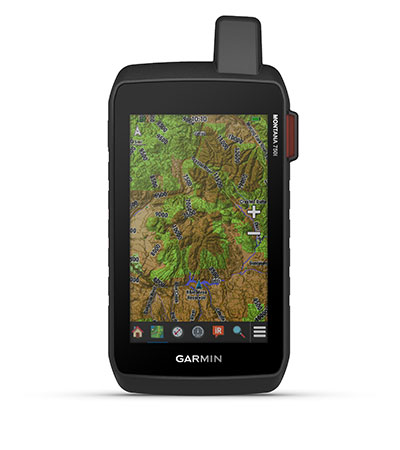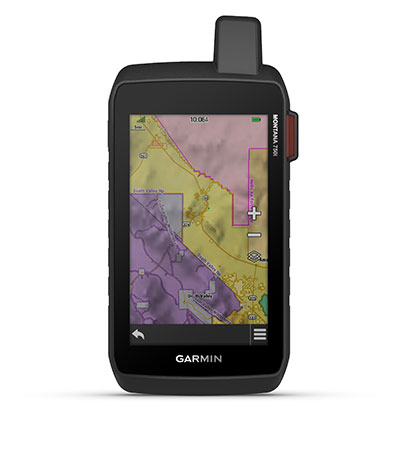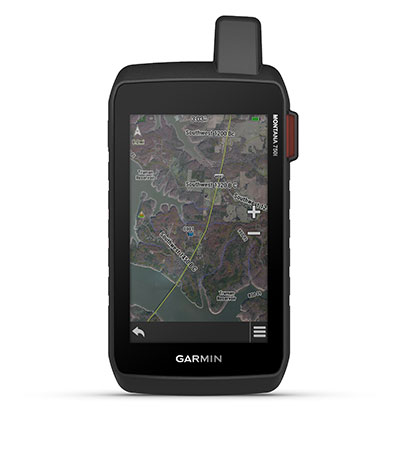 TOPOACTIVE MAPS
To navigate your adventures, use preloaded topographical maps for the U.S. and Canada. View terrain contours, elevations, coastlines, rivers, landmarks and more.
PUBLIC LAND BOUNDARIES
Optional display of federal public land boundaries on topographical maps helps you know that you're venturing where you're supposed to be.
SATELLITE VIEWS
Use direct-to-device downloads of BirdsEye Satellite Imagery (no annual subscription required) to see photo-realistic views and create waypoints based on landmarks.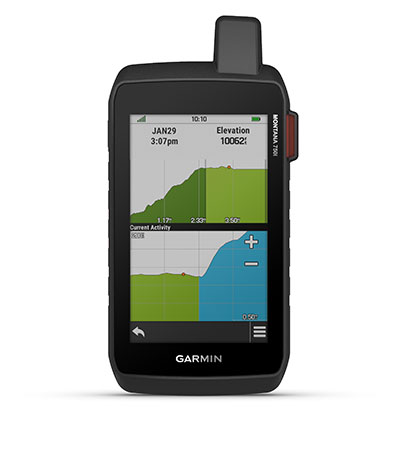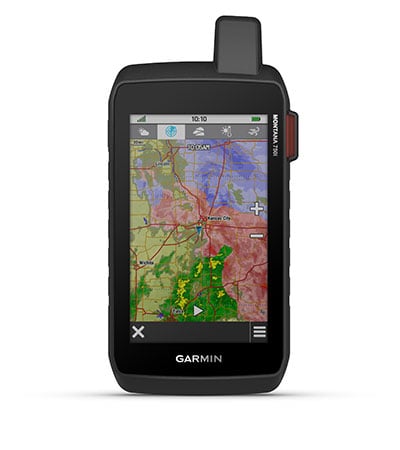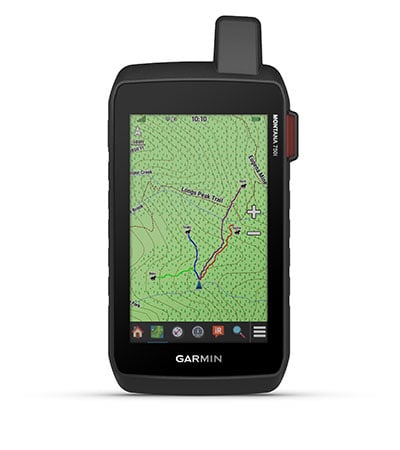 ABC SENSORS
Navigate your next trail with ABC sensors, including an altimeter for elevation data, barometer to monitor weather and 3-axis electronic compass.
ACTIVE WEATHER
Use cellular connectivity to access up-to-date Active Weather forecasts through the Garmin Connect app.
DOG TRACKING
For hunters and trainers, this Montana syncs with compatible Astro or Alpha series handhelds (sold separately) to help track sporting dogs in the field.
Take off where others leave off.
MULTI-GNSS SUPPORT
Access to both GPS and Galileo satellite networks enables Montana 750i to track in more challenging environments than GPS alone.
TRACKING
Using your web-based MapShare trip-sharing page, followers can see your progress, ping your device to see your GPS location and exchange messages during your trip.
EXPEDITION MODE
Trek far and wide off-grid. Use Expedition mode, an ultralow-power GPS reference, to keep Montana tracking for a week or more between recharges.
EXTENDED BATTERY LIFE
An internal, rechargeable lithium-ion battery pack provides more than 18 hours of battery life in GPS mode.
VEHICLE MOUNTS
A variety of Montana handheld-compatible mounts (sold separately) lets you adapt your navigator for use on ATVs, boats, cars, motorcycles, RVs or other vehicles.