Garmin RV 770 LMT-S -Factory Refurbished
Model Number: 010-N1768-00
Availability:
Order today, more on the way!
Estimated Ship Date : January, 01 1970
Condition: Garmin Certified Refurbished
A Garmin Certified Refurbished device is a device that was returned to Garmin USA. The device is certified by Garmin only after undergoing a complete rebuild, and extensive testing to bring the unit up to the same strict cosmetic and functional standards as a new Garmin device. Only after meeting the highest quality standards is the device then released back to the market. All units include brand new original Garmin accessories, and a full one-year Garmin warranty, as well as our free extended warranty when purchased from GPS Nation. Your purchase extends the lifetime of this product and reduces electronic waste. That's good news for the environment and your wallet
Specs
In the Box
RV 770 LMT-S
Lifetime maps¹ and traffic (indicated by "LMT-S" after model number on the box)
Vehicle suction cup mount
Vehicle power cable
USB cable
Quick start manual
✓
Your request has been successfully sent!
Do you have an old GPS unit lying around? The GPS Nation Trade In and Up program is a great way to trade in your old and used GPS for credit towards a new GPS. The choice is entirely yours! We've made the process simple and streamlined. Follow these simple steps, and you will be on your way to receiving credit towards your brand new GPS!
1. Get a quote
To get your free quote, provide your GPS type, manufacturer, model, and condition. Within 24 hours, you will receive a quote for the trade-in value of your current product. The GPS trade-in/trade-up form is at the bottom of this page.
2. Ship your product(s) for trade
After accepting our offer, pack your product(s) safely and ship them to us using the pre-paid shipping label provided to you. We will provide a confirmation email when your trade-in arrives at our warehouse. You have 30 days from the date you complete your on-line trade to ship the product to GPS Nation.
3. Make your purchase
Once we receive your product at our warehouse and we validate the stated condition, we will send you a confirmation email. If you elect to receive credit towards a new GPS at gpsnation.com, your store credit will be issued, and you are free to make your purchase.
Overview
Advanced Navigation for the Camping Enthusiast
RV routing and road warnings help guide your RV or towable trailer
Use the Smartphone Link app to access live traffic, basic weather and more
Hands-free features include Bluetooth calling, smart notifications and voice-activated navigation
Directory of RV Parks & Services; filter campground search results based on your preferred amenities
Built-in Wi-Fi for easy North American lifetime map and software updates when you're on the road; no computer needed

RV 770 LMT-S is our advanced navigator for your roving RV lifestyle. It allows you to enjoy the freedom of the open road while traveling with helpful guidance features. RV 770 LMT-S is a large, easy-to-view GPS navigator with a 6.95" edge-to-edge touchscreen display that fits prominently in an RV or your car. It provides road warnings and custom routing based on the size and weight specifications of your RV or towable trailer. It even includes a directory to RV Parks & Services. It also features Easy Route Shaping, Elevation Profile information and millions more new and popular places to visit and explore, thanks to TripAdvisor and Foursquare.
Drive with Customized RV Routing
Just input the specs of your RV or towable trailer, and then RV 770 LMT-S will use your RV profile to find the most efficient route across North America. Your route will be determined based on the height, weight, length and width specifications of your vehicle.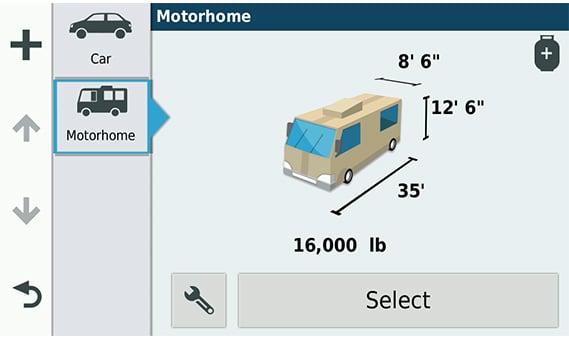 Easily Locate RV Parks & Services
RV 770 LMT-S features a directory of RV Parks & Services. This comprehensive listing of RV parks and campgrounds contains nearly 20,000 sites in the U.S. and Canada, including national and state parks and privately owned campgrounds. You can easily search this directory by preferred amenities — such as pet-friendly, on-site laundry, electric hookups — so you can easily find what you want away from home. The directory also includes more than 14,000 RV-specific service locations, including towing, tire shops, truck stops and repairs.

Live Services for Your Drive
Outsmart traffic jams with time-saving alternate routes or by avoiding them altogether. For traffic alerts, relevant rerouting directions and basic weather forecasts, download the Smartphone Link app, which connects your RV 770 LMT-S navigator with your compatible smartphone to access live traffic and other services. The Smartphone Link app also enables the LiveTrack feature, which lets you share your location so friends can track your whereabouts as you travel.

Enjoy Hands-free Features
When you sync your Bluetooth-enabled smartphone to RV 770 LMT-S, you get great features that let you stay connected without taking your hands off the wheel. Make hands-free phone calls, and receive smart notifications on your navigator's display. That means you can see incoming calls, text messages and calendar reminders without having to reach for your phone. It also offers the convenience of voice-activated navigation. Say "voice command," and then simply command your navigator with your voice while your hands remain on the steering wheel. Your hands never have to leave the wheel.

Drive with Helpful Route Warnings
RV 770 LMT-S is preloaded with detailed maps of North America that also include RV-related restrictions such as bridge heights, weight limits and related information for most major roads and highways. You'll hear and see these helpful warnings, which can help prepare you for upcoming descents, ascents and more.

The RV 770 LMT-S navigator features a handy map tool that allows you to view upcoming elevation information pertaining to your route — all while viewing your map navigation screen. You can even tap on the elevation information to expand the elevation profile view, and see your current and upcoming elevation in greater detail. Viewing this information helps prepare you for possible steep grades along your route.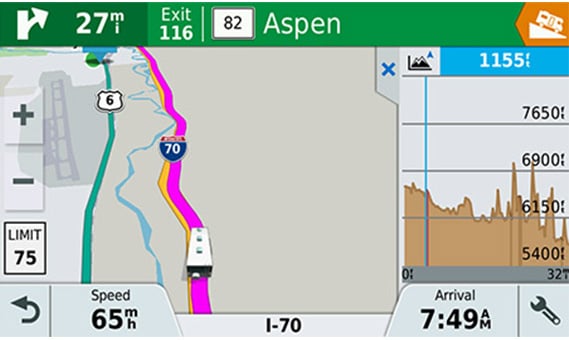 Driver Alerts: Know Your Surroundings
To encourage safer driving and increase situational awareness, RV 770 LMT-S provides driver alerts for sharp curves, speed changes, railroad crossings and animal crossings. Additionally, the navigator will warn you when driving the wrong way on a one-way street and alert you to nearby schools and school zones. Receive notifications for nearby red light cameras and speed cameras, and even get fatigue warnings that suggest potential rest areas after several hours of driving.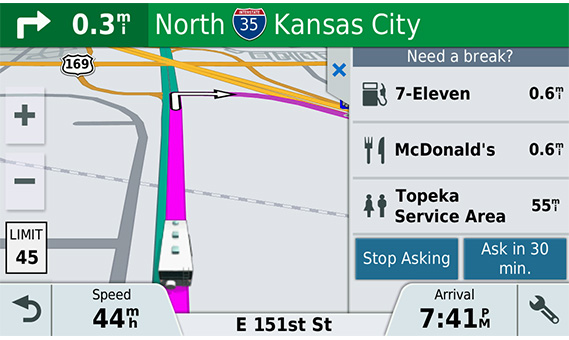 The Journey Is Better with TripAdvisor and Foursquare
When you're not familiar with the area, it's nice to have something to point you in the right direction. That's why we're bringing TripAdvisor to your RV 770 LMT-S navigator. View ratings for travel points of interest, such as hotels, restaurants and attractions, along your route or near your destination. From the world's largest travel site directly to your RV, we're helping you find the stops that make the entire journey part of the destination. Also, locate new attractions with the built-in Trip Planner tool, which adds fun to road trips by suggesting interesting stops along the way. In addition, the Foursquare database of preloaded points of interest includes millions more new and popular restaurants, shops, services and more along your route.

Choose Easy Route Shaping
When you prefer to drive on certain streets or through specific towns, Easy Route Shaping lets you easily modify your route. Just add a point to the route you see onscreen and you'll see a notification regarding how much time will be added.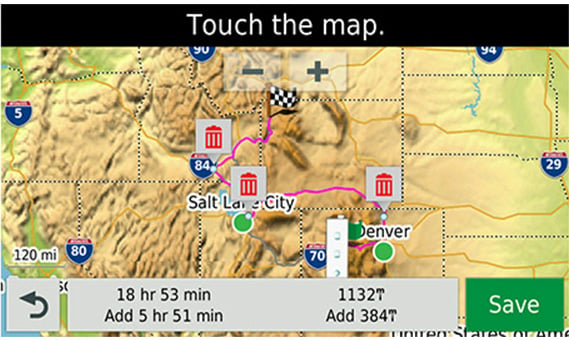 More Information at a Glance
RV 770 LMT-S keeps your driving map onscreen at all times, and additional information appears alongside. RV 770 LMT-S displays speed limit, current speed and estimated time of arrival. No matter where you are, always know what's close. The Up Ahead feature is a constant stream of nearby places — including restaurants, stores, hospitals and fuel stations — that appears alongside your driving map and updates as you move along your route.
Friendly Guidance from Garmin Real Directions
Redefine "spoken turn-by-turn" directions with Garmin Real Directions. Our easy-to-understand driving directions use recognizable landmarks, buildings and traffic lights in addition to spoken street names, guiding you as if your best friend is sitting in the passenger seat. No more squinting to read distant street signs. Just listen for Real Directions to tell you, "Turn left after the QT," or "Turn right after the red building." Following directions has never been easier.
Navigate Complex Interchanges with Ease
RV 770 LMT-S navigator has Active Lane Guidance (ALG). ALG uses voice prompts and brightly colored arrows to indicate the proper lane needed for your route. photoReal Junction View shows exits as they appear in real life — in full color and great detail. Bird's Eye Junction View offers a detailed view of interchanges, looking down from overhead.
Wi-Fi Keeps You up to Date
We're making it easy to keep your navigator up to date with built-in Wi-Fi. You don't need a computer or even a software program to perform these easy updates. Whenever a new map or software update is available and you're connected to a home Wi-Fi network or any public Wi-Fi network that doesn't require web browser sign-in, your navigator's home screen will show a prompt indicating an available update. Simply plug your device into any outlet, and, as it charges, let your device update over Wi-Fi .

Compatible with Wireless Backup Camera
For a complete navigation solution, RV 770 LMT-S pairs with the BC 30 wireless backup camera (sold separately; professional installation recommended). Once connected, you can easily see vehicles, pedestrians and other obstacles right on the RV 770LMT-S navigator's display as you move in reverse.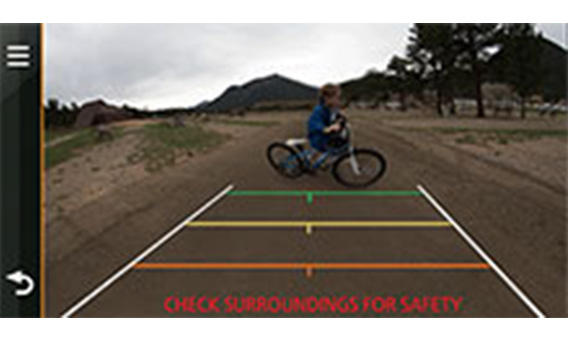 Connect to a Garmin Smartwatch
RV 770 LMT-S works with any Connect IQ-compatible Garmin smartwatch, such as fēnix 5 (sold separately), to provide driver alerts on your wrist plus handy smartwatch compass guidance to help you get from your parked vehicle to your final destination and back to your vehicle again.