Garmin STRIKER 4 US w/ Transducer
Model Number: 010-01550-01
Order now and your Garmin STRIKER 4 US w/ Transducer will ship on Monday, Feb 06 with Free Shipping
Place your order by 4:00 PM PST and your order will ship the same day, weekends and holidays excluded. Orders placed after 4:00 PM PST will ship the following business day. All orders are subject to verification. International orders subject to shipping charges. For further details see delivery estimates in cart.
Condition: New
A brand-new, unused, unopened item in its original retail packaging, with all original packaging materials included. Original manufacturer's warranty is included.
3.5-inch CHIRP Fishfinder with GPS
Easy-to-use 3.5-inch color fishfinder with built-in, high-sensitivity GPS
Find fish; mark and return to hot spots, docks and ramps
Convenient keypad operation
Includes CHIRP (77/200 kHz) sonar transducer; transmit power (200 W RMS)/(1,600 W peak-to-peak)
Upgrade to high performance CHIRP with a GT8 or GT15 transducer (each sold separately)
Specs
In the Box
 STRIKER 4
   Dual-beam transducer
   Transom and trolling motor mounts
   Tilt/swivel mount
   Power cable
   Documentation
✓
Your request has been successfully sent!
Do you have an old GPS unit lying around? The GPS Nation Trade In and Up program is a great way to trade in your old and used GPS for credit towards a new GPS. The choice is entirely yours! We've made the process simple and streamlined. Follow these simple steps, and you will be on your way to receiving credit towards your brand new GPS!
1. Get a quote
To get your free quote, provide your GPS type, manufacturer, model, and condition. Within 24 hours, you will receive a quote for the trade-in value of your current product. The GPS trade-in/trade-up form is at the bottom of this page.
2. Ship your product(s) for trade
After accepting our offer, pack your product(s) safely and ship them to us using the pre-paid shipping label provided to you. We will provide a confirmation email when your trade-in arrives at our warehouse. You have 30 days from the date you complete your on-line trade to ship the product to GPS Nation.
3. Make your purchase
Once we receive your product at our warehouse and we validate the stated condition, we will send you a confirmation email. If you elect to receive credit towards a new GPS at gpsnation.com, your store credit will be issued, and you are free to make your purchase.
Overview
Finding fish is easier than ever with STRIKER 4 fishfinder. Mark and return to your hot spots, boat ramps and docks, and share your favorite waypoints and routes with other STRIKER and echoMAP™ combos. Smooth Scaling™ graphics provide uninterrupted imagery when switching between depth-range scales. Sonar history rewind allows you to scroll back through sonar images to mark waypoints you originally may have missed. Plus, it has a built-in flasher and displays speed data. Includes tilt/swivel mount, CHIRP (77/200 kHz) transducer with transom and trolling motor mounting hardware and cable. For high-performance CHIRP, purchase a GT8 or GT15 transducer (each sold separately).
Experience the Clarity of CHIRP
STRIKER 4 fishfinder includes a Garmin CHIRP (77/200 kHz) transducer, which provides a visibly higher level of clarity and detail for fish and structure than traditional 77/200 kHz transducers.
Instead of sending just 1 single frequency, CHIRP sends a continuous sweep of frequencies, ranging from low to high, then interprets them individually upon their return. Since the frequencies provide a wider range of information, CHIRP sonar technology can create crisper fish arches with greater target separation.
You also can upgrade to high-performance Garmin CHIRP technology, which provides crystal-clear sonar images with even more remarkable target separation and resolution from shallow to deeper depths. For better fishing, bottom contours are more visible, even at higher speeds, and signal noise can be suppressed at greater depths to provide a more timely interpretation of what's below.
Mark Spots with High-sensitivity GPS
Unlike regular fishfinders, STRIKER fishfinders have built-in, high-sensitivity GPS to locate your current position quickly and precisely, then maintain your GPS location anywhere you go on the lake. More importantly, they allow you to mark spots where the fish are biting so you can return to them again in the future. You also can mark docks, boat ramps and other locations on the lake. Just follow the path created on your screen to return to them whenever you wish.
Navigate Easily with Waypoint Map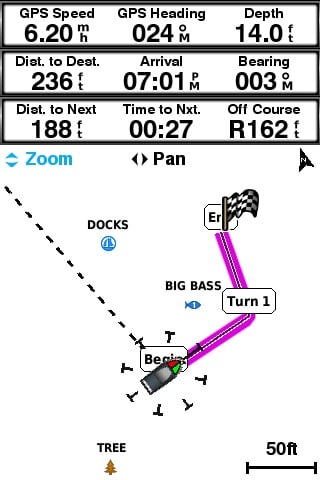 Since the STRIKER fishfinder series includes high-sensitivity GPS, you can see your position in relation to waypoints you have marked. Use the waypoint map to easily view, mark and navigate to locations such as brush piles, stumps and docks. It's also a great tool for finding your way back to the boat ramp.
Check Your Speed on Screen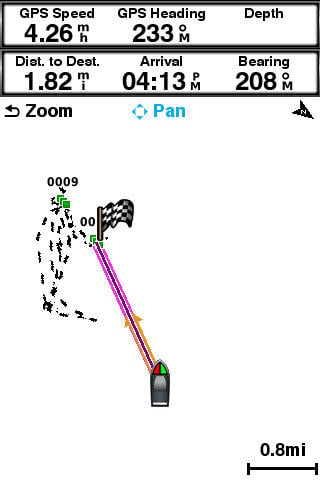 You can quickly and easily see your boat's speed on the screen of your STRIKER fishfinder. It's a great tool to make sure you are trolling at the right speed for the lure you're using and for a particular fish species. It's also a good way to tell if you are going the right speed in wake-controlled areas.
Fish Vertically with Built-in Flasher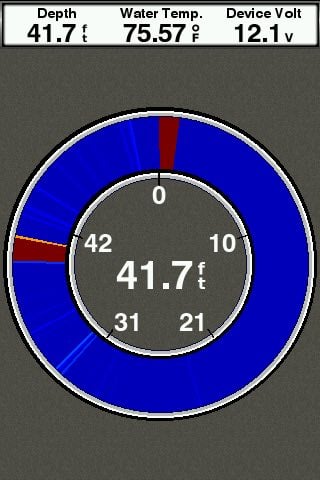 STRIKER provides you with both a fishfinder and flasher all in 1 unit. Anytime you are stationary fishing, such as ice fishing or jigging for crappie, the built-in flasher will show you the bottom, whether it is solid or muddy, your jig or weighted bait, and the depth of fish as they swim into the sonar beam. You can even watch how high your jig is being lifted and dropped and whether fish move toward or away from it.
Take Your Fishfinder Anywhere
A portable kit is available to protect and carry your STRIKER fishfinder with GPS, so it's perfect for kayak, canoe or ice fishing. It includes a sealed, rechargeable battery with charger, built-in transducer cable management and storage and suction cup transducer mount and float.