Garmin Swim - Factory Refurbished
Model Number: 010-N1004-00
Availability:
Out of stock
Condition: Garmin Certified Refurbished
A Garmin Certified Refurbished device is a device that was returned to Garmin USA. The device is certified by Garmin only after undergoing a complete rebuild, and extensive testing to bring the unit up to the same strict cosmetic and functional standards as a new Garmin device. Only after meeting the highest quality standards is the device then released back to the market. All units include brand new original Garmin accessories, and a full one-year Garmin warranty, as well as our free extended warranty when purchased from GPS Nation. Your purchase extends the lifetime of this product and reduces electronic waste. That's good news for the environment and your wallet
This Swimming Partner Tracks More than Your Laps in Style
Keep track of your pace, stroke type and count
Connect wirelessly to Garmin Connect to upload recorded data
Measures swimming effciency
Water resistant up to 50 meter (150 Feet) in depth
Advance drill logging and timed set features for training 
In the Box
Garmin Swim
USB ANT Stick™
Manuals
✓
Your request has been successfully sent!
Do you have an old GPS unit lying around? The GPS Nation Trade In and Up program is a great way to trade in your old and used GPS for credit towards a new GPS. The choice is entirely yours! We've made the process simple and streamlined. Follow these simple steps, and you will be on your way to receiving credit towards your brand new GPS!
1. Get a quote
To get your free quote, provide your GPS type, manufacturer, model, and condition. Within 24 hours, you will receive a quote for the trade-in value of your current product. The GPS trade-in/trade-up form is at the bottom of this page.
2. Ship your product(s) for trade
After accepting our offer, pack your product(s) safely and ship them to us using the pre-paid shipping label provided to you. We will provide a confirmation email when your trade-in arrives at our warehouse. You have 30 days from the date you complete your on-line trade to ship the product to GPS Nation.
3. Make your purchase
Once we receive your product at our warehouse and we validate the stated condition, we will send you a confirmation email. If you elect to receive credit towards a new GPS at gpsnation.com, your store credit will be issued, and you are free to make your purchase.
Overview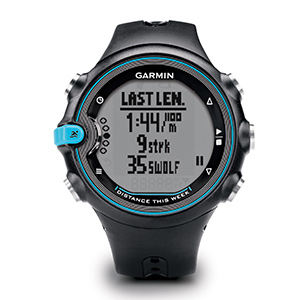 No need to mentally keep note of numbers such as records, paces, distances and laps. Leave all that to your avid swimming partner – the Garmin Swim.
Wear and Forget
It is designed to be a 'wear-and-forget' in a sense that you no longer have to keep worrying about setting it up all the time. You won't even feel like you're dragging a watch in the pool. With its tight and sleek aquadynamic design, it can slide through water just as fast as you can. Thanks to its high battery efficiency, you won't be reminded to replace the battery for at least a whole year of training!
Mind on your Stroke, not on your Numbers
Athletes know that a focused mind leads to a focused body. If your mind is cluttered with keeping track of laps, distances, and even time, it won't have enough focus left to direct the body properly. With the Garmin Swim, you are packing a device with highly specialized sensors for swimming, which allows it to record your strokes, lengths, pace, distance, time, and more. It is designed to be easy to use and easy to set for all your swimming needs.
Focus on your Goals and Training
Designed to augment your training routine, the Garmin Swim allows you to keep track of your goals with reminders and records of your weekly training results. It can help you set your training pace with drill logs and timed sets all at a push of a few buttons. It can help you keep track of your progress with swim scores, which measures efficiency.
Share your Records and Graphs

Culminate every session with a complete analysis of your data after upload it through Garmin Connect. The free online analysis showcases your progress and detailed records of your daily grind. You can also inspire and share to your fellow swimmers, coaches, and your peers.
Using the magic of ANT+™ wireless technology and included USB stick your workout data is automatically transferred to your computer when in range. Garmin Connect is Mac® and Windows® compatible.
GPS Nation Weighs In:
The Garmin Swim is beautifully designed. We liked how it felt and it really clings on to your wrist even during a swim. Since you may not have time to fumble with the controls during the swim, the watch is designed to keep track of everything and simply report it all to you after every session. All the setup you really need is to tell it how long the pool is.
The sensors aren't perfect, so you are likely to see some variances, especially if you don't have great form, which makes it think you are doing a different stroke. There were instances that it may have miscalculated the length or the laps, but that is most likely due to how each person's power of stroke is different. Some may have the same stroke but have a different distance covered in each one. The fact is that most people wouldn't have any problems with it. Many would chime in that it even records their sessions perfectly, which is amazing for such a sleek and small device.
Want to Know More?
GPS Nation makes it easy to find the information you need to make an informed purchasing decision! Check out our informational tabs above that include SWIM Tech Specs, What's in the Box, SWIM Accessories, and Related Products that are similiar to the SWIM! You can also view our entire sport GPS line here. As always, if you have any questions or need advice, don't hesitate to contact us via our toll free 800 number, live chat, or via email!
Our Promise to You:
Remember, every purchase you make at GPS Nation is backed up by our industry best GPS Nation Guarantee!
Free Shipping on all orders over $20
Free 2 Year Extended Warranty Certificate (signed and individually numbered by one of our staff members)
Hassle Free 45 Day return period (no restocking fees)
Lifetime support via phone, email, or live chat