Garmin Tactix 7 - Pro Ballistics Edition
Model Number: 010-02704-20
Order now and your Garmin Tactix 7 - Pro Ballistics Edition will ship on Monday, Sep 25 with Free Shipping
Place your order by 4:00 PM PST and your order will ship the same day, weekends and holidays excluded. Orders placed after 4:00 PM PST will ship the following business day. All orders are subject to verification. International orders subject to shipping charges. For further details see delivery estimates in cart.
Condition: New
A brand-new, unused, unopened item in its original retail packaging, with all original packaging materials included. Original manufacturer's warranty is included.
Specs
In the Box
tactix 7 – Pro Ballistics Edition, black DLC titanium with black nylon tactical band
Black silicone watch band
Charging/data cable
Documentation
✓
Your request has been successfully sent!
Do you have an old GPS unit lying around? The GPS Nation Trade In and Up program is a great way to trade in your old and used GPS for credit towards a new GPS. The choice is entirely yours! We've made the process simple and streamlined. Follow these simple steps, and you will be on your way to receiving credit towards your brand new GPS!
1. Get a quote
To get your free quote, provide your GPS type, manufacturer, model, and condition. Within 24 hours, you will receive a quote for the trade-in value of your current product. The GPS trade-in/trade-up form is at the bottom of this page.
2. Ship your product(s) for trade
After accepting our offer, pack your product(s) safely and ship them to us using the pre-paid shipping label provided to you. We will provide a confirmation email when your trade-in arrives at our warehouse. You have 30 days from the date you complete your on-line trade to ship the product to GPS Nation.
3. Make your purchase
Once we receive your product at our warehouse and we validate the stated condition, we will send you a confirmation email. If you elect to receive credit towards a new GPS at gpsnation.com, your store credit will be issued, and you are free to make your purchase.
Overview
BUILT FOR THE FIELD
Featuring a Power Sapphire™ solar charging lens, traditional buttons and touchscreen display, this multisport GPS smartwatch offers specialized tactical features as well as a built-in Applied Ballistics® calculator, mapping, music, advanced training features and more.
Get a charge from the sunlight, so your smartwatch can go as long as you can in the field.
Don't be limited by battery life. Get up to 37 days of battery life1 in smartwatch mode.
Ruggedly built with a premium design.
Applied Ballistics Elite™ software enables you to calculate long-range shooting solutions in the field.
When it gets dark, the built-in LED flashlight helps keep you going.
Navigate your world with multi-GNSS satellite reference and outdoor sensors.
SOLAR CHARGED BATTERY
Get up to 37 days of battery life in smartwatch mode with solar charging enabled — and up to 122 hours in GPS mode with solar charging enabled.
QUALITY BY DESIGN
Tested to MIL-STD-810, the rugged yet sophisticated design features a large 1.4" display.
TOUCHSCREEN AND BUTTONS
Traditional button controls that work in any environment are matched with a responsive new touchscreen interface for quick access to selections and functions.
Equipped to execute your every objective.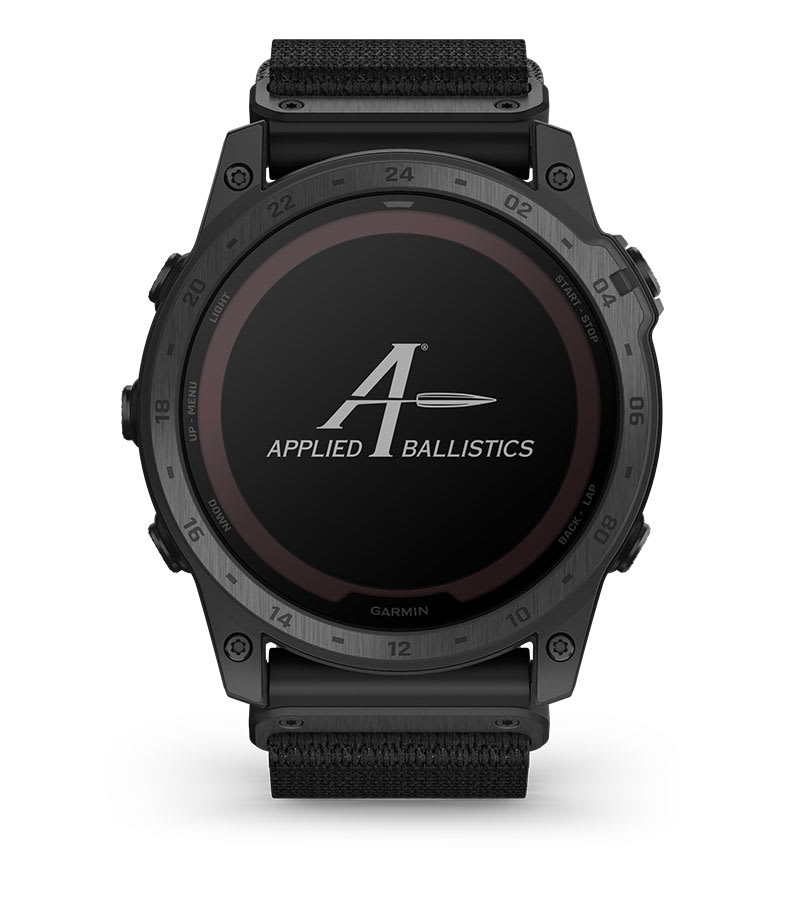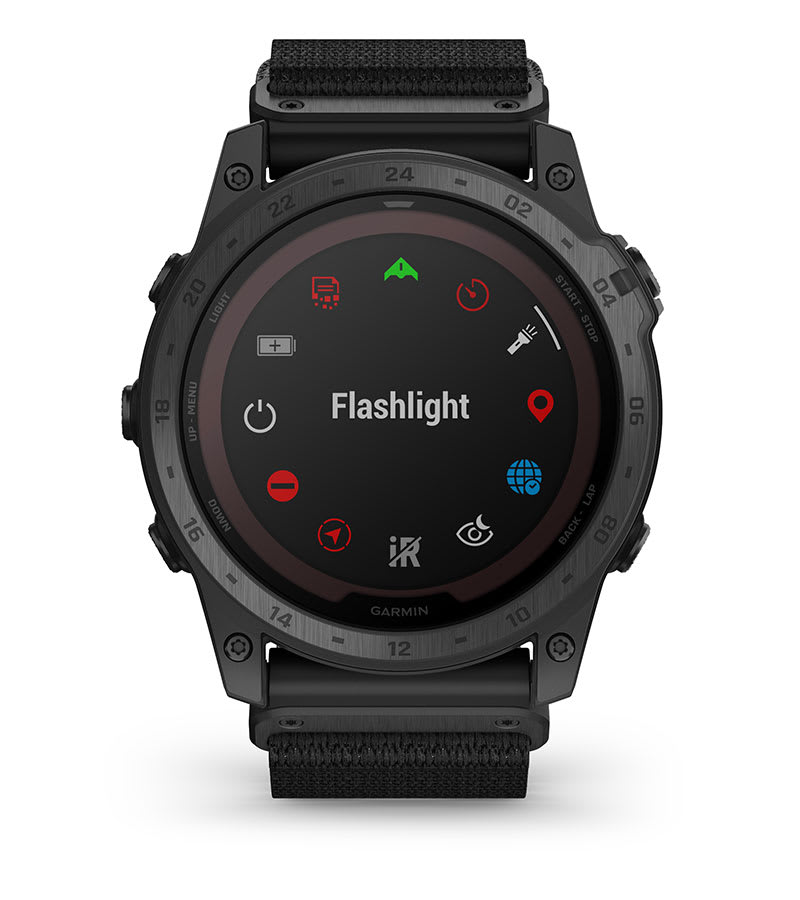 APPLIED BALLISTICS ELITE SOFTWARE
Calculate aiming solutions for long-range shooting in the field with a built-in ballistics calculator.
AB SYNAPSE – GARMIN APP
Easily create and send custom profiles to your Garmin device, including full access to the Applied Ballistics Bullet Library, which contains more than 1,200 custom measured bullets.
BUILT-IN GREEN OR WHITE FLASHLIGHT
To help guide your way in low-light conditions, a built-in multi-LED flashlight provides quick access to a bright, steady beam in either green or white light.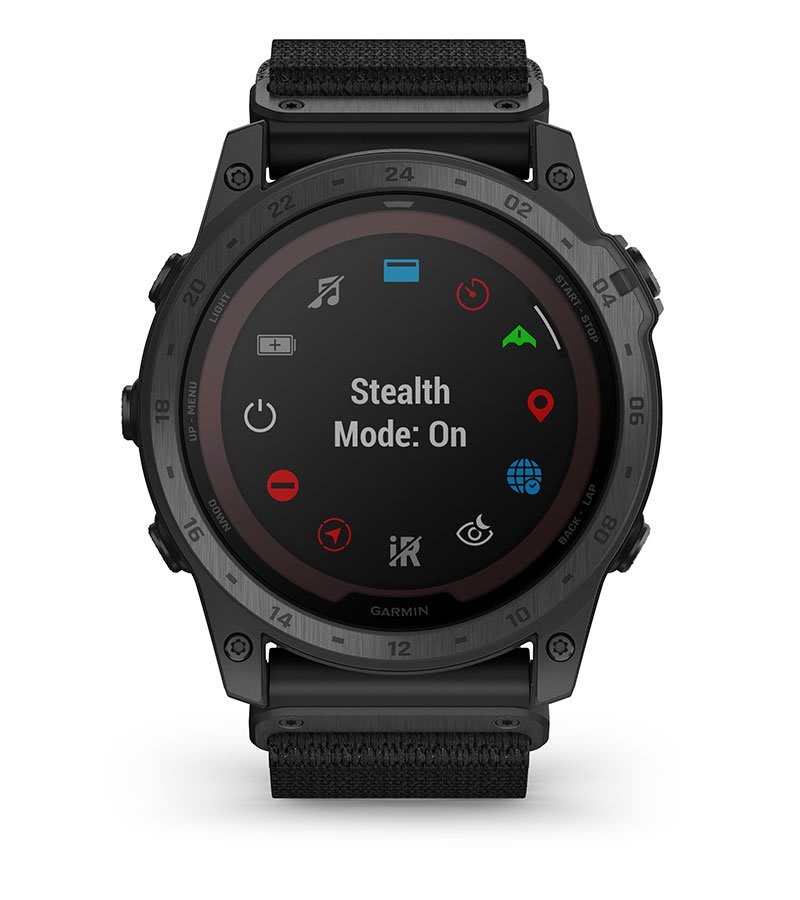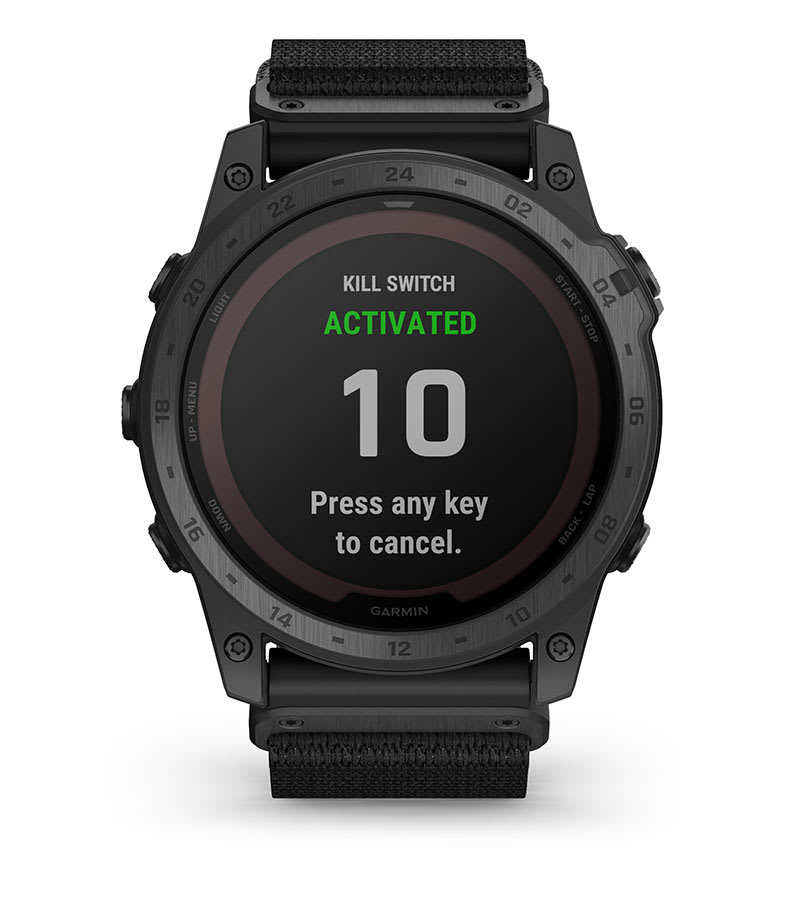 NIGHT VISION CAPABILITY
Easily switch between daytime view and nighttime view with a screen that can be read by night vision goggles.
STEALTH MODE
While keeping the watch operational, stealth mode stops storing and sharing your GPS position and disables wireless connectivity and communication.
KILL SWITCH
If security becomes an issue, the kill switch wipes the device of all user memory.
JUMPMASTER MODE
This feature works to calculate high-altitude release points according to military guidelines and helps to navigate you to your objective once you've jumped.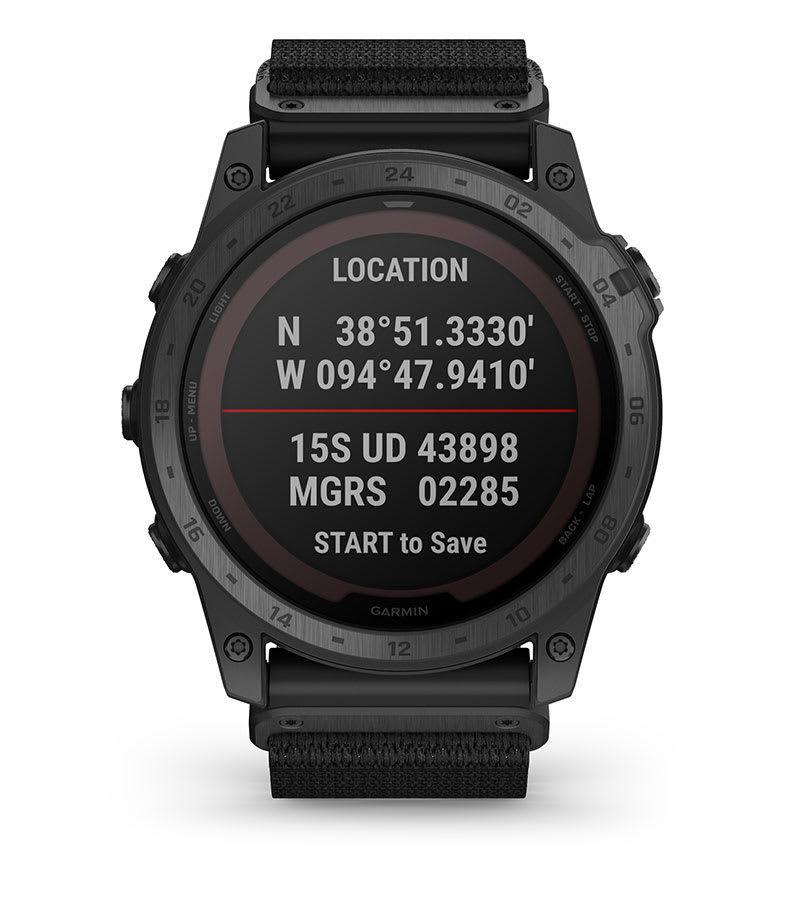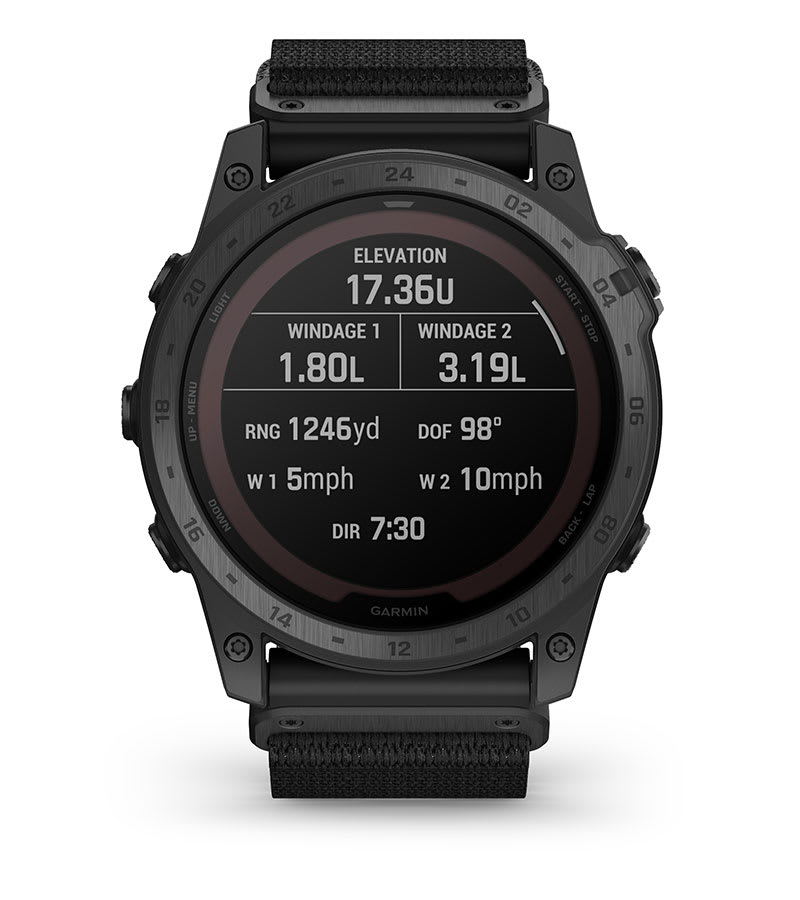 DUAL-POSITION FORMAT
Easily sync your location with others by seeing both the universal transverse mercator and military grid reference system on the same screen.
PROJECTED WAYPOINTS
Set and save remote geo positions to be used later for navigation.
APPLIED BALLISTICS ECOSYSTEM INTEGRATION
Get environmental data readings from your compatible weather meter and ranges from your compatible range finder sent directly to the Applied Ballistics solver.
HUNT ACTIVITY
Track your hunt, and mark hunt-specific waypoints directly on your watch.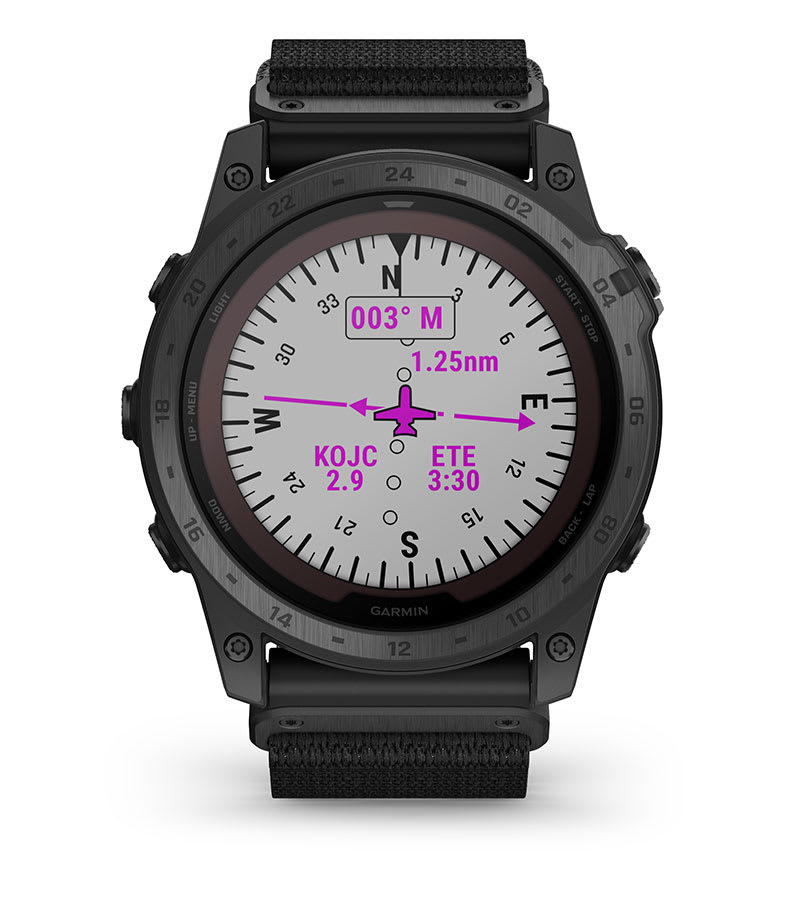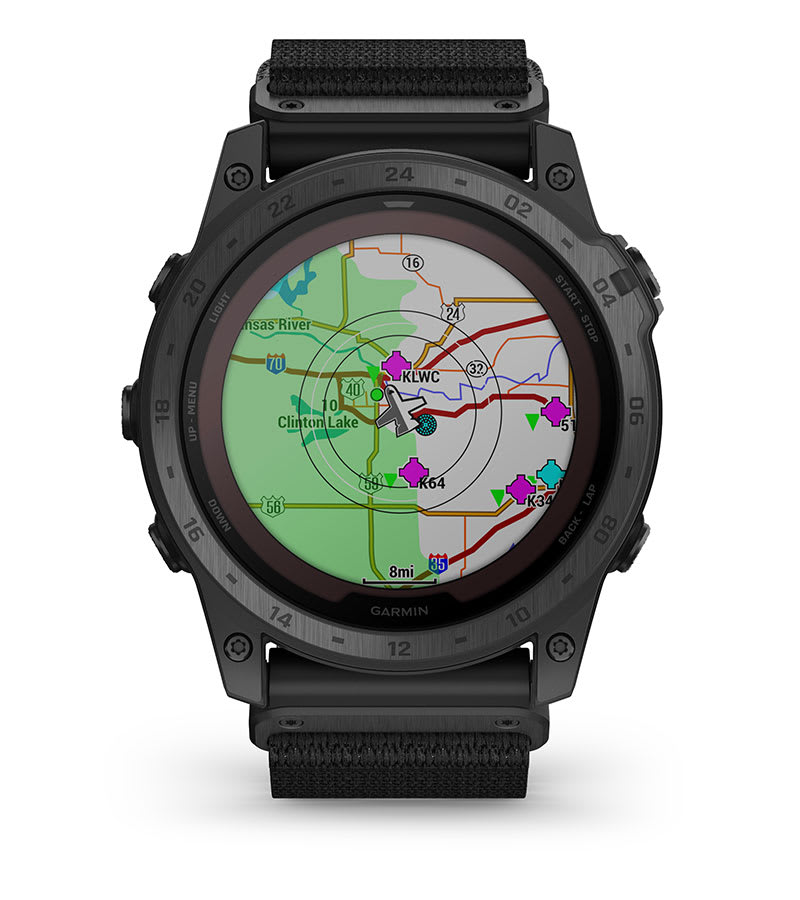 DIRECT-TO NAVIGATION
Navigate straight to a location or waypoint in the worldwide aeronautical database. Or choose the Nearest function to activate a path to a nearby airport.
WEATHER REPORTS
Access aviation weather, including NEXRAD radar, METARs and TAFs, to see winds, visibility, barometric pressure and more.
Train smarter and harder on a whole new level.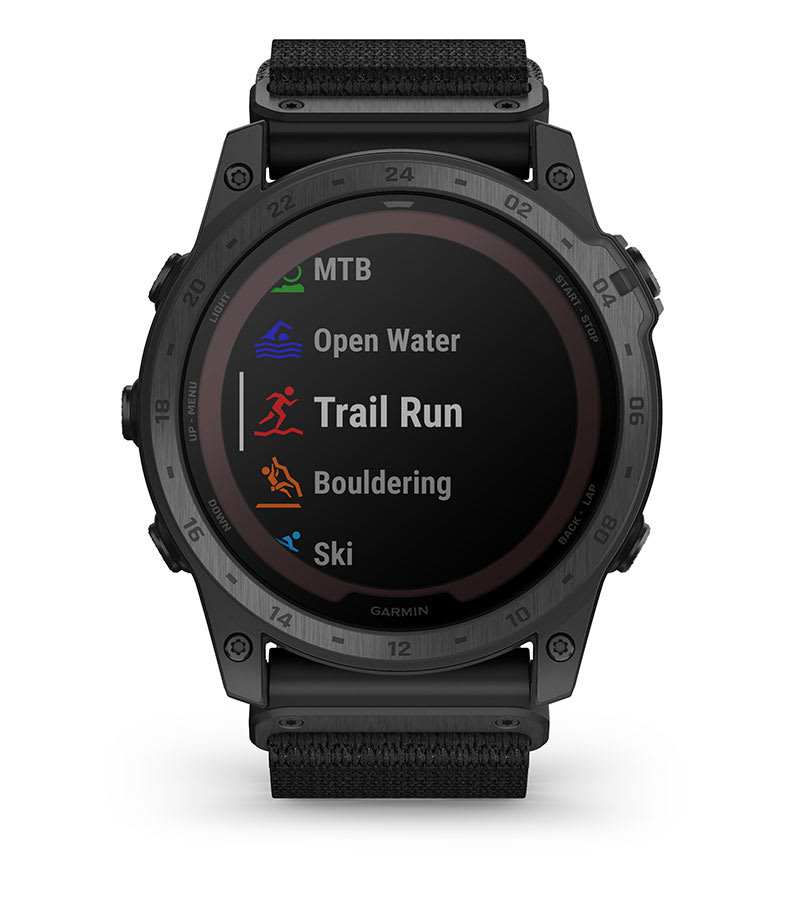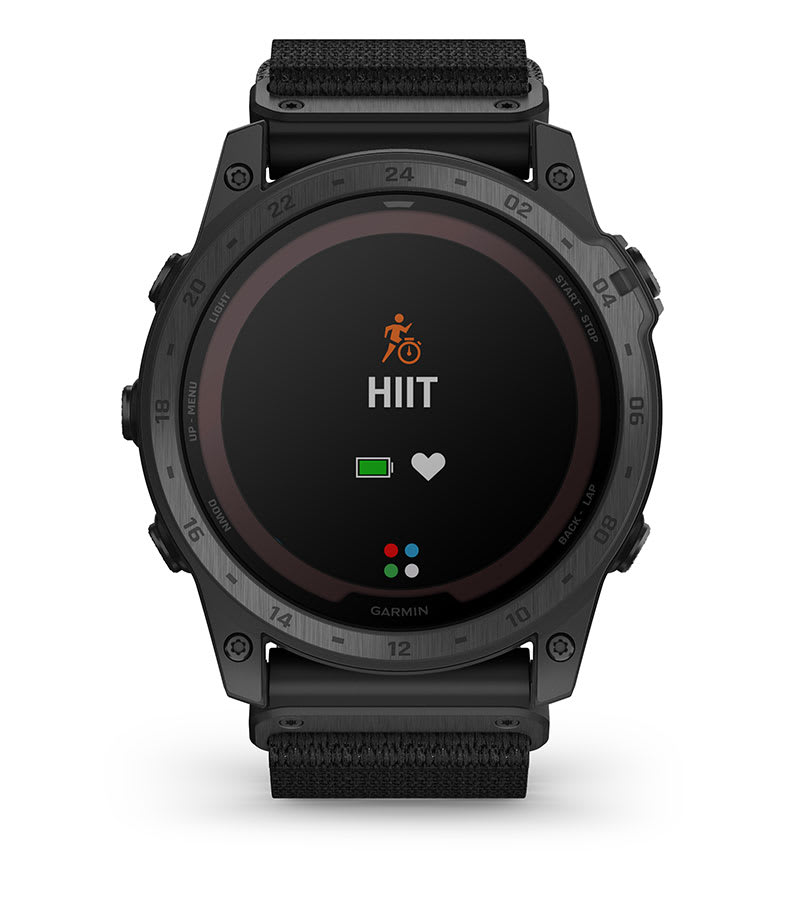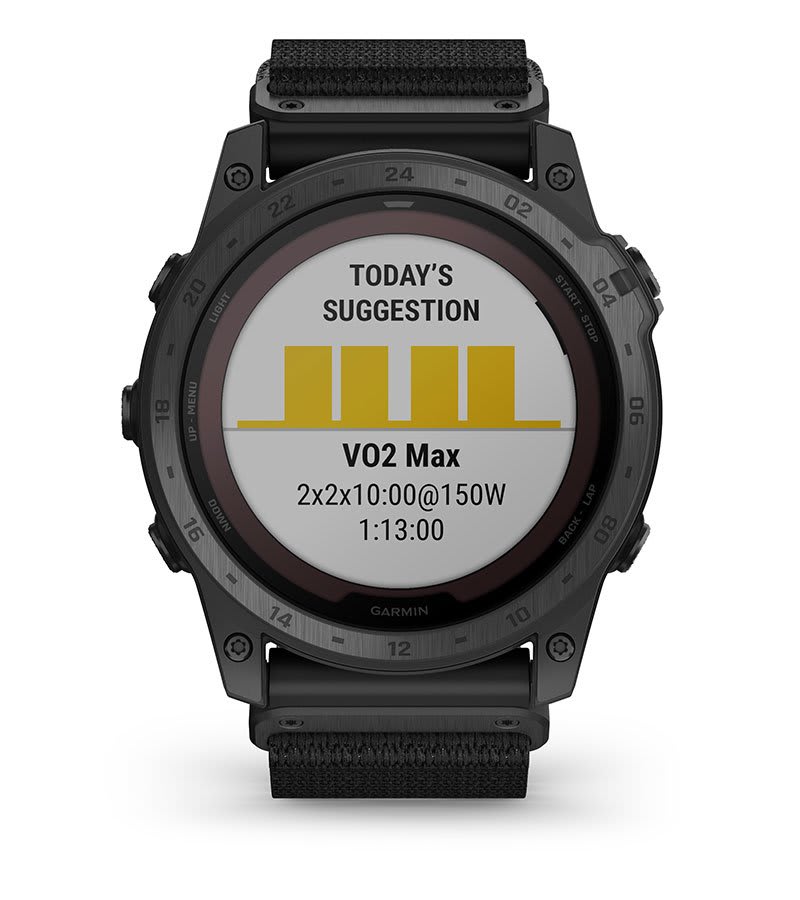 BUILT-IN SPORTS APPS
Use preloaded activity profiles for trail running, swimming, running, biking, hiking, rowing, skiing, golfing, surfing, indoor climbing and more.
HIIT WORKOUTS
This activity profile tracks your high-intensity interval training workouts, including AMRAP, EMOM, Tabata and custom. Set the number of rounds, work/rest intervals and more.
DAILY WORKOUT SUGGESTIONS
For training guidance that takes you and your fitness level into account, get daily run and ride recommendations based on your current training load and training status.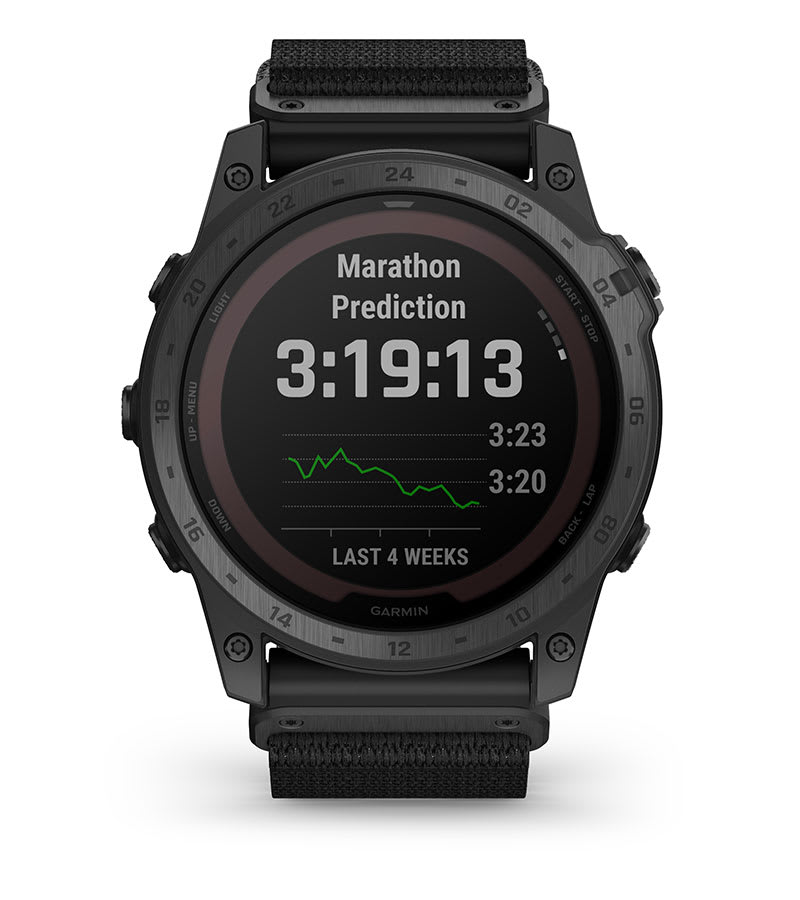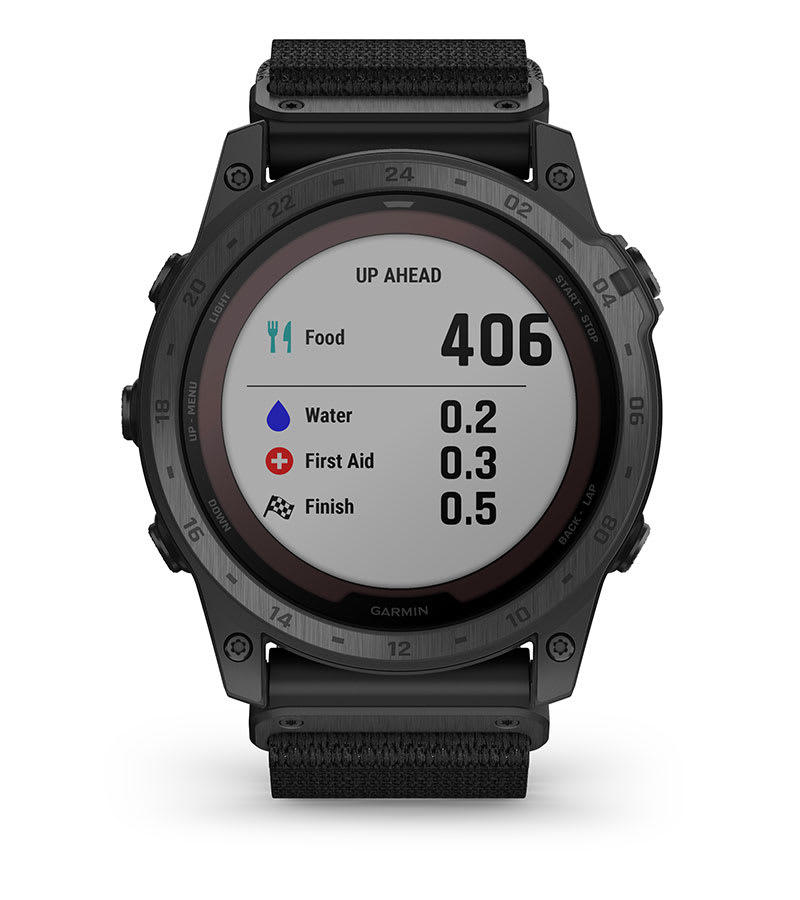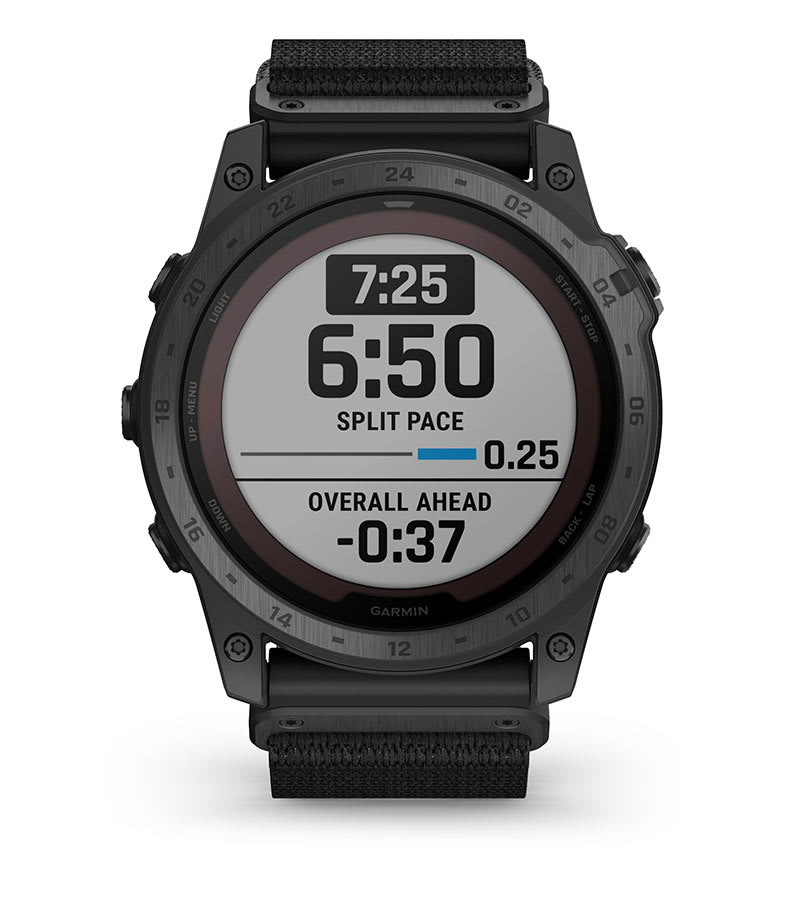 VISUAL RACE PREDICTOR
Based on your running history and overall fitness level, this feature provides an estimate of what your pace could be for the distance you want to run. Trend data shows how your training is having an impact over time.
UP AHEAD
Get at-a-glance awareness for selected POI checkpoints ahead. View performance metrics, split times and distance/elevation — plus a summary of key trail points coming up.
PACEPRO TECHNOLOGY
A first-of-its-kind PacePro feature helps keep you on pace with grade-adjusted guidance as you run a course.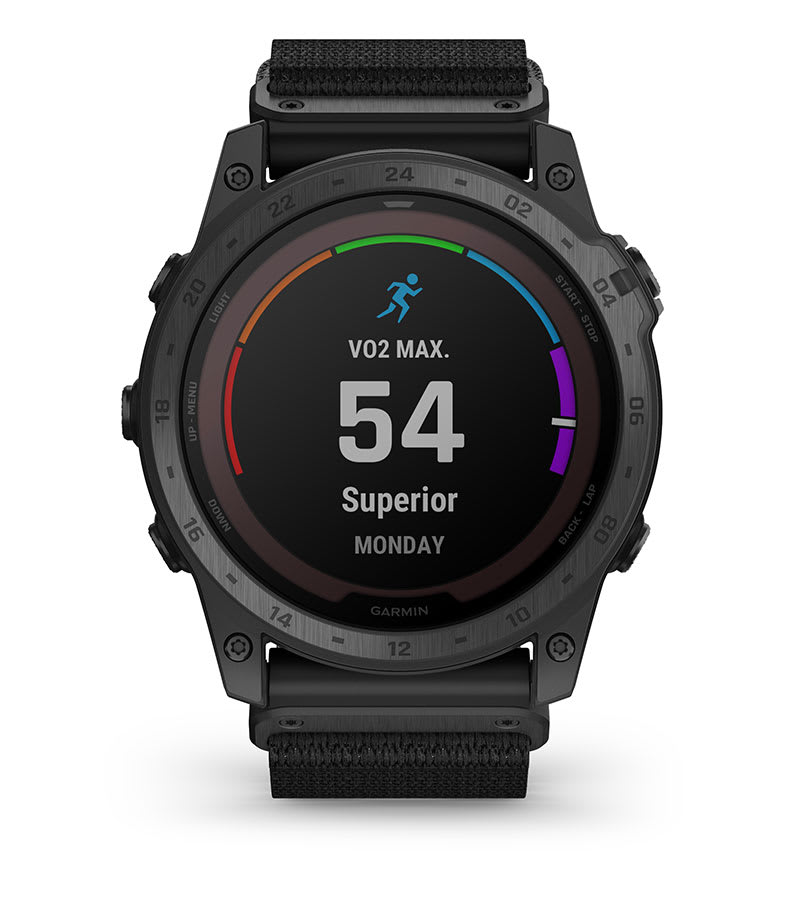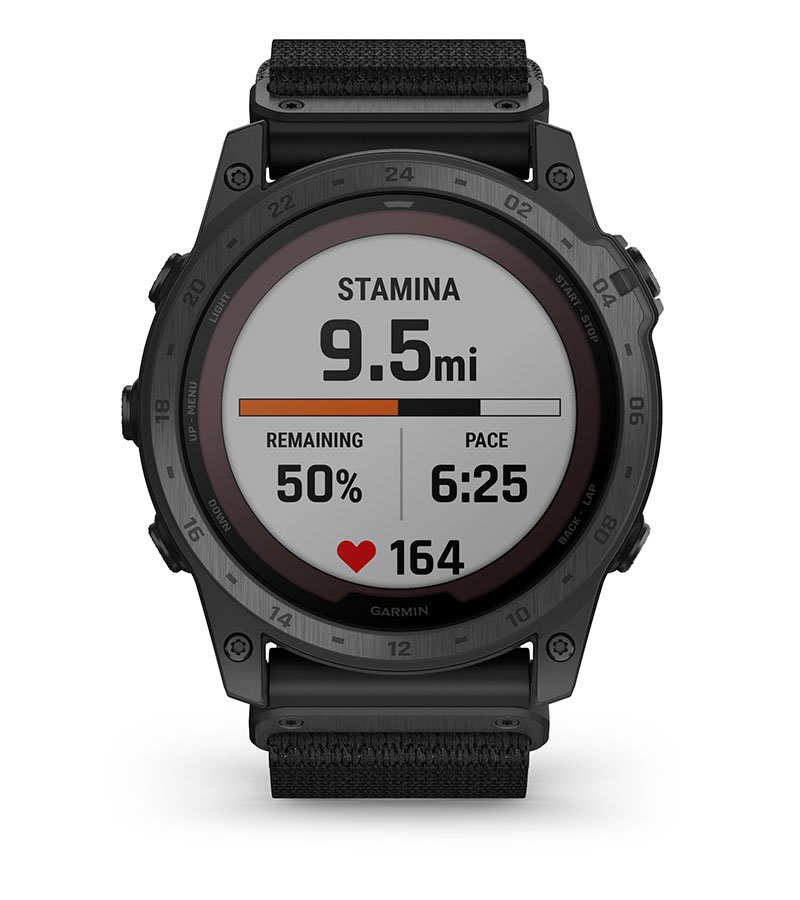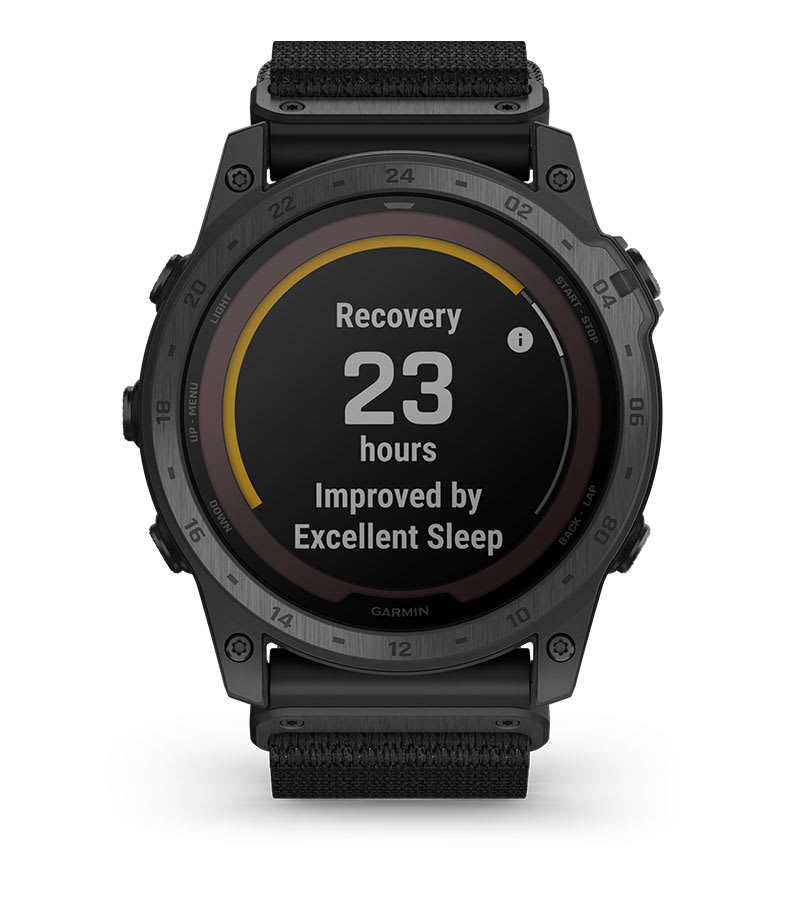 PERFORMANCE METRICS
View advanced training metrics that include running dynamics, heat- and altitude-adjusted VO2 max, trail run VO2 max, recovery advisor and more.
REAL-TIME STAMINA
Use this data to track and manage your exertion — and help avoid overexerting at the start of your run or bike.
RECOVERY TIME ADVISOR
After each workout, recovery time lets you know when you'll be ready for another hard workout. It even accounts for training intensity and factors such as stress, daily activity and sleep.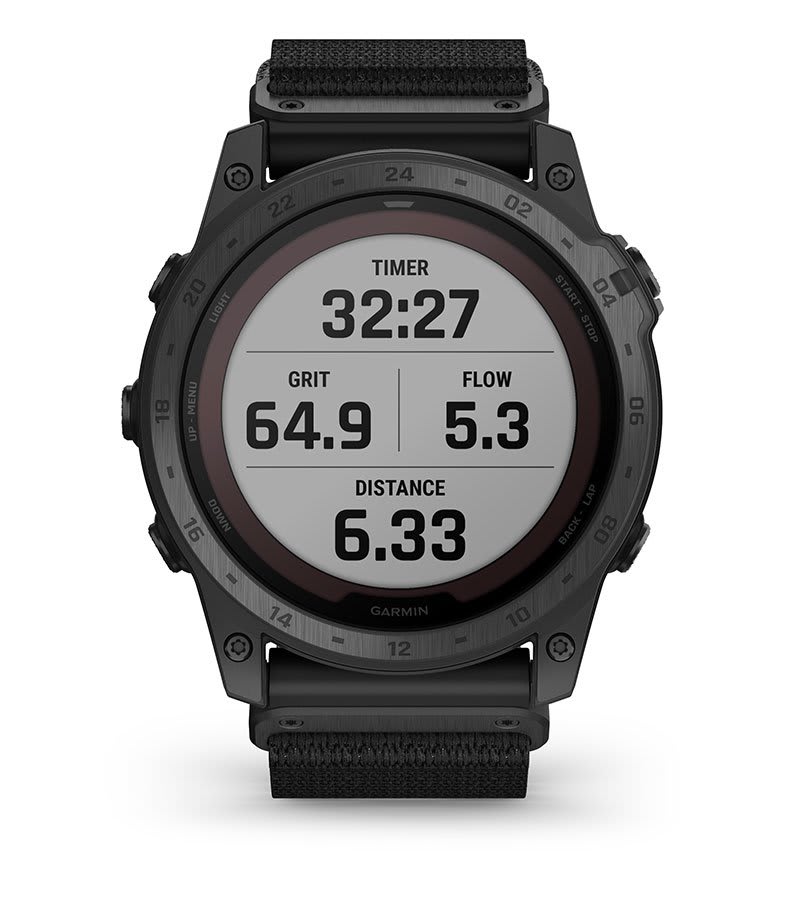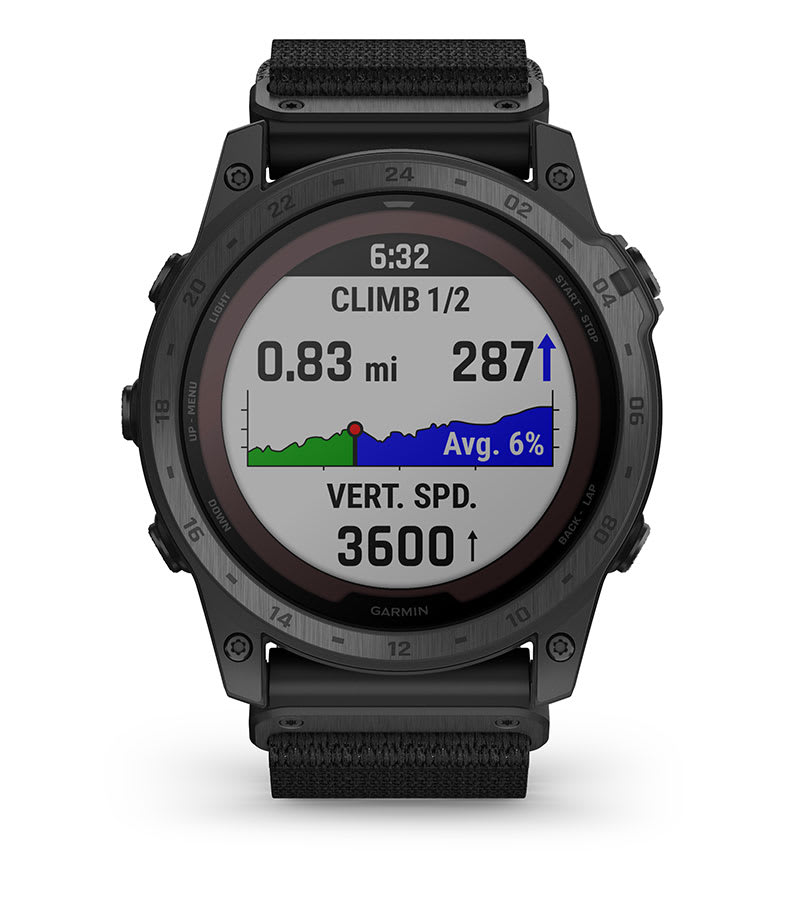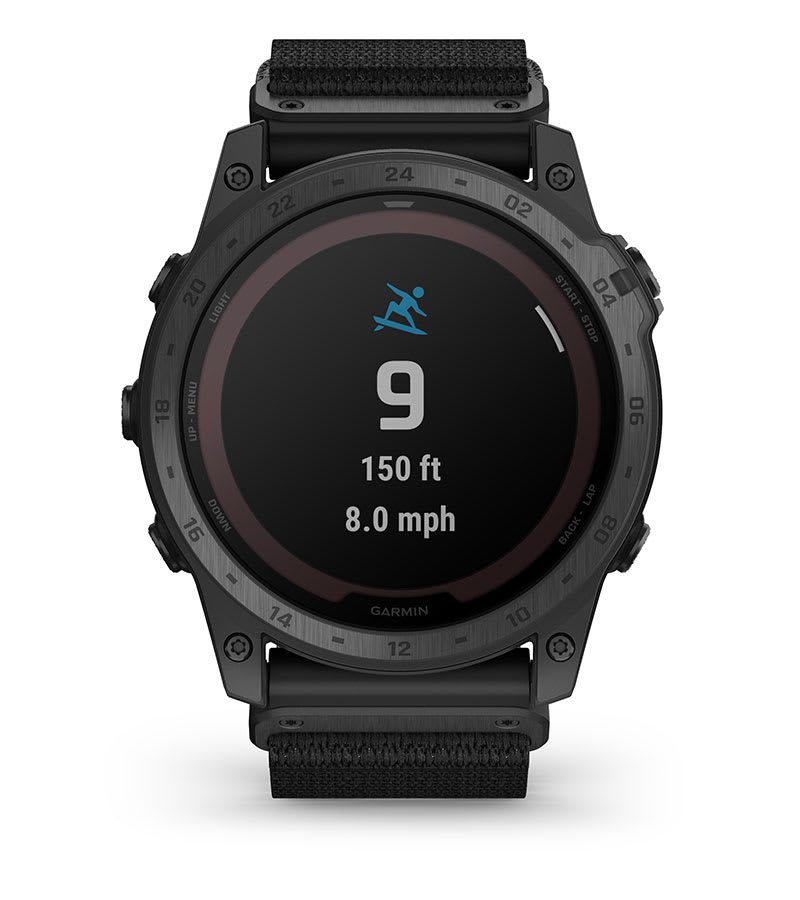 MTB DYNAMICS
Track the details of every ride with mountain biking metrics plus specialized Grit and Flow measurements that rate trail difficulty and how smoothly you descend, giving you a score to beat next time.
CLIMBPRO FEATURE
Use the ClimbPro ascent planner on downloaded courses to see real-time information on your current and upcoming climbs, including gradient, distance and elevation gain — as well as descents and flats.
SURF-READY FEATURES
Get ready to catch some waves. This tactix watch works with the Surfline Sessions feature, which creates a video of every wave you ride in front of a Surfline camera. So you can watch them later and see how you did with your Surfline Sessions subscription.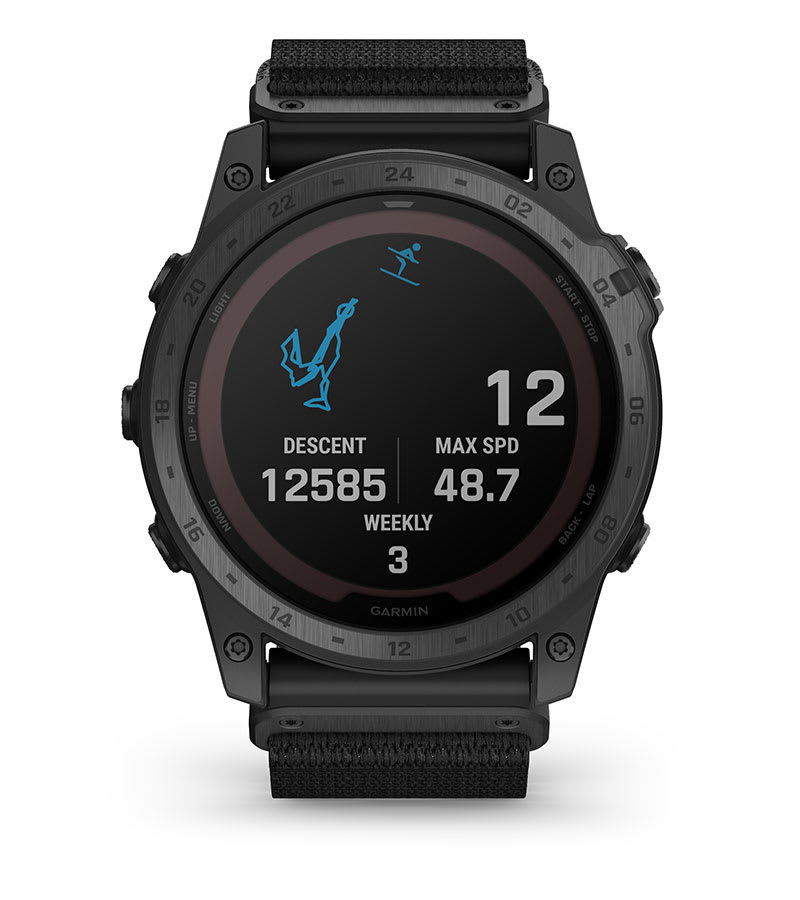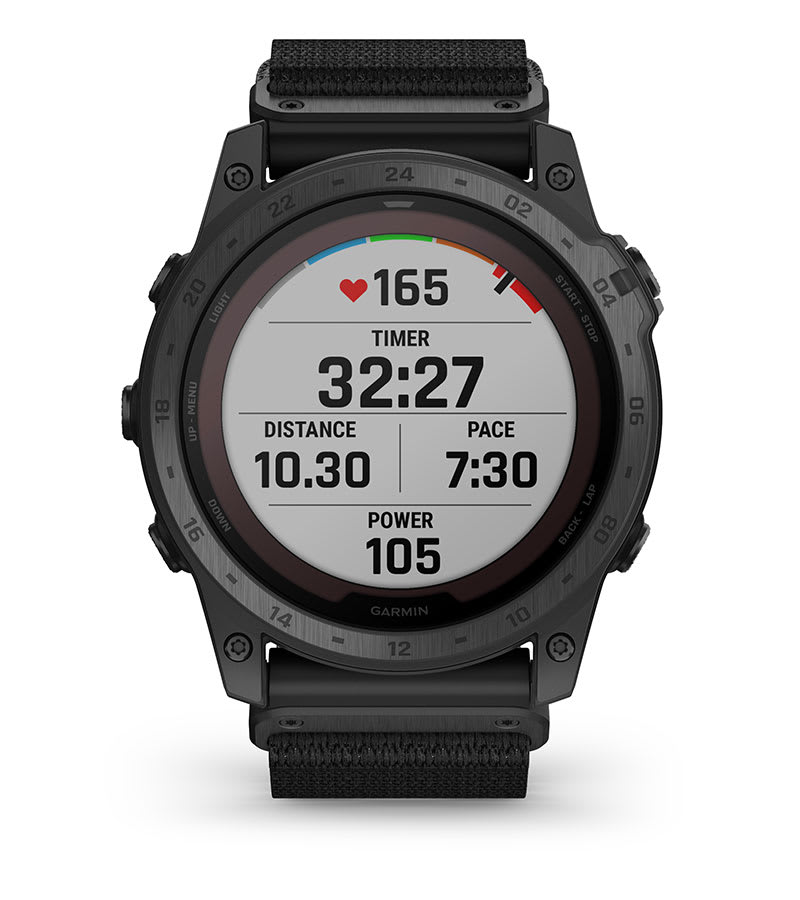 BACKCOUNTRY SKI
Stay informed when you're in the snow. This preloaded profile helps distinguish between skiing and climbing. It shows metrics specific to either ascent or descent.
XC SKI DYNAMICS
When paired with the HRM-Pro chest strap (sold separately), the ski power metric helps measure the actual exercise load of your cross-country workouts.
Features for every kind of adventure.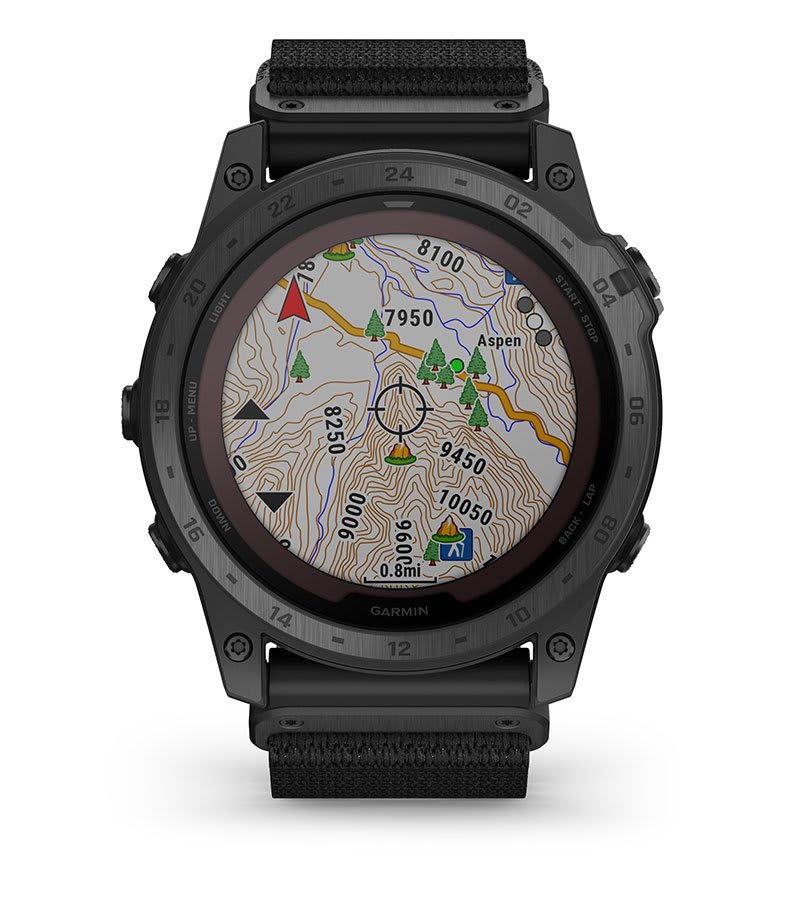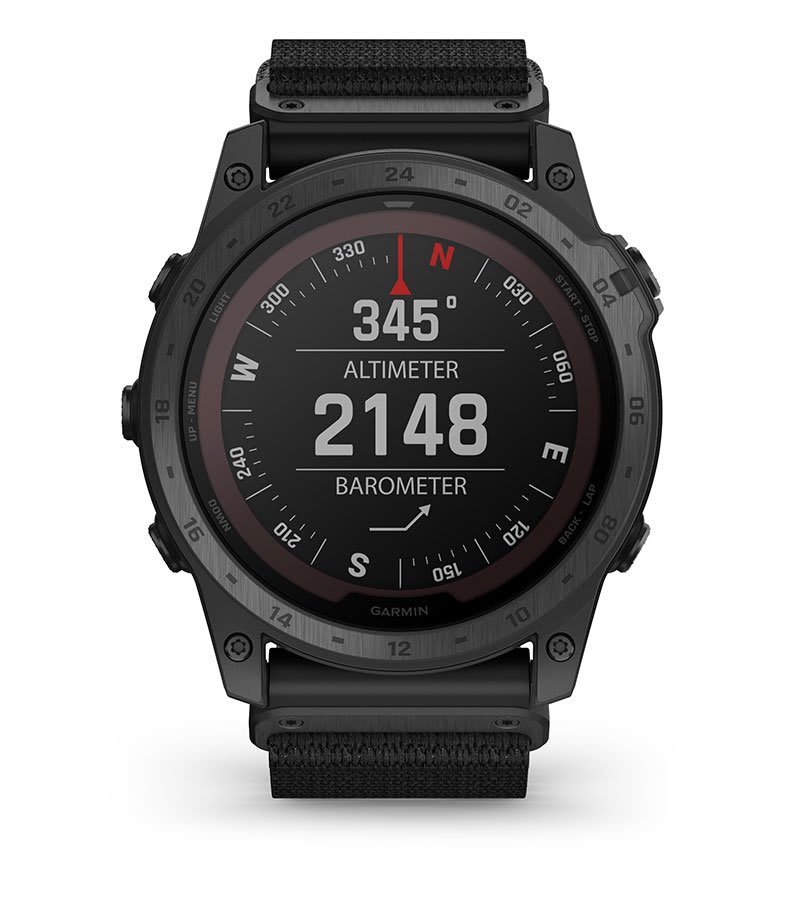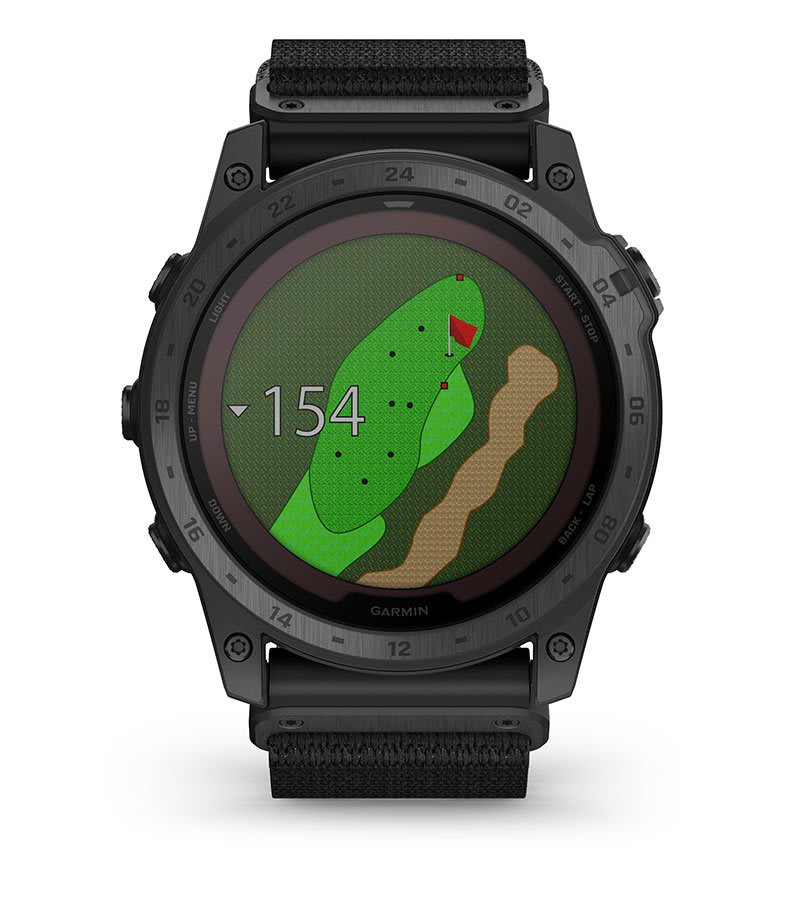 MULTI-BAND GNSS SUPPORT
Access multiple global navigation satellite systems (GPS, GLONASS, Galileo). Get access to multiple frequencies sent by navigation satellites for improved position accuracy in areas where GNSS signals are reflected, weak or typically don't penetrate.
ABC SENSORS
Navigate your next trail with ABC sensors, including an altimeter for elevation data, barometer to monitor weather and 3-axis electronic compass.
GOLF COURSE MAPS
Access full-color CourseView maps for more than 42,000 golf courses around the world, and get button targeting and the PlaysLike Distance feature.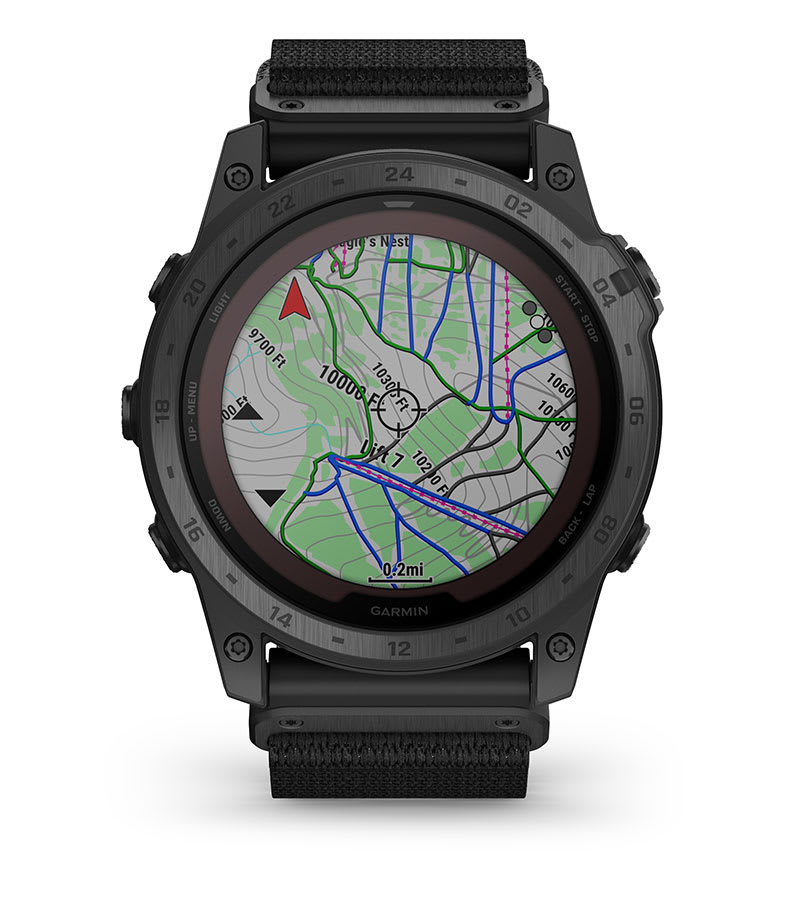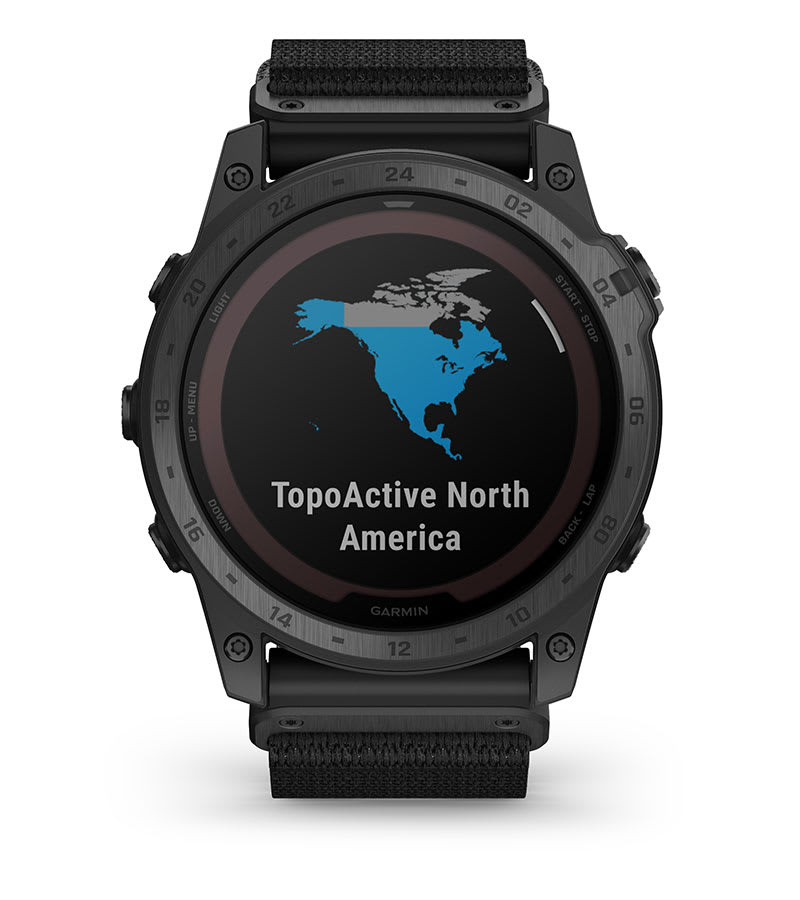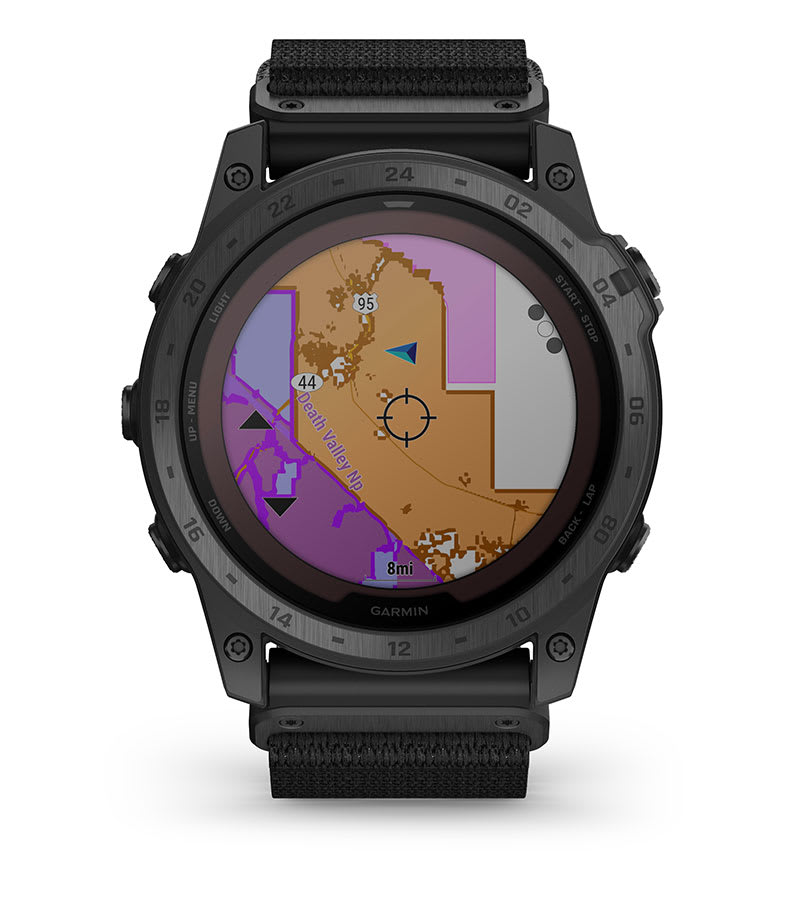 SKIVIEW MAPS
Take on the slopes with preloaded SkiView maps, and view run names and difficulty ratings for more than 2,000 ski resorts worldwide.
MULTICONTINENT TOPO MAPS
tactix 7 - Pro Ballistics Edition comes preloaded with TopoActive maps from your region and gives you free access to download additional maps from around the world to keep your explorations on track. Use built-in Wi-Fi connectivity to easily load and update maps and software without using a computer.
PUBLIC LAND BOUNDARIES
Optional display of federal public land boundaries on topographical maps helps you know that you're venturing where you're supposed to be.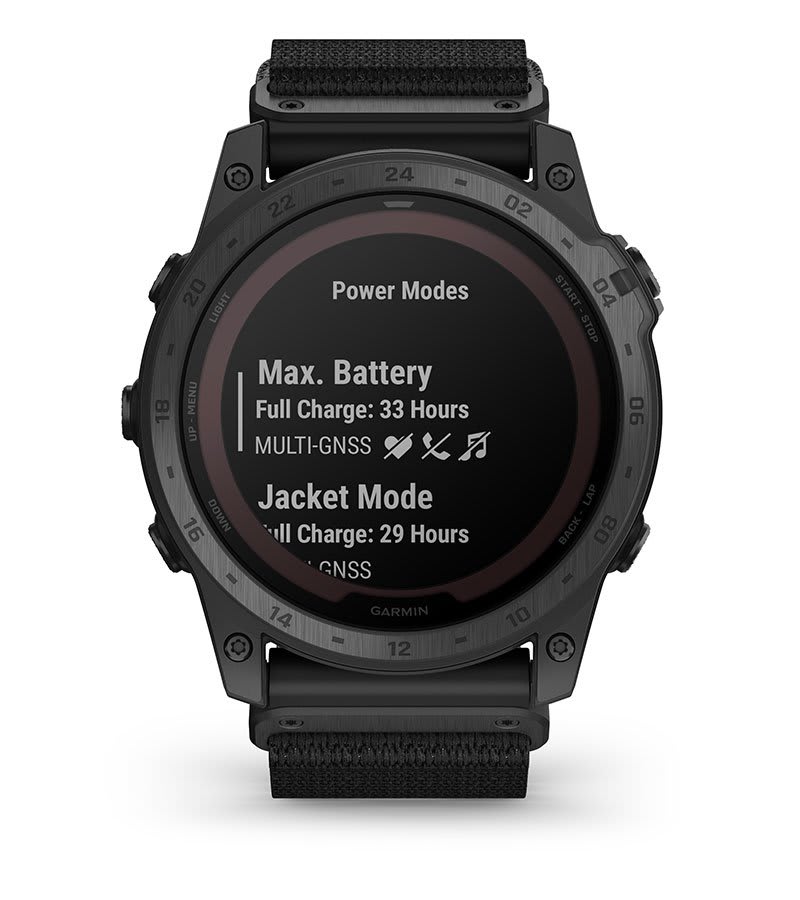 POWER MANAGER
View how various settings and sensors impact your watch's battery life, so you can make battery-extending changes on the fly.
Know your body better with 24/7 wellness tracking.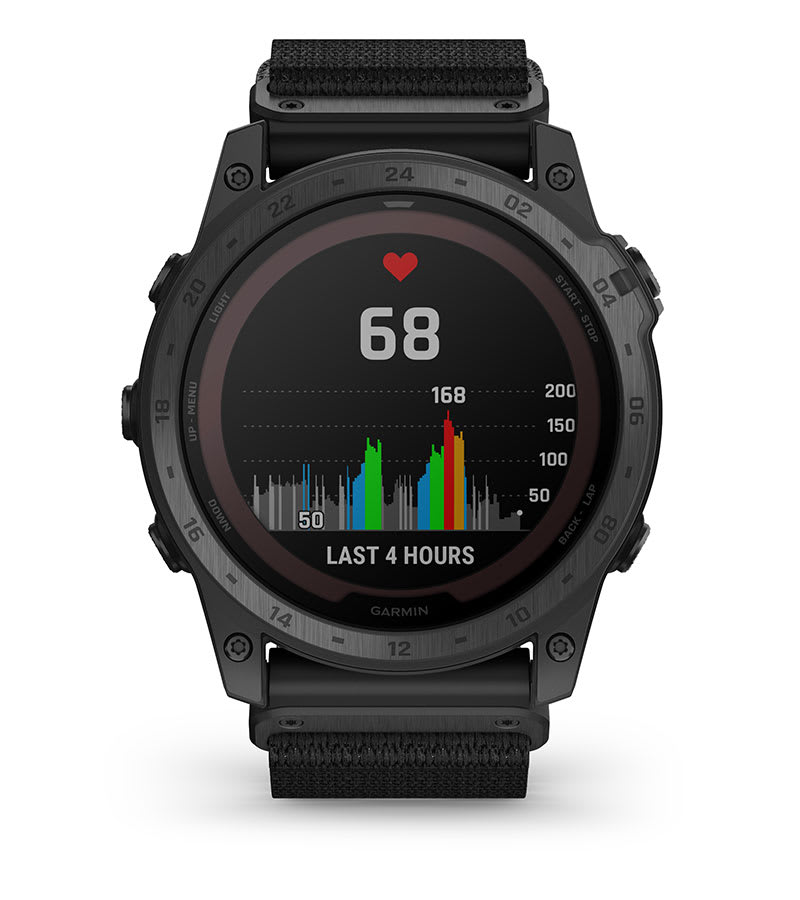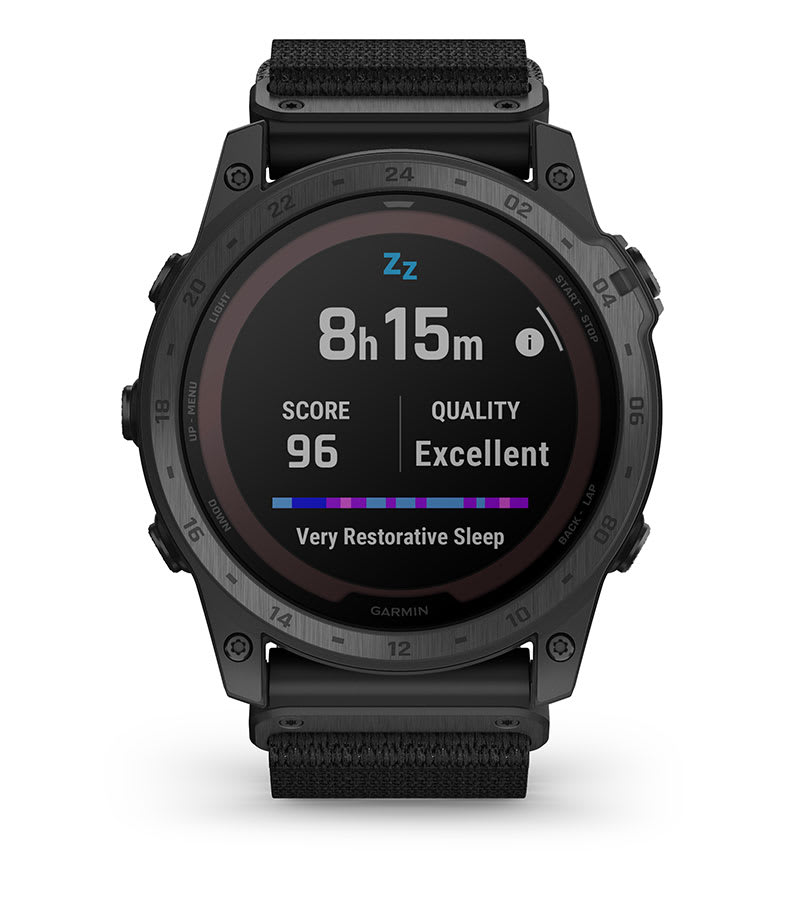 WRIST-BASED HEART RATE
Optical heart rate technology gauges activity intensity as well as heart rate variability to calculate your stress level. It also tracks underwater without a heart rate strap.
PULSE OX SENSOR
For altitude acclimation or sleep monitoring, a Pulse Ox sensor uses light beams at your wrist to gauge how well your body is absorbing oxygen.
SLEEP SCORE AND ADVANCED SLEEP MONITORING
Get a full breakdown of your light, deep and REM sleep stages. View it all on a dedicated widget that includes your sleep score and insights.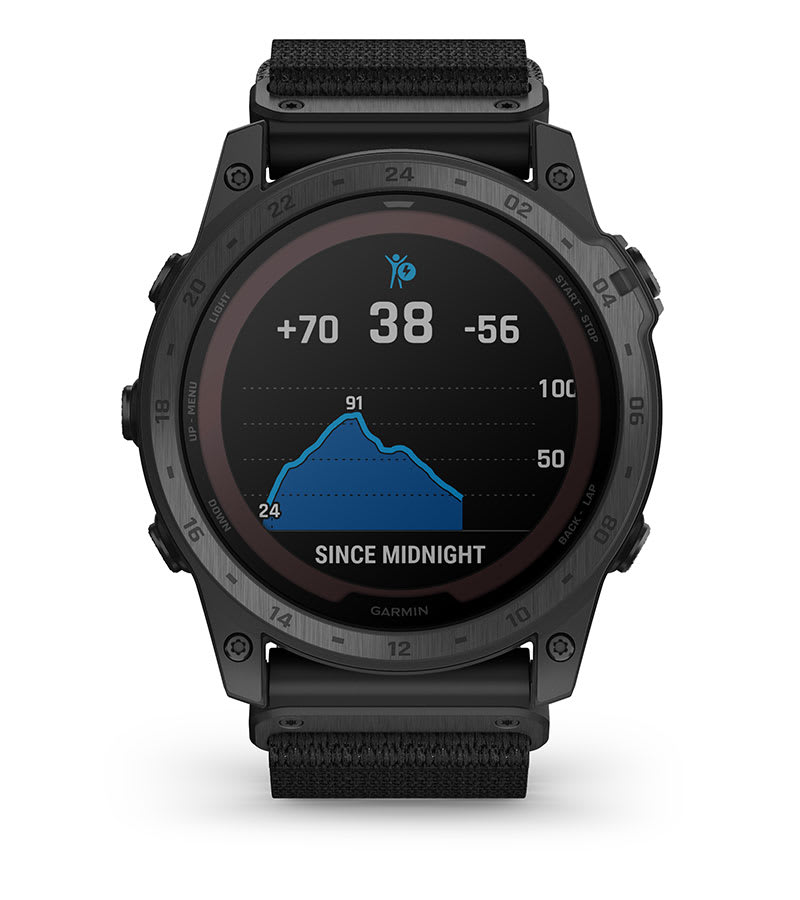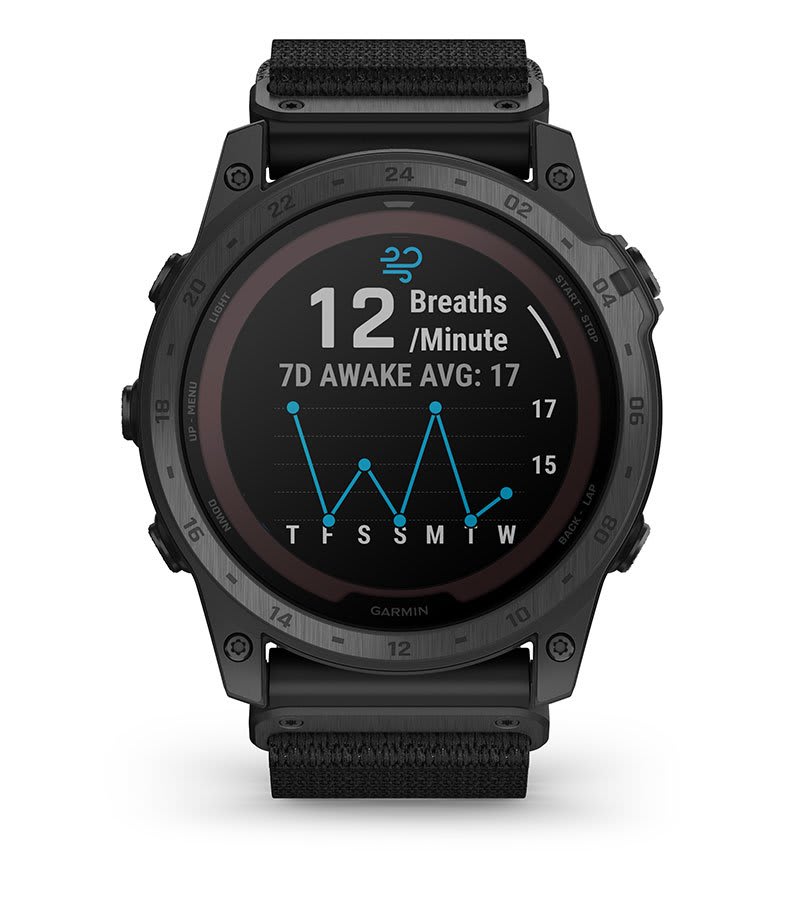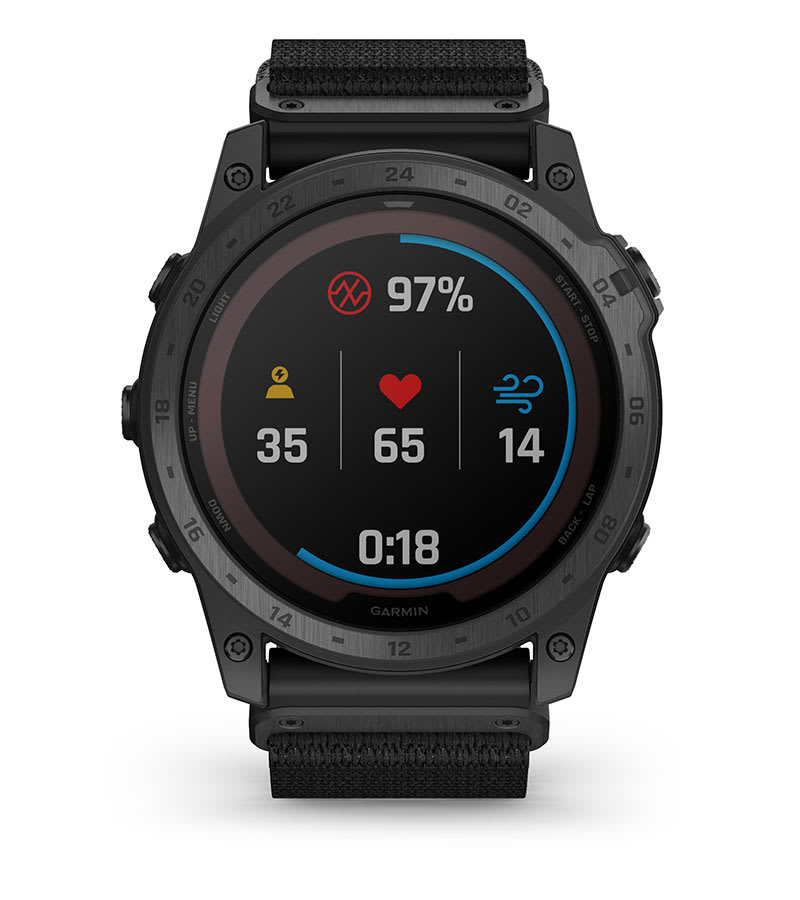 BODY BATTERY ENERGY MONITORING
Optimize your body's energy reserves, using heart rate variability, stress, sleep and other data to gauge when you're ready to be active or when you may need to rest.
RESPIRATION TRACKING
See how you're breathing throughout the day, during sleep, and during breathwork and yoga activities.
HEALTH SNAPSHOT FEATURE
Log a 2-minute session to record key stats, including heart rate, heart rate variability, Pulse Ox, respiration and stress. Then generate a report with those stats via the Garmin Connect app on your compatible smartphone to share.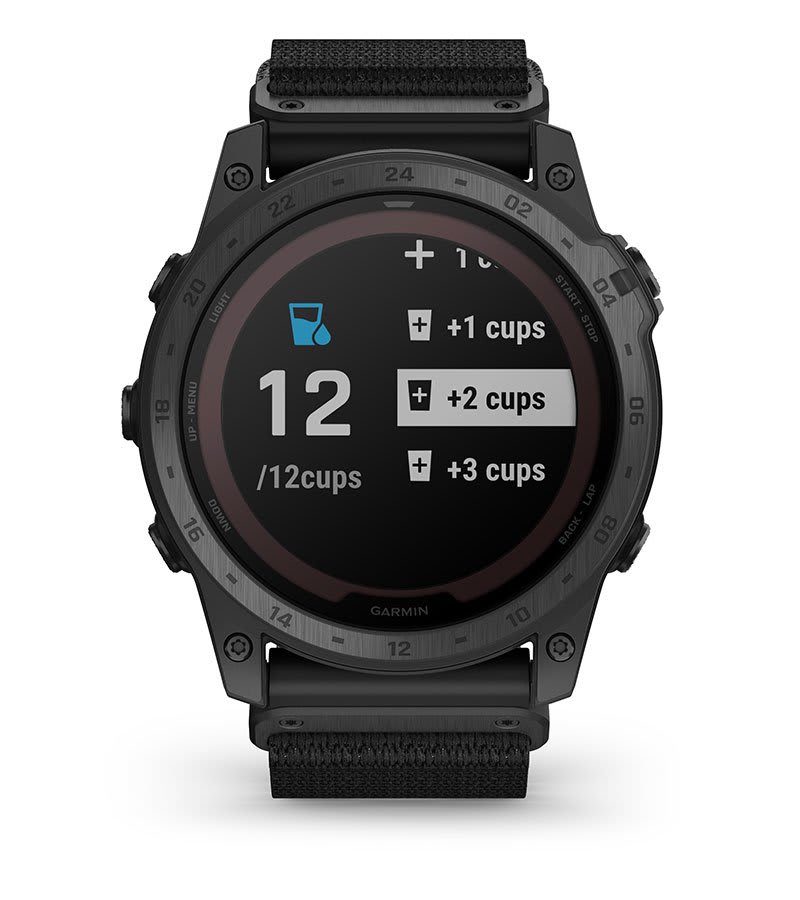 HYDRATION TRACKING
Log daily fluid intake as a reminder to stay hydrated. When auto goal is enabled, you'll even see estimated sweat loss after an activity, and your goal will adjust accordingly.
Stay connected with your life on the go.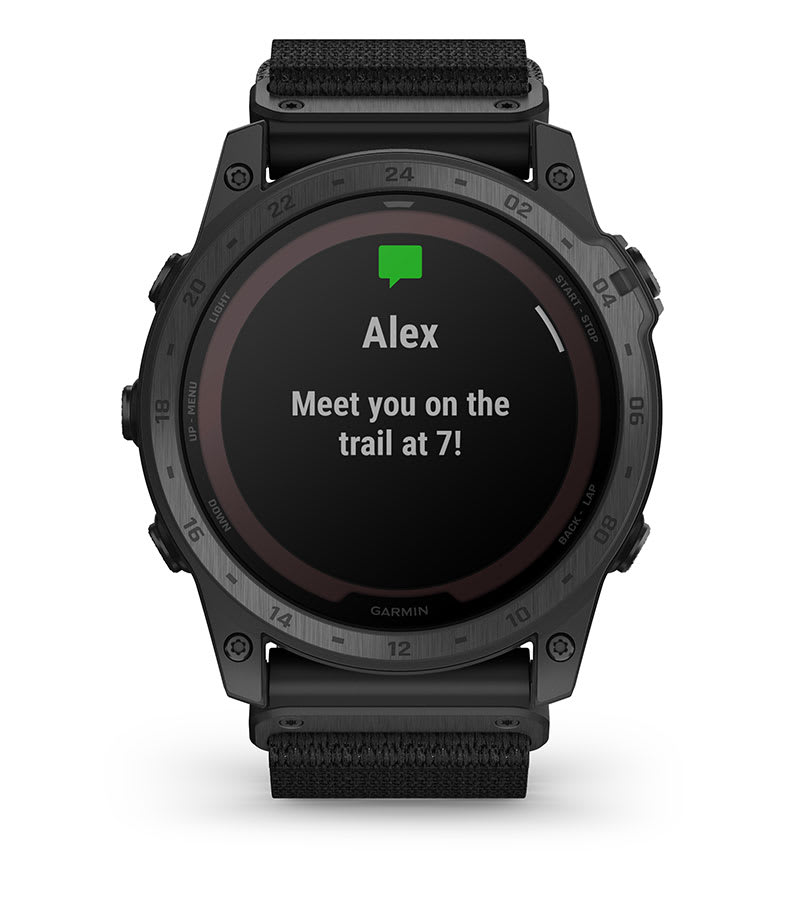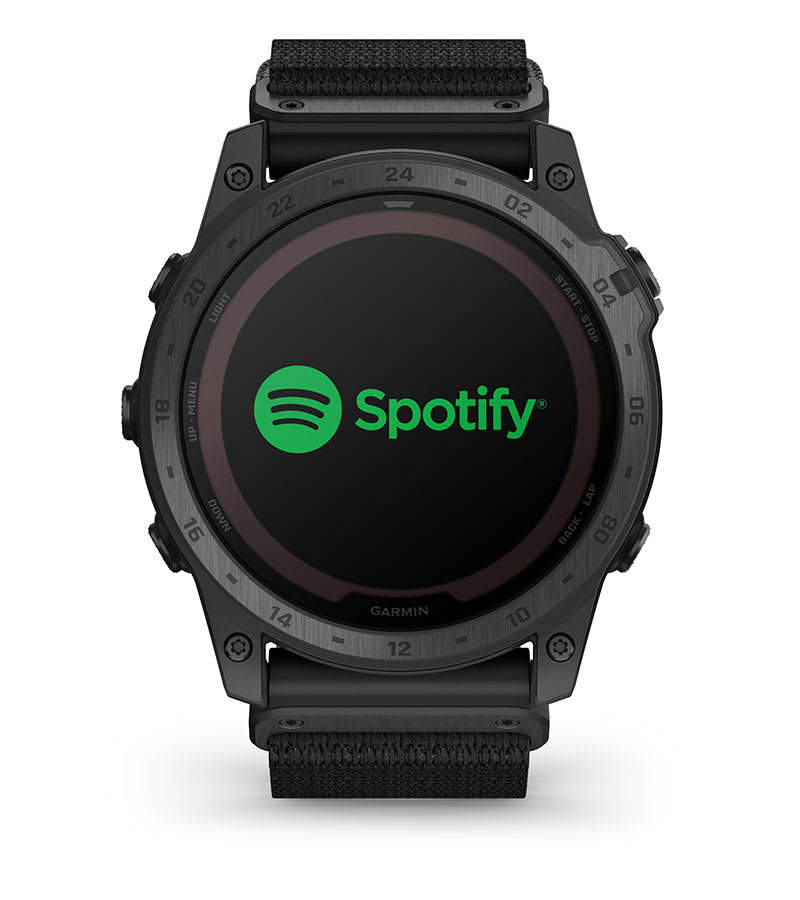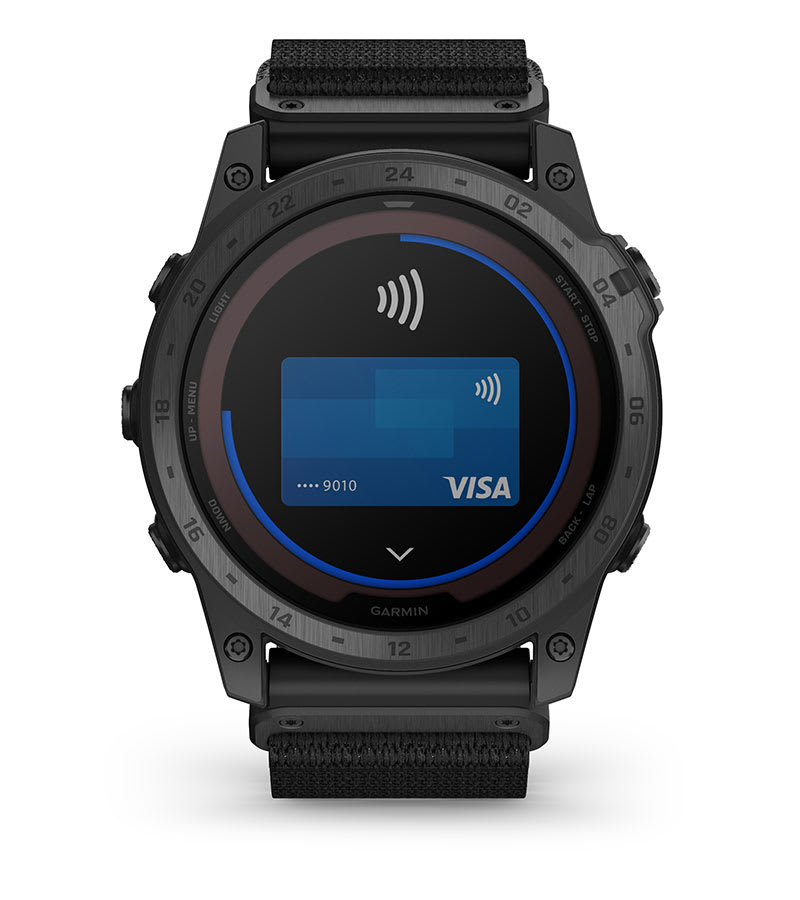 SMART NOTIFICATIONS
Receive emails, texts and alerts right on your watch when paired with a compatible device.
MUSIC APPS
Store up to 2,000 songs, or access streaming apps from your compatible services, including Spotify, Deezer and Amazon Music, and listen through headphones with BLUETOOTH technology.
GARMIN PAY CONTACTLESS PAYMENTS
Breeze through checkout lines with Garmin Pay contactless payment solution through participating providers.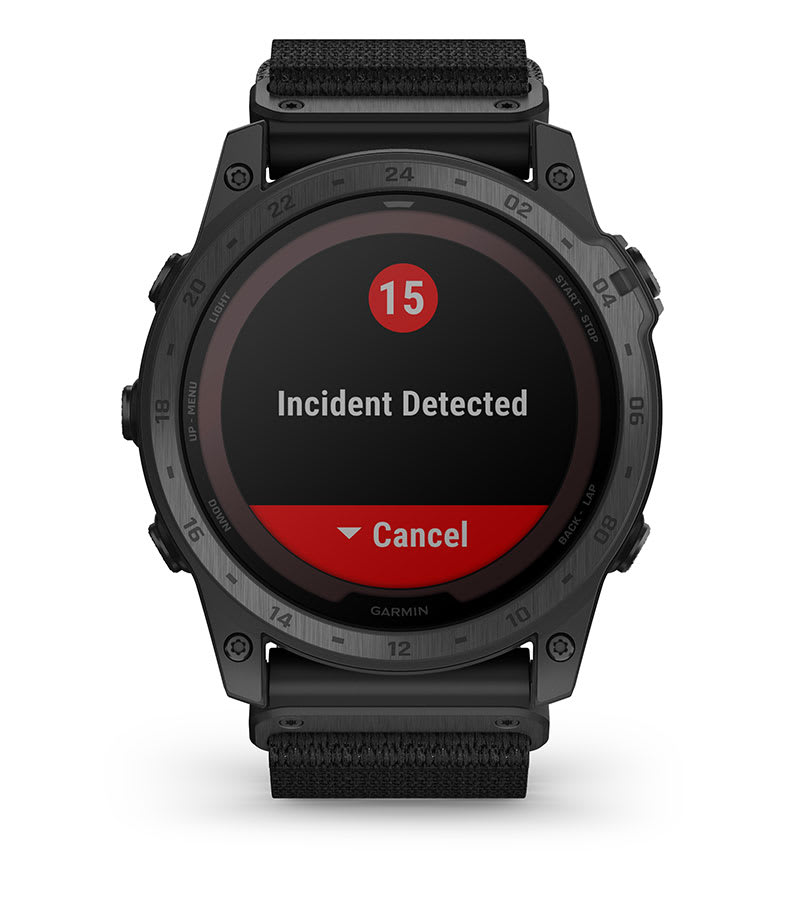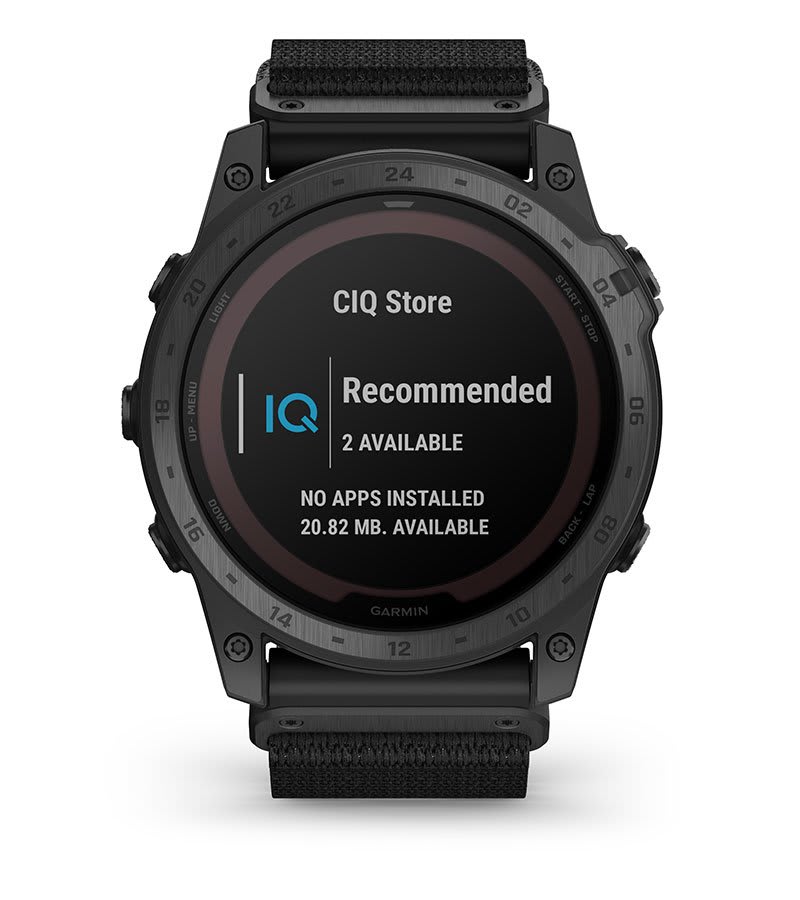 SAFETY AND TRACKING FEATURES
When your watch and phone are paired, your live location can be sent to your contacts manually or — during select outdoor activities — automatically with built-in incident detection.
CONNECT IQ STORE
Download custom watch faces, add data fields, and get apps and widgets from the Connect IQ Store on your compatible smartphone.