Garmin TOPO Alaska Enhanced microSD/SD card
Model Number: 010-C1057-00
Order within 06 Hours 20 Minutes and your Garmin TOPO Alaska Enhanced microSD/SD card will ship today1 with Free Shipping
Place your order by 4:00 PM PST and your order will ship the same day, weekends and holidays excluded. Orders placed after 4:00 PM PST will ship the following business day. All orders are subject to verification. International orders subject to shipping charges. For further details see delivery estimates in cart.
Condition: New
A brand-new, unused, unopened item in its original retail packaging, with all original packaging materials included. Original manufacturer's warranty is included.
✓
Your request has been successfully sent!
Do you have an old GPS unit lying around? The GPS Nation Trade In and Up program is a great way to trade in your old and used GPS for credit towards a new GPS. The choice is entirely yours! We've made the process simple and streamlined. Follow these simple steps, and you will be on your way to receiving credit towards your brand new GPS!
1. Get a quote
To get your free quote, provide your GPS type, manufacturer, model, and condition. Within 24 hours, you will receive a quote for the trade-in value of your current product. The GPS trade-in/trade-up form is at the bottom of this page.
2. Ship your product(s) for trade
After accepting our offer, pack your product(s) safely and ship them to us using the pre-paid shipping label provided to you. We will provide a confirmation email when your trade-in arrives at our warehouse. You have 30 days from the date you complete your on-line trade to ship the product to GPS Nation.
3. Make your purchase
Once we receive your product at our warehouse and we validate the stated condition, we will send you a confirmation email. If you elect to receive credit towards a new GPS at gpsnation.com, your store credit will be issued, and you are free to make your purchase.
Overview
Get detailed 24K and 100K topographic maps for your next hiking or camping adventure in Alaska. This product features trails, terrain contours, elevations, summits, parks, rivers, lakes, geographic points and routable roads.
Provides topographic maps of Alaska, comparable to 1:24,000 and 1:100,000 scale USGS maps.
Features national, state and local parks, forests, recreational and wildlife area boundaries as well as routable roads for accurate directions to your destination.
Includes searchable urban and wilderness points of interest, such as geographical place names, camping areas and businesses.
Displays 3-D terrain shading and digital elevation model (DEM) shaded relief on compatible devices to help estimate terrain difficulty.
Features Bureau of Land Management township, range and section information.
Download Requirements
File Information
The file size of this download and space required on device or microSD™/SD™ card is 1.6 GB. If this download does not fit on your device, data may be saved on a microSD/SD card (Recycled microSD cards may be used to program map data).
Coverage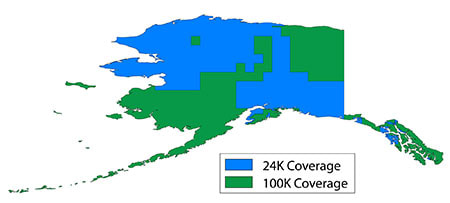 Features detailed 24K topographic maps in Anchorage, Juneau and Fairbanks. Other areas contain detailed 100K topographic maps.
Compatible Devices
 aera 500
aera 510
aera 510
aera 550
aera 550
aera 560
aera 560
aera 796
aera 796
Alpha 100
Alpha 100
Alpha 200
Alpha 200
Alpha 200
Alpha 200
Alpha 200i
Alpha 200i
Alpha 200i
Alpha 200i
Alpha 200i
Alpha 200i
Astro 320
Astro 320
Astro 430
Astro 430
Astro 900
Astro 900
Colorado 300
Colorado 300
Colorado 400c
Colorado 400c
Colorado 400i
Colorado 400i
Colorado 400t
Colorado 400t
D2 Charlie
D2 Charlie
D2 Delta
D2 Delta
D2 Delta PX
D2 Delta PX
D2 Delta S
D2 Delta S
D2 Mach 1
D2 Mach 1
Dakota 20
Dakota 20
Descent Mk1
Descent Mk1
Descent Mk2
Descent Mk2
Descent Mk2i
Descent Mk2i
Descent Mk2S
Descent Mk2S
echoMAP 43dv
echoMAP 43dv
echoMAP 44dv
echoMAP 44dv
echoMAP 50dv
echoMAP 50dv
echoMAP 50s
echoMAP 50s
echoMAP 53cv
echoMAP 53cv
echoMAP 53dv
echoMAP 53dv
echoMAP 54dv
echoMAP 54dv
echoMAP 70dv
echoMAP 70dv
echoMAP 70s
echoMAP 70s
echoMAP 73dv
echoMAP 73dv
echoMAP 73sv
echoMAP 73sv
echoMAP 74dv
echoMAP 74dv
echoMAP 74sv
echoMAP 74sv
echoMAP 93sv
echoMAP 93sv
echoMAP 94sv
echoMAP 94sv
echoMAP CHIRP 42cv
echoMAP CHIRP 42cv
echoMAP CHIRP 42dv
echoMAP CHIRP 42dv
echoMAP CHIRP 43cv
echoMAP CHIRP 43cv
echoMAP CHIRP 43dv
echoMAP CHIRP 43dv
echoMAP CHIRP 44cv
echoMAP CHIRP 44cv
echoMAP CHIRP 44dv
echoMAP CHIRP 44dv
echoMAP CHIRP 45cv
echoMAP CHIRP 45cv
echoMAP CHIRP 45dv
echoMAP CHIRP 45dv
echoMAP CHIRP 52cv
echoMAP CHIRP 52cv
echoMAP CHIRP 52dv
echoMAP CHIRP 52dv
echoMAP CHIRP 53cv
echoMAP CHIRP 53cv
echoMAP CHIRP 53dv
echoMAP CHIRP 53dv
echoMAP CHIRP 54cv
echoMAP CHIRP 54cv
echoMAP CHIRP 54dv
echoMAP CHIRP 54dv
echoMAP CHIRP 55cv
echoMAP CHIRP 55cv
echoMAP CHIRP 55dv
echoMAP CHIRP 55dv
echoMAP CHIRP 72cv
echoMAP CHIRP 72cv
echoMAP CHIRP 72dv
echoMAP CHIRP 72dv
echoMAP CHIRP 72sv
echoMAP CHIRP 72sv
echoMAP CHIRP 73cv
echoMAP CHIRP 73cv
echoMAP CHIRP 73dv
echoMAP CHIRP 73dv
echoMAP CHIRP 73sv
echoMAP CHIRP 73sv
echoMAP CHIRP 74cv
echoMAP CHIRP 74cv
echoMAP CHIRP 74dv
echoMAP CHIRP 74dv
echoMAP CHIRP 74sv
echoMAP CHIRP 74sv
echoMAP CHIRP 75cv
echoMAP CHIRP 75cv
echoMAP CHIRP 75dv
echoMAP CHIRP 75dv
echoMAP CHIRP 75sv
echoMAP CHIRP 75sv
echoMAP CHIRP 92sv
echoMAP CHIRP 92sv
echoMAP CHIRP 93sv
echoMAP CHIRP 93sv
echoMAP CHIRP 94sv
echoMAP CHIRP 94sv
echoMAP CHIRP 95sv
echoMAP CHIRP 95sv
ECHOMAP Plus 42cv without Transducer
ECHOMAP Plus 42cv without Transducer
ECHOMAP Plus 43cv
ECHOMAP Plus 43cv
ECHOMAP Plus 44cv
ECHOMAP Plus 44cv
ECHOMAP Plus 45cv
ECHOMAP Plus 45cv
ECHOMAP Plus 62cv without Transducer
ECHOMAP Plus 62cv without Transducer
ECHOMAP Plus 63cv
ECHOMAP Plus 63cv
ECHOMAP Plus 64cv
ECHOMAP Plus 64cv
ECHOMAP Plus 64cv
ECHOMAP Plus 64cv
ECHOMAP Plus 65cv
ECHOMAP Plus 65cv
ECHOMAP Plus 72cv
ECHOMAP Plus 72cv
ECHOMAP Plus 72sv
ECHOMAP Plus 72sv
ECHOMAP Plus 73cv
ECHOMAP Plus 73cv
ECHOMAP Plus 73sv
ECHOMAP Plus 73sv
ECHOMAP Plus 73sv
ECHOMAP Plus 73sv
ECHOMAP Plus 74cv
ECHOMAP Plus 74cv
ECHOMAP Plus 74sv
ECHOMAP Plus 74sv
ECHOMAP Plus 74sv
ECHOMAP Plus 74sv
ECHOMAP Plus 75cv
ECHOMAP Plus 75cv
ECHOMAP Plus 75sv
ECHOMAP Plus 75sv
ECHOMAP Plus 92sv
ECHOMAP Plus 92sv
ECHOMAP Plus 93sv
ECHOMAP Plus 93sv
ECHOMAP Plus 93sv
ECHOMAP Plus 93sv
ECHOMAP Plus 94sv
ECHOMAP Plus 94sv
ECHOMAP Plus 94sv
ECHOMAP Plus 94sv
ECHOMAP Plus 95sv
ECHOMAP Plus 95sv
ECHOMAP UHD 62cv
ECHOMAP UHD 62cv
ECHOMAP UHD 63cv
ECHOMAP UHD 63cv
ECHOMAP UHD 64cv
ECHOMAP UHD 64cv
ECHOMAP UHD 65cv
ECHOMAP UHD 65cv
ECHOMAP UHD 72cv
ECHOMAP UHD 72cv
ECHOMAP UHD 72sv
ECHOMAP UHD 72sv
ECHOMAP UHD 73cv
ECHOMAP UHD 73cv
ECHOMAP UHD 73sv
ECHOMAP UHD 73sv
ECHOMAP UHD 74cv
ECHOMAP UHD 74cv
ECHOMAP UHD 74sv
ECHOMAP UHD 74sv
ECHOMAP UHD 75cv
ECHOMAP UHD 75cv
ECHOMAP UHD 75sv
ECHOMAP UHD 75sv
ECHOMAP UHD 92sv
ECHOMAP UHD 92sv
ECHOMAP UHD 93sv
ECHOMAP UHD 93sv
ECHOMAP UHD 94sv
ECHOMAP UHD 94sv
ECHOMAP UHD 95sv
ECHOMAP UHD 95sv
ECHOMAP UHD2 5" Chartplotters
ECHOMAP UHD2 5" Chartplotters
ECHOMAP UHD2 5" Ice Fishing Bundle
ECHOMAP UHD2 5" Ice Fishing Bundle
ECHOMAP UHD2 7" Chartplotters
ECHOMAP UHD2 7" Chartplotters
Edge 1000
Edge 1000
Edge 1030
Edge 1030
Edge 1030 Plus
Edge 1030 Plus
Edge 1040
Edge 1040
Edge 1040 Solar
Edge 1040 Solar
Edge 520 Plus
Edge 520 Plus
Edge 520 Plus
Edge 520 Plus
Edge 530
Edge 530
Edge 530 Mountain Bike Bundle
Edge 530 Mountain Bike Bundle
Edge 540
Edge 540
Edge 540 Solar
Edge 540 Solar
Edge 605
Edge 605
Edge 705
Edge 705
Edge 800
Edge 800
Edge 810
Edge 810
Edge 820
Edge 820
Edge 830
Edge 830
Edge 830 Mountain Bike Bundle
Edge 830 Mountain Bike Bundle
Edge 840
Edge 840
Edge 840 Solar
Edge 840 Solar
Edge Explore
Edge Explore
Edge Explore 1000
Edge Explore 1000
Edge Explore 2
Edge Explore 2
Edge Explore 2 Power Mount Bundle
Edge Explore 2 Power Mount Bundle
Edge Explore 820
Edge Explore 820
Edge Touring
Edge Touring
Edge Touring Plus
Edge Touring Plus
Enduro 2
Enduro 2
epix (Gen 2)
epix (Gen 2)
eTrex 20
eTrex 20
eTrex 20x
eTrex 20x
eTrex 22x
eTrex 22x
eTrex 30
eTrex 30
eTrex 30x
eTrex 30x
eTrex 32x
eTrex 32x
eTrex Touch 25
eTrex Touch 25
eTrex Touch 35
eTrex Touch 35
eTrex Touch 35t
eTrex Touch 35t
fēnix 5 Plus
fēnix 5 Plus
fēnix 5S Plus
fēnix 5S Plus
fēnix 5X
fēnix 5X
fēnix 5X Plus
fēnix 5X Plus
fēnix 6 - Pro Solar Edition
fēnix 6 - Pro Solar Edition
fēnix 6S - Pro Solar Edition
fēnix 6S - Pro Solar Edition
fēnix 6X - Pro Solar Edition
fēnix 6X - Pro Solar Edition
fēnix 7 – Sapphire Solar Edition
fēnix 7 – Sapphire Solar Edition
fēnix 7 – Solar Edition
fēnix 7 – Solar Edition
fēnix 7 – Standard Edition
fēnix 7 – Standard Edition
fēnix 7S – Sapphire Solar Edition
fēnix 7S – Sapphire Solar Edition
fēnix 7S – Solar Edition
fēnix 7S – Solar Edition
fēnix 7S – Standard Edition
fēnix 7S – Standard Edition
fēnix 7X – Sapphire Solar Edition
fēnix 7X – Sapphire Solar Edition
fēnix 7X – Solar Edition
fēnix 7X – Solar Edition
Forerunner 945
Forerunner 945
Forerunner 945 LTE
Forerunner 945 LTE
Forerunner 955
Forerunner 955
Forerunner 955 Solar
Forerunner 955 Solar
Forerunner 965
Forerunner 965
GPSMAP 1020xs
GPSMAP 1020xs
GPSMAP 1022
GPSMAP 1022
GPSMAP 1022xsv
GPSMAP 1022xsv
GPSMAP 1040xs
GPSMAP 1040xs
GPSMAP 1042xsv
GPSMAP 1042xsv
GPSMAP 1222
GPSMAP 1222
GPSMAP 1222 Plus
GPSMAP 1222 Plus
GPSMAP 1222 Touch
GPSMAP 1222 Touch
GPSMAP 1222xsv
GPSMAP 1222xsv
GPSMAP 1222xsv Plus
GPSMAP 1222xsv Plus
GPSMAP 1222xsv Plus Bundle
GPSMAP 1222xsv Plus Bundle
GPSMAP 1222xsv Touch
GPSMAP 1222xsv Touch
GPSMAP 1223
GPSMAP 1223
GPSMAP 1223xsv
GPSMAP 1223xsv
GPSMAP 1242 Plus
GPSMAP 1242 Plus
GPSMAP 1242 Touch
GPSMAP 1242 Touch
GPSMAP 1242xsv
GPSMAP 1242xsv
GPSMAP 1242xsv
GPSMAP 1242xsv
GPSMAP 1242xsv Plus
GPSMAP 1242xsv Plus
GPSMAP 1242xsv Plus Bundle
GPSMAP 1242xsv Plus Bundle
GPSMAP 1242xsv Touch
GPSMAP 1242xsv Touch
GPSMAP 1243
GPSMAP 1243
GPSMAP 1243xsv
GPSMAP 1243xsv
GPSMAP 276Cx
GPSMAP 276Cx
GPSMAP 4008
GPSMAP 4008
GPSMAP 4010
GPSMAP 4010
GPSMAP 4012
GPSMAP 4012
GPSMAP 4208
GPSMAP 4208
GPSMAP 421
GPSMAP 421
GPSMAP 4210
GPSMAP 4210
GPSMAP 4212
GPSMAP 4212
GPSMAP 421s
GPSMAP 421s
GPSMAP 431
GPSMAP 431
GPSMAP 431s
GPSMAP 431s
GPSMAP 441
GPSMAP 441
GPSMAP 441s
GPSMAP 441s
GPSMAP 5008
GPSMAP 5008
GPSMAP 5012
GPSMAP 5012
GPSMAP 5015
GPSMAP 5015
GPSMAP 5208
GPSMAP 5208
GPSMAP 521
GPSMAP 521
GPSMAP 5212
GPSMAP 5212
GPSMAP 5215
GPSMAP 5215
GPSMAP 521s
GPSMAP 521s
GPSMAP 526
GPSMAP 526
GPSMAP 526s
GPSMAP 526s
GPSMAP 527xs
GPSMAP 527xs
GPSMAP 531
GPSMAP 531
GPSMAP 531s
GPSMAP 531s
GPSMAP 536
GPSMAP 536
GPSMAP 536s
GPSMAP 536s
GPSMAP 541
GPSMAP 541
GPSMAP 541s
GPSMAP 541s
GPSMAP 546
GPSMAP 546
GPSMAP 546s
GPSMAP 546s
GPSMAP 547
GPSMAP 547
GPSMAP 547xs
GPSMAP 547xs
GPSMAP 62
GPSMAP 62
GPSMAP 6208
GPSMAP 6208
GPSMAP 6212
GPSMAP 6212
GPSMAP 62s
GPSMAP 62s
GPSMAP 62sc
GPSMAP 62sc
GPSMAP 62st
GPSMAP 62st
GPSMAP 62stc
GPSMAP 62stc
GPSMAP 64
GPSMAP 64
GPSMAP 640
GPSMAP 640
GPSMAP 64csx
GPSMAP 64csx
GPSMAP 64s
GPSMAP 64s
GPSMAP 64sc
GPSMAP 64sc
GPSMAP 64st
GPSMAP 64st
GPSMAP 64sx
GPSMAP 64sx
GPSMAP 64x
GPSMAP 64x
GPSMAP 65
GPSMAP 65
GPSMAP 65s
GPSMAP 65s
GPSMAP 66i
GPSMAP 66i
GPSMAP 66s
GPSMAP 66s
GPSMAP 66sr
GPSMAP 66sr
GPSMAP 66st
GPSMAP 66st
GPSMAP 67
GPSMAP 67
GPSMAP 67i
GPSMAP 67i
GPSMAP 720
GPSMAP 720
GPSMAP 720s
GPSMAP 720s
GPSMAP 7212
GPSMAP 7212
GPSMAP 7215
GPSMAP 7215
GPSMAP 722
GPSMAP 722
GPSMAP 722 Plus
GPSMAP 722 Plus
GPSMAP 722xs
GPSMAP 722xs
GPSMAP 722xs Plus
GPSMAP 722xs Plus
GPSMAP 722xs Plus Bundle
GPSMAP 722xs Plus Bundle
GPSMAP 723
GPSMAP 723
GPSMAP 723xsv
GPSMAP 723xsv
GPSMAP 740
GPSMAP 740
GPSMAP 7407
GPSMAP 7407
GPSMAP 7407xsv
GPSMAP 7407xsv
GPSMAP 7408
GPSMAP 7408
GPSMAP 7408xsv
GPSMAP 7408xsv
GPSMAP 740s
GPSMAP 740s
GPSMAP 741
GPSMAP 741
GPSMAP 7410
GPSMAP 7410
GPSMAP 7410xsv
GPSMAP 7410xsv
GPSMAP 7412
GPSMAP 7412
GPSMAP 7412xsv
GPSMAP 7412xsv
GPSMAP 7416
GPSMAP 7416
GPSMAP 7416xsv
GPSMAP 7416xsv
GPSMAP 741xs
GPSMAP 741xs
GPSMAP 742
GPSMAP 742
GPSMAP 742 Plus
GPSMAP 742 Plus
GPSMAP 742xs
GPSMAP 742xs
GPSMAP 742xs Plus
GPSMAP 742xs Plus
GPSMAP 742xs Plus Bundle
GPSMAP 742xs Plus Bundle
GPSMAP 743
GPSMAP 743
GPSMAP 743xsv
GPSMAP 743xsv
GPSMAP 7607
GPSMAP 7607
GPSMAP 7607xsv
GPSMAP 7607xsv
GPSMAP 7608
GPSMAP 7608
GPSMAP 7608xsv
GPSMAP 7608xsv
GPSMAP 7610
GPSMAP 7610
GPSMAP 7610xsv
GPSMAP 7610xsv
GPSMAP 7612
GPSMAP 7612
GPSMAP 7612xsv
GPSMAP 7612xsv
GPSMAP 7616
GPSMAP 7616
GPSMAP 7616xsv
GPSMAP 7616xsv
GPSMAP 78
GPSMAP 78
GPSMAP 78s
GPSMAP 78s
GPSMAP 78sc
GPSMAP 78sc
GPSMAP 79 Series
GPSMAP 79 Series
GPSMAP 8208 MFD
GPSMAP 8208 MFD
GPSMAP 8212 MFD
GPSMAP 8212 MFD
GPSMAP 8215 MFD
GPSMAP 8215 MFD
GPSMAP 840xs
GPSMAP 840xs
GPSMAP 8410
GPSMAP 8410
GPSMAP 8410xsv
GPSMAP 8410xsv
GPSMAP 8412
GPSMAP 8412
GPSMAP 8412xsv
GPSMAP 8412xsv
GPSMAP 8416
GPSMAP 8416
GPSMAP 8416xsv
GPSMAP 8416xsv
GPSMAP 8417 MFD
GPSMAP 8417 MFD
GPSMAP 8422 MFD
GPSMAP 8422 MFD
GPSMAP 8424 MFD
GPSMAP 8424 MFD
GPSMAP 8500 Black Box
GPSMAP 8500 Black Box
GPSMAP 8530 Black Box
GPSMAP 8530 Black Box
GPSMAP 8610
GPSMAP 8610
GPSMAP 8610xsv
GPSMAP 8610xsv
GPSMAP 8612
GPSMAP 8612
GPSMAP 8612xsv
GPSMAP 8612xsv
GPSMAP 8616
GPSMAP 8616
GPSMAP 8616xsv
GPSMAP 8616xsv
GPSMAP 8617 MFD
GPSMAP 8617 MFD
GPSMAP 8622 MFD
GPSMAP 8622 MFD
GPSMAP 8624 MFD
GPSMAP 8624 MFD
GPSMAP 86i
GPSMAP 86i
GPSMAP 86s
GPSMAP 86s
GPSMAP 86sc
GPSMAP 86sc
GPSMAP 86sci
GPSMAP 86sci
GPSMAP 8700 Black Box
GPSMAP 8700 Black Box
GPSMAP 922
GPSMAP 922
GPSMAP 922 Plus
GPSMAP 922 Plus
GPSMAP 922xs
GPSMAP 922xs
GPSMAP 922xs Plus
GPSMAP 922xs Plus
GPSMAP 922xs Plus Bundle
GPSMAP 922xs Plus Bundle
GPSMAP 923
GPSMAP 923
GPSMAP 923xsv
GPSMAP 923xsv
GPSMAP 942
GPSMAP 942
GPSMAP 942 Plus
GPSMAP 942 Plus
GPSMAP 942xs
GPSMAP 942xs
GPSMAP 942xs Plus
GPSMAP 942xs Plus
GPSMAP 942xs Plus Bundle
GPSMAP 942xs Plus Bundle
GPSMAP 943
GPSMAP 943
GPSMAP 943xsv
GPSMAP 943xsv
LiveScope Ice Fishing Bundle LI
LiveScope Ice Fishing Bundle LI
LiveScope Plus Ice Fishing Bundle LI
LiveScope Plus Ice Fishing Bundle LI
MARQ Adventurer
MARQ Adventurer
MARQ Adventurer (Gen 2)
MARQ Adventurer (Gen 2)
MARQ Athlete
MARQ Athlete
MARQ Athlete (Gen 2)
MARQ Athlete (Gen 2)
MARQ Aviator
MARQ Aviator
MARQ Aviator (Gen 2)
MARQ Aviator (Gen 2)
MARQ Aviator Performance Edition
MARQ Aviator Performance Edition
MARQ Captain
MARQ Captain
MARQ Captain (Gen 2)
MARQ Captain (Gen 2)
MARQ Driver
MARQ Driver
MARQ Golfer
MARQ Golfer
MARQ Golfer (Gen 2)
MARQ Golfer (Gen 2)
Montana 600
Montana 600
Montana 600t Camo
Montana 600t Camo
Montana 610
Montana 610
Montana 610t Camo
Montana 610t Camo
Montana 650
Montana 650
Montana 650t
Montana 650t
Montana 680
Montana 680
Montana 680t
Montana 680t
Montana 700
Montana 700
Montana 700i
Montana 700i
Montana 750i
Montana 750i
Monterra
Monterra
nüLink! 1695 LIVE
nüLink! 1695 LIVE
Oregon 200
Oregon 200
Oregon 300
Oregon 300
Oregon 400c
Oregon 400c
Oregon 400i
Oregon 400i
Oregon 400t
Oregon 400t
Oregon 450
Oregon 450
Oregon 450t
Oregon 450t
Oregon 550
Oregon 550
Oregon 550t
Oregon 550t
Oregon 600
Oregon 600
Oregon 600t
Oregon 600t
Oregon 650
Oregon 650
Oregon 650t
Oregon 650t
Oregon 700
Oregon 700
Oregon 750
Oregon 750
Oregon 750t
Oregon 750t
Panoptix Ice Fishing Bundle
Panoptix Ice Fishing Bundle
quatix 6
quatix 6
quatix 6 Titanium
quatix 6 Titanium
quatix 6X Solar
quatix 6X Solar
quatix 7 – Sapphire Edition
quatix 7 – Sapphire Edition
quatix 7 – Standard Edition
quatix 7 – Standard Edition
quatix 7X – Solar Edition
quatix 7X – Solar Edition
Rino 650
Rino 650
Rino 650t
Rino 650t
Rino 655t
Rino 655t
Rino 750
Rino 750
Rino 755t
Rino 755t
tactix 7 – Pro Ballistics Edition
tactix 7 – Pro Ballistics Edition
tactix 7 – Pro Edition
tactix 7 – Pro Edition
tactix 7 – Standard Edition
tactix 7 – Standard Edition
tactix Charlie
tactix Charlie
tactix Delta - Sapphire Edition
tactix Delta - Sapphire Edition
tactix Delta - Solar Edition
tactix Delta - Solar Edition
tactix Delta - Solar Edition with Ballistics
tactix Delta - Solar Edition with Ballistics
zūmo 665
zūmo 665
zūmo 665LM
zūmo 665LM