Garmin Venu 2S - Slate Stainless Steel Bezel with Graphite Case and Silicone Band
Model Number: 010-02429-00
Order now and your Garmin Venu 2S - Slate Stainless Steel Bezel with Graphite Case and Silicone Band will ship on Monday, Dec 11 with Free Shipping
Place your order by 4:00 PM PST and your order will ship the same day, weekends and holidays excluded. Orders placed after 4:00 PM PST will ship the following business day. All orders are subject to verification. International orders subject to shipping charges. For further details see delivery estimates in cart.
Condition: New
A brand-new, unused, unopened item in its original retail packaging, with all original packaging materials included. Original manufacturer's warranty is included.
Specs
In the Box
Venu 2S
Charging/data cable
Documentation
✓
Your request has been successfully sent!
Do you have an old GPS unit lying around? The GPS Nation Trade In and Up program is a great way to trade in your old and used GPS for credit towards a new GPS. The choice is entirely yours! We've made the process simple and streamlined. Follow these simple steps, and you will be on your way to receiving credit towards your brand new GPS!
1. Get a quote
To get your free quote, provide your GPS type, manufacturer, model, and condition. Within 24 hours, you will receive a quote for the trade-in value of your current product. The GPS trade-in/trade-up form is at the bottom of this page.
2. Ship your product(s) for trade
After accepting our offer, pack your product(s) safely and ship them to us using the pre-paid shipping label provided to you. We will provide a confirmation email when your trade-in arrives at our warehouse. You have 30 days from the date you complete your on-line trade to ship the product to GPS Nation.
3. Make your purchase
Once we receive your product at our warehouse and we validate the stated condition, we will send you a confirmation email. If you elect to receive credit towards a new GPS at gpsnation.com, your store credit will be issued, and you are free to make your purchase.
Overview
MIND AND BODY — CONNECTED BY GARMIN
When you live healthy, you live better. This smaller-sized GPS smartwatch has advanced health monitoring and fitness features to help you better understand what's going on inside your body.
Track more health stats, and get a closer look at what's going on inside your body.
Find new ways to move your body with more than 25 preloaded sports apps.
Want some coaching? Follow along with animated workouts right on your wrist.
Store music on the watch so you can leave your phone behind.
Tap your wrist at the register to pay. Easy and touch-free.
Bright AMOLED display and up to 10 days of battery life? Yes, please!
SLEEK STYLE AND MULTIPLE COLORS
A beautiful AMOLED display brings this watch to life, even under bright sunlight. Try always-on mode to keep the display visible at all times.
MADE FOR THE ACTIVE LIFESTYLE
From durable Corning Gorilla Glass 3 to the sleek stainless steel bezel and comfortable silicone band, this smartwatch is ready for anything.
Tune in to your body and mind.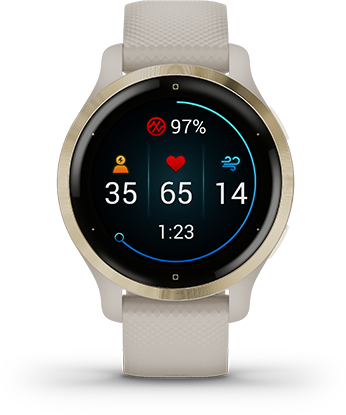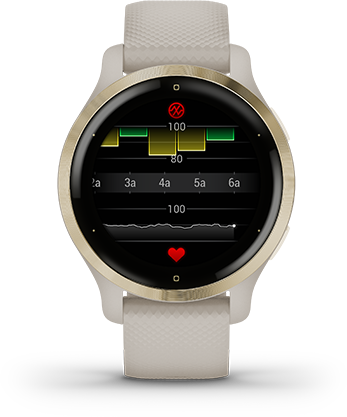 HEALTH SNAPSHOT FEATURE
Log a 2-minute session to record key stats, including heart rate, heart rate variability, Pulse Ox, respiration and stress. Then generate a report with those stats via the Garmin Connect™ app on your compatible smartphone to share.
BODY BATTERY ENERGY MONITORING
See your body's energy levels throughout the day so you can find the best times for activity and rest.
PULSE OX SENSOR
Use the Pulse Ox sensor to spot check your blood oxygen saturation at any point during the day, or for part of the night as you sleep, to show how well your body is absorbing oxygen.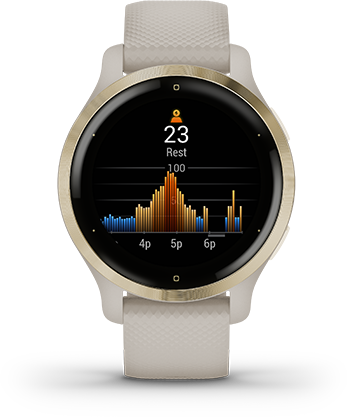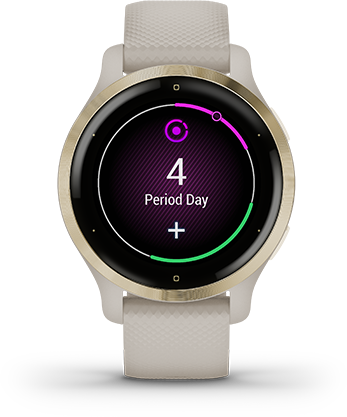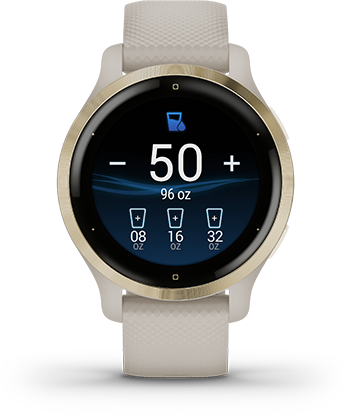 STRESS TRACKING
Find out if you're having a calm, balanced or stressful day. Relax reminders will even prompt you to do a short breathing activity when the watch detects that you're feeling stressed.
WOMEN'S HEALTH TRACKING
Use the Garmin Connect app to track your menstrual cycle or pregnancy. Log symptoms, get exercise and nutrition education and more. Even see and log details on your wrist with the Women's Health Tracking app.
HYDRATION TRACKING
Log your daily fluid intake as a reminder to stay hydrated. You can even have an auto goal for hydration that adjusts based on how much you sweat during activities.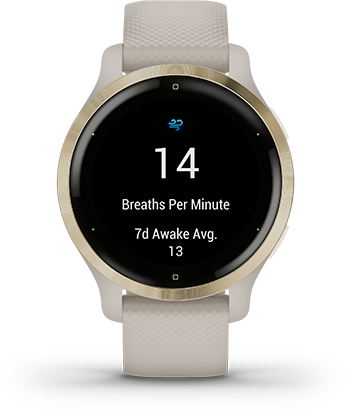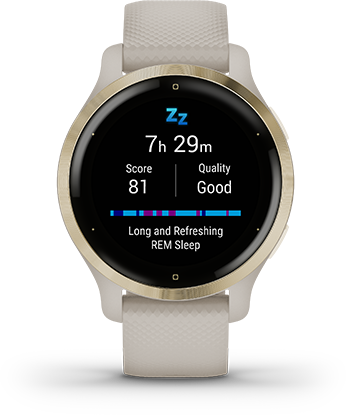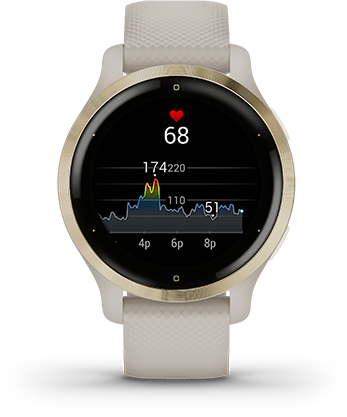 RESPIRATION TRACKING
See how you're breathing throughout the day, during sleep and during breathwork and yoga activities.
SLEEP SCORE AND ADVANCED SLEEP MONITORING
Get a score for your sleep's quality and insights on how you can do better. Even keep track of the different sleep stages as well as heart rate, stress, Pulse Ox and respiration.
WRIST-BASED HEART RATE
The watch constantly samples your heart rate and will alert you if it stays too high or too low while you're at rest. It also helps gauge how hard you work during activities — even while swimming.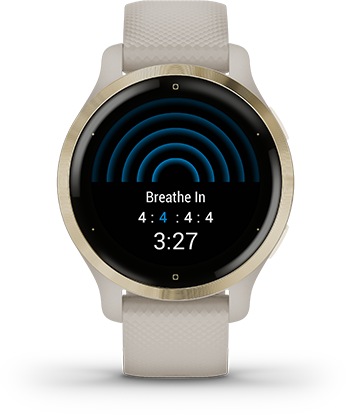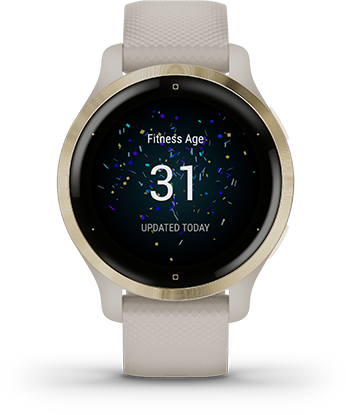 MINDFUL BREATHING
When you want to relax or focus, you can start a breathwork activity, and this watch will track your stress and respiration to help you get a better understanding of how you're breathing.
FITNESS AGE
This feature uses chronological age, your weekly vigorous activity, resting heart rate and BMI or body fat percentage to estimate if your body is younger or older than you are. And you can get tips to lower your fitness age.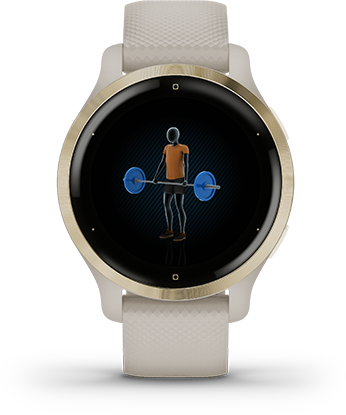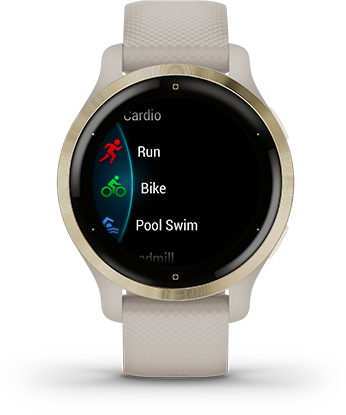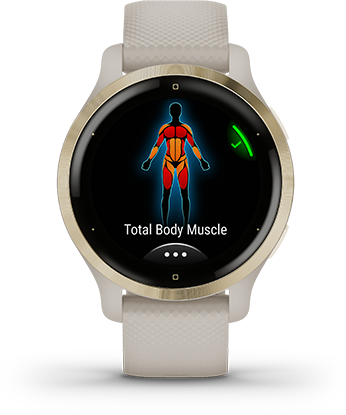 ANIMATED, ON-SCREEN WORKOUTS
Easy-to-follow, animated cardio, strength, yoga, Pilates and high-intensity interval training (HIIT) workouts come preloaded on the watch, and you can download more from the Garmin Connect app.
BUILT-IN SPORTS APPS
Track all the ways you move with more than 25 preloaded GPS and indoor sports apps — including walking, running, cycling, pool swimming, golf and more.
ADVANCED STRENGTH TRAINING
This detailed activity profile puts scaling and strength PRs right at your wrist plus graphics that show what muscle groups you worked.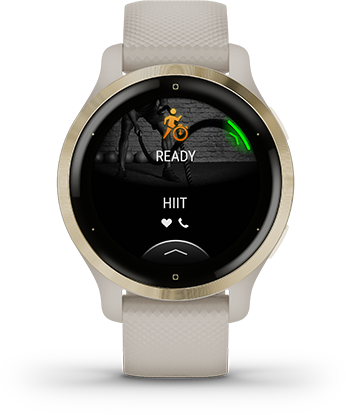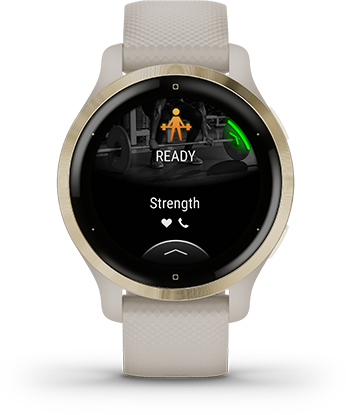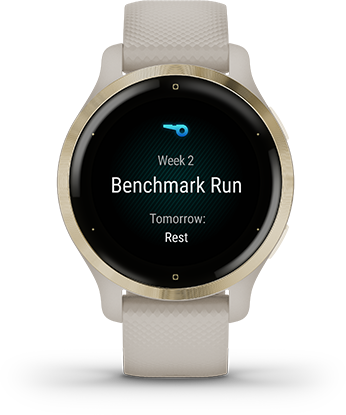 HIIT WORKOUTS
Use this new activity profile with different timers to track your HIIT workouts, including AMRAP, EMOM, Tabata and custom. Set the number of rounds, work/rest intervals and more.
CREATE WORKOUTS
Choose from more than 1,400 exercises to build your own workouts in the Garmin Connect app on your compatible smartphone. Then download them to the watch.
GARMIN COACH
Get a personal running coach on your wrist, for free, to help you train for your next 5K, 10K or half-marathon.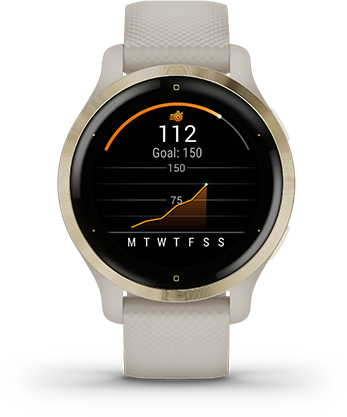 INTENSITY MINUTES
We've updated our intensity minutes feature to give you a better idea of when during the day you earned them and during what activity. You can even view them as a data field during timed activities.
We're making it easy to stay connected.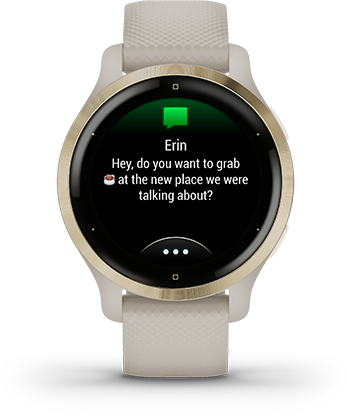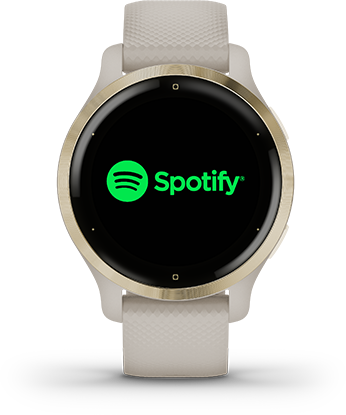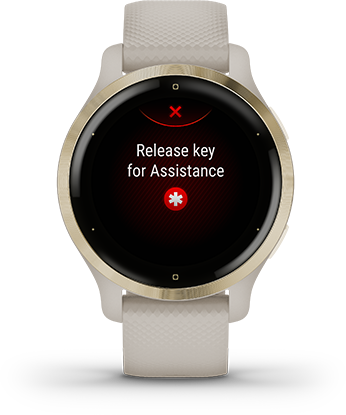 SMART NOTIFICATIONS
Receive emails, texts and alerts right on your watch when paired with your compatible smartphone. You can even respond to texts if you have an Android phone.
MUSIC
Download songs plus playlists from your Spotify, Deezer or Amazon Music accounts (subscription may be required). Use wireless headphones (sold separately) for phone-free listening.
SAFETY AND TRACKING FEATURES
When your watch and phone are paired, your live location can be sent to your contacts manually or — during select outdoor activities — automatically with built-in incident detection.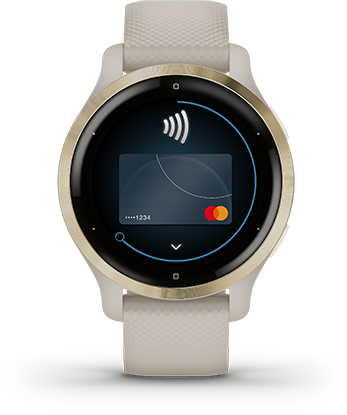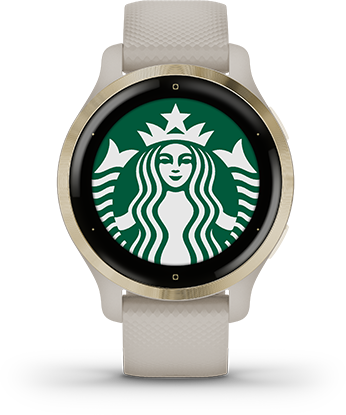 GARMIN PAY
Breeze through checkout lines and select transit systems with Garmin Pay contactless payment solution through participating providers.
CONNECT IQ STORE
Download custom watch faces, add data fields and get apps from the Connect IQ Store.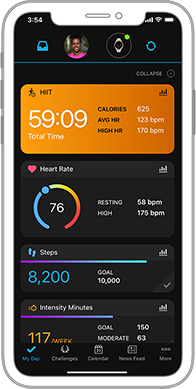 SYNC WITH GARMIN CONNECT
See your health and fitness information all in one place. The Garmin Connect app is a thriving online community where people on the go can connect, compete and share.
Wear it all day and anywhere.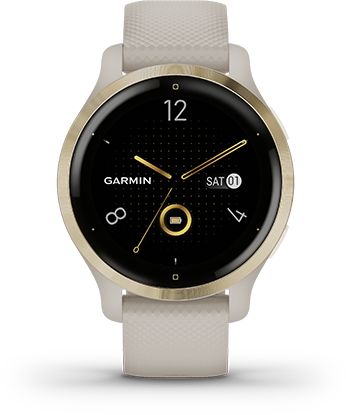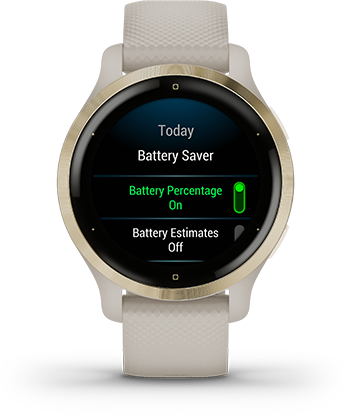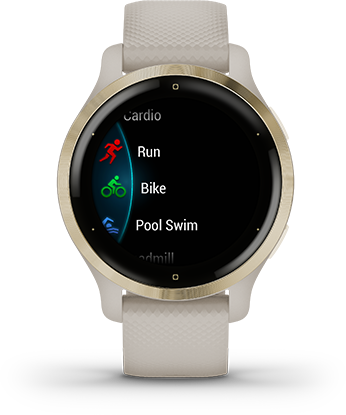 BATTERY LIFE WITH RAPID RECHARGING
Get an uninterrupted picture of your health with up to 10 days in smartwatch mode, up to 19 hours in GPS mode and up to 7 hours in GPS mode with music. 10 minutes of charging adds up to 1 day of smartwatch mode battery life or 1 hour of GPS with music battery life.
BATTERY SAVER MODE
Get even more juice from your smartwatch by adjusting the settings that impact battery life the most.
WATER RATING
This watch is water-rated to 5 ATM, making it perfect for a swim, shower or spa day.