Model Number: 010-01847-00
Order now and your Garmin vivofit 4 Black will ship on Monday, Feb 06 with Free Shipping
Place your order by 4:00 PM PST and your order will ship the same day, weekends and holidays excluded. Orders placed after 4:00 PM PST will ship the following business day. All orders are subject to verification. International orders subject to shipping charges. For further details see delivery estimates in cart.
Availability:
Hurry Only 1 Left!
Condition: New
A brand-new, unused, unopened item in its original retail packaging, with all original packaging materials included. Original manufacturer's warranty is included.
Features always-on customizable color display and 1+ year battery life; no charging necessary
Tracks steps, distance and calories burned, monitors sleep and provides a personalized daily step goal
Safe for swimming and showering
Periodically syncs to Garmin Connect™, where you can save, plan and share your activities, get involved in social challenges and more
Garmin Move IQ™ feature automatically detects activity and classifies activity type on Garmin Connect
Specs
✓
Your request has been successfully sent!
Do you have an old GPS unit lying around? The GPS Nation Trade In and Up program is a great way to trade in your old and used GPS for credit towards a new GPS. The choice is entirely yours! We've made the process simple and streamlined. Follow these simple steps, and you will be on your way to receiving credit towards your brand new GPS!
1. Get a quote
To get your free quote, provide your GPS type, manufacturer, model, and condition. Within 24 hours, you will receive a quote for the trade-in value of your current product. The GPS trade-in/trade-up form is at the bottom of this page.
2. Ship your product(s) for trade
After accepting our offer, pack your product(s) safely and ship them to us using the pre-paid shipping label provided to you. We will provide a confirmation email when your trade-in arrives at our warehouse. You have 30 days from the date you complete your on-line trade to ship the product to GPS Nation.
3. Make your purchase
Once we receive your product at our warehouse and we validate the stated condition, we will send you a confirmation email. If you elect to receive credit towards a new GPS at gpsnation.com, your store credit will be issued, and you are free to make your purchase.
Overview
Find more ways to beat yesterday with easy-to-use vívofit 4. It brings you fitness tracking and the freedom to keep moving without taking a break to recharge. With its 1+ year battery life, vívofit 4 is perfect to wear 24/7, so you're always tracking your activity, automatically classifying it with Move IQ and so much more.
24/7 Wearable
The vívofit 4 fitness tracker follows your progress 24/7 and lets you ditch the charging cord, thanks to its 1+ year battery life. It's also safe for the pool or the shower, and its always-on color display is bright and easy to see, even in the sunlight. Let your personality shine through by customizing the screen with color themes, watch faces and text phrases or by swapping out the band for a different one. Accessory bands are available in various colors and styles.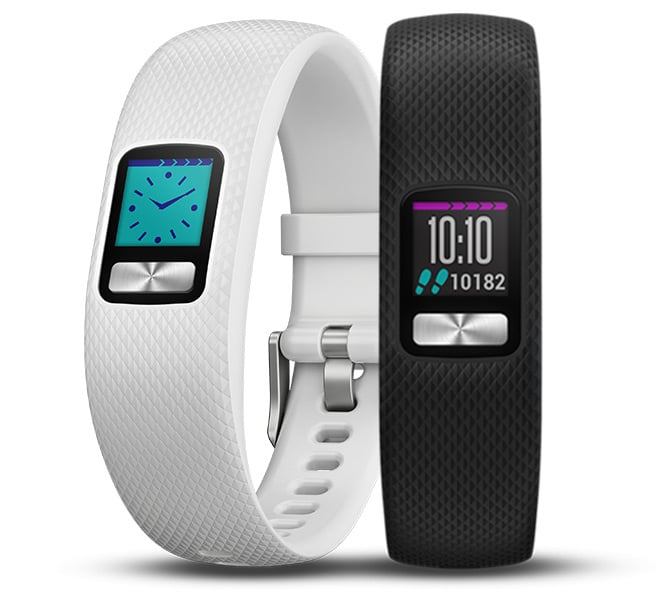 Convenience on Your Wrist
With vívofit 4, we're bringing you several new tools designed to make life a little more convenient. Use the weather widget for a quick, illustrated look at what the day is going to bring. Set an alarm in the app that will go off on your device, or even set a countdown timer right from your wrist to remind you when it's time to turn off the oven. Misplaced your phone? vívofit 4 can help you with that, too.
Get Moving, the Easy Way
No need to manually start and stop your activity timer — Move IQ has you covered. It can automatically capture and classify different activities such as walking, running, biking, swimming and using an elliptical. For walks and runs, it can even start an activity timer automatically. Review the captured data later on Garmin Connect.
Personalized Fitness Tracking Plus Motivation
vívofit 4 inspires you to get up and move. In addition to tracking steps, distance, calories burned and sleep, it also tracks periods of inactivity. A colored move bar fills up to alert you if you've been stationary for too long. Reset it by walking for a couple of minutes. vívofit 4 even learns your current activity level then assigns an attainable daily step goal. As you meet your milestones, it will adjust your goal for the next day, gradually nudging you toward a healthier lifestyle.
Share and Compete
Throughout your day, vívofit 4 periodically syncs to Garmin Connect2. The Garmin Connect™ app makes it easier than ever to beat yesterday. Bold, colorful activity cards provide all your statistics at a glance. Scroll down to easily compare today's totals to past results, or tap in for more detailed information. Activities and other health measurements recorded by your device are presented in vivid detail. And the data you see is customized just for you and the way you move, without all the filler.
Step Challenges with Your Kids
Use the Toe-to-Toe™ feature to challenge your kids to a step competition. Your vívofit 4 fitness tracker can wirelessly connect to your child's nearby vívofit jr. 2 or even another vívofit 4 to kick off an instant timed step competition. It's all controlled right from the wrist, and once the competition is over, you'll both see the total number of steps during the one-on-one challenge and find out who triumphed.