Garmin Zumo 595LM-Factory Refurbished
Model Number: 010-N1603-00
Availability:
Order today, more on the way!
Estimated Ship Date : January, 01 1970
Condition: Garmin Certified Refurbished
A Garmin Certified Refurbished device is a device that was returned to Garmin USA. The device is certified by Garmin only after undergoing a complete rebuild, and extensive testing to bring the unit up to the same strict cosmetic and functional standards as a new Garmin device. Only after meeting the highest quality standards is the device then released back to the market. All units include brand new original Garmin accessories, and a full one-year Garmin warranty, as well as our free extended warranty when purchased from GPS Nation. Your purchase extends the lifetime of this product and reduces electronic waste. That's good news for the environment and your wallet
Specs
✓
Your request has been successfully sent!
Do you have an old GPS unit lying around? The GPS Nation Trade In and Up program is a great way to trade in your old and used GPS for credit towards a new GPS. The choice is entirely yours! We've made the process simple and streamlined. Follow these simple steps, and you will be on your way to receiving credit towards your brand new GPS!
1. Get a quote
To get your free quote, provide your GPS type, manufacturer, model, and condition. Within 24 hours, you will receive a quote for the trade-in value of your current product. The GPS trade-in/trade-up form is at the bottom of this page.
2. Ship your product(s) for trade
After accepting our offer, pack your product(s) safely and ship them to us using the pre-paid shipping label provided to you. We will provide a confirmation email when your trade-in arrives at our warehouse. You have 30 days from the date you complete your on-line trade to ship the product to GPS Nation.
3. Make your purchase
Once we receive your product at our warehouse and we validate the stated condition, we will send you a confirmation email. If you elect to receive credit towards a new GPS at gpsnation.com, your store credit will be issued, and you are free to make your purchase.
Overview
Premium Motorcycle GPS for New Adventures in Riding
Glove-friendly, sunlight-readable 5-inch dual-orientation touchscreen with rugged design for harsh weather (IPX7)
Garmin Adventurous Routing finds curvy or hilly roads; limits major highways
Rider alerts for sharp curves, state helmet laws, speed cameras and more
Bluetooth for hands-free calling and smartphone notifications right on your zūmo screen
Control music from MP3 player or smartphone; stream Pandora and Spotify music services
Built for Adventure, Born to Ride
Featuring Garmin Adventurous Routing options for those twisty, hilly, terrain-hugging rides you love, zūmo 595LM is the motorcycle navigator "built to thrill." Its large, glove-friendly 5.0-inch high-res touchscreen can be viewed in landscape or portrait mode. And transflective technology gives it a bright, crisp color display that reduces glare and is easy to read in sunlight.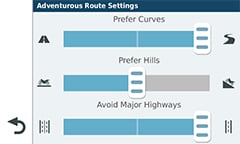 The Benefits of Hands-free Calling
Sync your zūmo with a compatible smartphone and a Bluetooth-enabled compatible headset or helmet (sold separately), and you can make and receive wireless calls without having to remove your gloves or helmet. Safely stow your phone in a pocket or saddlebag, and still have the benefit of hands-free calling without diverting your attention from the road. You can also receive customizable smart notifications for calls, texts, app alerts and more that appear right on your navigation display.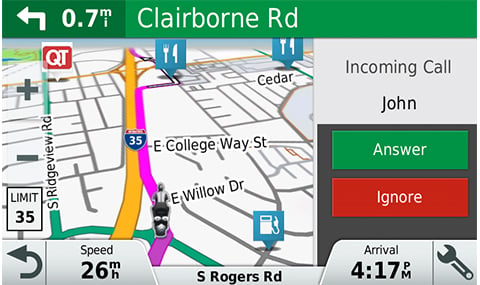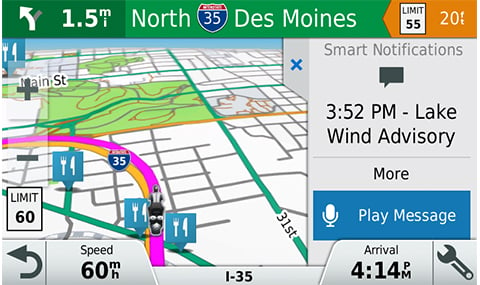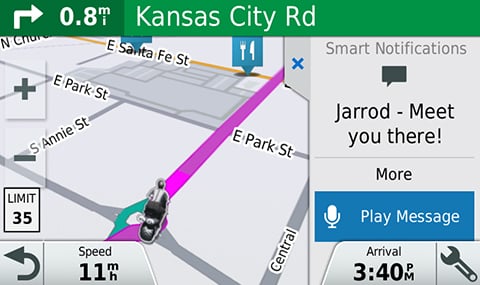 Ride Smarter with Your Smartphone
What's happening on the road ahead? zūmo 595LM can connect you to live weather radar and traffic information via the wireless Smartphone Link app. This app also enables LiveTrack, a nifty feature that lets friends track your whereabouts whenever you're out on a ride.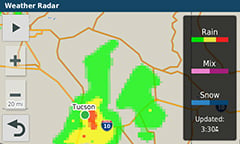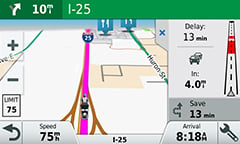 Enjoy Some Traveling Music
Want to take your own soundtrack along for the ride? Your zūmo also lets you control music and media from a compatible MP3 player or smartphone, right on your touchscreen display — and you can even stream the playlists you love from popular Pandora and Spotify music services.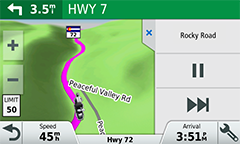 Keep a Sharper Lookout with Rider Alerts
To enhance road awareness and encourage a safer ride, zūmo 595LM  provides helpful alerts for sharp curves ahead, speed changes, railroad and animal crossings, school zones and more. Additionally, you're notified when you need to check state helmet laws — or when you're about to drive the wrong way on a one-way street. You also receive alerts for nearby red light and speed cameras. Plus, for longer rides, a fatigue warning will even suggest break times and potential rest areas worth considering after hours on the road. The zūmo Up Ahead feature lets you easily see places of interest and milestones along your route, without leaving the map view on your navigation display. Plus, Easy Route Shaping lets you add a point on the map to adjust your route, so you can ride through preferred areas or follow specific roads.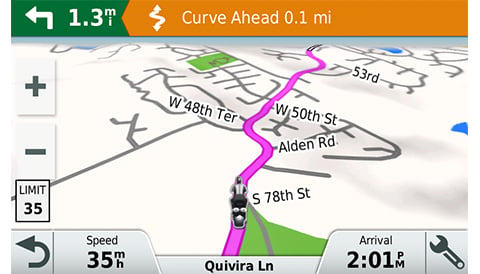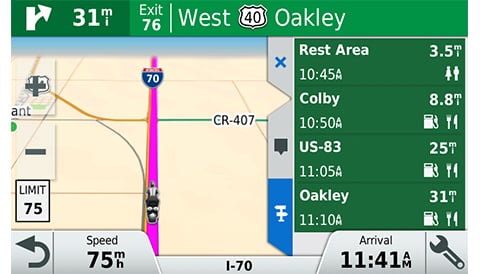 No More Running on Empty
A built-in trip computer with digital fuel gauge comes standard with your zūmo 595LM. So it's easy to estimate how many miles you can ride before you'll be running on empty. Dynamic fuel stop alerts actually prompt you when it's time to refuel and even provide gas station location options. A helpful speed limit indicator lets you know when it's time to throttle down. Plus, a digital compass display and a database of motorcycle-specific points of interest (POIs) are on hand to help you locate cycle repair services, dealers and more. There's also a Service History Log on your zūmo to help you keep track of service dates, mileage and performed maintenance on your bike.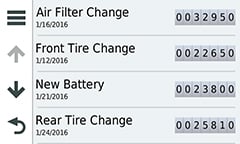 Guidance Using Recognizable Landmarks
Garmin Real Directions on the zūmo 595LM virtually redefine the concept of "spoken turn-by-turn directions." In addition to speaking street names, your zūmo offers guidance using recognizable landmarks, buildings and traffic lights (e.g., "Turn right after the red building").  And thanks to Foursquare data, zūmo is preloaded with millions of more new and popular places to explore. In addition, the Garmin Direct Access feature helps simplify your navigation to select complex destinations, like malls and airports, by providing detailed location information once you reach the recommended entrance. For example, "Arriving at Woodfield Mall. Foot Locker is inside, on level two."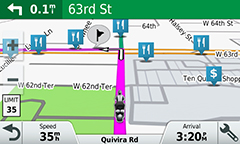 Lifetime Map Updates
zūmo 595LM includes free map updates for the useful life of your device, so routes reflect the most up-to-date points of interest and maps available.
Navigation Tools
photoReal Junction View displays realistic views of junctions and interchanges on your route to ease navigation through complex interchanges. A brightly colored arrow on the zūmo display, along with helpful voice prompts, will indicate the proper lane position needed for your next turn or exit. zūmo 595 displays 3D Terrain and elevation information. There's also a TracBack feature on zūmo that allows you to navigate the same route, in reverse, for your return trip.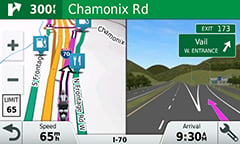 Tire Pressure Monitoring
For added protection on the road, zūmo 595LM is compatible with the Garmin Tire Pressure Monitor Sensor (TPMS, sold separately). One TPMS is required for each tire and will work with metal valve stems only. TPMS uses wireless technology to transmit the tire pressure data, letting you view it in real time right on your zūmo display.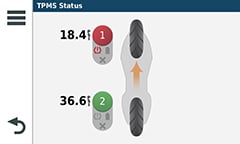 VIRB Camera Compatibility
To record the highlights of your ride, zūmo 595LM is compatible with the Garmin VIRB series of HD action cameras (sold separately). Remotely control VIRB – start and stop recording – all from from your zūmo display. It's easy and fun to record relive every adventure.