Garmin Astro 430 Handheld
Model Number: 010-01635-10
Availability:
Out of stock
Condition: New
A brand-new, unused, unopened item in its original retail packaging, with all original packaging materials included. Original manufacturer's warranty is included.
Track up to 20 dogs at a time, with ranges up to 9 miles using a Garmin T 5 collar device or up to 4 miles with T 5 mini collar device
2.5-second update rate provides faster location tracking when dogs are on the run
GPS/GLONASS reception enables better satellite tracking in challenging environments than GPS alone
Comes with preloaded TOPO U.S 100K mapping and a free 1-year BirdsEye Satellite Imagery subscription; compatible with Garmin HuntView cards
Hunt Metrics data helps analyze your dogs' hunting patterns and behaviors; view distance traveled, time afield and more
With faster 2.5-second location updates and the capacity to follow up to 20 dogs, Astro 430 is a handheld powerhouse of dog-tracking performance. Intuitive and easy to use, the Astro 430 handheld features a vibrant 2.6-inch color display, preloaded TOPO U.S. 100K mapping, an optional in-unit rechargeable battery and Hunt Metrics data to help analyze your dogs' tracking habits in the field, so you can know how to train more effectively.
In the Box
Astro 430
5-inch standard antenna
13-inch extended range antenna
USB cable
Belt clip
Manual
✓
Your request has been successfully sent!
Do you have an old GPS unit lying around? The GPS Nation Trade In and Up program is a great way to trade in your old and used GPS for credit towards a new GPS. The choice is entirely yours! We've made the process simple and streamlined. Follow these simple steps, and you will be on your way to receiving credit towards your brand new GPS!
1. Get a quote
To get your free quote, provide your GPS type, manufacturer, model, and condition. Within 24 hours, you will receive a quote for the trade-in value of your current product. The GPS trade-in/trade-up form is at the bottom of this page.
2. Ship your product(s) for trade
After accepting our offer, pack your product(s) safely and ship them to us using the pre-paid shipping label provided to you. We will provide a confirmation email when your trade-in arrives at our warehouse. You have 30 days from the date you complete your on-line trade to ship the product to GPS Nation.
3. Make your purchase
Once we receive your product at our warehouse and we validate the stated condition, we will send you a confirmation email. If you elect to receive credit towards a new GPS at gpsnation.com, your store credit will be issued, and you are free to make your purchase.
Overview
Follow Your Dog's Every Move
Using the Garmin T 5 or T 5 mini collar devices (sold separately) to transmit each dog's location as often as every 2.5 seconds, Astro 430 is quick to pinpoint the track they're following — even when they're on the run. On the Astro's bright, crisp display, you can see your dog's current location and a trail of where he's been. You also can switch over to the Dog Track page to view a compass pointing to your dog's location. For help in keeping the big picture in sight when tracking multiple dogs, it's easy to auto zoom the map page, so all dogs can be seen on the display at any time. Dogs that are too far away to fit on the map's current zoom scale can be notated on the display's margin in the direction of the dog's location. To reduce visual clutter on the map, you can toggle between "show all", "show some" and "show none" – selecting the duration that each dog's track is viewable on the display. You can also share a dog's track code so another person can view your dog's location on their unit's map, along with the dog tracking compass. Further, by sharing a dog's control code, you can allow another person to configure and control your dog's on-collar device.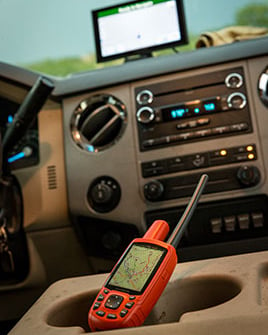 See More Detail with Additional Mapping
Astro 430 features a microSD™ card slot that allows you to load even more mapping options, such as TOPO U.S. 24K and HuntView maps (sold separately). You also can opt for City Navigator® NT map data that gives you turn-by-turn driving directions on roads. In addition, Astro 430 supports BirdsEye Satellite Imagery (free 1-year subscription included), so you can download satellite images to your device and integrate them with your maps. The Astro's mapping depicts important nearby geographical features and enables you to see if your dog has crossed a creek or is nearing a dangerous roadway.
Astro 430 is also compatible with Garmin Custom Maps, free software that transforms paper and electronic maps into downloadable maps for your device.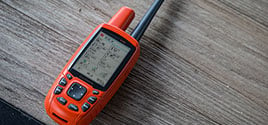 Track with Hunt Metrics Data
Sophisticated Hunt Metrics help monitor your dog's hunting patterns and behaviors to optimize your training opportunities. You can see your dog's times, distances traveled and overall scores. Plus, the Astro 430 will also capture the number of times during the hunt when an "on point" or "treed" event was indicated.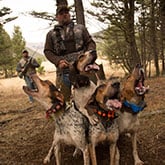 Count Your Coveys
After you've tracked down your quarry, mark the exact spot with Astro's Covey Counter™, a special waypoint that shows the exact location, time of day and elevation where you found your prey as well as the number of birds you flushed and took from that location. Astro lets you save other special waypoints, such as "Truck" and "Lodge," so you can easily find your way back to these locations at the end of the hunt. Astro also offers special waypoint icons to represent food plots, tree stands and other hunting-related points.
Make Every Outing Count
Plan for a more productive hunting trip with BaseCamp™ software, which lets you view and organize maps, waypoints, routes and tracks. This free trip-planning software even allows you to create Garmin Adventures that you can share with friends, family or fellow dog trackers. BaseCamp displays topographic map data in 2-D or 3-D on your computer screen, including contour lines and elevation profiles. It also can transfer an unlimited amount of satellite images to your device when paired with your Astro's free 1-year BirdsEye Satellite Imagery subscription.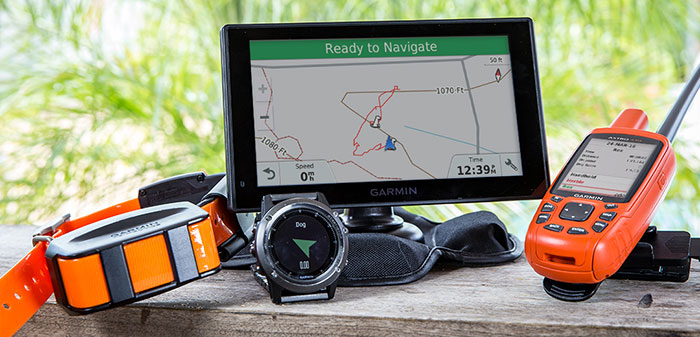 Share Wirelessly
With an expanded ecosystem of wireless connectivity options, Astro 430 can support unit-to-unit data transfer with a variety of compatible Garmin devices. For example, the outdoor Garmin DriveTrack™ 70 GPS navigator can receive and display dog positions on its moving map — with TOPO or satellite image views — showing navigation cues to your dog's current location. Likewise, fēnix® 3 GPS watches can receive dog status updates and alerts for viewing at a glance on your wrist. Also, while you're in the field, Astro 430 lets you link and share wirelessly with your buddies' compatible devices, such as the Oregon® handheld, Montana® handheld, GPSMAP® 64 chartplotter or other ANT+® enabled devices, to help coordinate hunt logistics on the go.
Turn Your Computer Into a BaseStation for Tracking Dogs
Load your laptop with BaseStation software to turn it into a field control center for tracking multiple dogs (equipped with T 5 or T 5 mini dog devices²). View real-time GPS information on the larger display of your computer, making it ideal for canine search and rescue teams. And because it's GPS/GLONASS capable, you'll get tracking, even where Internet and cell phone service isn't available.
Tough, Water-resistant, Long-lasting
Like all Garmin outdoor products, Astro 430 is designed to be effective, easy to use, reliable and rugged enough to withstand all the blows, bumps and sloppy conditions of training and hunting. The handheld unit is water-resistant to IPX7, and it can be powered with standard AA batteries — or it's optionally available with a long-lasting NiMH battery pack that's rechargeable in the unit. What's more, if you ever drop or misplace your Astro 430 in the field, the high-visibility orange case makes it easy to track down.