Garmin Forerunner 255S Light Pink
Model Number: 010-02641-03
Order within 04 Hours 38 Minutes and your Garmin Forerunner 255S Light Pink will ship today1 with Free Shipping
Place your order by 4:00 PM PST and your order will ship the same day, weekends and holidays excluded. Orders placed after 4:00 PM PST will ship the following business day. All orders are subject to verification. International orders subject to shipping charges. For further details see delivery estimates in cart.
Condition: New
A brand-new, unused, unopened item in its original retail packaging, with all original packaging materials included. Original manufacturer's warranty is included.
Specs
In the Box
Forerunner 255S
Charge/data cable
Documentation
✓
Your request has been successfully sent!
Do you have an old GPS unit lying around? The GPS Nation Trade In and Up program is a great way to trade in your old and used GPS for credit towards a new GPS. The choice is entirely yours! We've made the process simple and streamlined. Follow these simple steps, and you will be on your way to receiving credit towards your brand new GPS!
1. Get a quote
To get your free quote, provide your GPS type, manufacturer, model, and condition. Within 24 hours, you will receive a quote for the trade-in value of your current product. The GPS trade-in/trade-up form is at the bottom of this page.
2. Ship your product(s) for trade
After accepting our offer, pack your product(s) safely and ship them to us using the pre-paid shipping label provided to you. We will provide a confirmation email when your trade-in arrives at our warehouse. You have 30 days from the date you complete your on-line trade to ship the product to GPS Nation.
3. Make your purchase
Once we receive your product at our warehouse and we validate the stated condition, we will send you a confirmation email. If you elect to receive credit towards a new GPS at gpsnation.com, your store credit will be issued, and you are free to make your purchase.
Overview
RUN AT A HIGHER LEVEL
You're making strides. Now, let's take the next step. Get the training and recovery insights you'll need to notch your best time yet.
Get an overview of your sleep, HRV status and daily workout with morning report.
Charge less, train more with up to 12 days of battery life in smartwatch mode and up to 26 hours in GPS mode.
Push your limits with a built-in triathlon feature and 30+ activity profiles.
Plan your strategy with daily suggested workouts, course details and more on the race widget.
Utilize a full suite of advanced metrics and training tools to reach your goals.
Pay for your post-workout coffee with Garmin Pay contactless payments1.
READY FOR THE LONG RUN
Get an uninterrupted picture of your daily health and nightly sleep with up to 12 days of battery life in smartwatch mode and up to 26 hours in GPS mode.
(ALMOST) AS LIGHT AS A FEATHER
With its sleek design and 1.4 oz weight, you'll almost forget you're wearing Forerunner 255S — even when you're asleep.
SWEAT-READY MATERIALS
Featuring easy-to-use buttons and a silicone band, this watch is ready to wear — and tear — with durable Corning Gorilla Glass 3.
Light on the wrist. Not on features.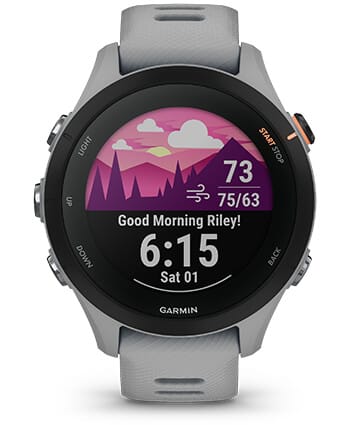 MORNING REPORT
Receive an overview of your sleep, recovery and training outlook as soon as you wake up — alongside HRV status and weather. You can even customize your report to show you what you want to see.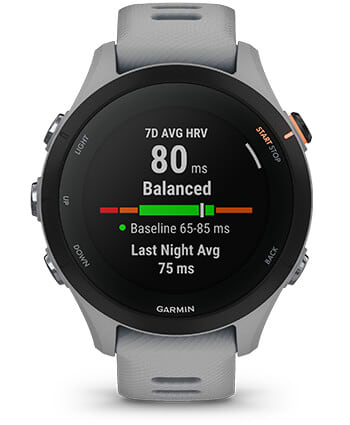 HRV STATUS
Gain a deeper understanding of your overall health, recovery and training performance through heart rate variability while you sleep, based on technology developed by our Firstbeat Analytics team.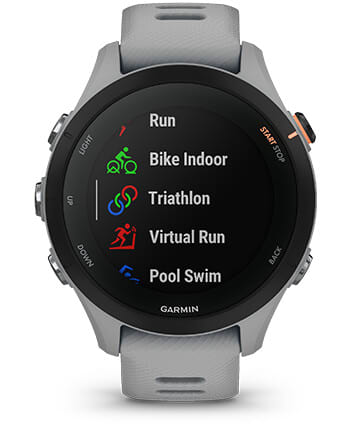 BUILT-IN SPORTS APPS
Tap into 30+ built-in activities, including the triathlon and open-water swimming profiles — new to the Forerunner 255 series. For races and brick workouts, transition to the next activity with a single button press.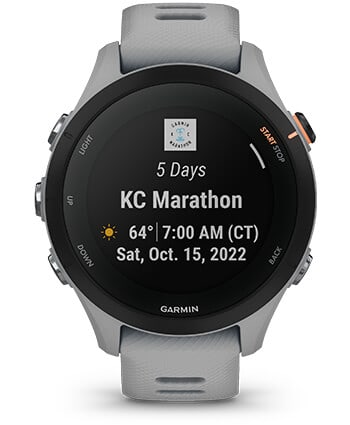 RACE WIDGET
Get ready for your next race with training tips, personalized daily suggested workouts and completion time predictions based on course details, weather and performance.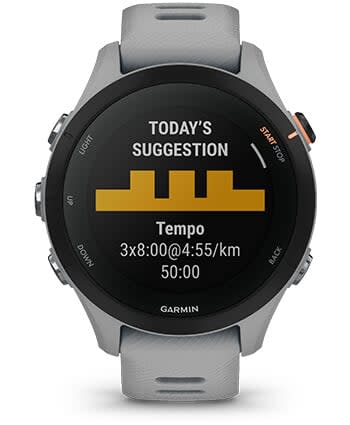 DAILY SUGGESTED WORKOUTS
View your entire week of daily suggested workouts, which adapt after every run to match your performance and recovery as well as the races coming up in your Garmin Connect smartphone app calendar.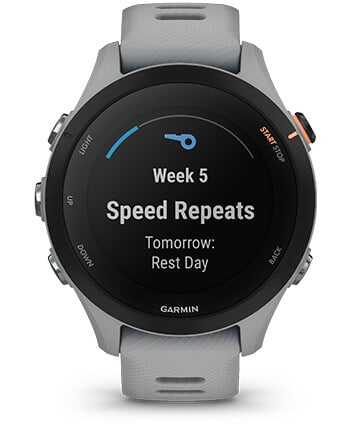 GARMIN COACH
Free adaptive training plans include 5K, 10K and half-marathon programs, featuring guidance from expert coaches that adapt to you and your goals.
TRIATHLON AND MULTISPORT PROFILES
Switch between sports with one press by using built-in profiles for triathlons, duathlons, brick workouts and swimruns. Or, create your own custom multisport profiles.
WRIST-BASED RUNNING POWER
See how much power you're applying to the trail or the road so you can manage your effort and fine-tune your training. No accessory required.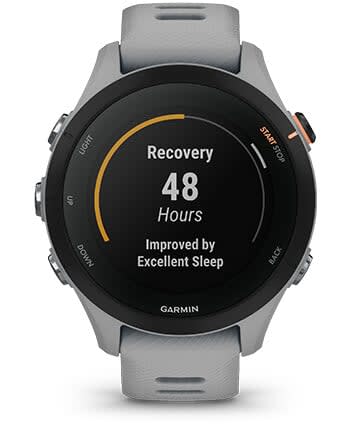 RECOVERY TIME
Know how long to recover before your next high-effort workout based on your latest training as well as overall stress, sleep and daily activities outside of workouts.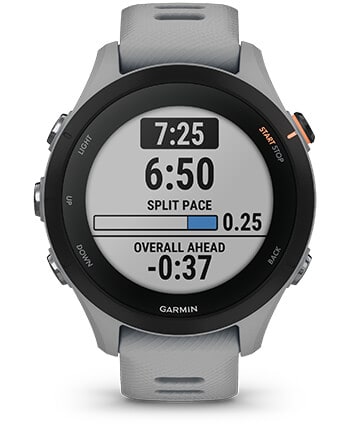 PACEPRO FEATURE
To help you plan your race day strategy, this feature offers GPS-based pace guidance for a selected course or distance, so you can tailor your efforts to what's ahead.
GRADE-ADJUSTED PACE
Don't run out of steam before the activity is over. Understand how to adjust your pace over varying terrain to perform according to your plan.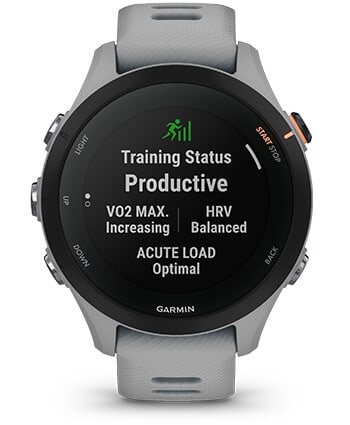 TRAINING STATUS
Using new indicators such as HRV status, your recent exercise history and performance, get an easy insight into your overall effort — and whether you're training productively, peaking or strained.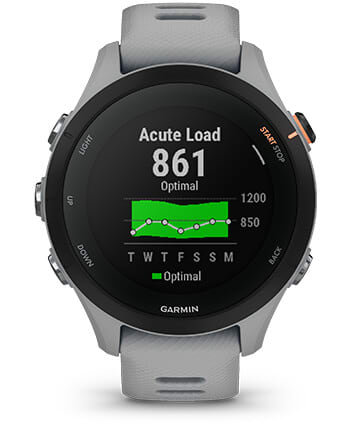 ACUTE LOAD
See your training history, and compare the intensity of your recent workouts to the optimal range to help improve your fitness.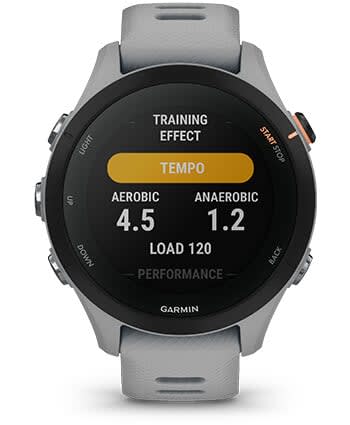 TRAINING EFFECT
See how your workouts influence your endurance, speed and power with aerobic and anaerobic training effect feedback.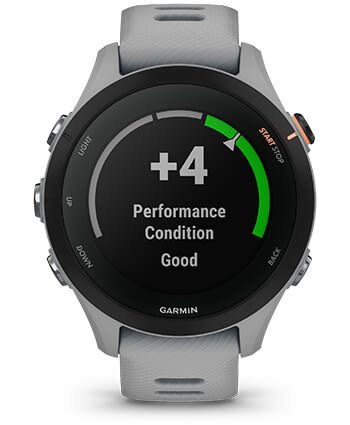 PERFORMANCE CONDITION
While you run, get an analysis of your pace and heart rate for a real-time assessment of your current ability to perform.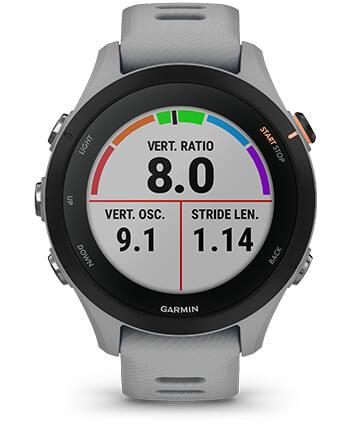 RUNNING DYNAMICS
When using a Running Dynamics Pod or HRM-Pro monitor, the Forerunner 255S watch measures crucial running metrics such as cadence, stride length, ground contact time and balance, and more — while comparing to others in the Garmin Connect app.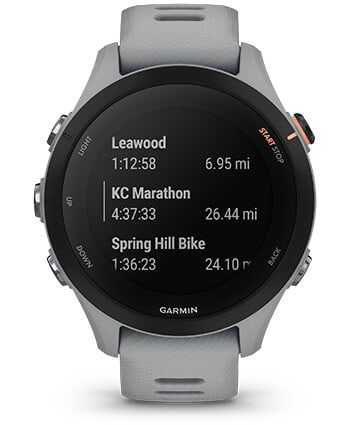 COURSES
Create or find existing courses in the Garmin Connect app, so you'll never run out of places to run. Or plan one on other platforms such as Strava and Komoot, then automatically sync them to your Forerunner.
TRACK RUNNING
Ready for some speedwork? Input your lane on the built-in track run activity to record accurate lap distances and see your distances in meters.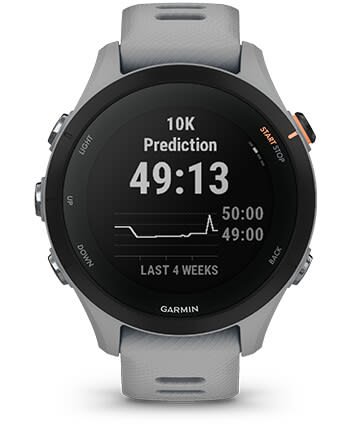 VISUAL RACE PREDICTOR
Based on your running history and overall fitness level, get an estimate of what your pace could be for a 5K, 10K — or even a marathon. Plus, trend data highlights your training's impact over time.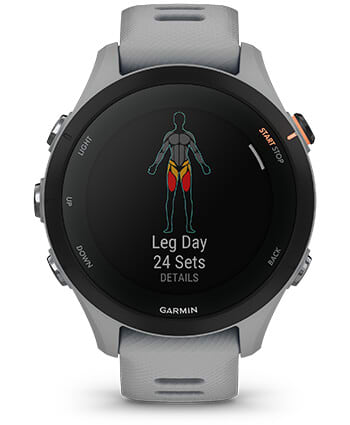 CROSS-TRAINING
Mix up your training with different types of workouts. Free HIIT, strength, cardio, yoga and Pilates workouts come preloaded on the watch, and you can download more from the Garmin Connect app.