Garmin Fusion Stereo and Speaker Kits, MS-RA60 and EL Classic Speaker Kit
Model Number: 010-02405-50
Availability:
Order today, more on the way!
Estimated Ship Date : January, 01 1970
Condition: New
A brand-new, unused, unopened item in its original retail packaging, with all original packaging materials included. Original manufacturer's warranty is included.
Specs
In the Box
MS-RA60 Stereo and EL Classic Speaker Kit
MS-RA60 marine stereo
One pair of EL Series classic white marine speakers
AM/FM stealth antenna
Two 19 ft (6 meter) speaker wires
Dust cover
Wiring harnesses and mounting accessories

Mounting gasket
Four 6-gauge, self-tapping screws
Two screw covers
Power and speaker wiring harness
Auxiliary-in, line-out, and subwoofer-out wiring harnesses
12 Phillips stainless steel mounting screws (4.2 mm x 25.4 mm (8 gauge x 1"))
✓
Your request has been successfully sent!
Do you have an old GPS unit lying around? The GPS Nation Trade In and Up program is a great way to trade in your old and used GPS for credit towards a new GPS. The choice is entirely yours! We've made the process simple and streamlined. Follow these simple steps, and you will be on your way to receiving credit towards your brand new GPS!
1. Get a quote
To get your free quote, provide your GPS type, manufacturer, model, and condition. Within 24 hours, you will receive a quote for the trade-in value of your current product. The GPS trade-in/trade-up form is at the bottom of this page.
2. Ship your product(s) for trade
After accepting our offer, pack your product(s) safely and ship them to us using the pre-paid shipping label provided to you. We will provide a confirmation email when your trade-in arrives at our warehouse. You have 30 days from the date you complete your on-line trade to ship the product to GPS Nation.
3. Make your purchase
Once we receive your product at our warehouse and we validate the stated condition, we will send you a confirmation email. If you elect to receive credit towards a new GPS at gpsnation.com, your store credit will be issued, and you are free to make your purchase.
Overview
EVERYTHING YOU NEED TO AMPLIFY THE MOMENT
Outfit your boat with an exceptional sound system at an outstanding value. A Fusion MS-RA60 marine stereo and EL Series speaker kit or MS-RA210 and XS Series speaker kit put the perfect soundtrack at your fingertips.
Enjoy your music ASAP. Your marine stereo and both speakers come ready to install.
Easily control music from your compatible Garmin MFD, smart device or Garmin watch.
Built-in Class D amplifier brings aboard higher efficiency and greater output.
Multi-Zone Technology makes you the captain of two separate audio zones.
Conveniently update software via BLUETOOTH technology from the Fusion-Link app on your compatible smart device.
Grow your audio system with compatible Fusion speakers, subwoofers and amplifiers.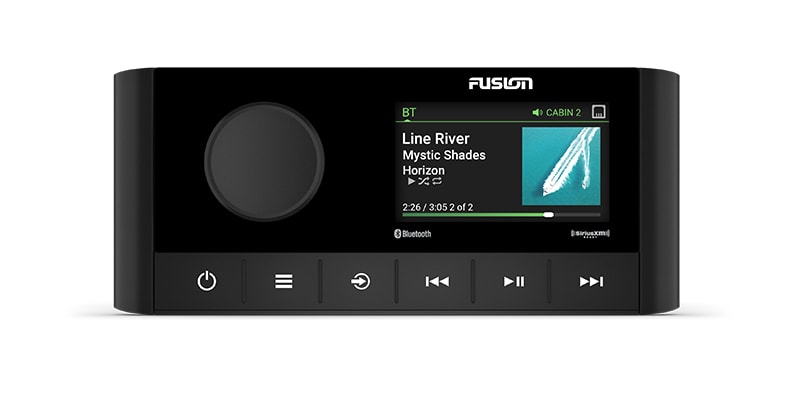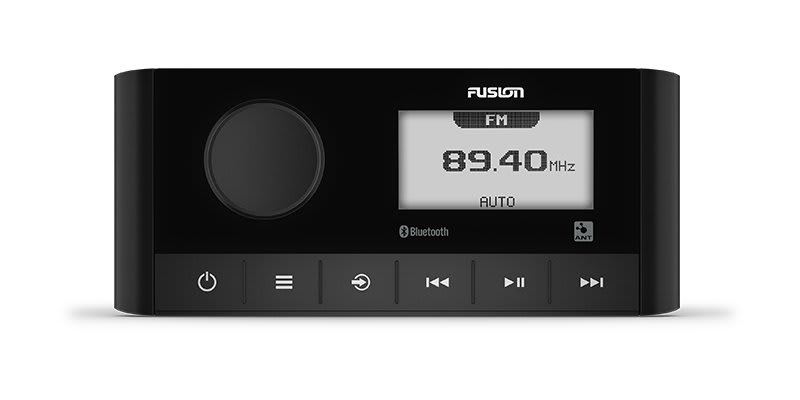 IPX6 AND IPX7 INGRESS PROTECTION
Designed and engineered for the harsh marine environment, the Fusion stereos have an IPX6 and IPX7-rated water-resistant front panel to perform and last on board.
MODERN DESIGN AND AESTHETICS
Providing uniformity across the helm, the black front face blends seamlessly into black glass panels, complementing other electronics and MFDs for a tidy and elegant installation.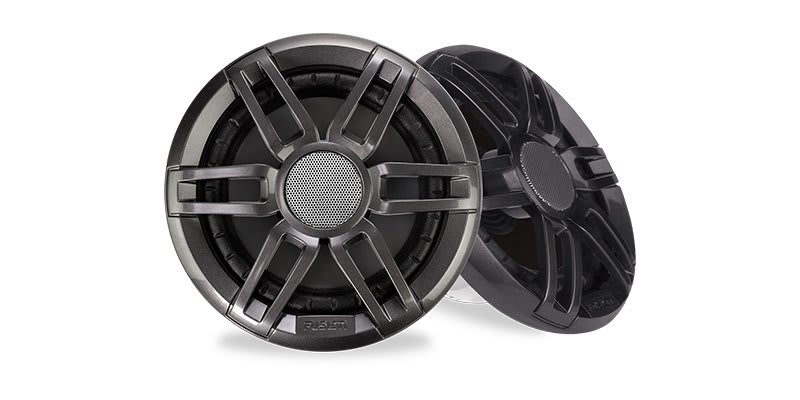 DESIGNED AND ENGINEERED FOR THE MARINE ENVIRONMENT
The Fusion speakers have an IP65 rating for protection against dust and water ingress and have been tested to a high level of protection against salt fog and UV.
DESIGNED TO COMPLY WITH ISO12216
Tested to international standards for pressure and water ingress, the Fusion speakers are designed and built for superior quality and robustness.
QUALITY MATERIALS AND ACOUSTIC ENGINEERING
The Fusion speakers incorporate high-quality materials and marine-specific design elements, ensuring they look and sound great on the water.