Garmin The Gulf and Red Sea Coastal Charts
Model Number: 010-C0924
Specs
✓
Your request has been successfully sent!
Do you have an old GPS unit lying around? The GPS Nation Trade In and Up program is a great way to trade in your old and used GPS for credit towards a new GPS. The choice is entirely yours! We've made the process simple and streamlined. Follow these simple steps, and you will be on your way to receiving credit towards your brand new GPS!
1. Get a quote
To get your free quote, provide your GPS type, manufacturer, model, and condition. Within 24 hours, you will receive a quote for the trade-in value of your current product. The GPS trade-in/trade-up form is at the bottom of this page.
2. Ship your product(s) for trade
After accepting our offer, pack your product(s) safely and ship them to us using the pre-paid shipping label provided to you. We will provide a confirmation email when your trade-in arrives at our warehouse. You have 30 days from the date you complete your on-line trade to ship the product to GPS Nation.
3. Make your purchase
Once we receive your product at our warehouse and we validate the stated condition, we will send you a confirmation email. If you elect to receive credit towards a new GPS at gpsnation.com, your store credit will be issued, and you are free to make your purchase.
Overview
Our Premium Chart Offering
Derived from official charts and private sources to provide navigational aids, spot soundings, depth contours, tides and currents, and detailed harbors and marinas
Garmin Auto Guidance technology shows a suggested route to a destination¹
Depth Range Shading for up to 10 depth ranges enables you to view your target depth at a glance
Up to 1-foot contours provide a more accurate depiction of the bottom structure for improved fishing charts and navigation
Shallow Water Shading feature allows for depth shading at a user-defined level to aid in navigation
Unique 3D views like MarinerEye and FishEye provide additional perspective both above and below the water line
High-resolution satellite imagery of ports, marinas, bridges and navigational landmarks for superior situational awareness
Worldwide coverage available
Keep your charts up to date with our industry-leading New Chart Guarantee and discount card update program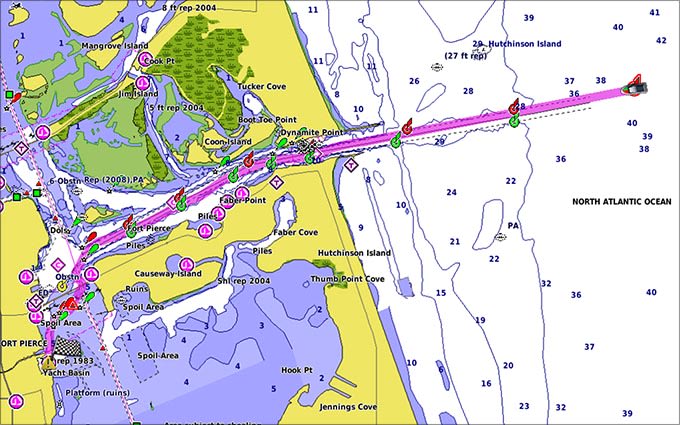 Auto Guidance¹
Auto Guidance technology quickly calculates a suggested route using your boat's dimensions and a suggested path to follow.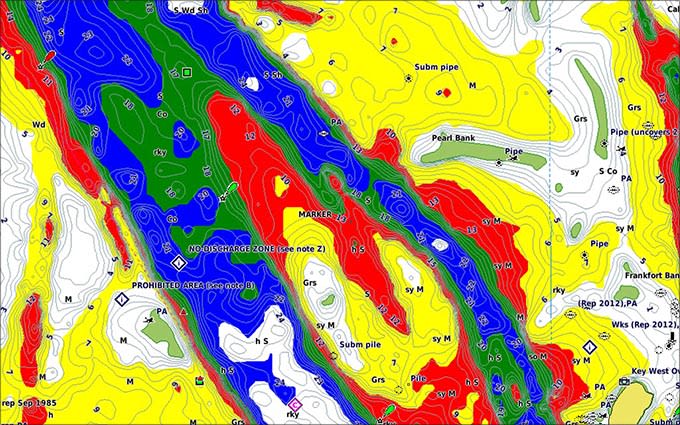 Depth Range Shading
Displays high-resolution Depth Range Shading for up to 10 depth ranges so you can view your designated target depth.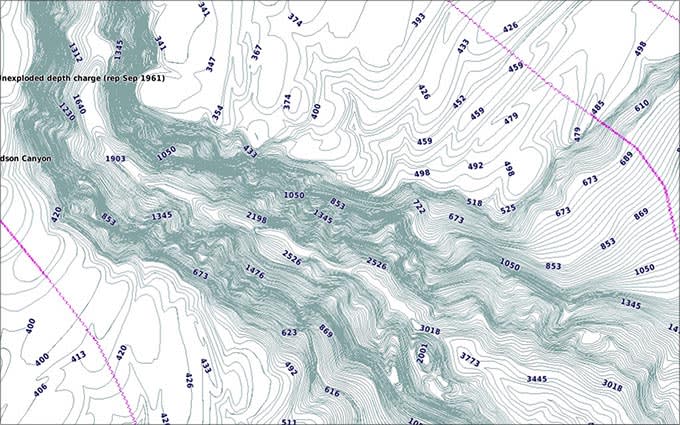 Detailed Contours
BlueChart g3 Vision HD features 1-foot contours that provide a more accurate depiction of bottom structure for improved fishing charts and enhanced detail in swamps, canals and port plans.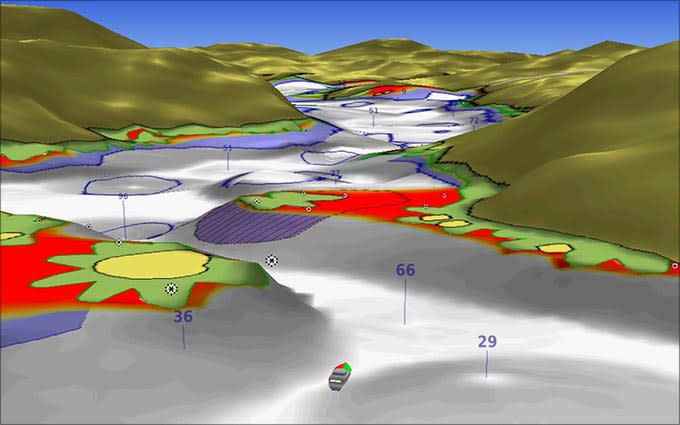 MarinerEye View
Provides a 3-D representation of the ocean floor as seen from below the waterline.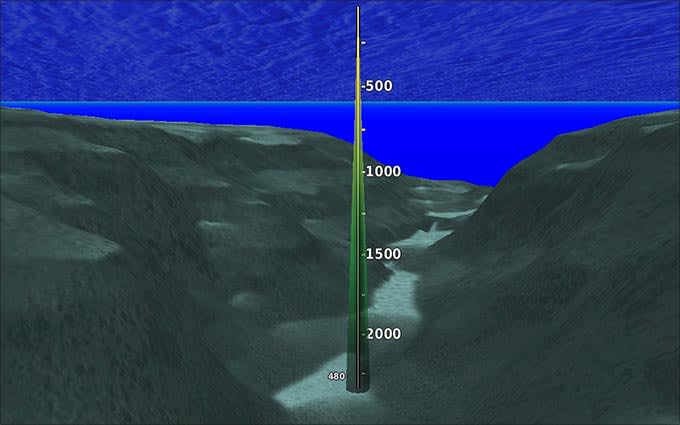 FishEye View
Provides a 3-D representation of the surrounding area both above and below the waterline.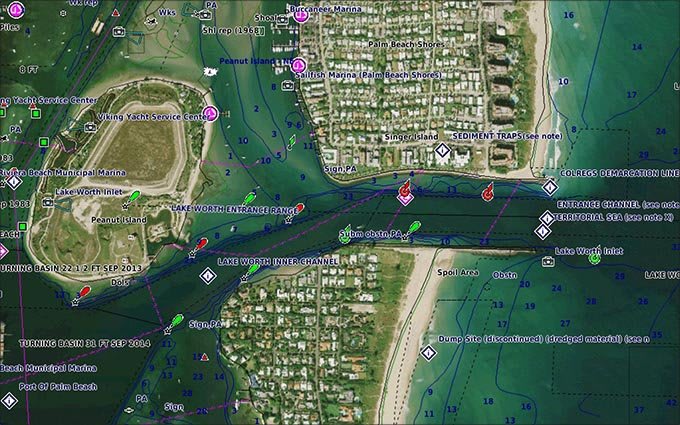 High-resolution Satellite Imagery
High-resolution satellite imagery with navigational charts overlaid gives you a realistic view of your surroundings so you can navigate with a clear moving-chart representation of your boat's position. It's our most realistic charting display in a chartplotter.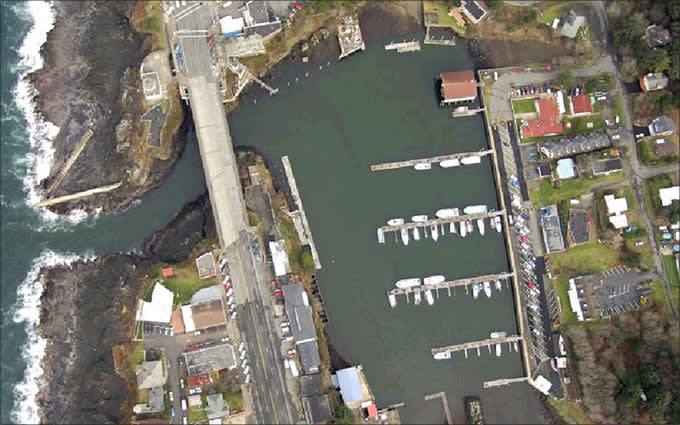 Aerial Photography
Crystal clear aerial photography shows exceptional detail of many ports, harbors and marinas and is ideal when entering unfamiliar ports.
Coverage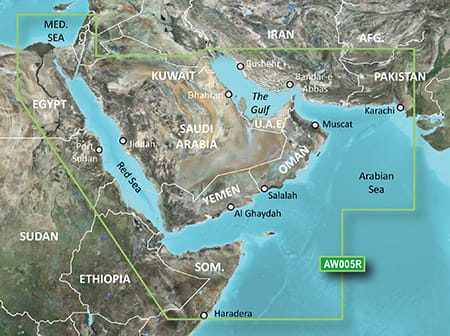 Coverage of the Arabian Penninsula beginning at the Mediterranean Sea from Beirut to Alexandria. Coverage includes the Suez Canal, Gulf of Aqaba, and the Red Sea and Gulf of Aden in their entirety. Includes the Strait of Hormuz, Gulf of Oman, and coast of Somalia in the south. Coverage the of Kuwait, Saudi Arabia, Qatar, United Arab Emirates, along the southern coast of the Gulf and Iran along the northern coast. Coverage of Yemen and Oman coasts along the Indian Ocean to the Gulf of Oman, including Pakistan along the north coast, with general coverage of the Arabian Sea from Qamar Bay to the Delta of the Indus River. Included in this overall general coverage are numerous detailed charts covering areas such as Alexandria, Egy., Beirut, Leb., Al-Fuhaihil, Ad- Dammam, Bahrain, Ad-Dauha, and Abu Dhabi.Jiddah, Sau., Djibouti, Dji., and Aden, Yem.
Compatible Devices
 Alpha 200i
D2 Delta
D2 Delta PX
D2 Delta S
D2 Delta S
D2 Mach 1
Descent Mk2
Descent Mk2
Descent Mk2i
Descent Mk2i
Descent Mk2S
Descent Mk2S
echoMAP 43dv
echoMAP 43dv
echoMAP 44dv
echoMAP 44dv
echoMAP 50dv
echoMAP 50dv
echoMAP 50s
echoMAP 50s
echoMAP 53cv
echoMAP 53cv
echoMAP 53dv
echoMAP 53dv
echoMAP 54dv
echoMAP 54dv
echoMAP 70dv
echoMAP 70dv
echoMAP 70s
echoMAP 70s
echoMAP 73dv
echoMAP 73dv
echoMAP 73sv
echoMAP 73sv
echoMAP 74dv
echoMAP 74dv
echoMAP 74sv
echoMAP 74sv
echoMAP 93sv
echoMAP 93sv
echoMAP 94sv
echoMAP 94sv
echoMAP CHIRP 42cv
echoMAP CHIRP 42cv
echoMAP CHIRP 42dv
echoMAP CHIRP 42dv
echoMAP CHIRP 43cv
echoMAP CHIRP 43cv
echoMAP CHIRP 43dv
echoMAP CHIRP 43dv
echoMAP CHIRP 44cv
echoMAP CHIRP 44cv
echoMAP CHIRP 44dv
echoMAP CHIRP 44dv
echoMAP CHIRP 45cv
echoMAP CHIRP 45cv
echoMAP CHIRP 45dv
echoMAP CHIRP 45dv
echoMAP CHIRP 52cv
echoMAP CHIRP 52cv
echoMAP CHIRP 52dv
echoMAP CHIRP 52dv
echoMAP CHIRP 53cv
echoMAP CHIRP 53cv
echoMAP CHIRP 53dv
echoMAP CHIRP 53dv
echoMAP CHIRP 54cv
echoMAP CHIRP 54cv
echoMAP CHIRP 54dv
echoMAP CHIRP 54dv
echoMAP CHIRP 55cv
echoMAP CHIRP 55cv
echoMAP CHIRP 55dv
echoMAP CHIRP 55dv
echoMAP CHIRP 72cv
echoMAP CHIRP 72cv
echoMAP CHIRP 72dv
echoMAP CHIRP 72dv
echoMAP CHIRP 72sv
echoMAP CHIRP 72sv
echoMAP CHIRP 73cv
echoMAP CHIRP 73cv
echoMAP CHIRP 73dv
echoMAP CHIRP 73dv
echoMAP CHIRP 73sv
echoMAP CHIRP 73sv
echoMAP CHIRP 74cv
echoMAP CHIRP 74cv
echoMAP CHIRP 74dv
echoMAP CHIRP 74dv
echoMAP CHIRP 74sv
echoMAP CHIRP 74sv
echoMAP CHIRP 75cv
echoMAP CHIRP 75cv
echoMAP CHIRP 75dv
echoMAP CHIRP 75dv
echoMAP CHIRP 75sv
echoMAP CHIRP 75sv
echoMAP CHIRP 92sv
echoMAP CHIRP 92sv
echoMAP CHIRP 93sv
echoMAP CHIRP 93sv
echoMAP CHIRP 94sv
echoMAP CHIRP 94sv
echoMAP CHIRP 95sv
echoMAP CHIRP 95sv
ECHOMAP Plus 42cv without Transducer
ECHOMAP Plus 42cv without Transducer
ECHOMAP Plus 43cv
ECHOMAP Plus 43cv
ECHOMAP Plus 44cv
ECHOMAP Plus 44cv
ECHOMAP Plus 45cv
ECHOMAP Plus 45cv
ECHOMAP Plus 62cv without Transducer
ECHOMAP Plus 62cv without Transducer
ECHOMAP Plus 63cv
ECHOMAP Plus 63cv
ECHOMAP Plus 64cv
ECHOMAP Plus 64cv
ECHOMAP Plus 64cv
ECHOMAP Plus 64cv
ECHOMAP Plus 65cv
ECHOMAP Plus 65cv
ECHOMAP Plus 72cv
ECHOMAP Plus 72cv
ECHOMAP Plus 72sv
ECHOMAP Plus 72sv
ECHOMAP Plus 73cv
ECHOMAP Plus 73cv
ECHOMAP Plus 73sv
ECHOMAP Plus 73sv
ECHOMAP Plus 73sv
ECHOMAP Plus 73sv
ECHOMAP Plus 74cv
ECHOMAP Plus 74cv
ECHOMAP Plus 74sv
ECHOMAP Plus 74sv
ECHOMAP Plus 74sv
ECHOMAP Plus 74sv
ECHOMAP Plus 75cv
ECHOMAP Plus 75cv
ECHOMAP Plus 75sv
ECHOMAP Plus 75sv
ECHOMAP Plus 92sv
ECHOMAP Plus 92sv
ECHOMAP Plus 93sv
ECHOMAP Plus 93sv
ECHOMAP Plus 93sv
ECHOMAP Plus 93sv
ECHOMAP Plus 94sv
ECHOMAP Plus 94sv
ECHOMAP Plus 94sv
ECHOMAP Plus 94sv
ECHOMAP Plus 95sv
ECHOMAP Plus 95sv
ECHOMAP UHD 62cv
ECHOMAP UHD 62cv
ECHOMAP UHD 63cv
ECHOMAP UHD 63cv
ECHOMAP UHD 64cv
ECHOMAP UHD 64cv
ECHOMAP UHD 65cv
ECHOMAP UHD 65cv
ECHOMAP UHD 72cv
ECHOMAP UHD 72cv
ECHOMAP UHD 72sv
ECHOMAP UHD 72sv
ECHOMAP UHD 73cv
ECHOMAP UHD 73cv
ECHOMAP UHD 73sv
ECHOMAP UHD 73sv
ECHOMAP UHD 74cv
ECHOMAP UHD 74cv
ECHOMAP UHD 74sv
ECHOMAP UHD 74sv
ECHOMAP UHD 75cv
ECHOMAP UHD 75cv
ECHOMAP UHD 75sv
ECHOMAP UHD 75sv
ECHOMAP UHD 92sv
ECHOMAP UHD 92sv
ECHOMAP UHD 93sv
ECHOMAP UHD 93sv
ECHOMAP UHD 94sv
ECHOMAP UHD 94sv
ECHOMAP UHD 95sv
ECHOMAP UHD 95sv
ECHOMAP UHD2 5" Chartplotters
ECHOMAP UHD2 5" Chartplotters
ECHOMAP UHD2 5" Ice Fishing Bundle
ECHOMAP UHD2 5" Ice Fishing Bundle
ECHOMAP UHD2 7" Chartplotters
ECHOMAP UHD2 7" Chartplotters
ECHOMAP Ultra 102sv
ECHOMAP Ultra 102sv
ECHOMAP Ultra 106sv
ECHOMAP Ultra 106sv
ECHOMAP Ultra 106sv
ECHOMAP Ultra 106sv
ECHOMAP Ultra 122sv
ECHOMAP Ultra 122sv
ECHOMAP Ultra 126sv
ECHOMAP Ultra 126sv
ECHOMAP Ultra 126sv
ECHOMAP Ultra 126sv
Enduro 2
Enduro 2
epix (Gen 2)
epix (Gen 2)
fēnix 6 - Pro Solar Edition
fēnix 6 - Pro Solar Edition
fēnix 6S - Pro Solar Edition
fēnix 6S - Pro Solar Edition
fēnix 6X - Pro Solar Edition
fēnix 6X - Pro Solar Edition
fēnix 7 – Sapphire Solar Edition
fēnix 7 – Sapphire Solar Edition
fēnix 7 – Solar Edition
fēnix 7 – Solar Edition
fēnix 7 – Standard Edition
fēnix 7 – Standard Edition
fēnix 7S – Sapphire Solar Edition
fēnix 7S – Sapphire Solar Edition
fēnix 7S – Solar Edition
fēnix 7S – Solar Edition
fēnix 7S – Standard Edition
fēnix 7S – Standard Edition
fēnix 7X – Sapphire Solar Edition
fēnix 7X – Sapphire Solar Edition
fēnix 7X – Solar Edition
fēnix 7X – Solar Edition
Forerunner 945
Forerunner 945
Forerunner 945 LTE
Forerunner 945 LTE
Forerunner 955
Forerunner 955
Forerunner 955 Solar
Forerunner 955 Solar
Forerunner 965
Forerunner 965
GPSMAP 1020xs
GPSMAP 1020xs
GPSMAP 1022
GPSMAP 1022
GPSMAP 1022xsv
GPSMAP 1022xsv
GPSMAP 1040xs
GPSMAP 1040xs
GPSMAP 1042xsv
GPSMAP 1042xsv
GPSMAP 1042xsv
GPSMAP 1042xsv
GPSMAP 1222
GPSMAP 1222
GPSMAP 1222 Plus
GPSMAP 1222 Plus
GPSMAP 1222 Touch
GPSMAP 1222 Touch
GPSMAP 1222xsv
GPSMAP 1222xsv
GPSMAP 1222xsv Plus
GPSMAP 1222xsv Plus
GPSMAP 1222xsv Plus Bundle
GPSMAP 1222xsv Plus Bundle
GPSMAP 1222xsv Touch
GPSMAP 1222xsv Touch
GPSMAP 1223
GPSMAP 1223
GPSMAP 1223xsv
GPSMAP 1223xsv
GPSMAP 1242 Plus
GPSMAP 1242 Plus
GPSMAP 1242 Touch
GPSMAP 1242 Touch
GPSMAP 1242xsv
GPSMAP 1242xsv
GPSMAP 1242xsv
GPSMAP 1242xsv
GPSMAP 1242xsv Plus
GPSMAP 1242xsv Plus
GPSMAP 1242xsv Plus Bundle
GPSMAP 1242xsv Plus Bundle
GPSMAP 1242xsv Touch
GPSMAP 1242xsv Touch
GPSMAP 1243
GPSMAP 1243
GPSMAP 1243xsv
GPSMAP 1243xsv
GPSMAP 276Cx
GPSMAP 276Cx
GPSMAP 4008
GPSMAP 4008
GPSMAP 4010
GPSMAP 4010
GPSMAP 4012
GPSMAP 4012
GPSMAP 420/420s
GPSMAP 420/420s
GPSMAP 4208
GPSMAP 4208
GPSMAP 421
GPSMAP 421
GPSMAP 4210
GPSMAP 4210
GPSMAP 4212
GPSMAP 4212
GPSMAP 421s
GPSMAP 421s
GPSMAP 430/430s
GPSMAP 430/430s
GPSMAP 431
GPSMAP 431
GPSMAP 431s
GPSMAP 431s
GPSMAP 440/440s
GPSMAP 440/440s
GPSMAP 441
GPSMAP 441
GPSMAP 441s
GPSMAP 441s
GPSMAP 5008
GPSMAP 5008
GPSMAP 5012
GPSMAP 5012
GPSMAP 5015
GPSMAP 5015
GPSMAP 520/520s
GPSMAP 520/520s
GPSMAP 5208
GPSMAP 5208
GPSMAP 521
GPSMAP 521
GPSMAP 5212
GPSMAP 5212
GPSMAP 5215
GPSMAP 5215
GPSMAP 521s
GPSMAP 521s
GPSMAP 525/525s
GPSMAP 525/525s
GPSMAP 526
GPSMAP 526
GPSMAP 526s
GPSMAP 526s
GPSMAP 527xs
GPSMAP 527xs
GPSMAP 530/530s
GPSMAP 530/530s
GPSMAP 531
GPSMAP 531
GPSMAP 531s
GPSMAP 531s
GPSMAP 535/535s
GPSMAP 535/535s
GPSMAP 536
GPSMAP 536
GPSMAP 536s
GPSMAP 536s
GPSMAP 540/540s
GPSMAP 540/540s
GPSMAP 541
GPSMAP 541
GPSMAP 541s
GPSMAP 541s
GPSMAP 545/545s
GPSMAP 545/545s
GPSMAP 546
GPSMAP 546
GPSMAP 546s
GPSMAP 546s
GPSMAP 547
GPSMAP 547
GPSMAP 547xs
GPSMAP 547xs
GPSMAP 6208
GPSMAP 6208
GPSMAP 6212
GPSMAP 6212
GPSMAP 62s
GPSMAP 62s
GPSMAP 62st
GPSMAP 62st
GPSMAP 64
GPSMAP 64
GPSMAP 640
GPSMAP 640
GPSMAP 64csx
GPSMAP 64csx
GPSMAP 64s
GPSMAP 64s
GPSMAP 64sc
GPSMAP 64sc
GPSMAP 64st
GPSMAP 64st
GPSMAP 64sx
GPSMAP 64sx
GPSMAP 64x
GPSMAP 64x
GPSMAP 65
GPSMAP 65
GPSMAP 65s
GPSMAP 65s
GPSMAP 66i
GPSMAP 66i
GPSMAP 66s
GPSMAP 66s
GPSMAP 66sr
GPSMAP 66sr
GPSMAP 66st
GPSMAP 66st
GPSMAP 67
GPSMAP 67
GPSMAP 67i
GPSMAP 67i
GPSMAP 720
GPSMAP 720
GPSMAP 720s
GPSMAP 720s
GPSMAP 7212
GPSMAP 7212
GPSMAP 7215
GPSMAP 7215
GPSMAP 722
GPSMAP 722
GPSMAP 722 Plus
GPSMAP 722 Plus
GPSMAP 722xs
GPSMAP 722xs
GPSMAP 722xs Plus
GPSMAP 722xs Plus
GPSMAP 722xs Plus Bundle
GPSMAP 722xs Plus Bundle
GPSMAP 723
GPSMAP 723
GPSMAP 723xsv
GPSMAP 723xsv
GPSMAP 740
GPSMAP 740
GPSMAP 7407
GPSMAP 7407
GPSMAP 7407xsv
GPSMAP 7407xsv
GPSMAP 7408
GPSMAP 7408
GPSMAP 7408xsv
GPSMAP 7408xsv
GPSMAP 740s
GPSMAP 740s
GPSMAP 741
GPSMAP 741
GPSMAP 7410
GPSMAP 7410
GPSMAP 7410xsv
GPSMAP 7410xsv
GPSMAP 7412
GPSMAP 7412
GPSMAP 7412xsv
GPSMAP 7412xsv
GPSMAP 7416
GPSMAP 7416
GPSMAP 7416xsv
GPSMAP 7416xsv
GPSMAP 741xs
GPSMAP 741xs
GPSMAP 742
GPSMAP 742
GPSMAP 742 Plus
GPSMAP 742 Plus
GPSMAP 742xs
GPSMAP 742xs
GPSMAP 742xs Plus
GPSMAP 742xs Plus
GPSMAP 742xs Plus Bundle
GPSMAP 742xs Plus Bundle
GPSMAP 743
GPSMAP 743
GPSMAP 743xsv
GPSMAP 743xsv
GPSMAP 7607
GPSMAP 7607
GPSMAP 7607xsv
GPSMAP 7607xsv
GPSMAP 7608
GPSMAP 7608
GPSMAP 7608xsv
GPSMAP 7608xsv
GPSMAP 7610
GPSMAP 7610
GPSMAP 7610xsv
GPSMAP 7610xsv
GPSMAP 7612
GPSMAP 7612
GPSMAP 7612xsv
GPSMAP 7612xsv
GPSMAP 7616
GPSMAP 7616
GPSMAP 7616xsv
GPSMAP 7616xsv
GPSMAP 8208 MFD
GPSMAP 8208 MFD
GPSMAP 8212 MFD
GPSMAP 8212 MFD
GPSMAP 8215 MFD
GPSMAP 8215 MFD
GPSMAP 840xs
GPSMAP 840xs
GPSMAP 8410
GPSMAP 8410
GPSMAP 8410xsv
GPSMAP 8410xsv
GPSMAP 8412
GPSMAP 8412
GPSMAP 8412xsv
GPSMAP 8412xsv
GPSMAP 8416
GPSMAP 8416
GPSMAP 8416xsv
GPSMAP 8416xsv
GPSMAP 8417 MFD
GPSMAP 8417 MFD
GPSMAP 8422 MFD
GPSMAP 8422 MFD
GPSMAP 8424 MFD
GPSMAP 8424 MFD
GPSMAP 8500 Black Box
GPSMAP 8500 Black Box
GPSMAP 8530 Black Box
GPSMAP 8530 Black Box
GPSMAP 8610
GPSMAP 8610
GPSMAP 8610xsv
GPSMAP 8610xsv
GPSMAP 8612
GPSMAP 8612
GPSMAP 8612xsv
GPSMAP 8612xsv
GPSMAP 8616
GPSMAP 8616
GPSMAP 8616xsv
GPSMAP 8616xsv
GPSMAP 8617 MFD
GPSMAP 8617 MFD
GPSMAP 8622 MFD
GPSMAP 8622 MFD
GPSMAP 8624 MFD
GPSMAP 8624 MFD
GPSMAP 86sc
GPSMAP 86sc
GPSMAP 8700 Black Box
GPSMAP 8700 Black Box
GPSMAP 922
GPSMAP 922
GPSMAP 922 Plus
GPSMAP 922 Plus
GPSMAP 922xs
GPSMAP 922xs
GPSMAP 922xs Plus
GPSMAP 922xs Plus
GPSMAP 922xs Plus Bundle
GPSMAP 922xs Plus Bundle
GPSMAP 923
GPSMAP 923
GPSMAP 923xsv
GPSMAP 923xsv
GPSMAP 942
GPSMAP 942
GPSMAP 942 Plus
GPSMAP 942 Plus
GPSMAP 942xs
GPSMAP 942xs
GPSMAP 942xs Plus
GPSMAP 942xs Plus
GPSMAP 942xs Plus Bundle
GPSMAP 942xs Plus Bundle
GPSMAP 943
GPSMAP 943
GPSMAP 943xsv
GPSMAP 943xsv
LiveScope Ice Fishing Bundle LI
LiveScope Ice Fishing Bundle LI
LiveScope Plus Ice Fishing Bundle LI
LiveScope Plus Ice Fishing Bundle LI
MARQ Adventurer
MARQ Adventurer
MARQ Adventurer (Gen 2)
MARQ Adventurer (Gen 2)
MARQ Athlete
MARQ Athlete
MARQ Athlete (Gen 2)
MARQ Athlete (Gen 2)
MARQ Aviator
MARQ Aviator
MARQ Aviator (Gen 2)
MARQ Aviator (Gen 2)
MARQ Aviator Performance Edition
MARQ Aviator Performance Edition
MARQ Captain
MARQ Captain
MARQ Captain (Gen 2)
MARQ Captain (Gen 2)
MARQ Driver
MARQ Driver
MARQ Golfer
MARQ Golfer
MARQ Golfer (Gen 2)
MARQ Golfer (Gen 2)
Montana 700
Montana 700
Montana 700i
Montana 700i
Montana 750i
Montana 750i
Oregon 700
Oregon 700
Oregon 750
Oregon 750
Oregon 750t
Oregon 750t
Panoptix Ice Fishing Bundle
Panoptix Ice Fishing Bundle
quatix 6
quatix 6
quatix 6 Titanium
quatix 6 Titanium
quatix 6X Solar
quatix 6X Solar
quatix 7 – Sapphire Edition
quatix 7 – Sapphire Edition
quatix 7 – Standard Edition
quatix 7 – Standard Edition
quatix 7X – Solar Edition
quatix 7X – Solar Edition
tactix 7 – Pro Ballistics Edition
tactix 7 – Pro Ballistics Edition
tactix 7 – Pro Edition
tactix 7 – Pro Edition
tactix 7 – Standard Edition
tactix 7 – Standard Edition
tactix Delta - Sapphire Edition
tactix Delta - Sapphire Edition
tactix Delta - Solar Edition
tactix Delta - Solar Edition
tactix Delta - Solar Edition with Ballistics
tactix Delta - Solar Edition with Ballistics
Volvo Penta Glass Cockpit System
Volvo Penta Glass Cockpit System