Garmin Approach X40 Black/Gray - Factory Refurbished
Model Number: 010-N1513-00
Availability:
Order today, more on the way!
Estimated Ship Date : January, 01 1970
Condition: Garmin Certified Refurbished
A Garmin Certified Refurbished device is a device that was returned to Garmin USA. The device is certified by Garmin only after undergoing a complete rebuild, and extensive testing to bring the unit up to the same strict cosmetic and functional standards as a new Garmin device. Only after meeting the highest quality standards is the device then released back to the market. All units include brand new original Garmin accessories, and a full one-year Garmin warranty, as well as our free extended warranty when purchased from GPS Nation. Your purchase extends the lifetime of this product and reduces electronic waste. That's good news for the environment and your wallet
Garmin Approach® X40 Fitness Running GPS Smart Band with Black & Gray
Specs
In the Box
Approach X40 band
Charging/data clip
Manual
✓
Your request has been successfully sent!
Do you have an old GPS unit lying around? The GPS Nation Trade In and Up program is a great way to trade in your old and used GPS for credit towards a new GPS. The choice is entirely yours! We've made the process simple and streamlined. Follow these simple steps, and you will be on your way to receiving credit towards your brand new GPS!
1. Get a quote
To get your free quote, provide your GPS type, manufacturer, model, and condition. Within 24 hours, you will receive a quote for the trade-in value of your current product. The GPS trade-in/trade-up form is at the bottom of this page.
2. Ship your product(s) for trade
After accepting our offer, pack your product(s) safely and ship them to us using the pre-paid shipping label provided to you. We will provide a confirmation email when your trade-in arrives at our warehouse. You have 30 days from the date you complete your on-line trade to ship the product to GPS Nation.
3. Make your purchase
Once we receive your product at our warehouse and we validate the stated condition, we will send you a confirmation email. If you elect to receive credit towards a new GPS at gpsnation.com, your store credit will be issued, and you are free to make your purchase.
Overview
Golf and Fitness Tracking Come Together in 1 Sleek Band
Slim, lightweight GPS golf band with Elevate

TM

wrist heart rate technology and activity tracking¹
Displays distances to front, back and middle of the green plus hazards
AutoShot tracking measures your shot distances and auto-records detected shots for post-round analysis²
Activity tracking shows steps, distance, calories burned, heart rate and activity intensity¹
Receive vibrating smart notifications for incoming calls, texts and other alerts³
Battery life: up to 10 hours in GPS mode; up to 5 days in watch mode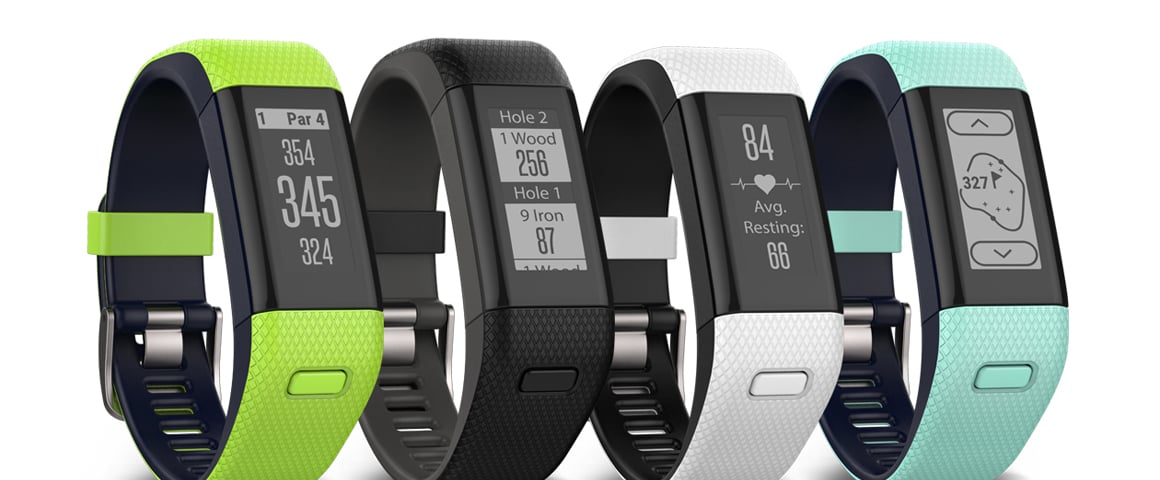 You want to shoot better golf. And you want to take steps to improve your overall fitness and well-being. But you don't want to wear or carry multiple devices to help you achieve those goals. That's why our Approach X40 GPS golf band is the ideal all-in-one solution. Preloaded with more than 41,000 golf courses worldwide, it combines daily activity tracking with wrist-based heart rate plus vibrating smart notifications³ to keep you connected on the go.

Wrist-based Heart Rate
The golf band's Elevate wrist heart rate technology measures heart rate at the wrist 24/7. That gives you the freedom to work out with no additional heart rate strap needed. Using heart rate, Approach X40 provides calories burned information and quantifies the intensity of your fitness activities, providing better credit for your efforts.¹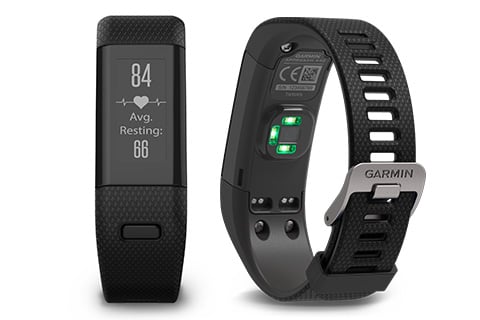 It's a Rockin' Band
Only Garmin lets you combine golf GPS with fitness tracking with smart connectivity — all in 1 slim, low-profile wristband that's as durable and comfortable as it is versatile. Water-rated to 50 meters and featuring a rechargeable lithium-ion battery, the Approach X40 golf band also gives you the current time and date — plus an alarm setting — so you can wear it every day to keep your active life right on schedule.
Game-changing Golf Guidance
Approach X40 is a true go-anywhere golfing partner. So, no matter where you're teeing off, it knows where you are — and how far you are from the next pin. The band's high-sensitivity GPS receiver gives you the distance data you need to fire away with confidence. Plus, the crisp touchscreen display accurately shows distances to the front, back and middle of the green — even when you're under tree cover.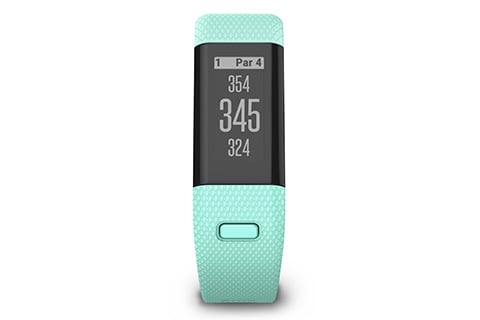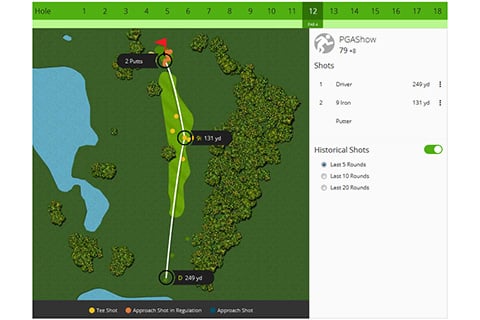 AutoShot Round Analyzer
On the course, Approach X40's AutoShot round analyzer automatically detects shots² along the fairway and measures distances for post-round analysis on Garmin Connect
™
.
Green View Display
Approach X40's Green View display shows you the true shape and layout of the green, even if you're behind it. You can manually reposition the pin to today's location for accurate shot selection.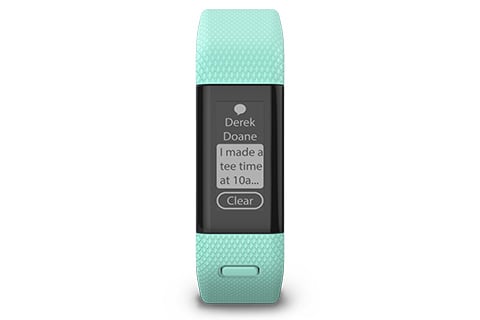 Smart Notifications
Never miss another important text, email or alert just because your smartphone is tucked away somewhere in your bag. Approach X40 acts as a wireless extension of your compatible smart device, displaying smart notifications, right on your wristband³. Now, via Bluetooth® technology, you can read that email or text you've been waiting for — even in the middle of the fairway.
Garmin Connect Golf Community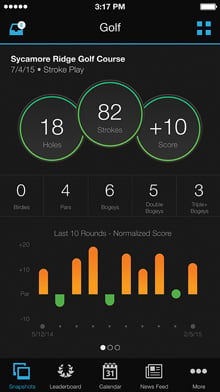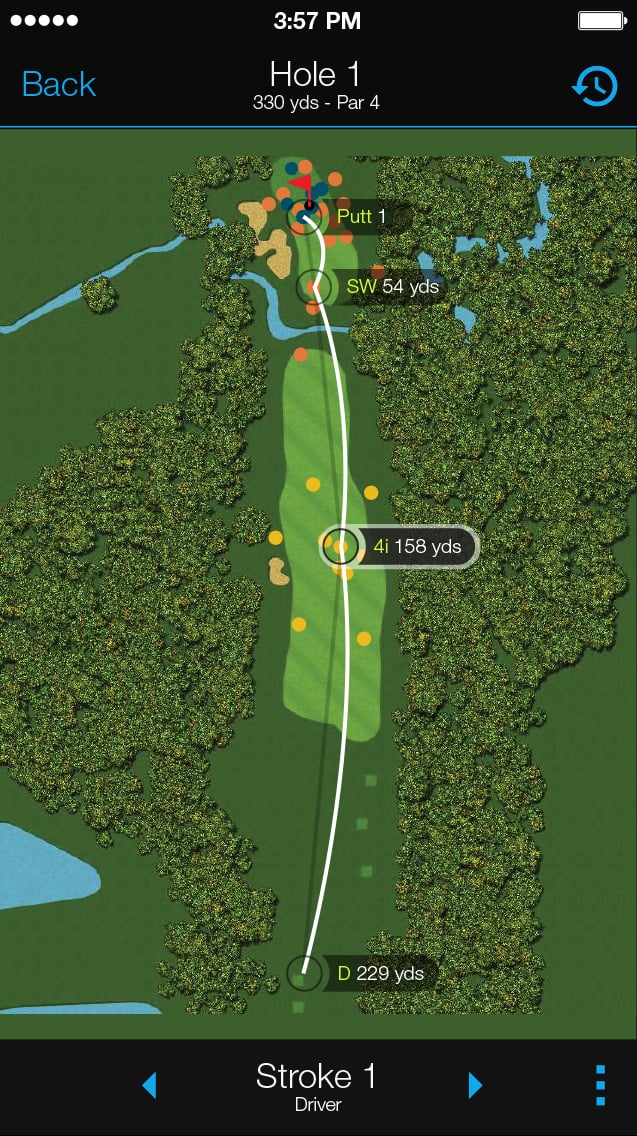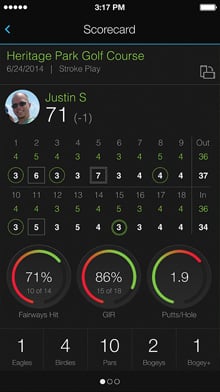 Garmin Connect is the online golf community that lets you play, then share and compare. Download your round and contrast it to your last round; track improvements to your game for every course you play. Garmin Connect Golf app can even assemble your ideal round, combining your best score for each hole to get your ideal 18 for that course.
Keep a Digital Scorecard
With its built-in digital scorecard, Approach X40 golf band makes it easy to keep track of your score throughout each round. When you're done, you can save, review and even use Garmin ConnectTM Mobile with your smartphone to automatically upload and share that great round with your golfing buddies online.
Free Course Updates
With the Approach X40 golf band, your purchase is an all-inclusive investment. It comes ready to go, right out of the box, with more than 41,000 preloaded courses. Plus, new courses and updates are added each year, using Garmin Express​. Best of all, these course updates are free — with no setup charges, fees or subscriptions.