Garmin Instinct 2 - dezl Edition
Model Number: 010-02626-70
Order now and your Garmin Instinct 2 - dezl Edition will ship tomorrow, 06/02 with Free Shipping
Place your order by 4:00 PM PST and your order will ship the same day, weekends and holidays excluded. Orders placed after 4:00 PM PST will ship the following business day. All orders are subject to verification. International orders subject to shipping charges. For further details see delivery estimates in cart.
Condition: New
A brand-new, unused, unopened item in its original retail packaging, with all original packaging materials included. Original manufacturer's warranty is included.
Specs
In the Box
Instinct 2 - dezl Edition
charging/data cable
documentation
✓
Your request has been successfully sent!
Do you have an old GPS unit lying around? The GPS Nation Trade In and Up program is a great way to trade in your old and used GPS for credit towards a new GPS. The choice is entirely yours! We've made the process simple and streamlined. Follow these simple steps, and you will be on your way to receiving credit towards your brand new GPS!
1. Get a quote
To get your free quote, provide your GPS type, manufacturer, model, and condition. Within 24 hours, you will receive a quote for the trade-in value of your current product. The GPS trade-in/trade-up form is at the bottom of this page.
2. Ship your product(s) for trade
After accepting our offer, pack your product(s) safely and ship them to us using the pre-paid shipping label provided to you. We will provide a confirmation email when your trade-in arrives at our warehouse. You have 30 days from the date you complete your on-line trade to ship the product to GPS Nation.
3. Make your purchase
Once we receive your product at our warehouse and we validate the stated condition, we will send you a confirmation email. If you elect to receive credit towards a new GPS at gpsnation.com, your store credit will be issued, and you are free to make your purchase.
Overview
TRUCK HEALTHY
Designed for professional truck drivers, this rugged smartwatch tracks health metrics, provides access to short-break workouts and helps promote a healthy over-the-road lifestyle.
This watch is built tough to handle the long-haul challenges of life on the road.
Get timely notifications for break times, and breeze through checkouts with Garmin Pay contactless payments.
Understand your body better with 24/7 health monitoring and access to short-break workout tutorials.
Pair with the dēzl app for access to loyalty program information with Love's Travel Stops and Pilot Flying J Travel Centers.
Receive notifications of upcoming U.S. weigh stations and bypass decisions with your active PrePass account and use of the dēzl app on your compatible smartphone.
Go long and strong between recharges with up to 28 days of battery life in smartwatch mode.
Designed for a healthy long-haul lifestyle.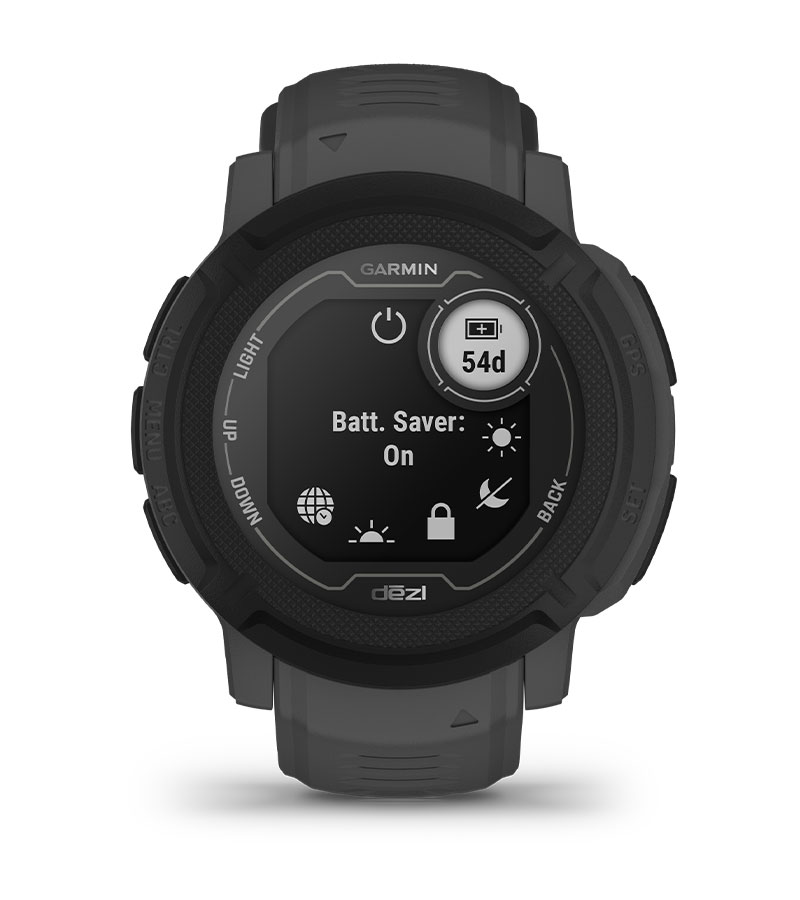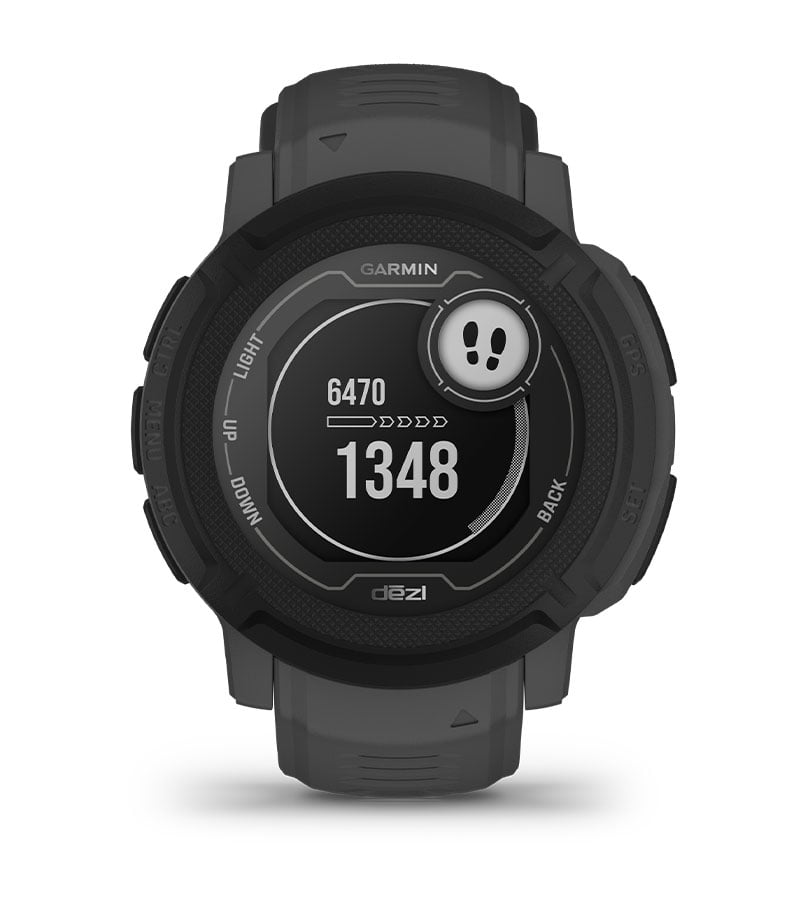 DESIGNED FOR DRIVERS
This rugged watch is water-rated to 100 meters and is thermal- and shock-resistant. With a scratch-resistant glass display, extra-long battery life and sweatproof silicone comfort band — this device is built to endure.
HEALTH TRACKING
While you're out of the cab, your Instinct 2 - dēzl Edition smartwatch tracks steps, calories burned, intensity minutes and more.
TRUCK DRIVER WORKOUTS
Take advantage of workouts designed to fit within standard break times and fit into the long-haul lifestyle. Plus, view detailed workout tutorials on your compatible smartphone via the paired dēzl app.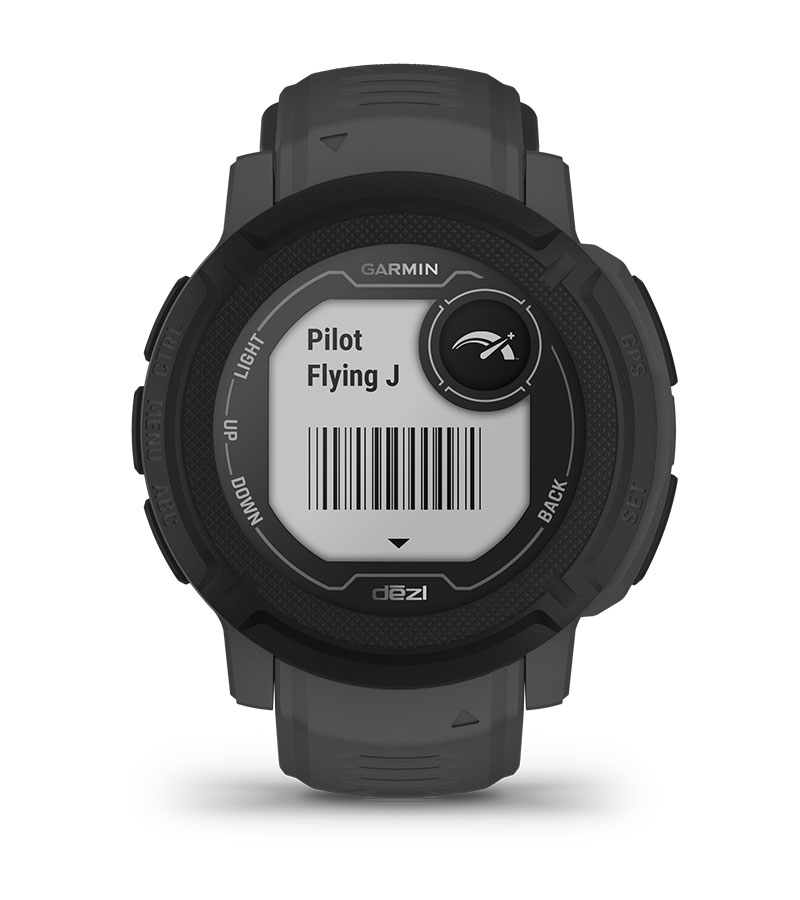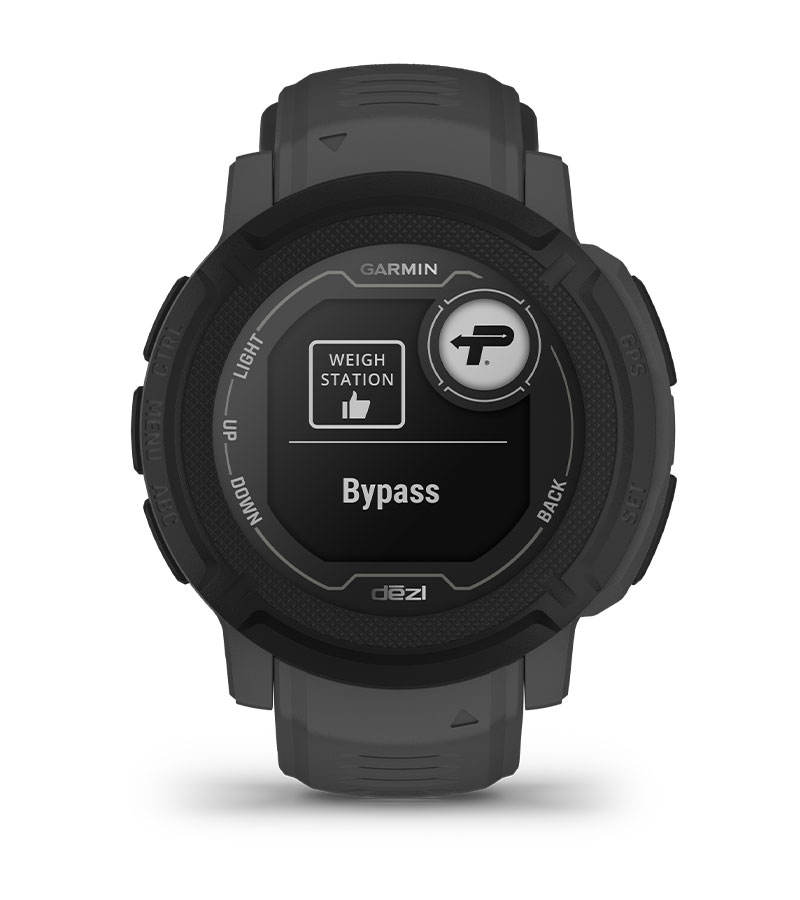 EASY BREAK PLANNING
Keep track of your day with easy-to-use break planning timers. Your watch can help keep track of time spent driving, on a break and stopped — so you don't have to.
TRUCK PLAZA LOYALTY PROGRAMS
Use your watch to check reward point balances and other loyalty program information with Love's Travel Stops and Pilot Flying J Travel Centers across the U.S. You can redeem your points right from your watch at Pilot Flying J locations.
PREPASS WEIGH STATION NOTIFICATIONS
Save time and improve efficiency with on-screen notifications of upcoming U.S. weigh stations and bypass decisions. Requires active PrePass account and use of the dēzl app on your compatible smartphone.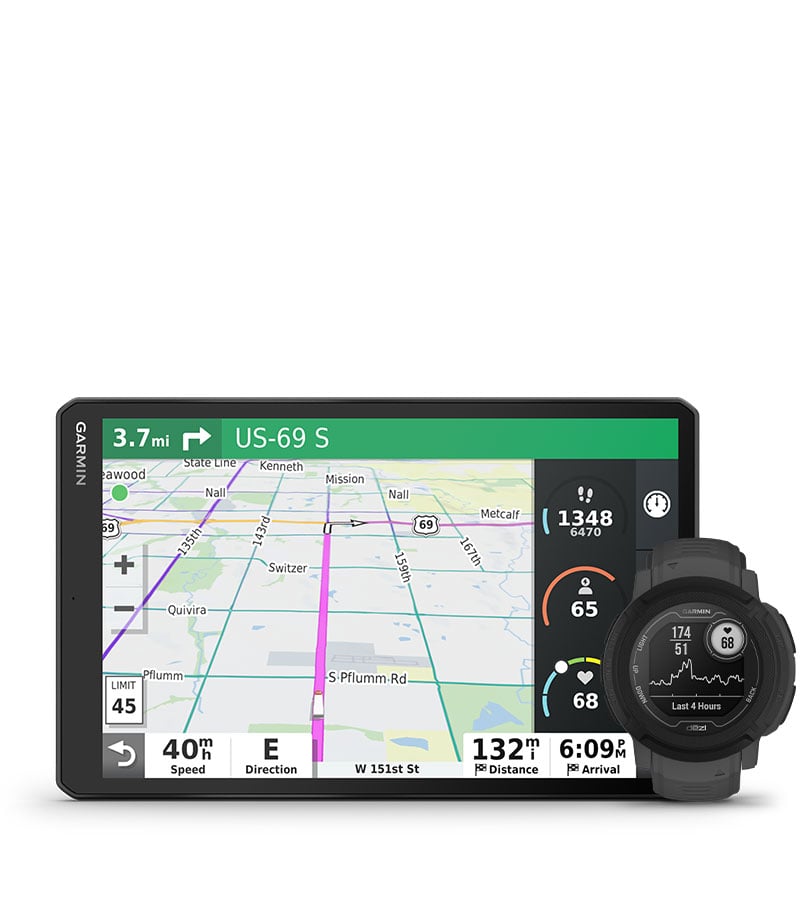 WORKS WITH DĒZL TRUCK NAVIGATORS
Pair your watch with a dēzl OTR series truck navigator to sync your break planning timers and to view health metrics and wellness suggestions on the large navigation screen as well as your watch on your wrist.
View health metrics with 24/7 wellness tracking.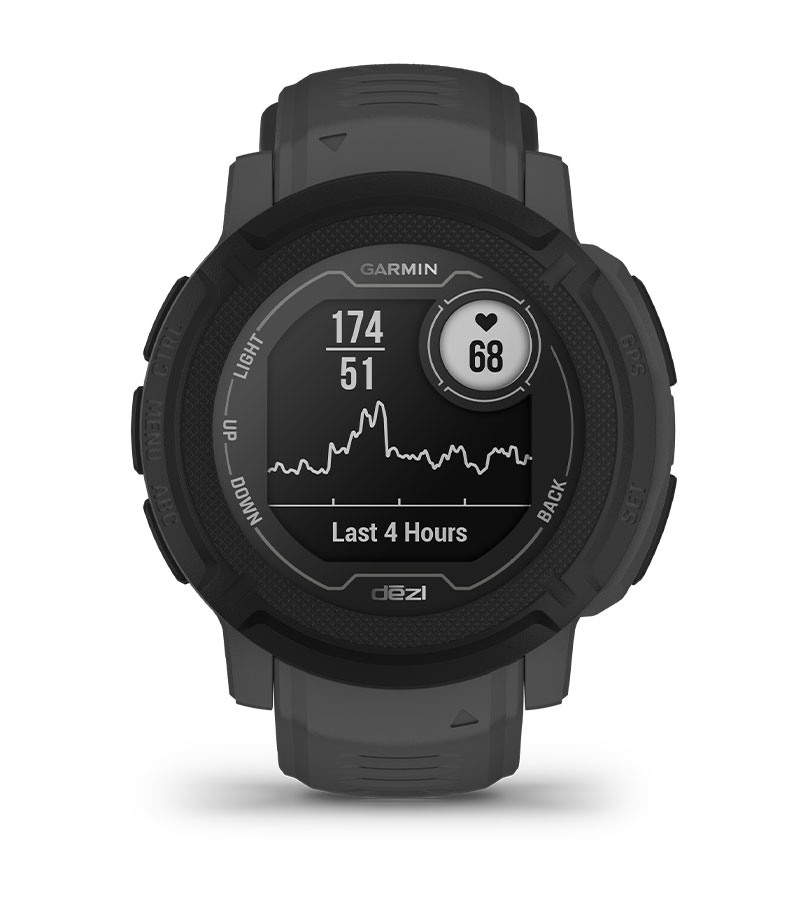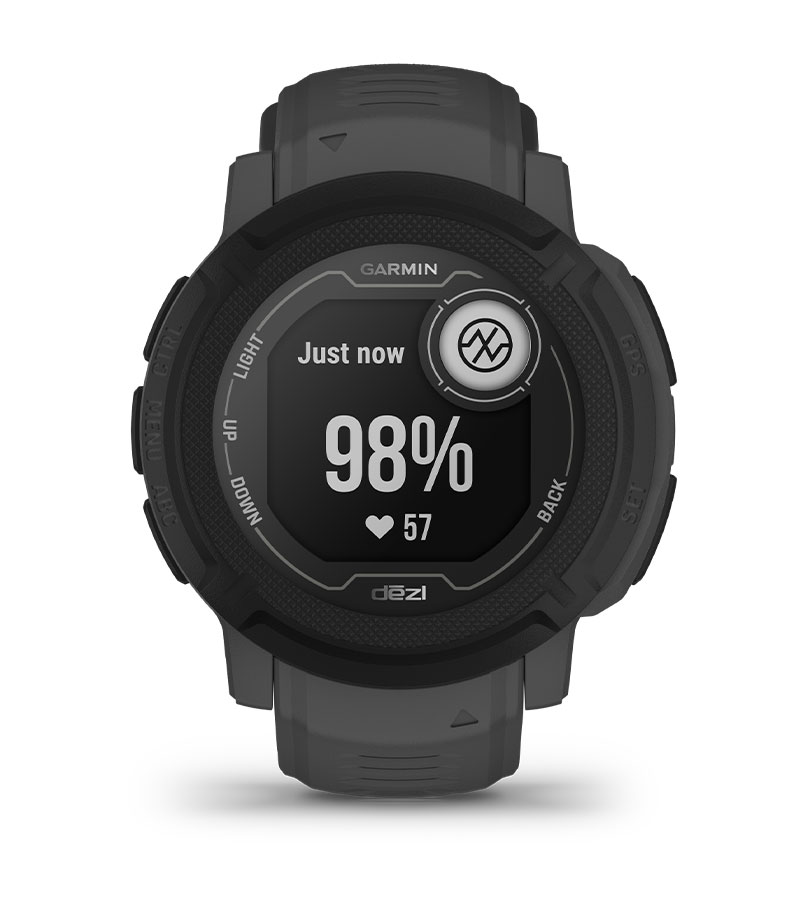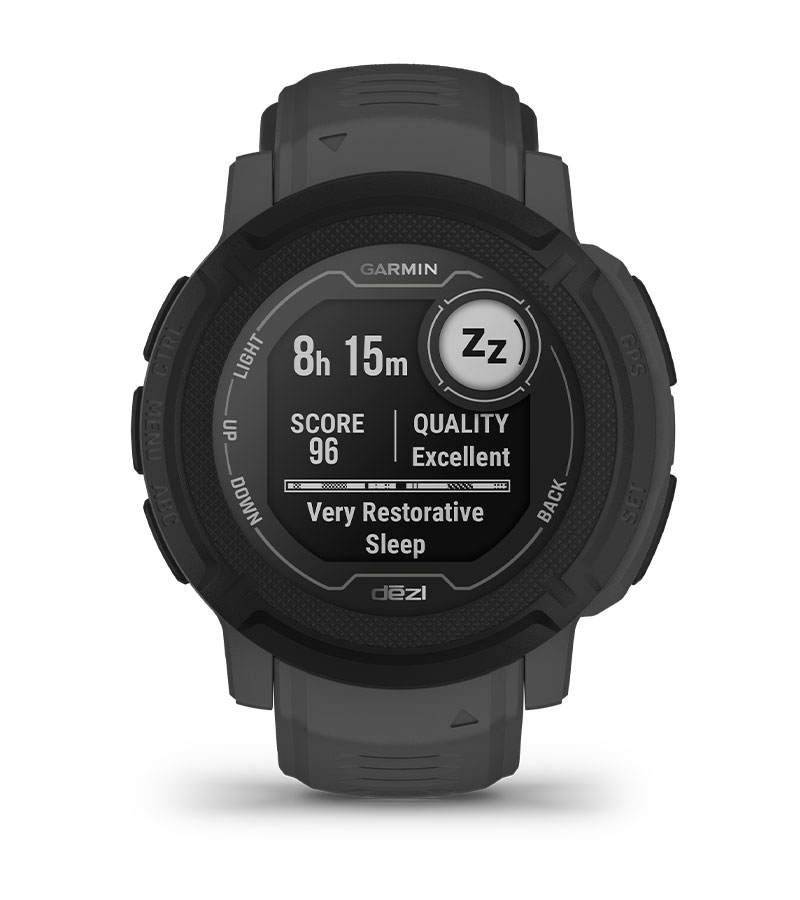 WRIST-BASED HEART RATE
Enhanced optical heart rate technology gauges the intensity of your fitness activities and lets you know if your heart rate stays too high or too low while you're at rest.
PULSE OX
For altitude acclimation or sleep monitoring, a Pulse Ox sensor uses light beams at your wrist to estimate how well your body is absorbing oxygen.
SLEEP MONITORING
Get a full picture of how you're sleeping, with a breakdown of your light, deep and REM sleep stages as well as Pulse Ox and respiration data.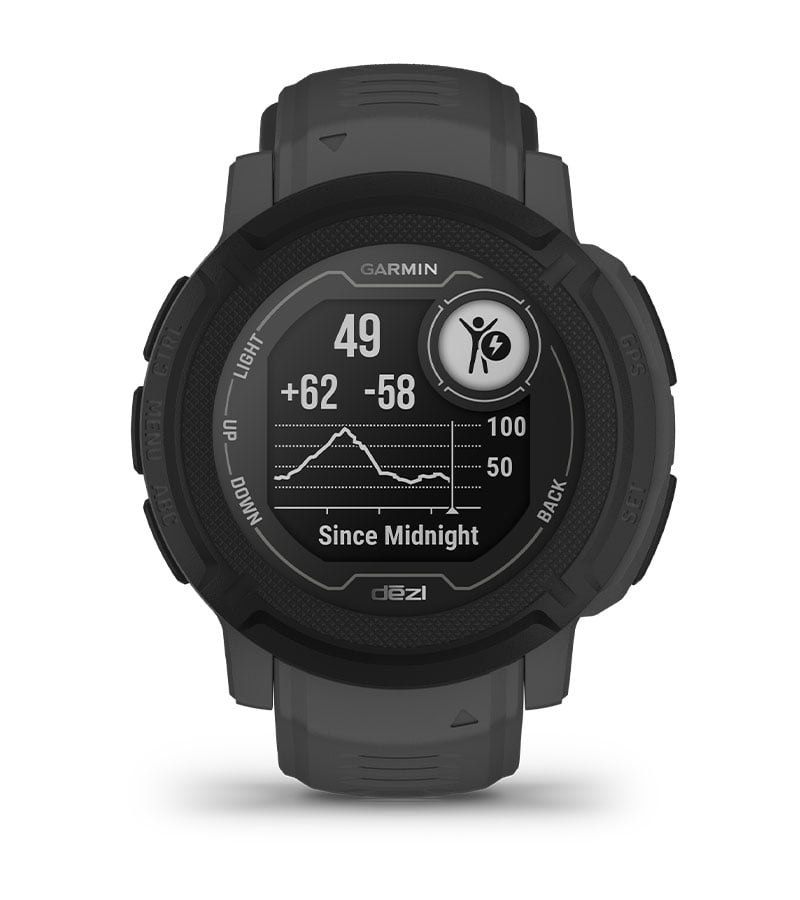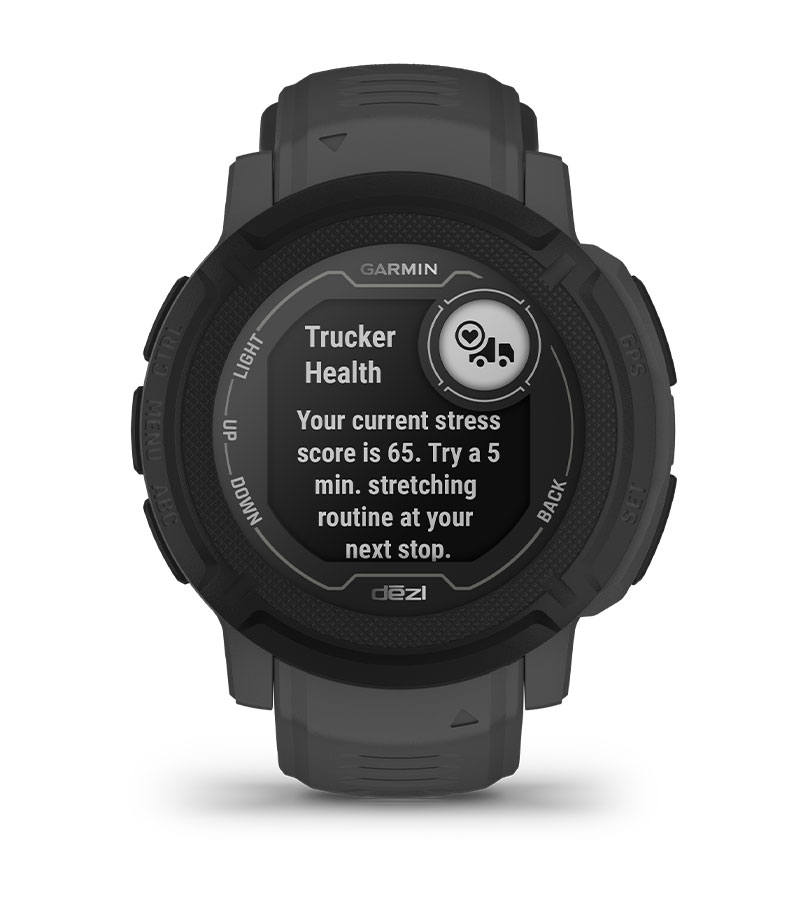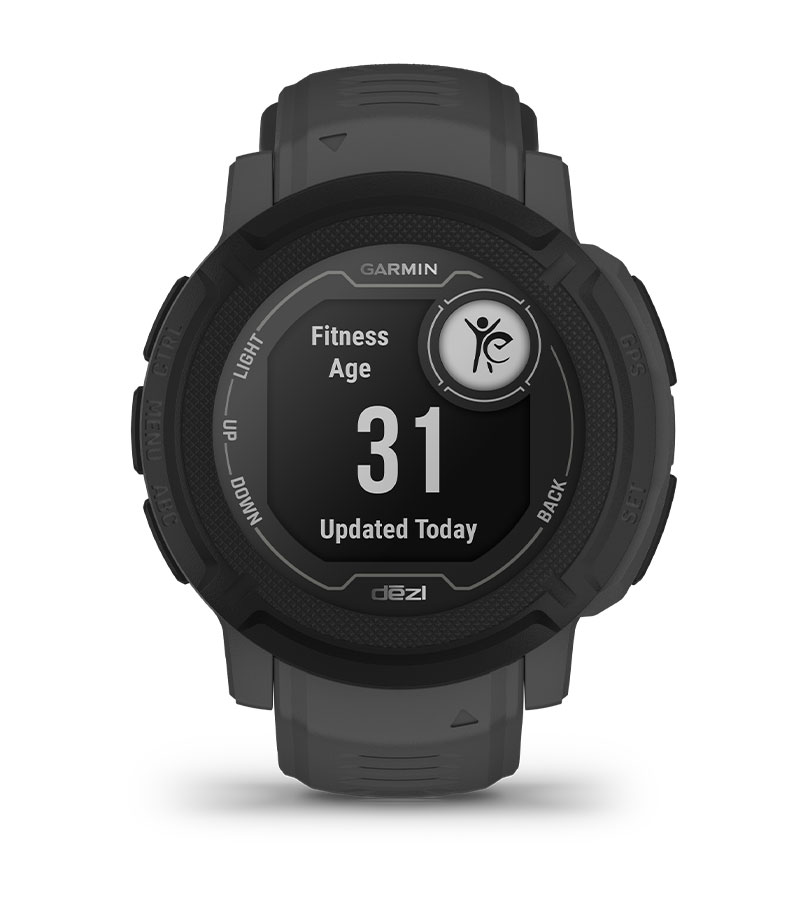 BODY BATTERY ENERGY MONITORING
Optimize your body's energy reserves, using heart rate variability, stress, sleep and other data to gauge when you're ready to be active or when you may need to rest.
STRESS TRACKING
Watch your stress levels, and find out if you're having a calm, balanced or stressful day. Relax reminders will even prompt you to do a short breathing activity when you're feeling stressed.
FITNESS AGE
This feature uses chronological age, your weekly vigorous activity, resting heart rate and BMI to estimate if your body is younger or older than you are. Get tips to lower your fitness age.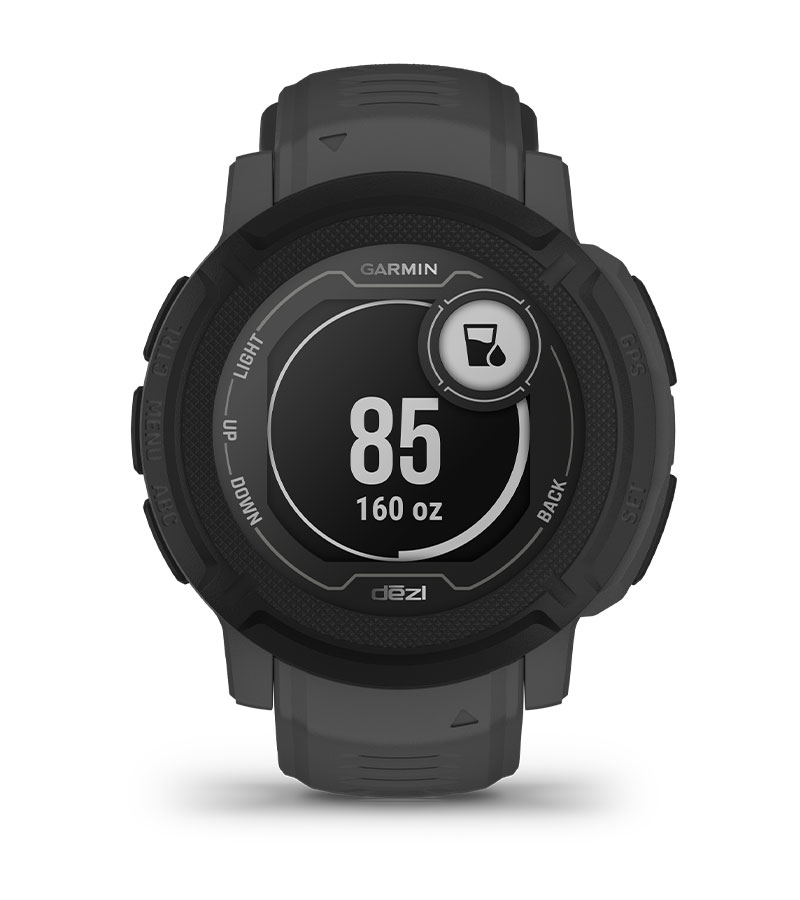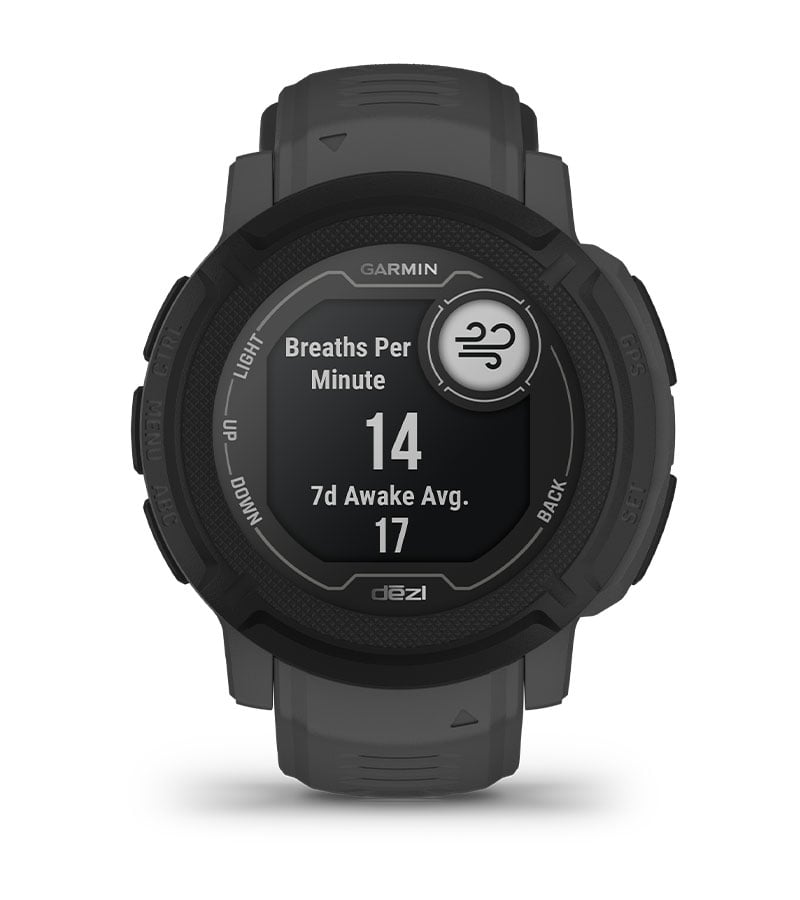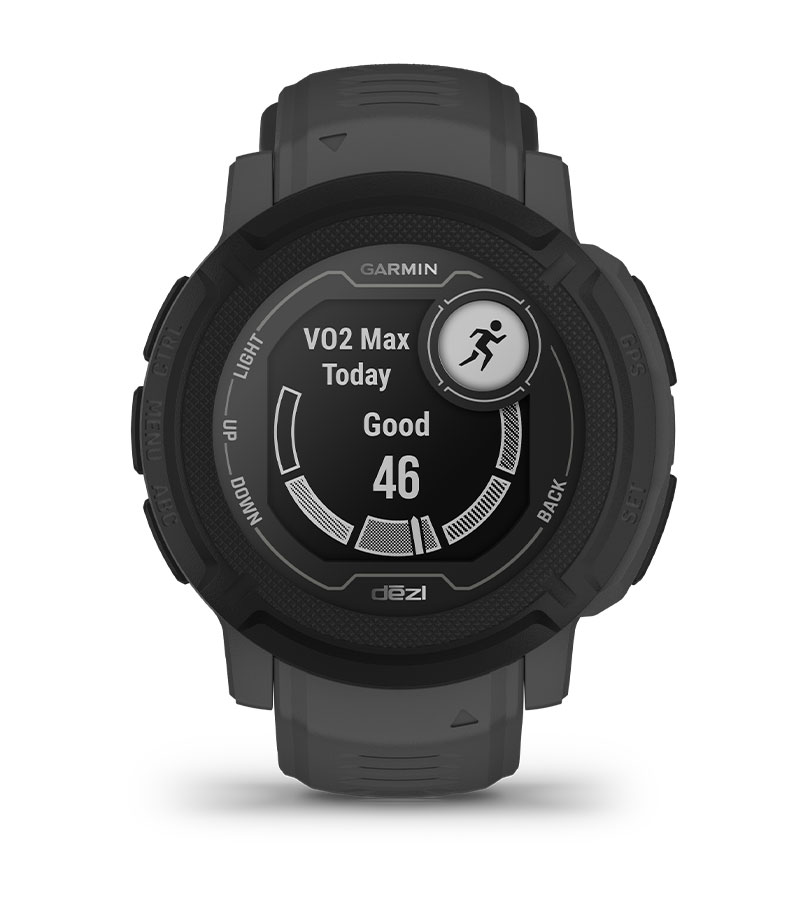 HYDRATION TRACKING
Log your daily fluid intake as a reminder to stay hydrated. You can even set up hydration reminders, create goals, and view your history and progress in the Garmin Connect app on your compatible smartphone.
RESPIRATION TRACKING
See how you're breathing throughout the day, during sleep and during breathwork or other means of relaxation.
VO2 MAX
Train smarter with VO2 max, an indicator of how you can expect to perform. It even accounts for changes in performance that could be caused by heat or altitude.
Stay connected while on the road.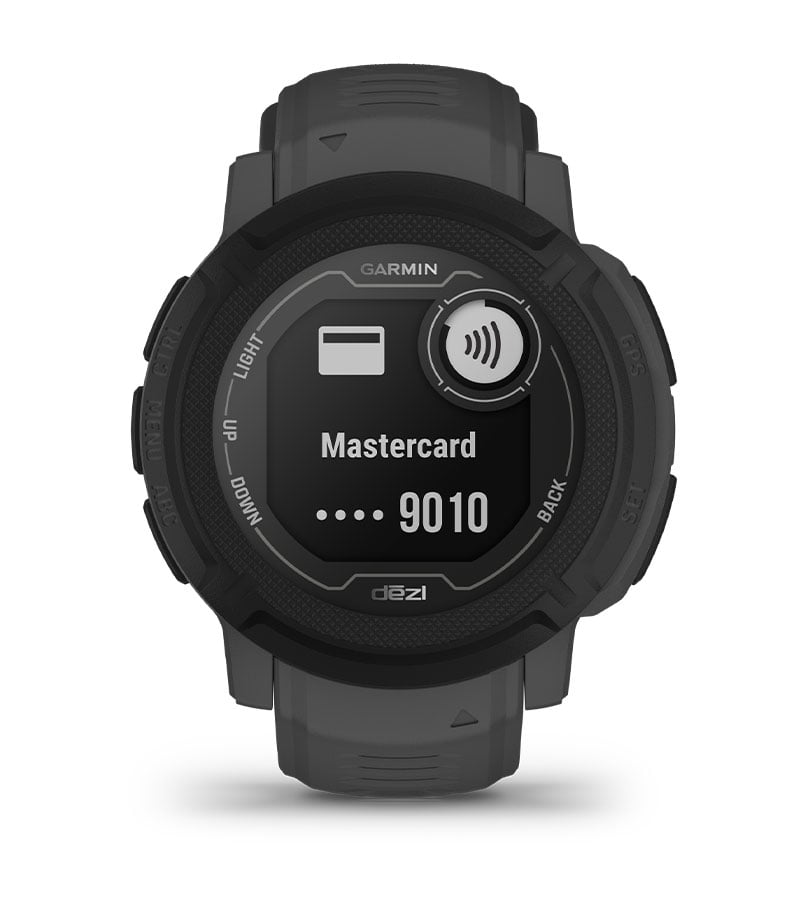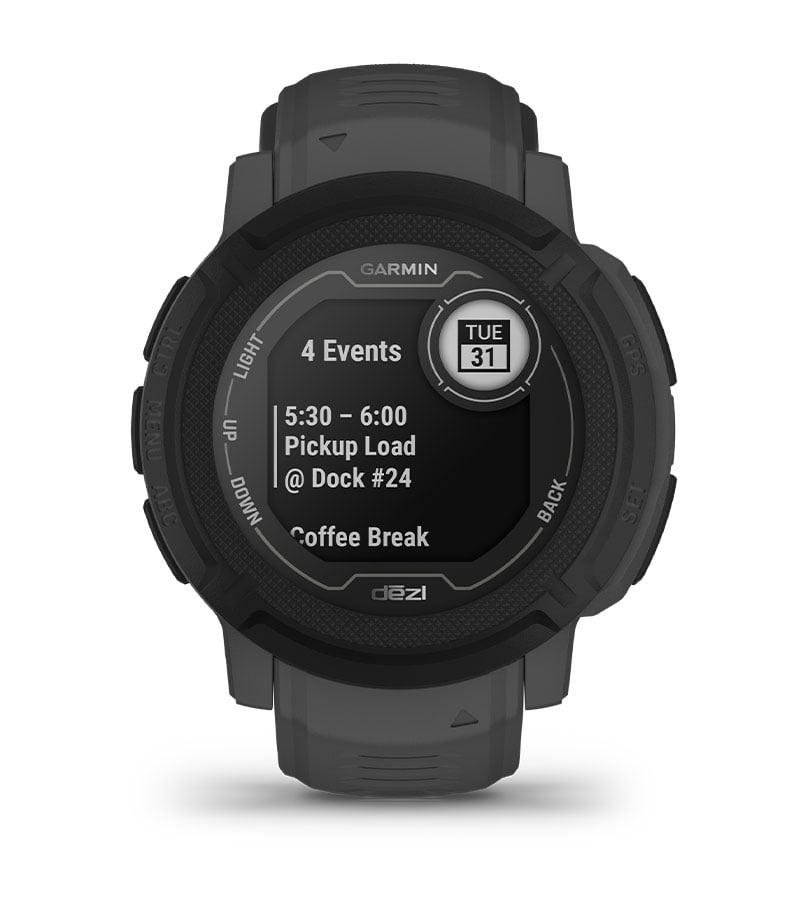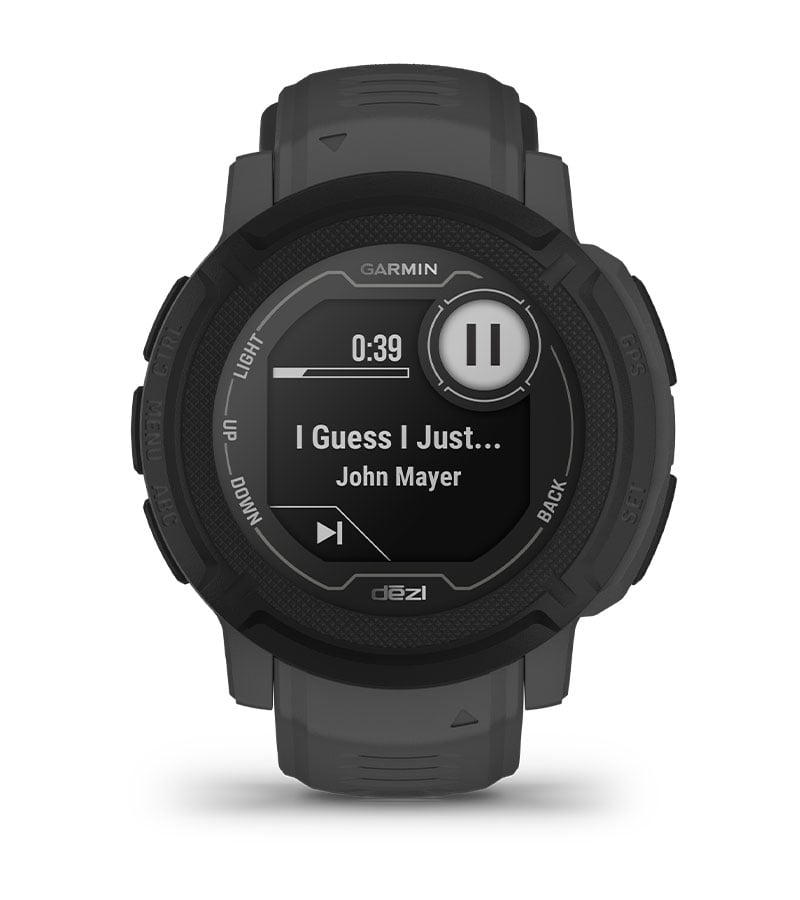 GARMIN PAY CONTACTLESS PAYMENTS
Breeze through checkout lines with the Garmin Pay contactless payment solution through participating providers.
SMART NOTIFICATIONS
Receive emails, texts and alerts right on your watch when paired with the dēzl app on your compatible smartphone.
MEDIA CONTROLS
Use your watch to remotely control the media player on your compatible smartphone paired through the Garmin Connect app. You can also select and play audio files stored on your watch.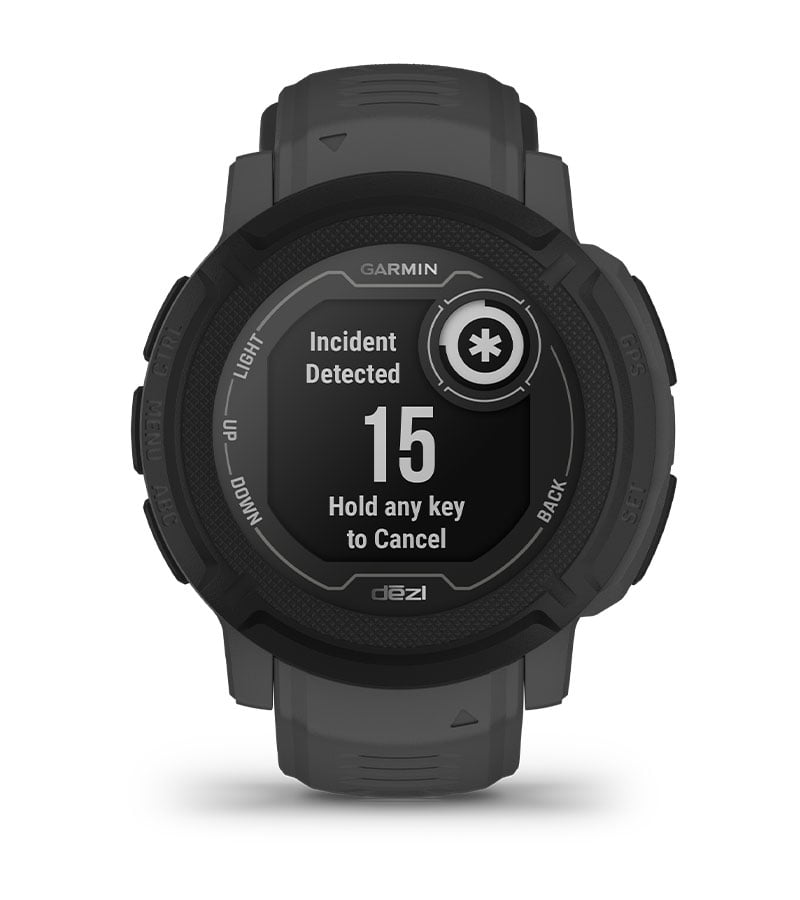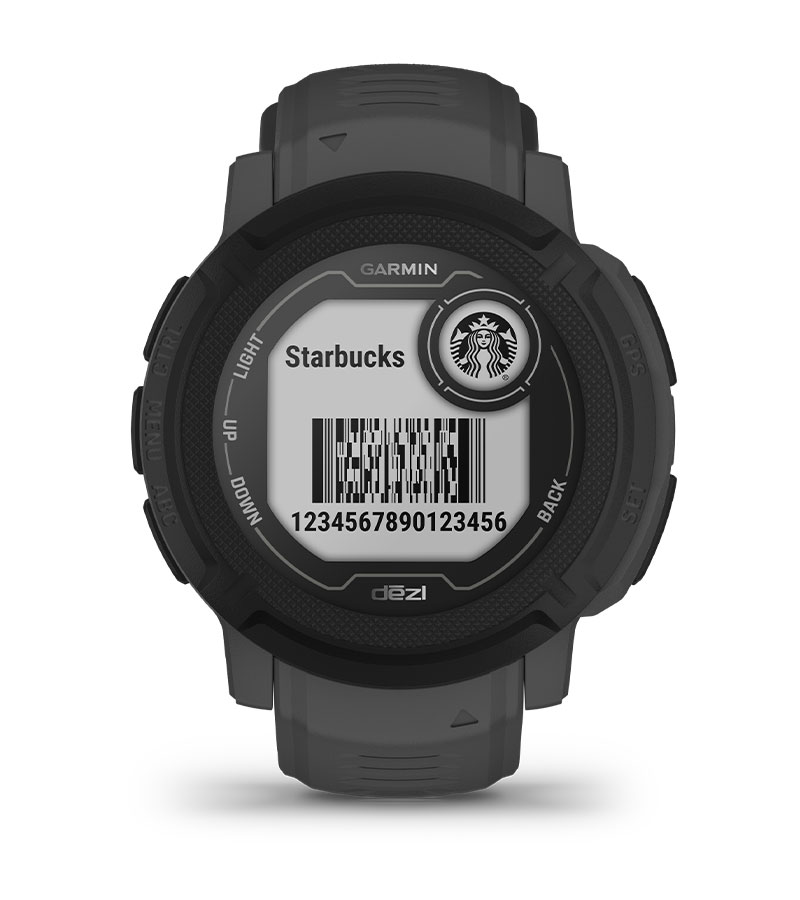 SAFETY AND TRACKING FEATURES
If you feel unsafe or if your watch detects an incident, assistance and incident detection features can send a message with your location to your emergency contacts when paired with your compatible smartphone. For safety and tracking feature requirements and limitations, see Garmin.com/safety.
CONNECT IQ STORE
Download custom watch faces, add data fields, and get apps and widgets from the Connect IQ Store app on your compatible smartphone.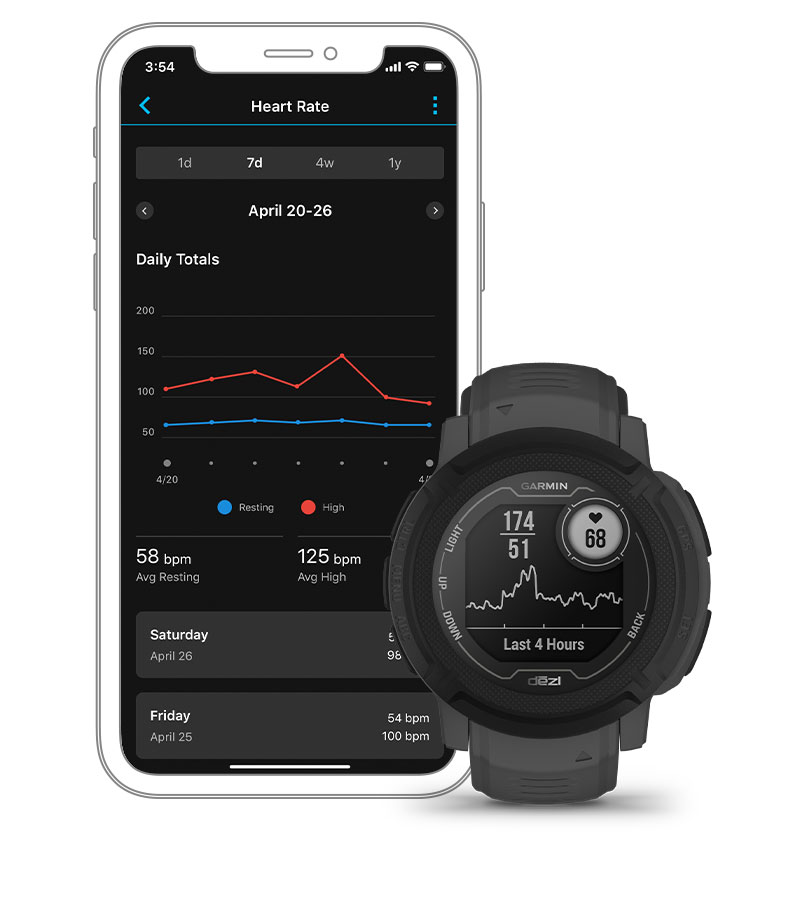 SYNC WITH GARMIN CONNECT
See your health and fitness information all in one place. The Garmin Connect app is a thriving online community where people on the go can connect, compare and share.